The beautiful fictional town of Tree Hill comes to life while visiting Wilmington, North Carolina. I had the opportunity to visit Wilmington a few weeks ago and even attend a convention where I had the honor of meeting some of my favorite characters. If you aren't as lucky as me and can't attend a convention, I still think you'll fall in love with the town that brought us Leyton, Naley, and Brulian.
Let me start by explaining what this show means to me. This show, as dramatic and unrealistic some claim it is, is more realistic to me than any other. I first decided to watch the show because I was browsing my favorite actor (Chad Michael Murray) in Netflix one afternoon. So, of course, I was interested in watching an entire series starring Chad Michael Murray, who wouldn't be?
SPOILER ALERT: If you haven't watched the show yet, don't read this next sentence, do yourself a favor and skip to the next paragraph. I promise you'll thank me. I found a deep connection with this show when I lost my uncle. As strange as it may sound, I found a lot of comfort and relation in the way everyone on the show dealt with death, especially the death of Lucas' uncle, Keith.
1. Brooke Davis' House, 2314 Tattersalls Dr. Wilmington, NC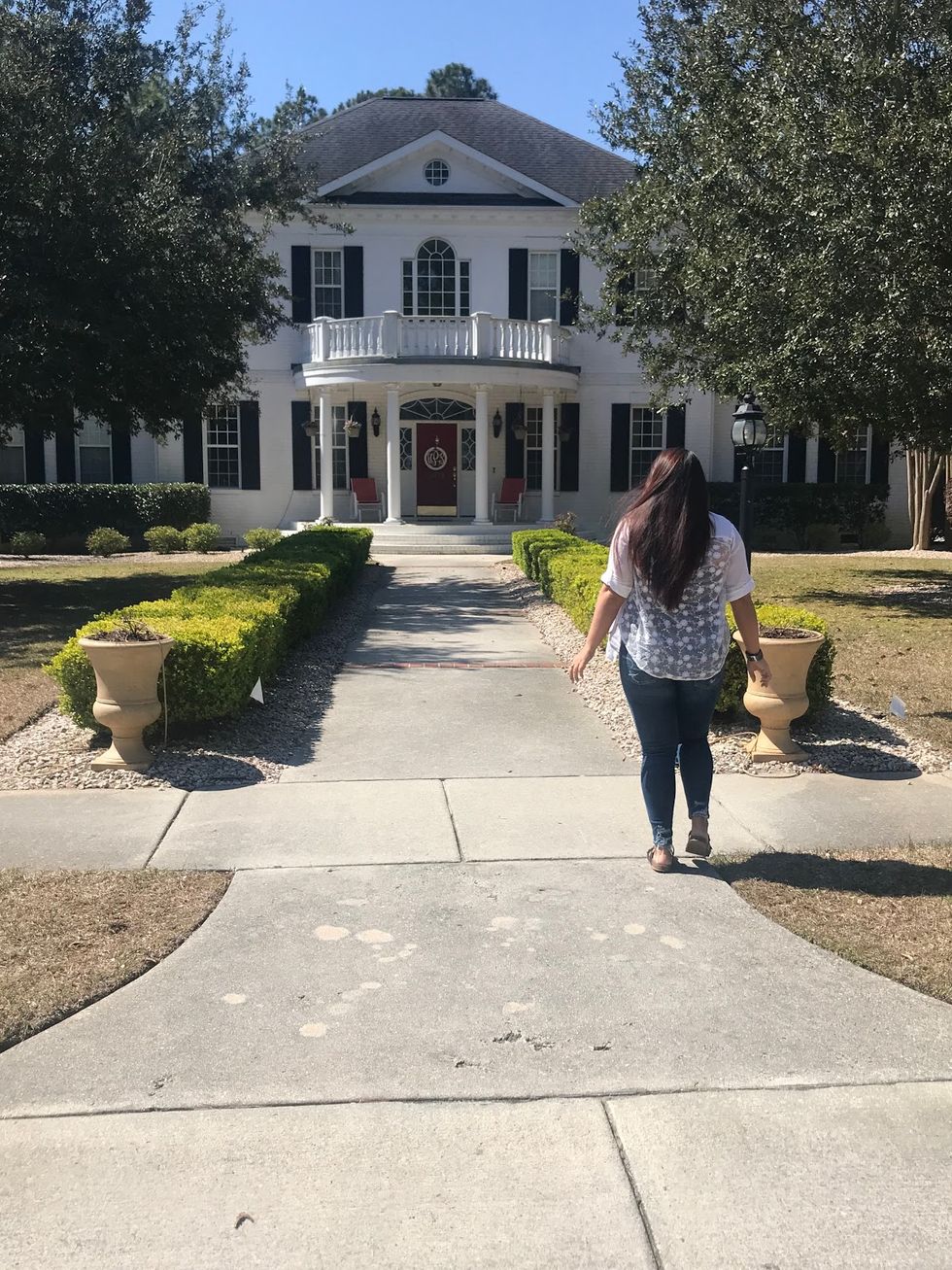 That's right, for a few moments I got to pretend I was the girl behind the red door. And you know what.. "I really liked being the girl behind the red door." (or in front of.. at least) Isn't it awesome that the owners of this house kept the door painted red?
This was the first house I stopped at when I arrived in Wilmington and no one was home, but I've heard that the owners are great people and often love having fans stop by to sightsee their beautiful home!
2. Haley James' House, 1811 Chestnut St. Wilmington, NC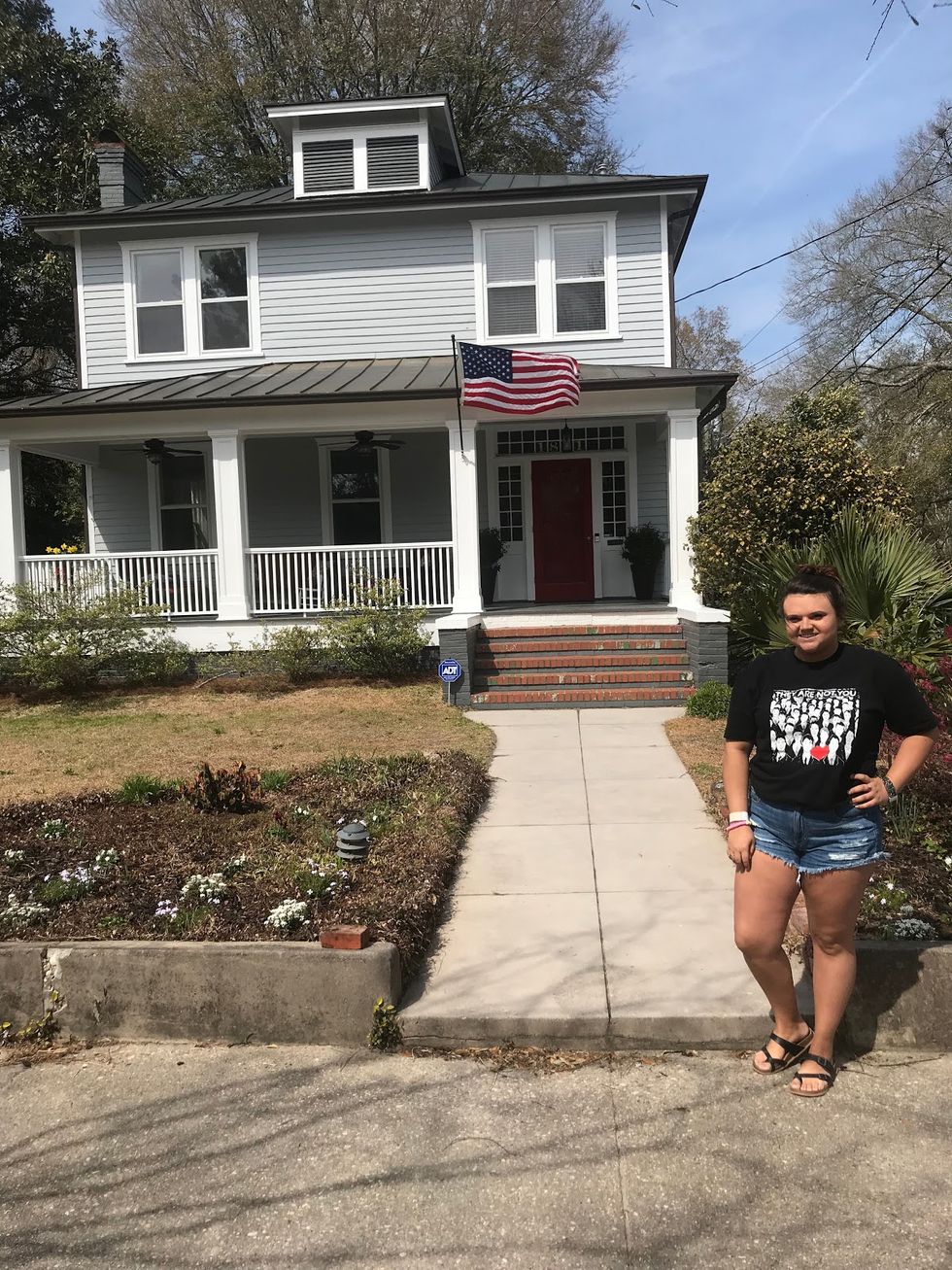 It's tutor girls house! Home of 7 children. Wow. It's not mentioned in the show, but Haley's house is actually right next to Peytons.. So that's where we went next. This house is actually for sale at the moment, we all know where I'll be living as soon as I come up with $449,500!

3. Peyton Sawyer's House, 1901 Chestnut St. Wilmington, NC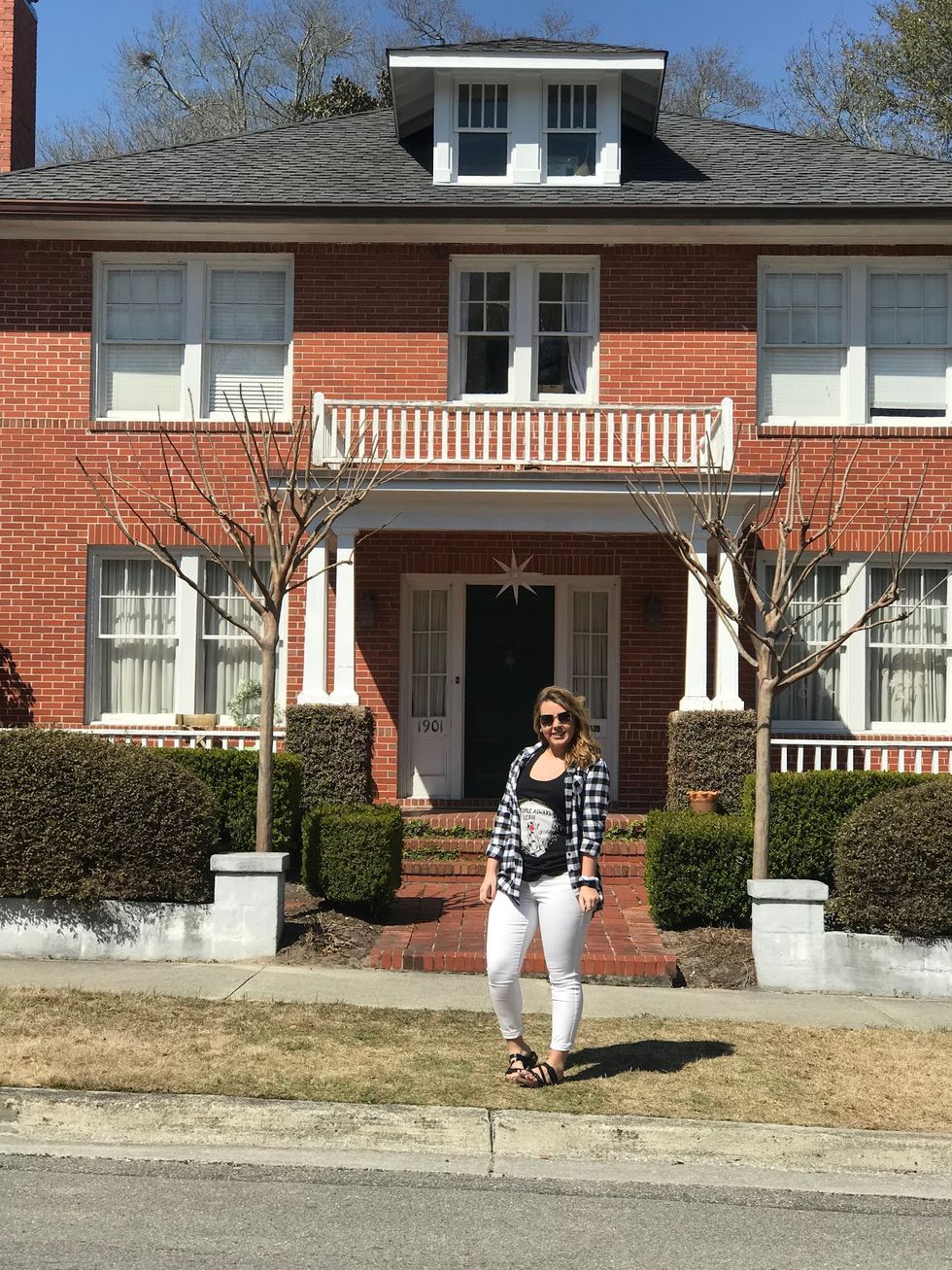 P. Sawyer! The house that never has a parent home, and the house that no one ever knocks before entering. This is the place where Peyton's webcam is set up, her iconic bedroom is.. And the list on the closet door! (If you know about the list, well then you know.)
4. Lucas Scott's House, 1829 Wrightsville Ave. Wilmington, NC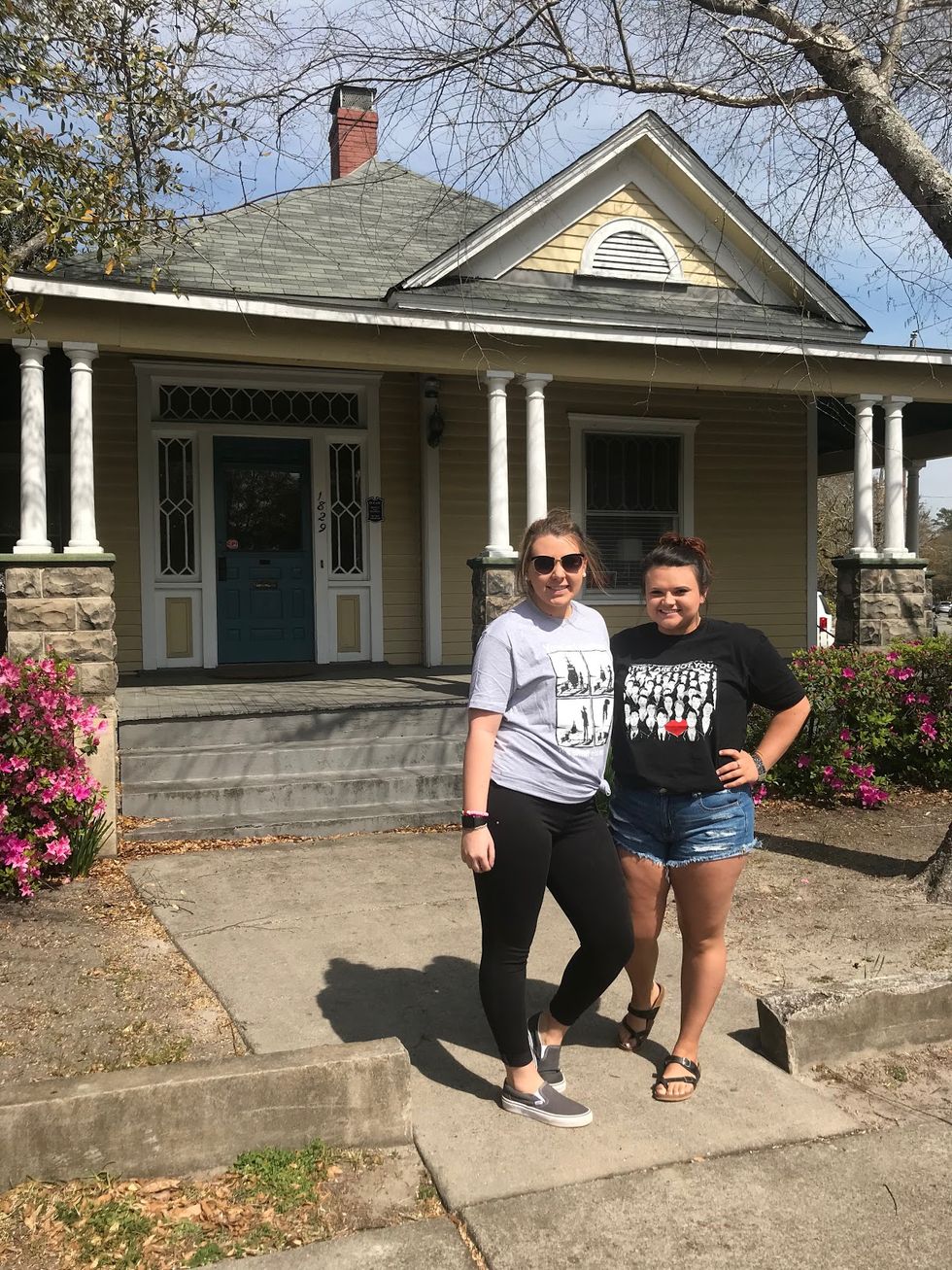 Lucas and Karen's house.. those are the very steps that Karen gives Lucas life lessons. I wished more than anything I could have taken a picture on them, but the people who own this home have privacy signs hanging all around the property so we tried to be respectful. I know what you're thinking.. where is it? Where's Lucas' door?? We couldn't very well leave without a picture of the door that is shown being dramatically painted black when Lucas got upset with 'The Girl Behind The Red Door.'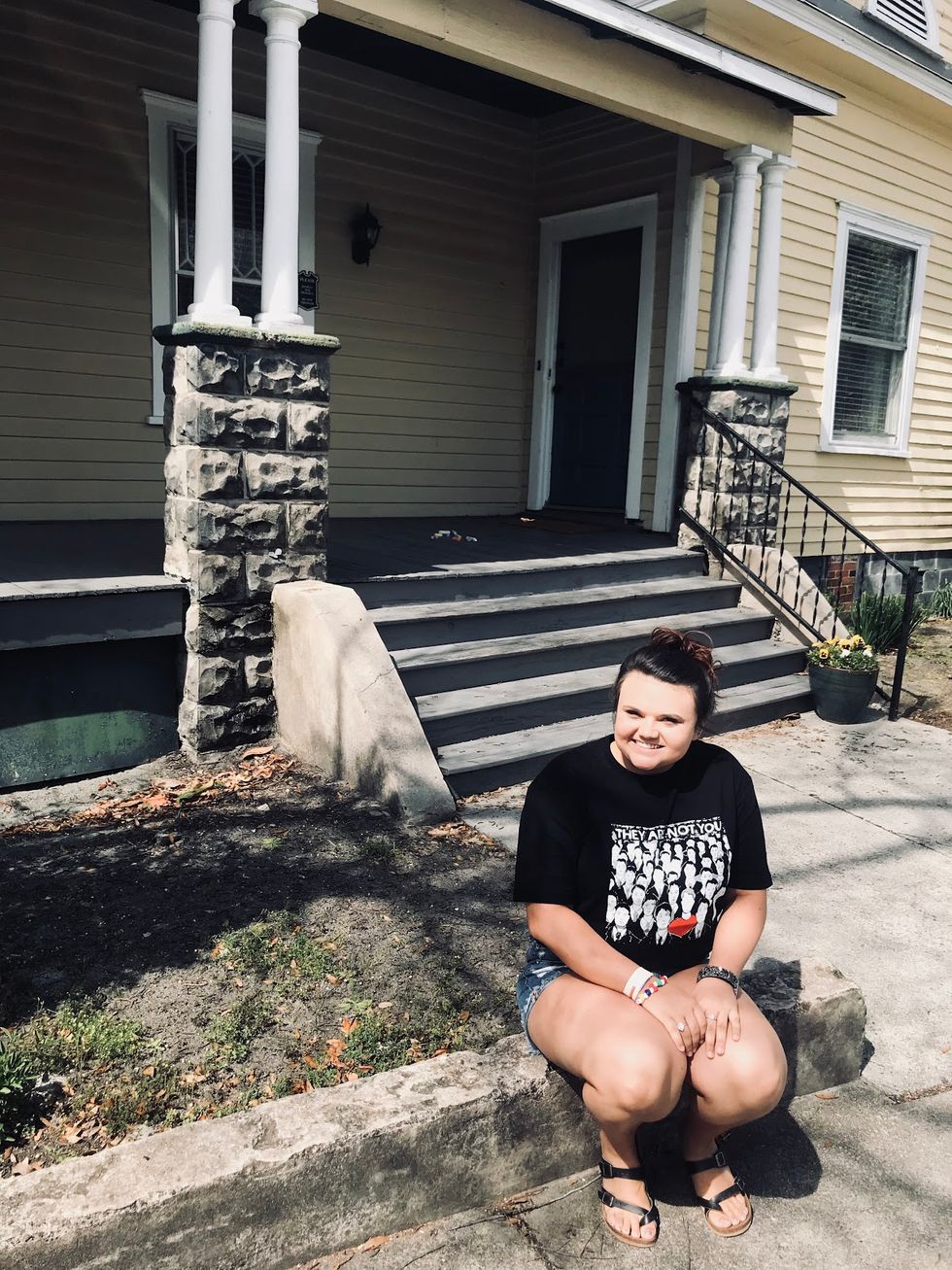 The door appears to be somewhat black in this picture, but it's actually painted a blue/green color now. You can see some chalk lying on the porch outside the door which makes me think their may be some kids living here currently... some LUCKY kids I might add.
5. Nathan Scott's House, 1621 Country Club Rd. Yadkinville, NC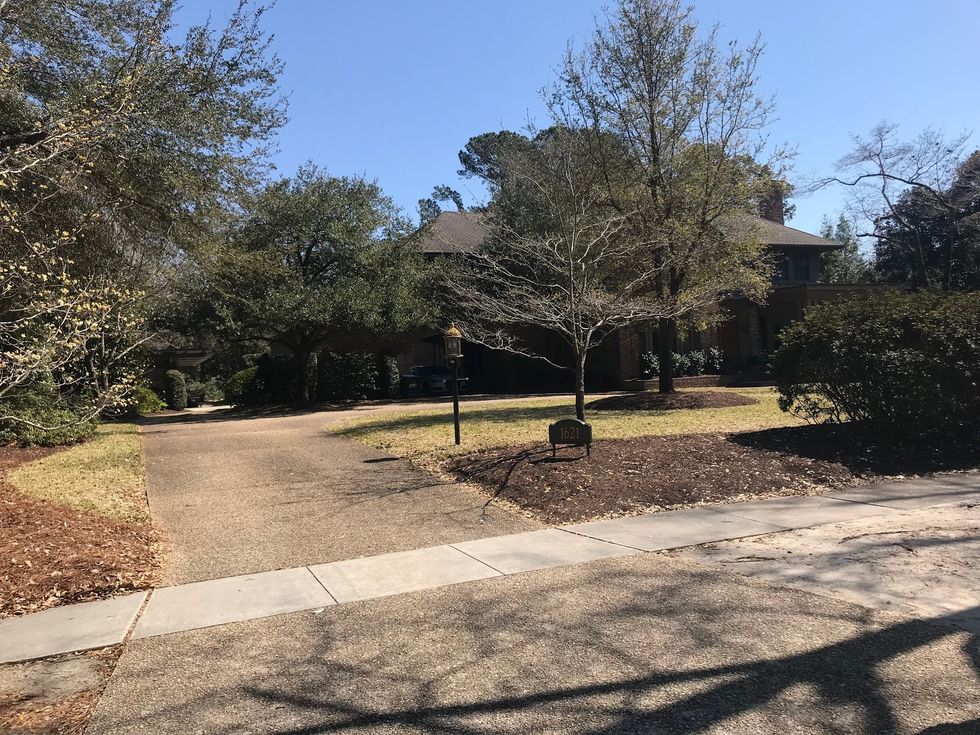 Remember the spot where Dan schools Nathan shooting some hoops? This is it! The house was hard to see because of all the greenery that had been planted for privacy from crazy OTH fans like myself I presume. We actually almost overlooked this one, until the local mailman stopped by to point out which house it was, so shoutout to him! The house was in a beautiful neighborhood surrounded by other houses just as beautiful.
6. Dan Scott's Beach House, 1515 S Lake Blvd Carolina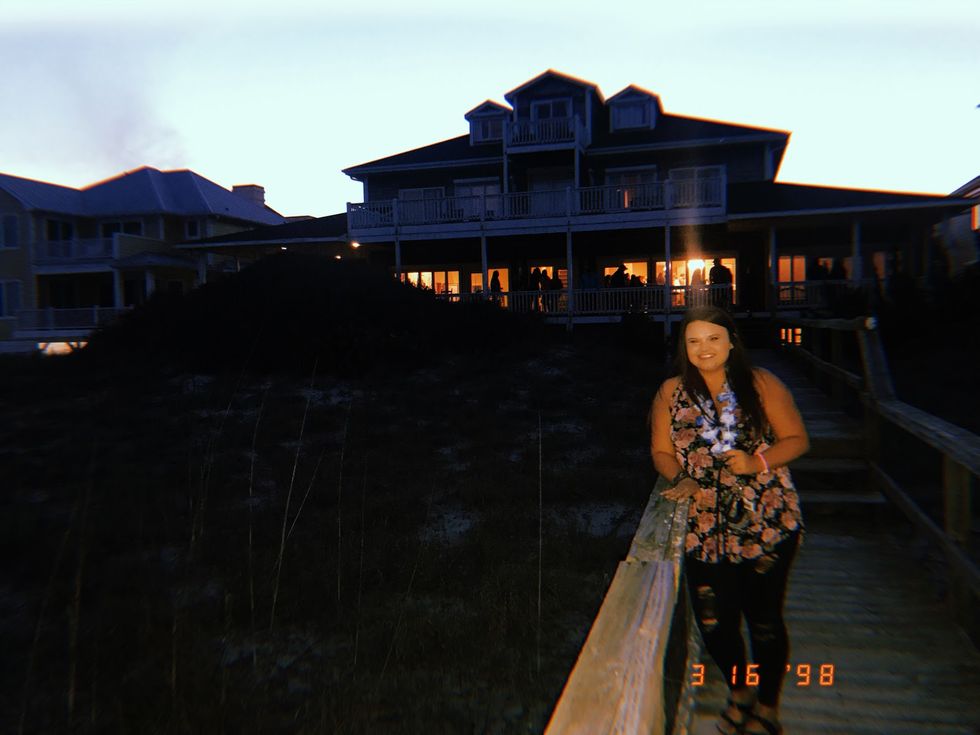 If it looks like there's a party going on behind me, well it's because there is! I had the honor of attending a beach party AT DAN SCOTT'S BEACH HOUSE. It was every bit as exciting as it sounds. There were even a few of the actors there, and we were able to mingle with each of them, they asked that we didn't take pictures of them though. We had to Uber there because we were told in advance that there would be no parking, and there definitely was not. Luckily our Uber driver was a local and was able to take us right to this beautiful home.
7. TRIC, 1121 S Front St., Wilmington, NC 28401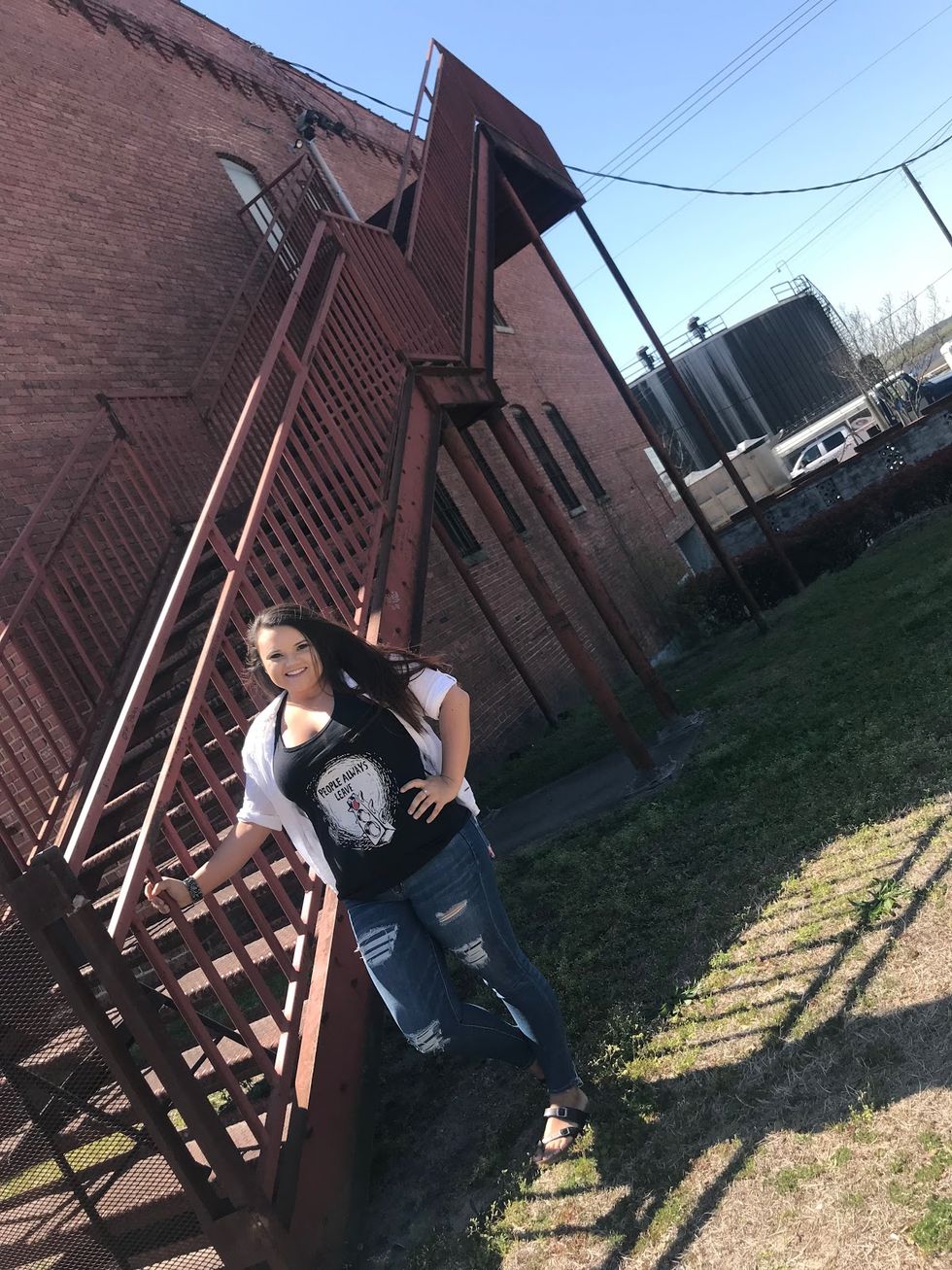 Karen's nightclub, TRIC. Remember when the camera panned to the outside of Tric where you saw people lined up and down the stairs waiting to get in to hear their favorite bands? Well, that stairwell isn't actually there anymore, but these were on the side of the building and we took pictures here as well to reminisce.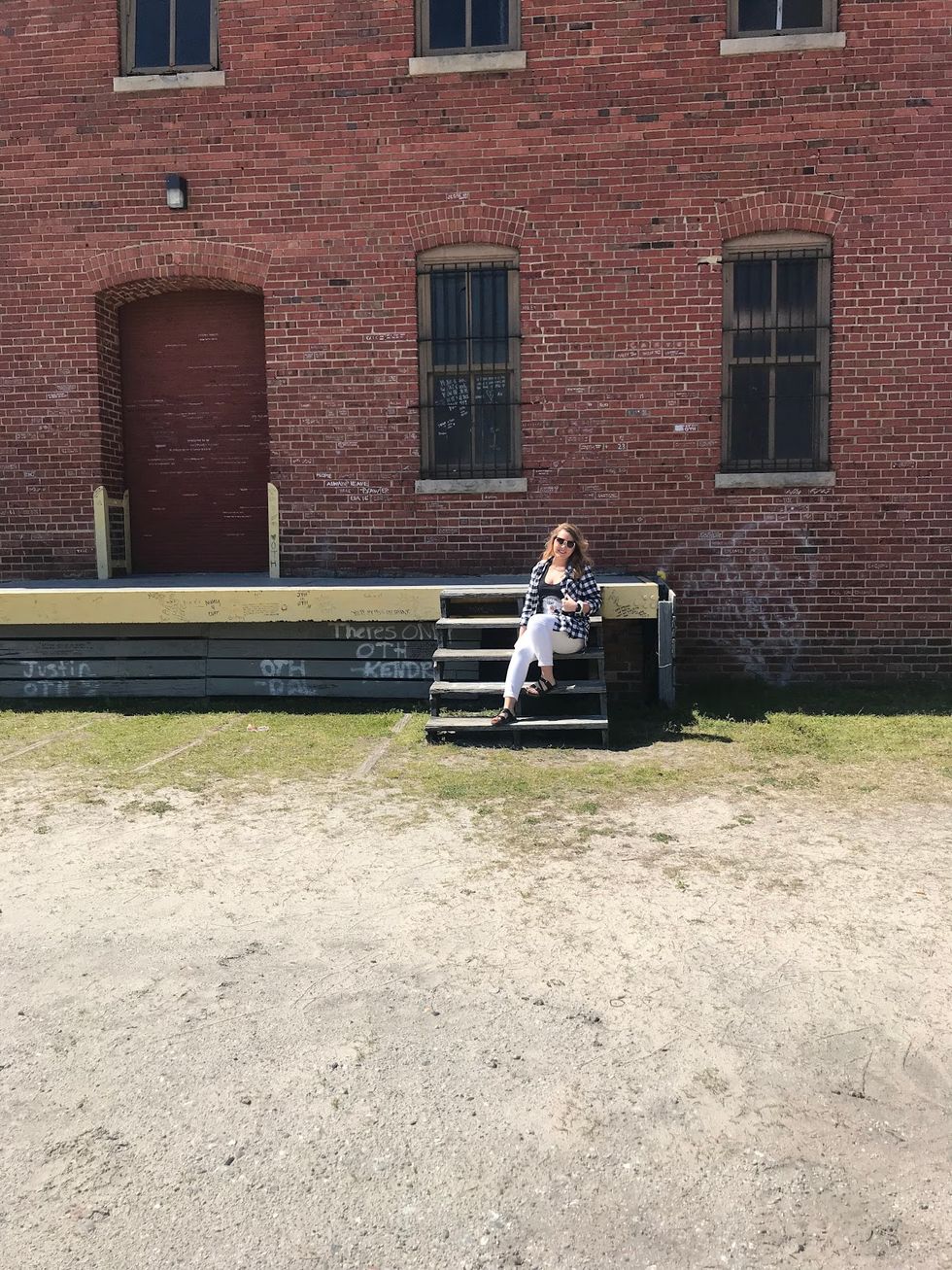 This was the back of the building, where TRIC actually was. There are SO many "One Trill Hill" quotes written on this building. We probably spent an hour here, just reading
8. Keith Scott Body Shop, 19 Covil Avenue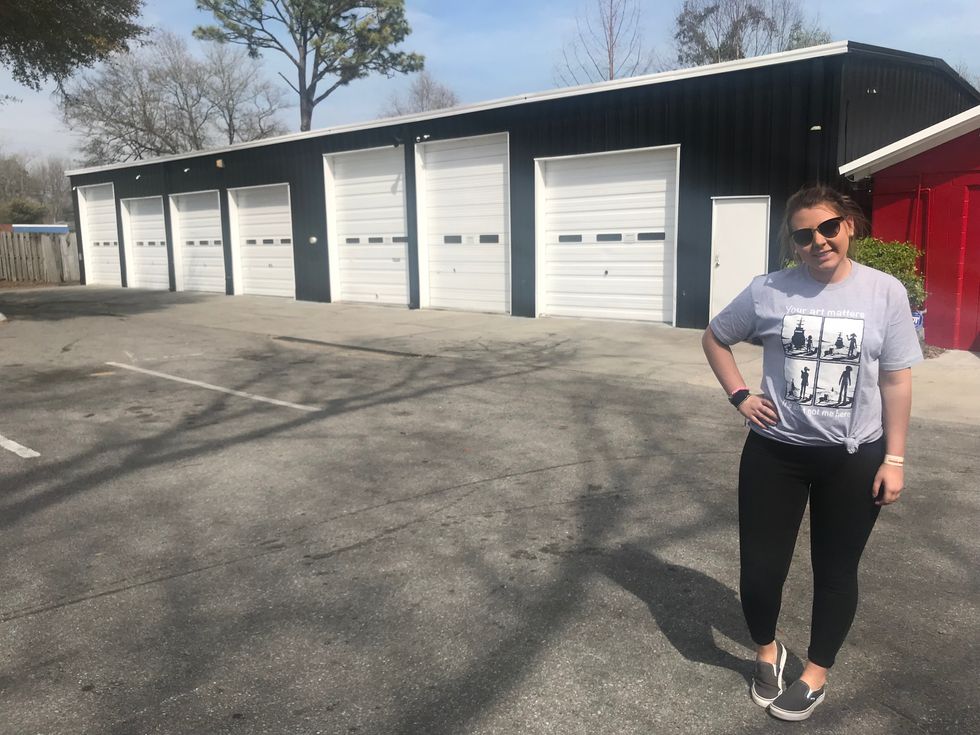 We were highly disappointed to see that Keith's body shop was now black and red.
9. The Opening Scene Bridge, N 6th Stree
idk
10. The River Court, USS North Carolina Battleship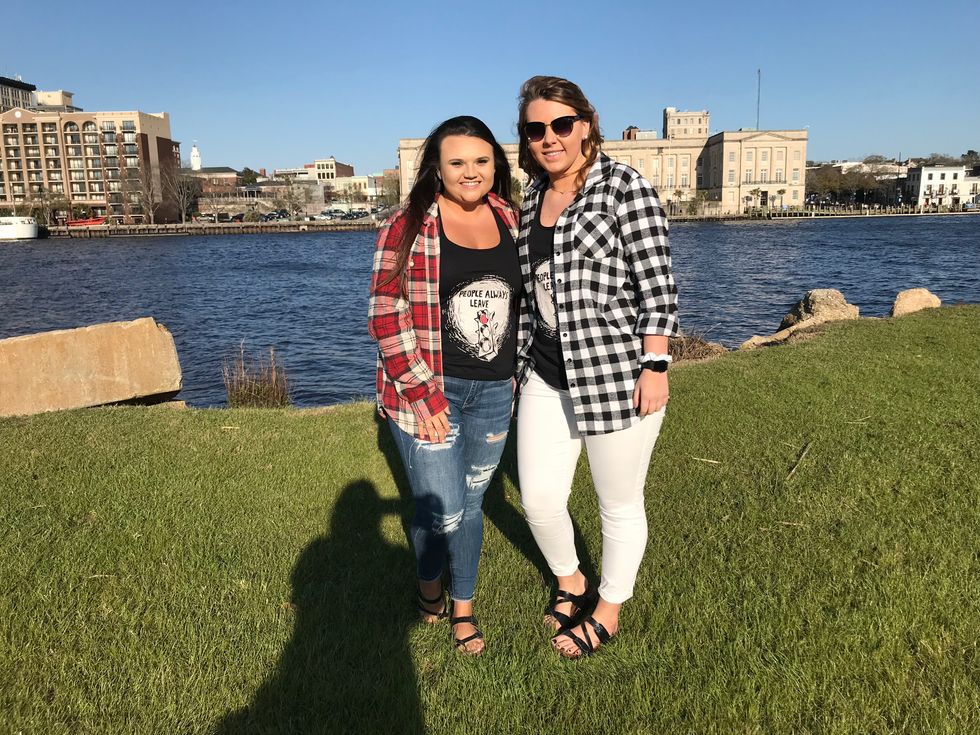 "A lot of lost kids found their way to something better in this park. In a confusing world, at a confusing time in their lives, they found something that made sense here and they became better people because of it. Surely that is worth preserving." - Sadly, the River Court must not have been worth preserving to all. There's not an actual court there anymore, but you can go to the very place where it once was. We were actually lucky enough to watch a movie while sitting on the old River Court, and WOW was that emotional! I will never forget the feeling I got watching OTH as the sun set down over the river.

11. The Naley Bench, Riverwalk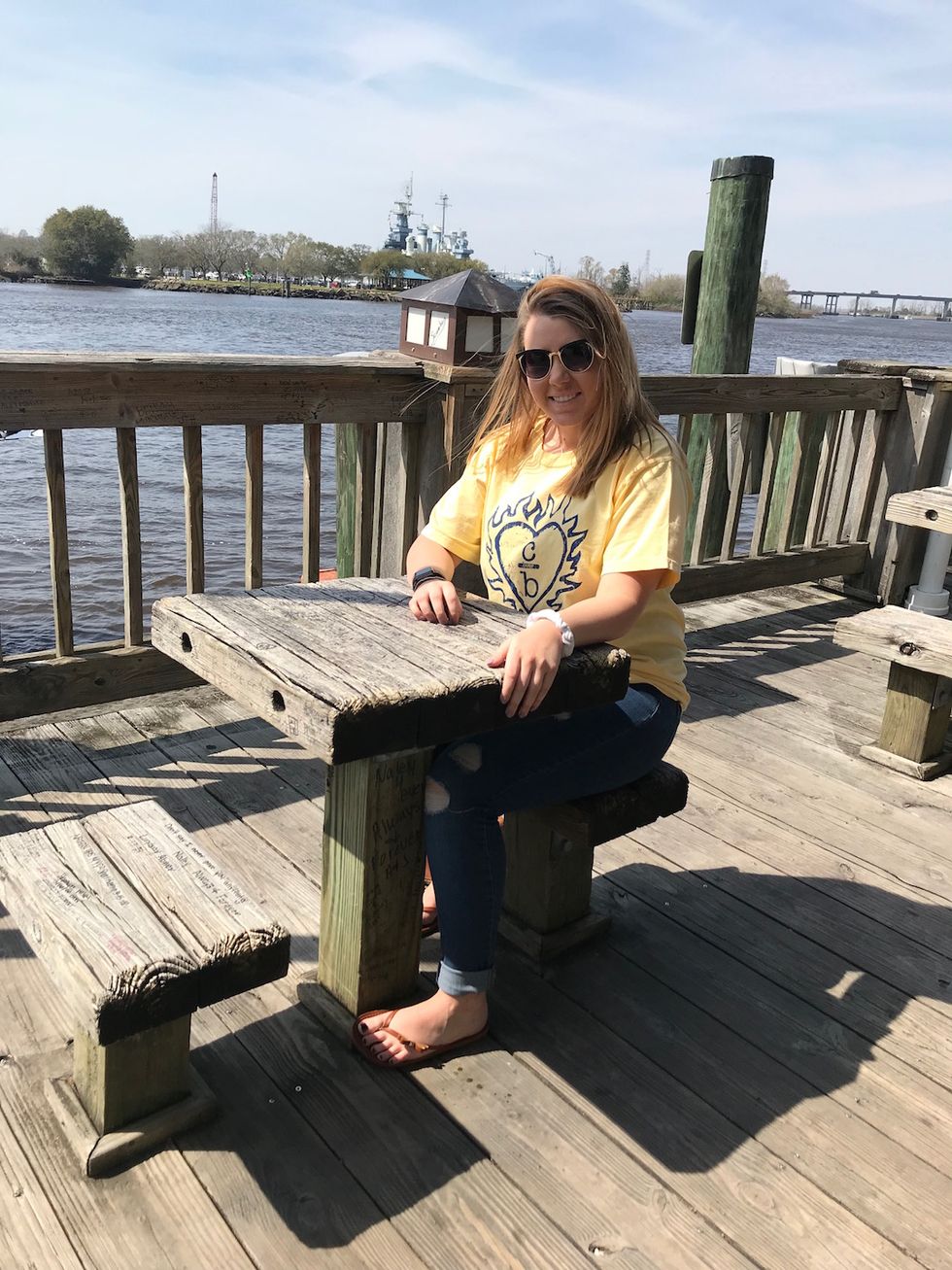 Ahh, the place where it all began! The signature spot for Naley tutor sessions. (Although our first thought when we got there was that there was no way this bench was big enough for two people to study at.) There's no actual address for the Naley bench, but it is located along the Riverwalk near downtown.
Also, if you're looking for any cool OTH apparel, there's a store called Krazy Mikez's (1 North Front Street) that has a huge selection. Every OTH fan should visit Wilmington at least once, you will not regret it. Because there's only one Tree Hill, and it's your home!