The internet recently found out that your favorite talking snowman isn't as small and cuddly as you thought, and they are not happy about it.
A few days ago Twitter users took to the platform after finding out that Olaf is about 5'4" tall. What?!
Not only does this make Olaf a lot taller than what everyone would have hoped he'd be, but it also makes his on-screen friends terrifyingly gigantic.
If you have seen the film, you know that the characters nearly double Olaf's height, making them over 10 feet tall.
In this graphic a Twitter user made, if Olaf is 5'4", Elsa would be approximately 11'2".
When you search Olaf's height on Google, you are going to find a lot of results like this.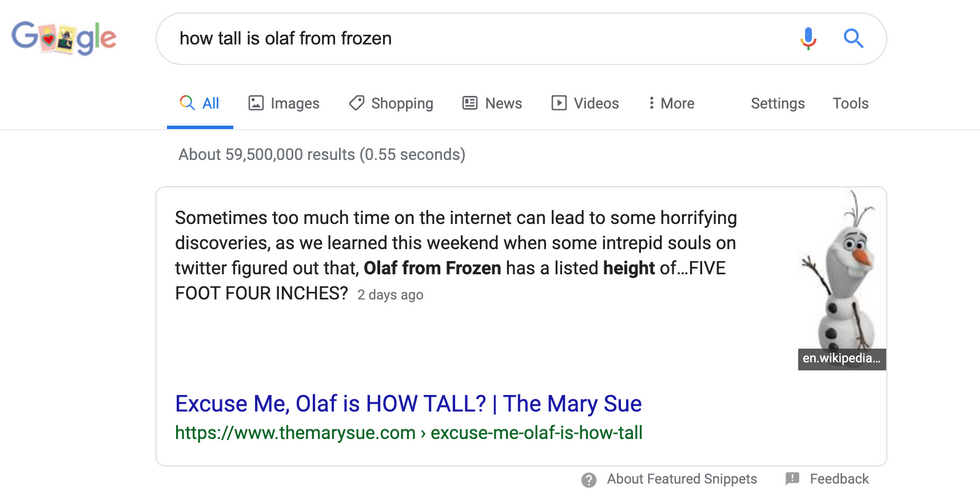 As many people are enraged and think all of this is a lie, there are a lot of people who are just enraged and confused at the fact that they are either shorter than Olaf, or the same height.
The hate from this new info comes from the fact that we all assumed that the cuddly lil' snowman probably capped out at 3 feet.
In the film you see the other characters kneel down multiple times to talk to Olaf so that they are at eye-level. Now we see why considering they are all 8 -11 feet tall.
If you found this news out and thought to yourself, "Olaf is tall, that's awesome!" or you have zero issues with this, you probably just have no interest in the movie.
I would like some confirmation from Disney before I exude any sort of hate, but that's just me.