I flipped on CNN while BJ the Chicago Kid sang the National Anthem. I didn't know who this guy was, but all I could think was "Man, this is really happening...he's leaving office." His sultry, slow voice made me feel both joy and sadness at one time—happy for having had a president that I was proud to call my president and very sad to see him depart the position. A few tears rolled down my face for losing a leader so dear to my family, boyfriend, and I. But then, I was cheerful to see him walk out on the stage.
He was the first president to ever hold a Farewell speech away from the White House. It was held in his city, Chicago.
McCormick Place, the largest auditorium in North America, was packed full of people—young, old, and of all ethnicities, cheering loudly. The President tried several times to get everyone to sit down, but they could not help themselves, their voices grew louder—it was the sound of great thanks for an extraordinary man and leader. He jokingly called himself a 'lame duck' for not being able to get the people to sit down. I was so anxious to hear him speak. It sort of felt like if my favorite football team, the Washington Redskins were about to kick-off at the super bowl. The energy I felt, combined with all of the people in the room, and the ever-so poised and humorous Obama was un-matchable.
Obama, arguably the greatest orator of all time, was giving his last speech as President of the United States. To me, he felt like a friend. Anytime I watched him over the last eight years, I would feel comforted. He had such ease with his words, made things seem more positive, and would always throw in a joke or two.
My Life Through His Presidency

During the speech, through every mention of the past, or recent issues, I was able to relate it to how he made me feel during that time. When he mentioned starting out in 2008, I flashed back to when I was 17 years old, and he was the first politician to ever catch my eye. Talking about change, diversity, and helping everyone. And the way he spoke was so captivating. I remember for Christmas that year, my Grandma got me a framed postcard of Obama that said 'HOPE' underneath his face. It was a really popular piece of artwork at the time.

I thought of when I voted for him in 2012, I waited in the line of an auditorium for two hours on my college campus. The turnout was so huge. I felt so proud to be a part of it, and that all of these people cared so much that they would wait in huge lines to vote.
This speech was the icing on the cake of a great presidency. Over the last eight years, I've watched Obama give speeches mourning the Sandy Hook shootings, celebrating the taking down of Osama Bin Laden, and announcing that gay marriage had become legal across the U.S. You can just tell, this guy cares for people. He is the ideal president in my eyes.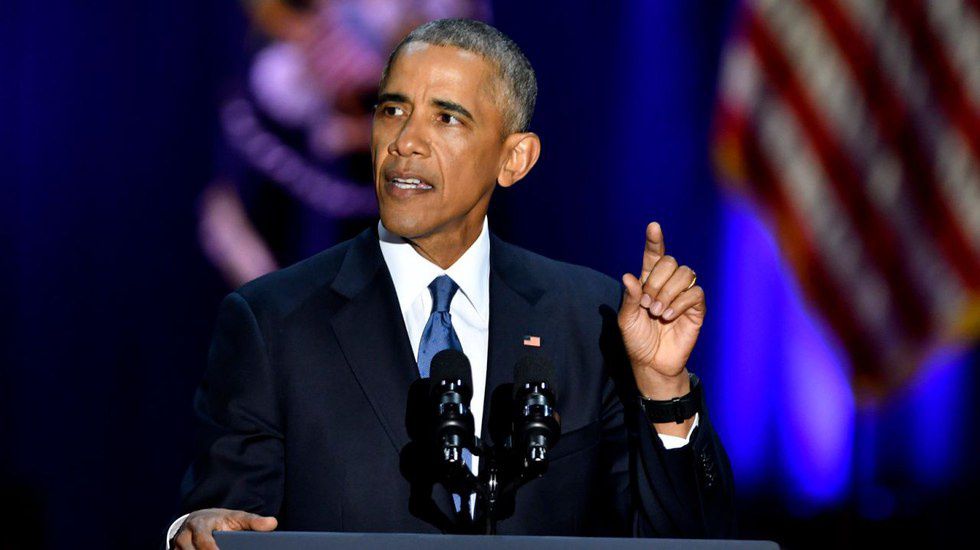 If We Don't Like What We See, We Should Run For Office

Within 35 minutes, he highlighted what the country has accomplished during his presidency, but more importantly, he thanked all of us and gave us hope for the future.
"If something needs fixing, lace up your shoes and do some organizing. If you're disappointed by your elected officials, grab a clipboard, get some signatures, and run for office yourself. Show up. Dive in. Persevere. Sometimes you'll win. Sometimes you'll lose."
I felt invigorated by that statement. The fact that Trump and his cabinet will be in office for four years, makes the future seem hard. But instead of feeling enraged, let's use our "jealous anxiety," as Obama called it, to take initiative and run for office ourselves if we don't like the way things are going.
I felt very lucky to have grown up with him, throughout the most crucial years of my life, he has been there. His kindness, elegance, intelligence, and humor, I can honestly say he has made me a better person.
I felt scared for those younger than me, that will watch Trump giving an address thinking that his behavior is the norm. But then I look at my generation, the Millennials, many who believed so strongly in Bernie Sanders (like me) and helped him have such a successful campaign, and my morale grew stronger.
Obama, of course, went over the racial issues in our country right now, explaining that we've come a long way, but not far enough.
"Race remains a potent and divisive force in our society," said Obama.
He went on to say that race relations are better than they were 10, 20, and 30 years ago. "You see it in the attitudes of young Americans across the political spectrum."
So as a 25-year-old girl, he made feel proud to be a young American, proud that he seems to be more accepting of all races than generations of the past. If enough of us take action, strive for change, and keep our values, and we can do great things. With the increasing diversity of the country, he explained that it's necessary to be more accepting of everyone if we want to keep our democracy going.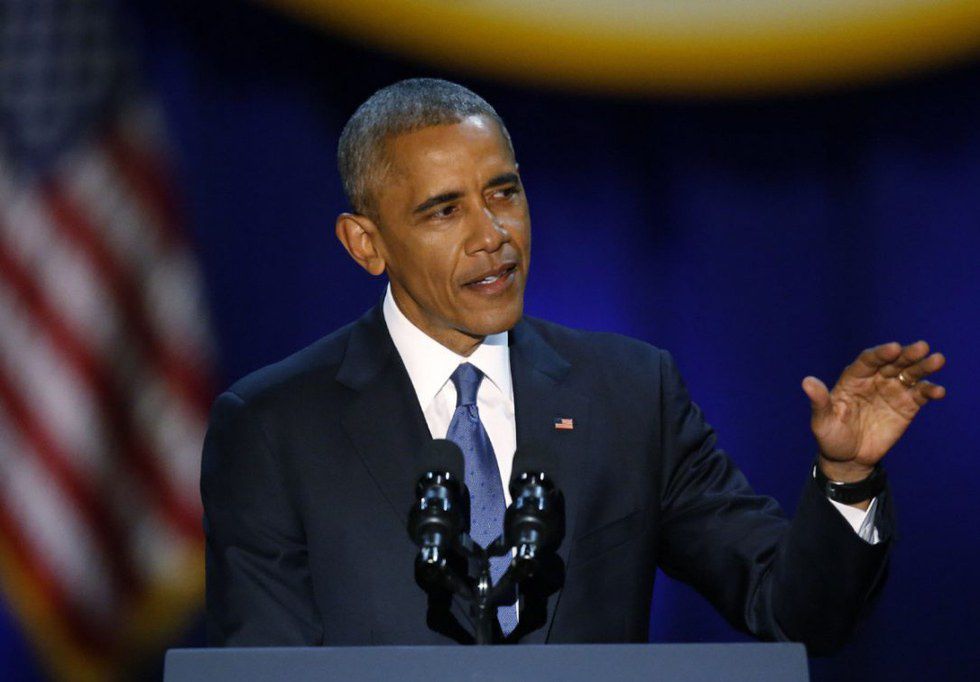 "We Must Guard Against A Weakening of the Values That Make Us Who We Are."

A topic close to my heart, climate change was not tip-toed around, but he explained the science-backed facts that we need to take action.
"But without bolder action, our children won't have time to debate the existence of climate change; they'll be busy dealing with its effects: environmental disasters, economic disruptions, and waves of climate refugees seeking sanctuary," said Obama.
The most fearful part of the new Trump administration for me is that he and his cabinet, are majority climate change deniers, and all for increasing fossil fuel production. Any progress that has been made over the past few years could be shattered. And we are not even close to where we need to be.
I was so glad to hear Obama say "our children won't have time to debate the existence of climate change...they'll be busy dealing with its effects." I was like 'YES, THANK YOU!' This guy knows what's up, and doesn't ignore the facts.
How do we go from such a well-composed man, that never let's ego get in the way, and always does what's best for the people as a whole, to an ego-tripping, p**** grabbing, Twitter troll, who wants us, taxpayers, to pay for a wall between us and Mexico?
It honestly doesn't seem real, but I'm taking Obama's advice to stand up as a citizen and fight if I don't like what I see.
At the end of the speech, I was blubbering like the time my mom and grandma watched The Notebook for the first time. Michelle was such a wonderful First Lady, too. Such a role model for women. You couldn't ask for a better duo.
After all, they are still going to be here with us as citizens, which he said is the most important role in this country.
"Democracy can buckle when it gives into fear. So just as we citizens must remain vigilant against external aggression, we must guard against a weakening of the values that make us who we are."
Instead of using Trump's presidency as a time of anger, let's start a revolution, to keep the values of our democracy and fight for what we believe in.