After rumours rumbling around the gaming industry for quite some time, Nintendo has finally presented its latest home console to the public. In a "First Look" video released on October 20th, eager fans across the world were treated to a sleek trailer teasing the NX, now unveiled as the Nintendo Switch. Some of the new functions, games and hardware were shown off, impressing industry analysts, fans and rival gaming giants alike. Though there is still a great deal of information about the Switch that Nintendo has yet to share, what we do know has sparked excitement and curiosity across the breadth of the industry.
One of the most immediately arresting facets of the Nintendo Switch's design is the hybridisation of home console and handheld. The main technology of the Switch, powered by a custom Nvidia Tegra chip able to support graphical engines such as Unreal Engine 4 and Unity, is housed in a single-screened handheld tablet. This tablet with two detachable controller modules called Joy-Cons docks into a system base that handles power and controls audio/visual output to the television set. While docked you can play either by detaching the Joy-Cons and slotting them into the Joy-Con Grip, turning them into a more recognisable controller or by using a Switch Pro Controller meant to work like a more traditional gamepad. The Joy-Con controllers lack a modern d-pad, opting instead to follow the c-camera button layout from older Nintendo consoles. The Pro Controller, however, does use a d-pad, offering options for multiple control preferences. These Joy-Cons have several other possible uses and configurations shown in the original video, but a full list of these will have to wait for Nintendo's confirmation.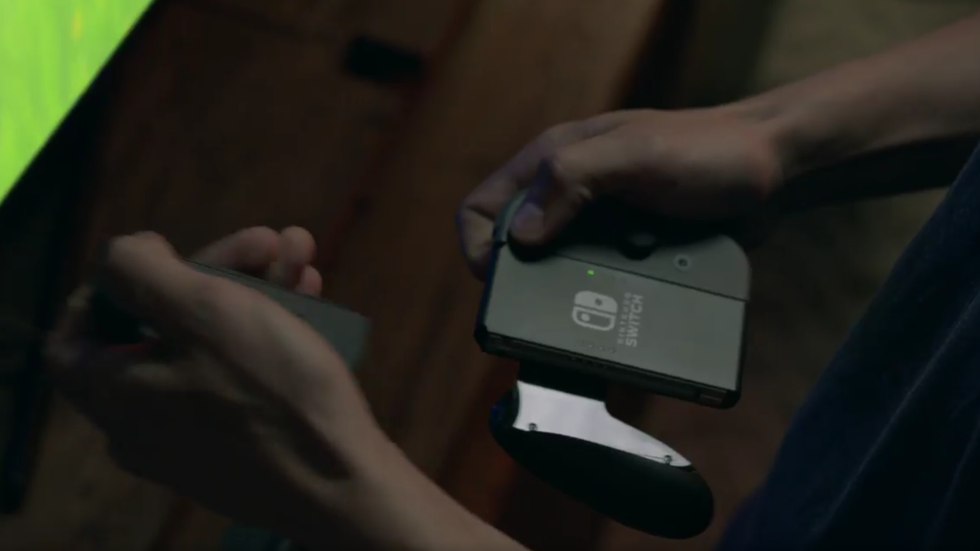 Another aspect of the Nintendo Switch that the video focuses on is just how portable the system really is. With the Joy-Cons slotted into either side of the main tablet the Switch becomes a handheld gaming device -- almost like a high-powered, single-screen 3DS system. The Switch is shown played alone, split-screen and wirelessly together at a park, in a van, on a plane and at an outdoor party. The message seems to be that the system is a versatile, enjoyable gaming experience wherever you go and however you configure your aptly named system. It also features a kickstand at the back and a headphone jack on the top of the tablet body, allowing extended play propped on tables, trays, etc. Coinciding with this more portable nature the Switch has gone over to gaming carts, the small cartridges similar to 3DS and PS Vita games, to store its media. The cartridges appear to be thicker and taller than Nintendo's current handheld carts, and we have no word on what the storage size for these may be. While we have no idea if the screen offers touch support like the 3DS and Wii U, it is plain to see the influences that came from these previous Nintendo consoles.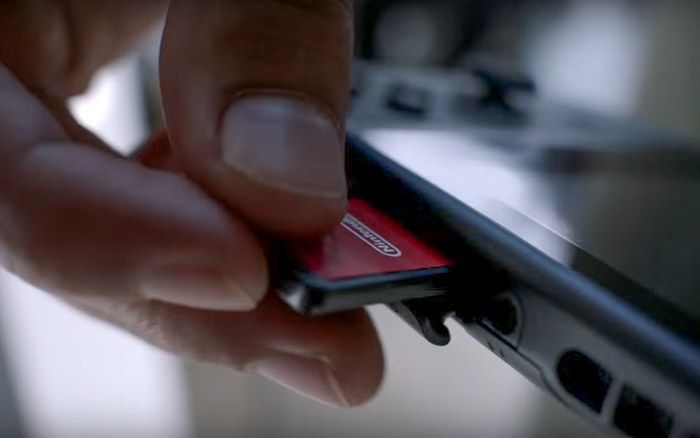 Finally, as with any new video game console announcement, the games are among the most important considerations of the fans. A high-powered console with lacklustre games and barely any support is just fancy, useless tech. With the lack of third party support for the Wii U and its less-than-stellar hardware the only thing that kept it afloat for its troubled life cycle was Nintendo's ever-talented in-house development team. This time around, however, it seems like Nintendo has made sure to tackle the problem of support head on. Though the video mainly shows first party IPs such as the upcoming "Legend of Zelda: Breath of the Wild," a possible new "Mario" game, "Splatoon," and "Mario Kart," all of which are heavy hitters, a large chunk of the gameplay shown off was for "The Elder Scrolls V: Skyrim," an industry juggernaut that is receiving a remastered version on October 28th for multiple platforms. With this popular title and a confirmed almost 50 other publishing and development studios dedicated to production for the Switch, it appears that Nintendo has conquered its problem with third party support.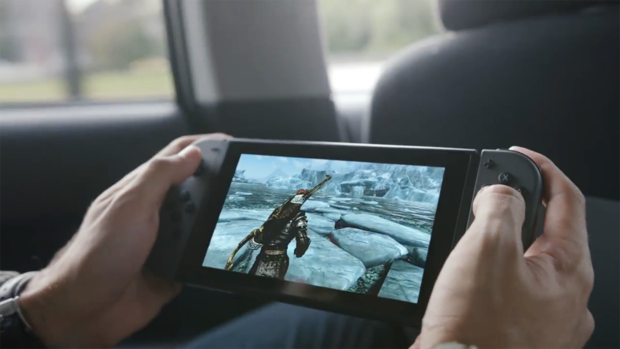 With the Switch, it looks like Nintendo is finally finding balance in their approach to the modern gaming industry. Taking cues from the technological power of the other consoles while still retaining their penchant for strange, creative designs has moved them past the gimmicky feel of the Wii and Wii U back into the position of a possible trailblazer for gaming tech. Though there is still a lot left unknown about this new console and its focus on playing how you like where you like, and though its strengths are still wholly untested by general consumers, there seems to be a lot to be excited for in Nintendo's latest mad experiment.