Recently I visited Urban Air Trampoline park in Cranberry Township PA. Upon going there, I was a little skeptical because I have been to a lot of trampoline parks, and all are relatively the same. There are the basic rules you need to follow for precautionary measures, but it's the most lenient park I've ever been to as far as rules. If you've ever been to Sky Zone, you know how many different times they'll blow a whistle for doing something you shouldn't have--which chances are you didn't even know about-but here, I wasn't asked one time to stop doing something.
This is a newer park, but with so many additional features that other trampoline parks I've been to, just haven't had. So here are a few things that are great to know before you make the trip there.
1.) It is definitely worth the drive.
I'm not sure where you're coming from, but if you're all for activities to keep you busy/entertained for hours, I would one hundred percent recommend going. It's definitely a family place, and people of all ages would enjoy this park. Before going (also know that some activities require you to be a certain height) so not everything is a free for all.
2.) WHERE IT IS
Like I stated up above, it's located in Cranberry Township PA, but more specifically, the address is 351 American Way, Cranberry Township PA, 16066. Putting this in your map/gps (or whatever you use) will take you to a general spot, but it is buried a little back. Meaning, you won't be able to see the building from the road. You'll have to go down a road to finally see it, so don't feel discouraged when your GPS leads you no where. A lot of people in that area are familiar with this park, so asking someone if you get lost is definitely recommended!
3.) What you'll need
Make sure you have some form of idea, know that you'll have to sign a waver, and also bring comfy clothes to bounce around in. If you're a girl with long hair, you'll definitely want a ponytail because I was dripping sweat by the time I was done.
4.) Cost for us
There are other packages, but I recommend the one we did. (I think it's less if you're under a certain age) but we did the 2 hour one, which was around 29.00 per person. This included tax and the cost for socks (that they make you wear in order to go into the park). The place we went to (I know there are different locations to, so check out there website https://www.urbanairtrampolinepark.com/trampoline-... to find the closet to you) was very lenient on how long we were there. They said..."If you stay a little over your time, we don't really care! Only when it's really busy do we start asking people to leave after their time is up"). So I would recommend going on a day that wasn't as busy if you're thinking you could benefit from extra time! For us, we didn't even make it to the 2 hours before we needed to go get something to eat! We were definitely exhausted.
5.) What they have
If you didn't get a chance to see, I would definitely recommend watching the videos on this post. I pulled a couple pictures from there website (which is listed above). There was a dodge-ball pit (two I believe) but because we went at a time that wasn't too busy, we didn't have as many people to play with. There was the Ninja Warrior course which was definitely my favorite. It puts things in perspective to you with how much upper body strength you actually need to complete something like that. They also had something that we could not do that day which was a sky thing (not sure of the exact name). We weren't able to do this because in PA it's not actually legal yet! Which is pretty insane when you think about it. Soon enough they'll be opening that up, and I can assure you we will all be going back for it!
Other things are listed below!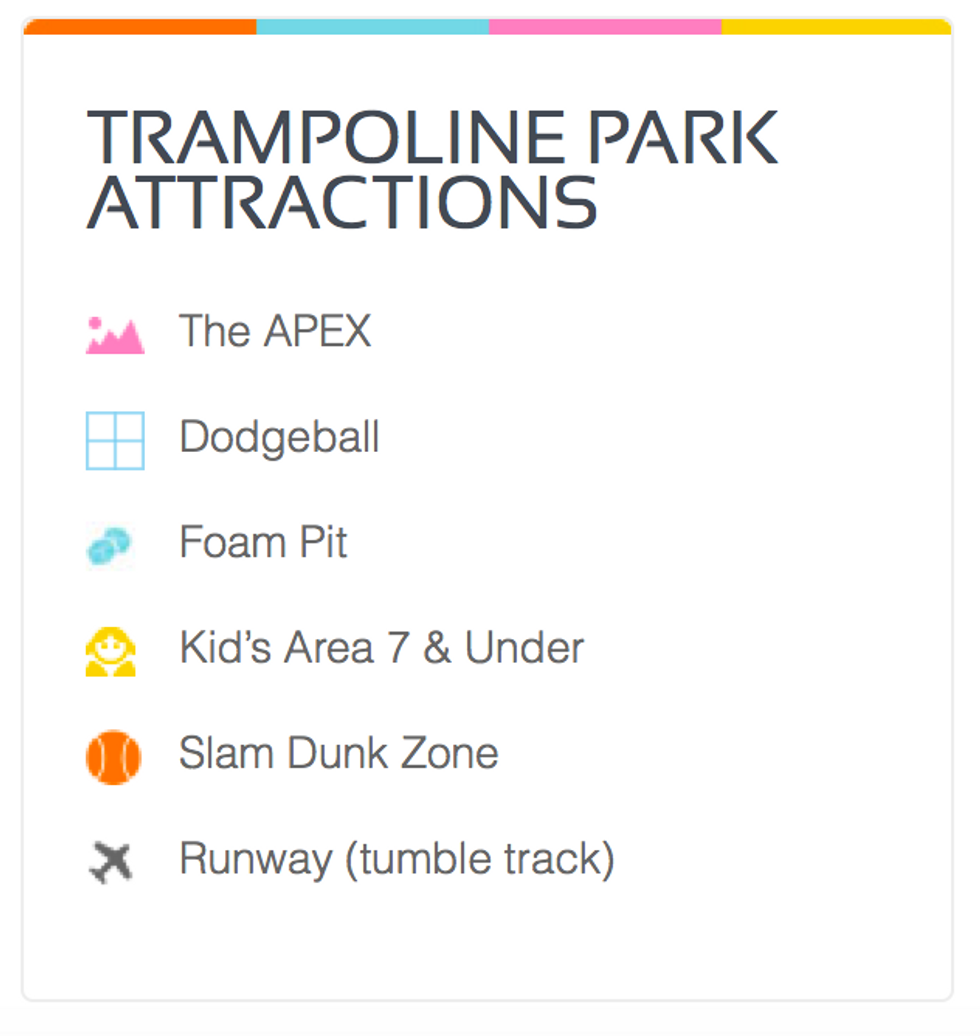 They also had a few different rock climbing walls! I would recommend not wearing extremely tight pants because the way the harness wraps around you is definitely not too flattering if you're wearing tight pants. #woops. Another bonus for almost all of these courses that you go on, is that it can be timed, and you hit the timer just like you would in Ninja warrior! They also have adjustable lights that will dim really low and it kind of looks like a rave! I loved that.
I know you're able to book birthday parties here. They have several different themes too. I thought the Glow and the dark one looked pretty neat. It's definitely a place I'll consider for my kid's birthday parties someday!
So overall,
Was. It. Worth. It?
It definitely was! They have a concession stand area there in case you need food/water. They have additional water fountains for when you get really thirsty. Cubbies are available for you to set your stuff, and they even have lockers for any valuables (but the parking lot is really big, so you'll have a lot of room to park in case you'd rather just park close and leave your stuff locked in the car. For only 29 bucks, I thought having well over two hours was so worth it. I end up paying close to the same at sky zone, and they weren't comparable at all! I would hands down recommend Urban Air. Below are a few images I didn't include on my post, and below that is a map to show you where you can find one of these near you!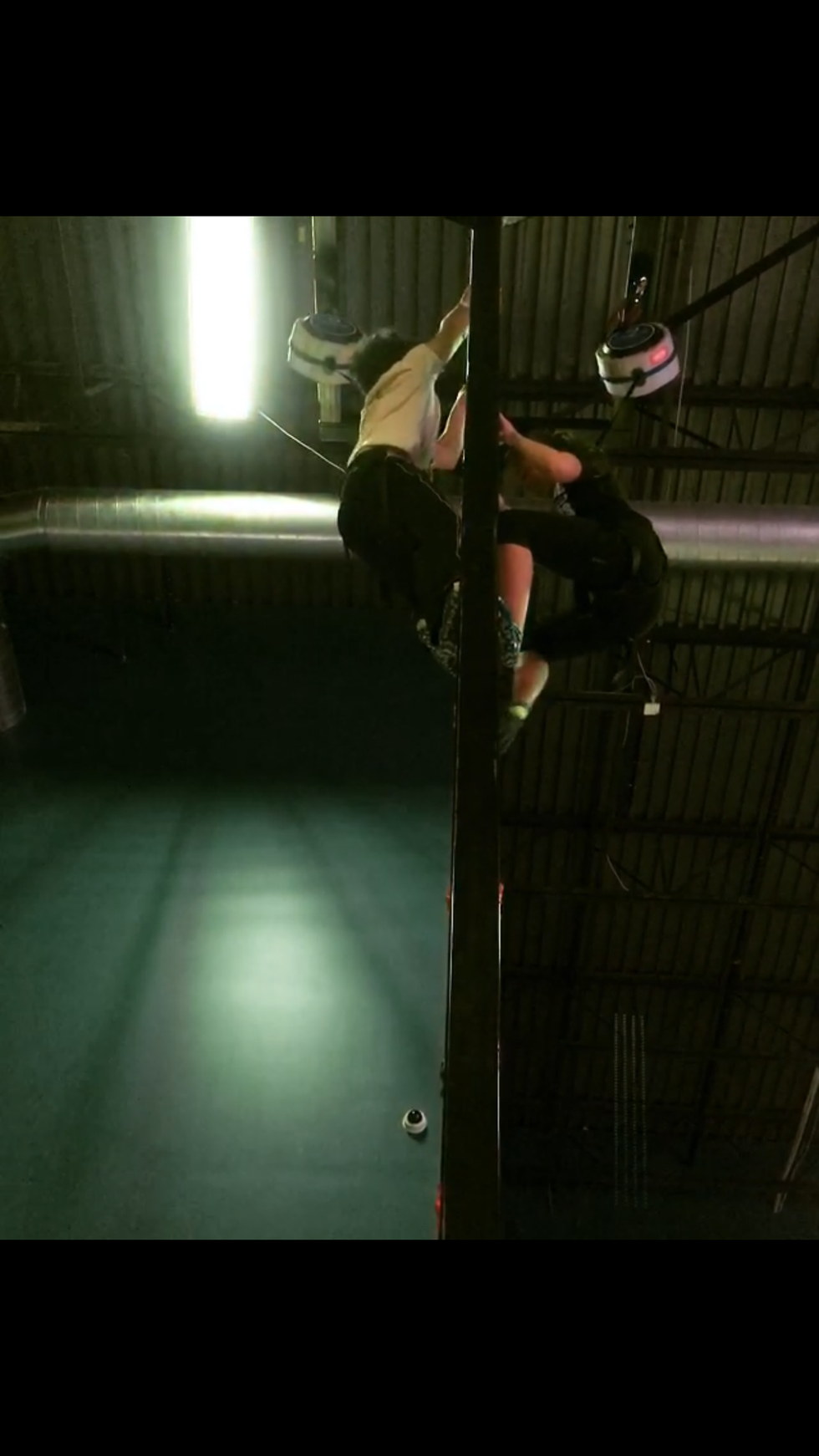 This was rock climbing-He won...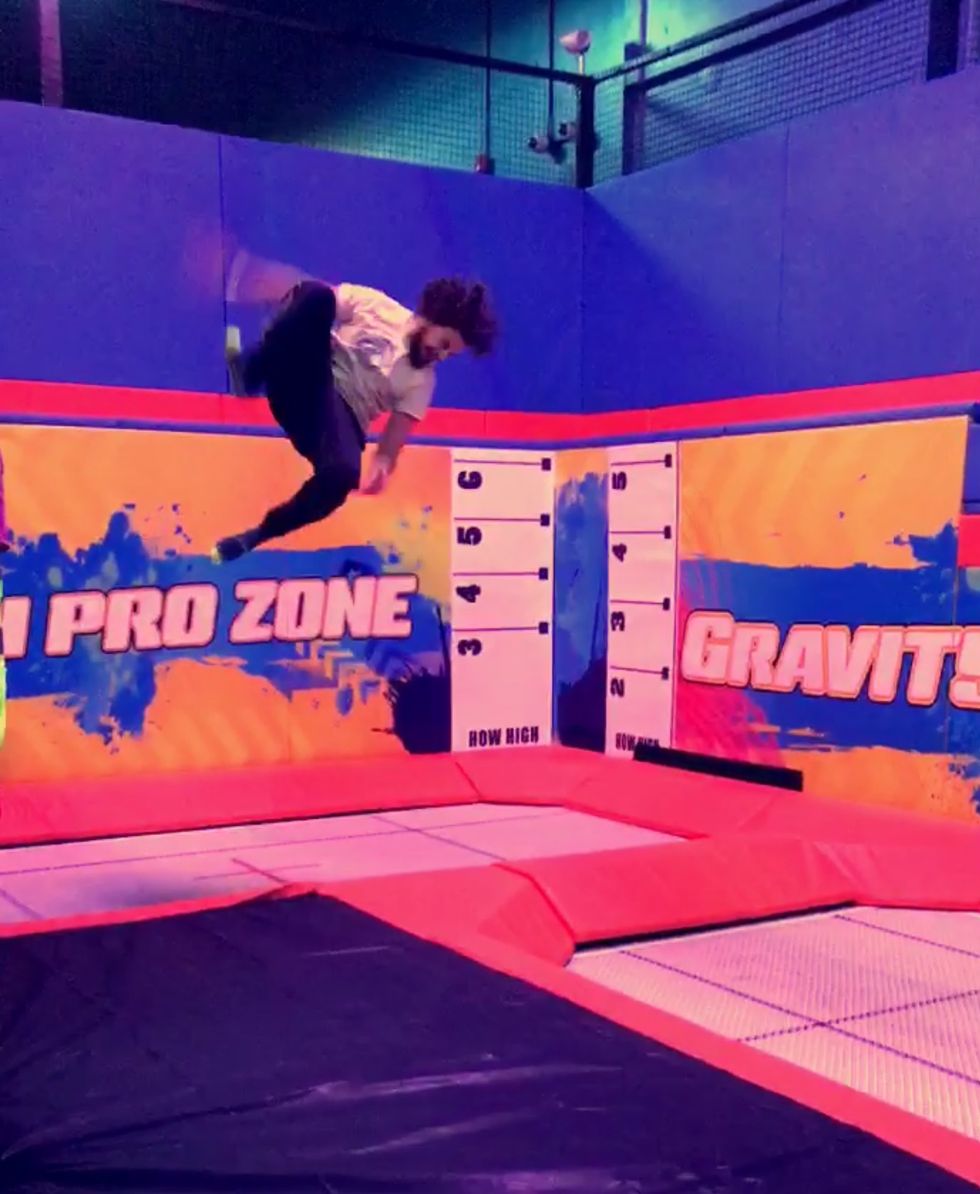 (Gravity Pro Zone) They're trampoline's that jump WAYYY higher than the other ones there that they have. They allow you to try and jump up onto the wall then you're able to stand on it and jump down. You can also do as many flips as you want, and off of the wall as well. (Just remember you do sign a waver...)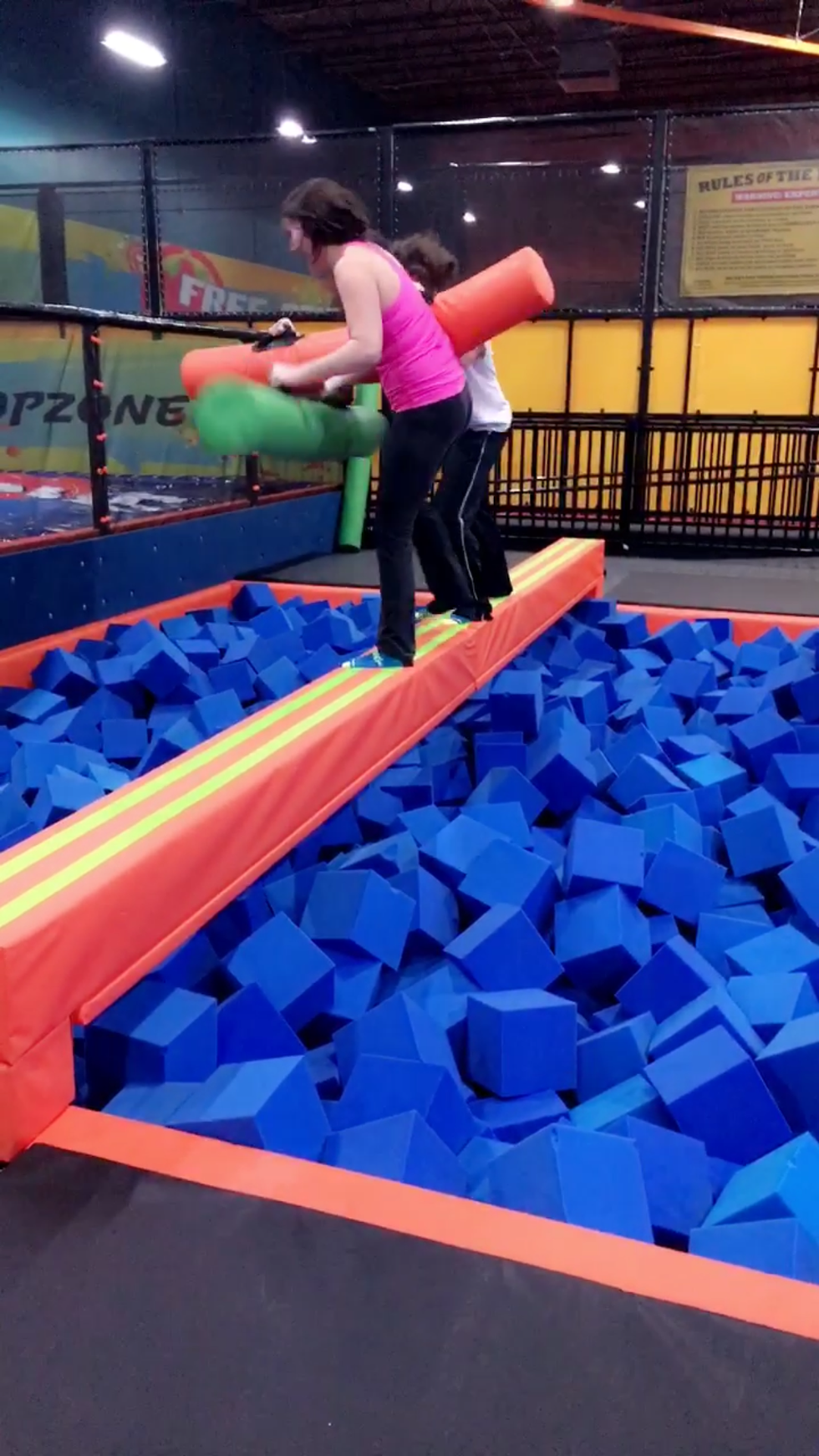 The foam pit with a twist.. I don't know if anyone ever watched Zoey 101 when they did something similar to this but in water.. (I feel like these things hurt much, much worse) Also, quick side note, they do have helmets you are able to wear, we just chose not to!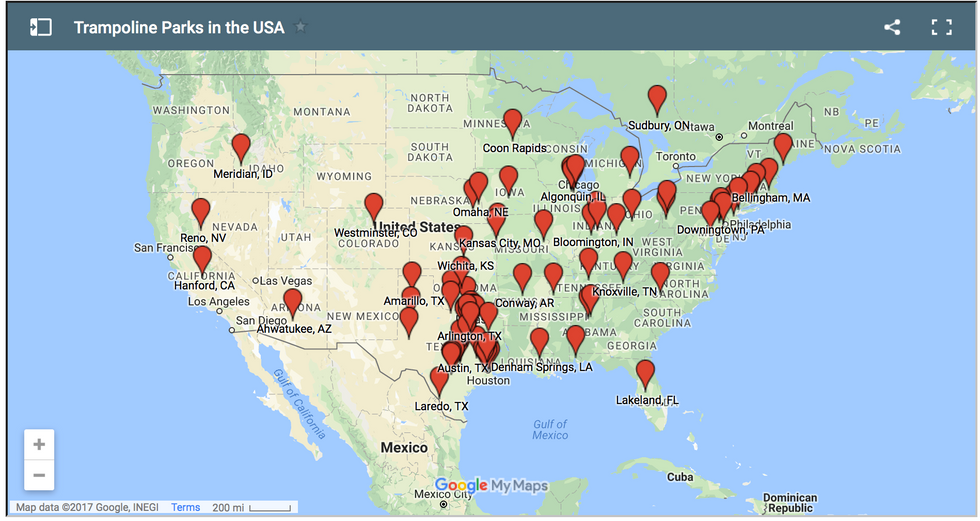 This is a map of all of the locations of Urban Air they have! If you click on the link below, it'll take you to this map, and also show you the address/contact info to whatever location you choose!
https://www.urbanairtrampolinepark.com/trampoline-...