I don't know about you, but I'm feelin' the new Taylor.
Okay, first let me say that I love the two new songs and am anticipating the new album Reputation. I have been a "swiftie" since the OG Taylor Swift album featuring her hit "Tim McGraw" back in the long curly-haired days of her country roots.
With each release of the rest of her five albums, we have seen her evolve into her current style: pop. During that time she has been in and out of relationships, made some hella-good music videos, created a girl squad, squashed and renewed feuds as well as hosted some insane concert tours. The girl has been hitting her damn grind. After that, she took a small hiatus and returned to Spotify thus putting us "swifties" into a waiting game of what was to come next. All the while, she rocked a red lip.
Then she dropped "Look What You Made Me Do." I was SHOOK.
Then she dropped the video. Even more SHOOK.
As I mentioned before, I loved the song but it is not like anything she's made before. On one hand, the vibes are very Bad Blood feel but even then it seems a bit darker. The sound is kind of all over the place. When I listen to it with my friends they always complain that it sounds like two songs are meshed into one with the speeding up and slow down. I personally think that's just apart of Taylor's style playing with speeds and beats to emphasize the drama.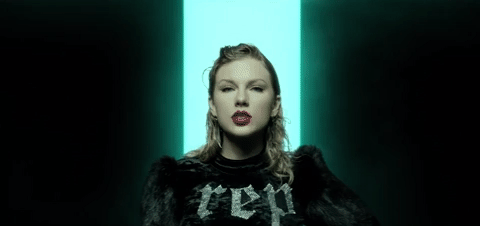 These lyrics are vaguely calling out many people who have wronged her and she then goes on to talk about how she overcoming their tricks with a few up her own sleeve. She claims she got hers and now everyone will get theirs. From that I take it as Taylor has taken her blows and now she's hitting back. The video was nothing short of her recent take on music videos with outlandish situations that all hint at something or someone. To me, the video was a genius move because she made her self the topic s. And here I am still talking about her.

Taylor employed a classic move many celebs take on whether it is intentional or not. It's the good girl-bad girl phase. She was our sweet girl next door in a pair of cowgirl boots until she started breaking hearts and getting into feuds. Now, she's testing out her "baddie" side delving into a bit more of kicking ass and taking names style.
Taylor, you tricky minx, you. What will she do next? I guess we'll find out November 10th.
....Ready for it?