While sitting through our history classes in middle and high school, I'm sure that we've all come across the Brown vs. Board of Education case. As a quick refresher, this Supreme Court case, which took place in 1954, ruled that racial segregation in public schools was unconstitutional. It's now 2019, 65 years after this ruling was made, and racial segregation within the North Carolina public school system is still prevalent. Studies show that "a third of the 168 [CMS] schools in the system are segregated by poverty, half are segregated by race and a fifth are hyper-segregated, meaning that 90 percent of their students are from a particular race."
I grew up in Mecklenburg County in NC and was aware of how racially divided my city was, but I was still shocked to hear actual statistics concerning the public school system. Studies show that the Charlotte Mecklenburg Schools (CMS) system would have to reassign 55% of its students to achieve racial parity. If you look at data from the racial dot map below, you can see how truly segregated Charlotte is. You can see how there is a triangle that ultimately separates the white part of Charlotte from the rest.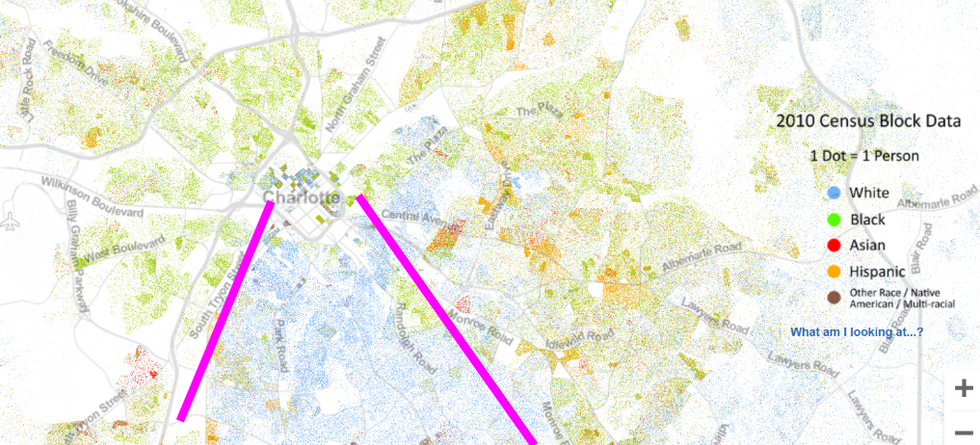 If you look at the key at the right, you can see how Charlotte has a problem with residential segregation.Source: Racial Dot Map
Cities like Charlotte did not become racially segregated overnight, and it stems from a history of residential segregation in the United States. Around the time that segregation was starting to be viewed as unconstitutional, a lot of people thought that the civil rights movement was moving too fast.
While school districts could not explicitly separate blacks and white, there was still a lot of racial discrimination by landlords and homeowners. Policies like "redlining" did not even allow colored families to get loans to buy homes. This led to a creation of certain neighborhoods that were comprised of upper-class white families, and other neighborhoods that had mainly minority families.

It is not fair for low-income students and students of color to have unequal opportunities compared to others, but that is ultimately what ends up happening. One article from NBC News claims that these low-income students often attend low-quality schools with facilities that lack equitable access to good teachers, instructional materials, physical maintenance, and technology. People nowadays are always talking about how students are starting to use more technology in the classroom, but that isn't a reality all across North Carolina.
These unequal opportunities happen because of the higher-income communities, which tend to have predominantly white school districts, which then leads to more tax revenue to fund their schools. The higher tax revenue allows for schools in predominantly white communities to have more facilities and learning opportunities. This inequality causes students in minority families to often perform worse than those in schools with a higher percentage of white students, with 82% of third graders reading at or above grade level in schools with a high population of white students, while only 29% of third graders read at or above their grade level in schools with high concentration of black students.
This has been a long-lasting problem, but that does not mean that it cannot be improved over time. With the creation of neighborhoods that have mixed income levels and socioeconomic backgrounds, we can create school systems that allow for people to go to schools with people from different backgrounds.
Students should not have their educational opportunities limited based on where they live. Instead of segregating young children based on their skin color, it's time for everyone to start working together. We can only move forward when everyone has equal access to education, transportation, and housing.