My dog, Sunny, was a lap dog for several years after we adopted him, but we stopped allowing him on the furniture when we got a new couch in the summer of 2007. My mom wanted the furniture to stay nicer, and even though his fur got everywhere, she hoped that this would deter some of it from sticking to the new couch, loveseat, and chair.
After that change, Sunny stopped cuddling with me as much. He still wanted attention and loved to be petted, but he wasn't as amiable to sitting on my lap anymore. One instance when he practically begged to be close to me sticks out in my mind, though.
The summer of 2015, we moved from Illinois to Virginia for my dad's new job. He'd been in Richmond since March, but my mom and I had stayed in Illinois until the house sold. When that finally happened, our moving date was set for the end of June. The whole month was a frenzy of packing and cleaning, and I also tried to squeeze in as much time as I could with my best friends.
My dad flew in the week before the moving date to help with the final packing and garage sale. His flight arrived on a Tuesday evening. My mom went to pick him up, but I stayed behind to get some homework done for my online summer class. Time trickled by, and I finished several assignments so I wouldn't have too much to do when we would be on the road the next week. I watched TV as I worked, and Sunny stretched out in his bed below the entertainment center. He loved to sleep, especially as he got older.
The phone rang around 7:30, and I heard my mom on the other end. Her voice was muffled by traffic noise and wind. She told me our minivan had broken down along I-90. She'd already picked up Dad at the airport, but they were now at a mechanic's in a suburb closer to Chicago than home. The tow truck driver had graciously offered to drive my parents the rest of the way to Woodstock, but they wouldn't be home until close to nine. My parents were safe, though, and that was what mattered—besides getting the van fixed so it would take us across the country for the move.
As I had talked on the phone, Sunny had stood up and stretched, disturbed by my voice. He sat at my feet and whined—as if he sensed something was wrong. In the past months, he had become even more attached to my mom than normal, and he didn't seem to like that she had been gone for so long.
So I did something I hadn't done since I was ten: I lifted my old puppy onto the couch and made a space for him to lie between my knees. He curled up, still whimpering. I stroked his smooth head and gently shushed him.
As he quieted down, Sunny rested his front paws on my right leg and put his head on top of them. We stayed like that until my parents came home: just a girl, her dog, and a moment of comfort within the chaos.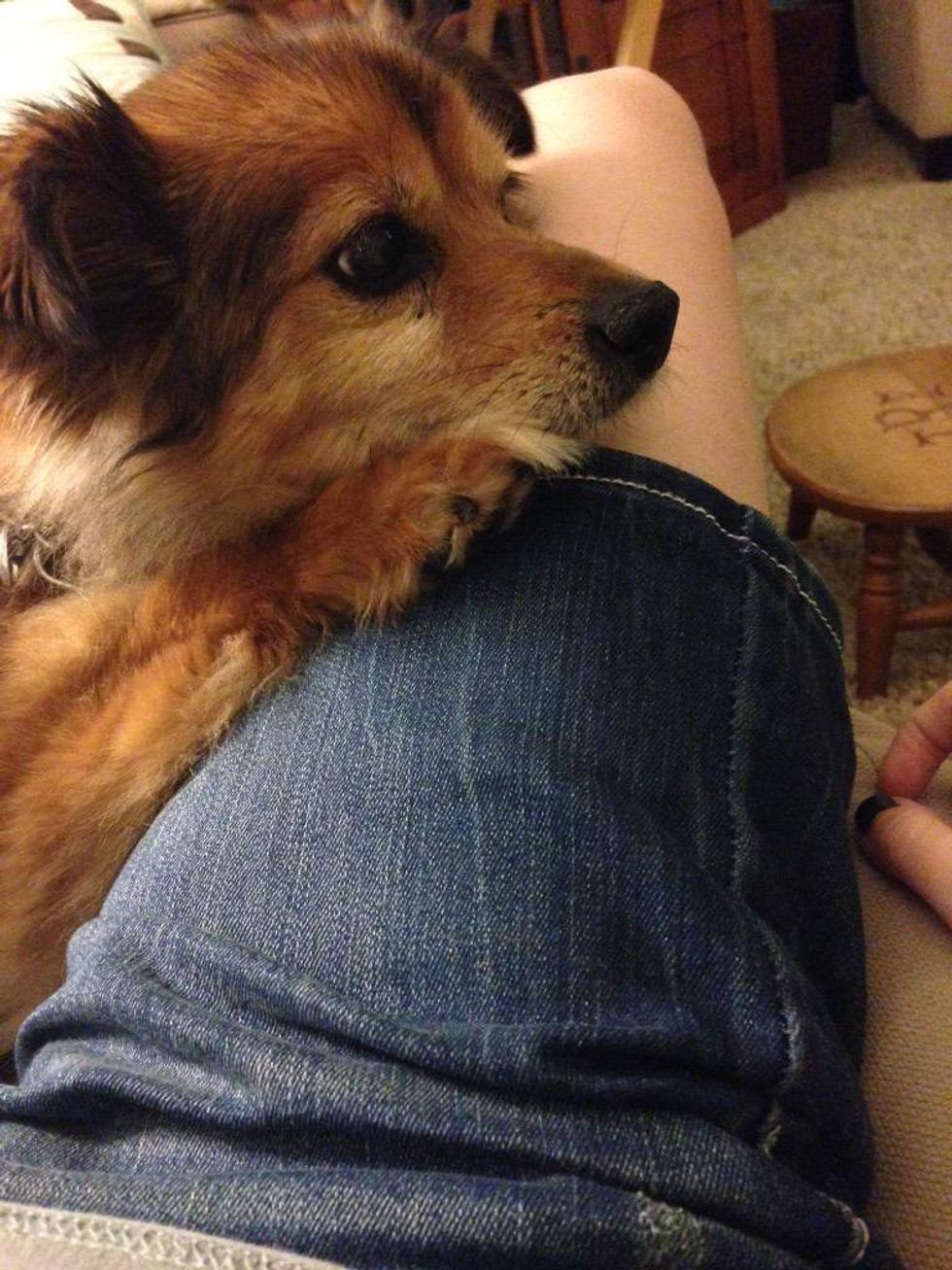 My mom has read this anecdote now, and I'm sure she isn't happy that I let Sunny up onto the couch. But in the grand scheme of things, it doesn't matter. We lost our Little Love, as I often called him, this past summer; his diabetes got worse and his kidneys gave out. My family was amazed he survived the move, let alone almost a year after that. Still, it was moments like this one that remind me why he truly was the Sunshine of my life.