Music is both timeless and timely. Many artists look to historical events to write about in song ('Take Me Out' by Franz Ferdinand), write songs in response to an event ('An Open Letter to NYC' by the Beastie Boys), or make political/cultural statements through their music ('Killing In The Name Of' by Rage Against the Machine).
The coronavirus pandemic has definitely left a permanent mark on the music community. Concerts and festivals are canceled indefinitely and musicians have been moving to ticketed online performances and free live streams instead. Many small music venues and theaters are struggling to stay afloat during the absence of live shows and some have shuttered their doors forever. Artists like Lady Gaga have postponed album releases. On YouTube, you can find several "quarantine" editions of songs, where the artist and musicians perform their song in the style of a video conference.
Eventually concerts will return, venues will reopen, and the coronavirus will be part of our past. But coronavirus and its impact will live on in music videos, album covers, and in song lyrics themselves. Why is this such a prevalent theme? Because it speaks to us now and preserves this moment in time.
In Bad Bunny's 'Yo Perreo Sola' music video that took the internet by storm on March 27, 2020, he applies hand sanitizer. He has also released a song with his girlfriend called 'En Casita' (At Home). He makes several references to the pandemic in other songs off his album, Las Que No Iban A Salir, which released on May 10.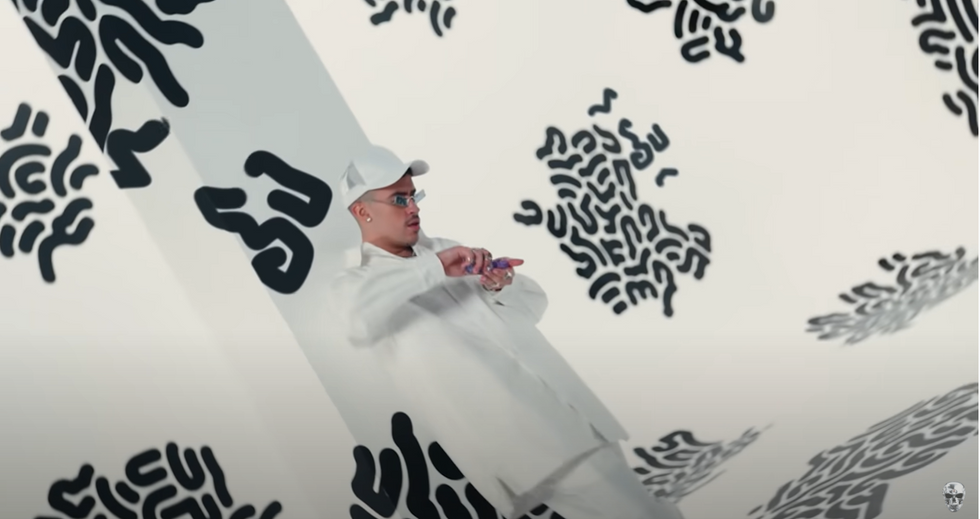 Bad Bunny applies hand sanitizer as a reference to Corona. https://www.youtube.com/watch?v=GtSRKwDCaZM
Rapper DaBaby's released his latest album, Blame It On Baby, on April 17. The cover art features him alone wearing a mask. The music video for 'JUMP feat. NBA Young Boy' released on the same day, starts off with a skit of a news reporter being sanitized by the rapper while the rest of the video features the dancers wearing masks, gloves, and hazmat suits while cleaning the house.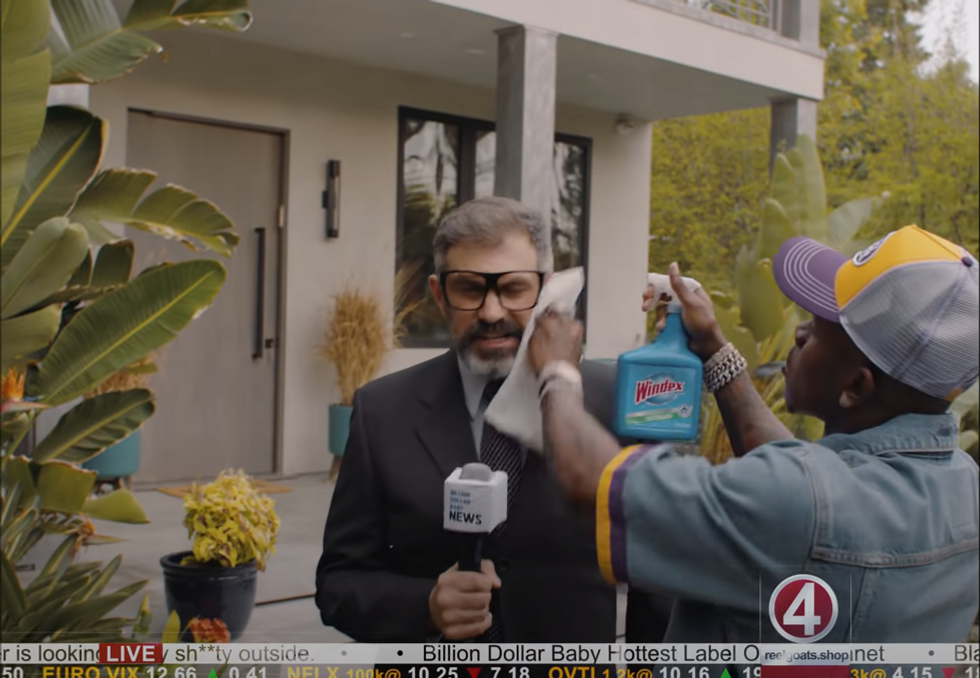 DaBaby sanitizing a reporterhttps://www.youtube.com/watch?v=xjmC4lSk-2U&list=TLPQMTgwNTIwMjBKl8LjDfaPNw&index=1
Reggaeton icon, Residente, recently released a song called 'Antes Que el Mundo se Acabe' (Before the World Ends) which references the pandemic with lyrics about social distancing, vaccines, and the immune system. Several artists have released songs about the virus itself. Just get on YouTube and search Corona Virus song; there's several to choose from.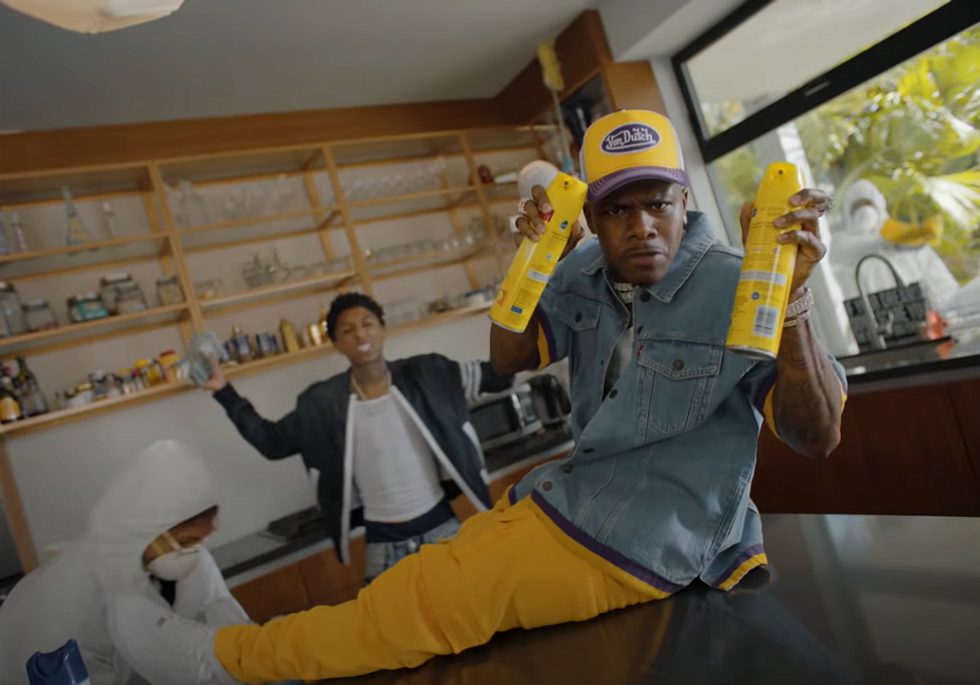 DaBaby's music video has gloves, Lysol, masks, and hazmat suits. https://www.youtube.com/watch?v=xjmC4lSk-2U&list=TLPQMTgwNTIwMjBKl8LjDfaPNw&index=1
Some artists have responded with songs that are meant to uplift and inspire, like Daniela Andrade's 'Bad Times Are Good Times' and New Kids on the Block's 'House Party'.
Rich Brian's music video for 'Bali' shows them sending gifts by drone to their friends across Los Angeles. Everyone sends back cash to pay for meals for health care workers, mask production, and direct donations to others.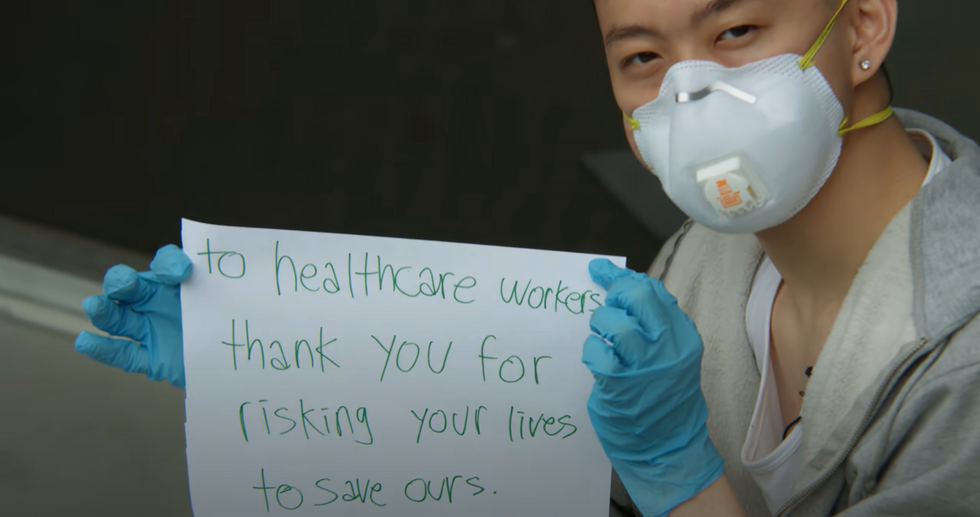 Rich Brian's music video is also about making a difference in his community. https://www.youtube.com/watch?v=nNPzRXdsH7k
On the lighter side, there's several parody songs. Cardi B's rant about coronavirus was remixed. There's also songs with reinvented lyrics, like Neil Diamond's Sweet Caroline - Quarantine edition. Instead of "Touching you, touching me!", it's "Don't touch me, I won't touch you!".
Music is the most personal form of content out there. It provides us with deep, lasting emotional connections that other media cannot match. Music videos strengthen that intimate connection by adding powerful visuals. A decade from now, this pandemic may feel like a distant memory. But it's impact will live on in music and music videos, reminding us of what this period in time was like.