The time of moving into your college dorm is quickly approaching. While it might be sad to be leaving your home, it's time for you to start becoming the adult you were meant to be. Your first steps? Move into your college dorm successfully by planning out what you'll do before, during, and after the process.
Before:
1. Find out when your roommate plans to move in.

Moving in at the same time is way harder than it needs to be. It's doable, but if you can get a few hours separation, it will make everything much easier. If you're bringing your entire family (or more than 2 other people), try not to be in the room with your roommate until you're both settled and the families have left. You'll have time to get to know them later.
2. Don't take your entire closet.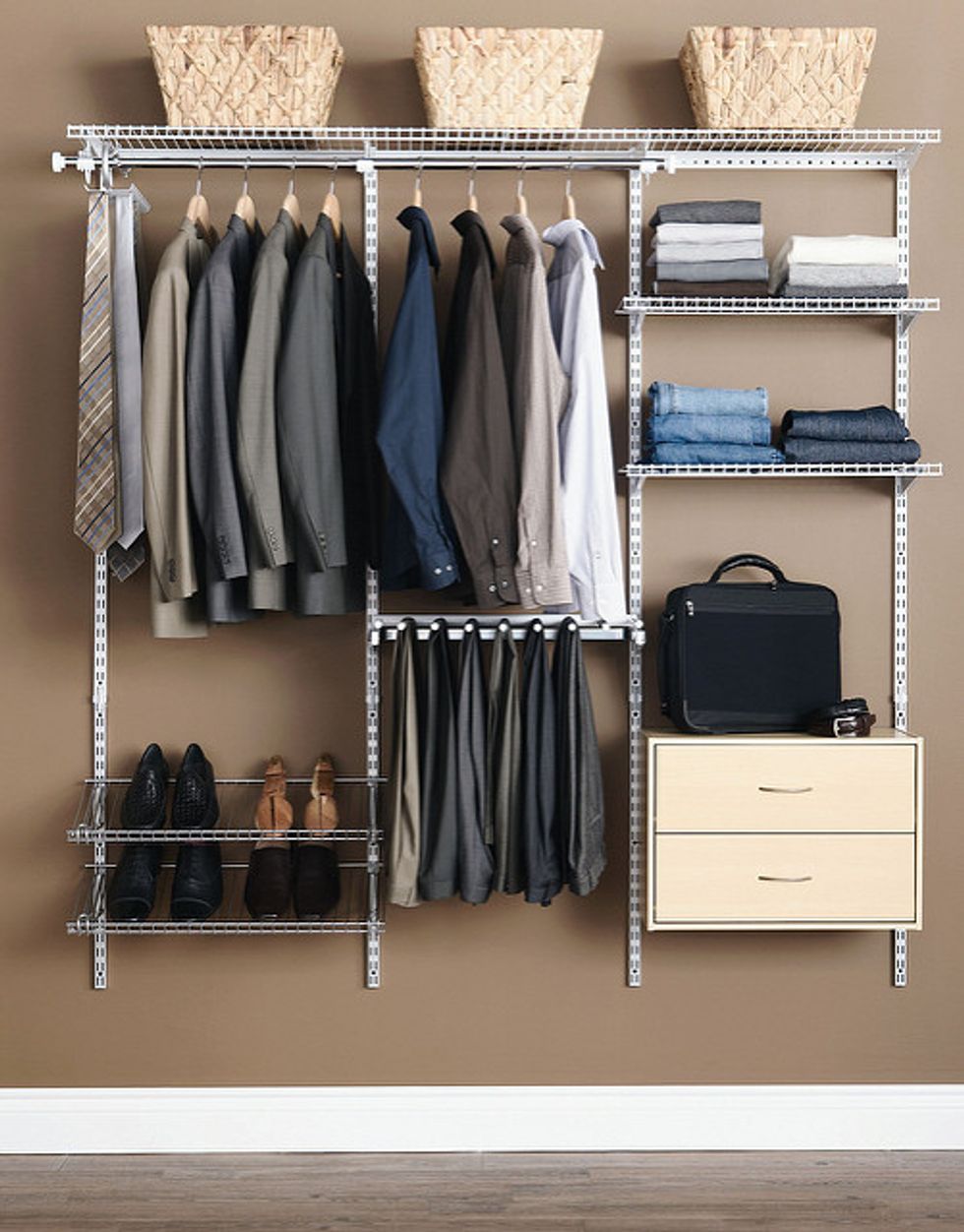 There is not enough room in any college dorm for anything. Don't take your entire closet, but take clothes for all weather. It will be sunny one day, rain the next, snow another, and then you'll have a tornado. That's just how college weather works. Limit yourself to about 50 items altogether (not including underclothes). If you need more, you can get more during breaks.
3. Take only personal items that you need.
You don't want to be losing your favorite stuffed animal or your picture of your late relative. If it's something you need to have (like a security blanket, don't judge), feel free to take it. Just remember that anything you take could be stolen, lost, or damaged.
4. Make a list.

You should have a list of everything you need to bring, and use it as a checklist when you pack and unpack. Usually leaving small things behind will be okay, but it's just going to be easier if you have everything. A list also lets you see if there's anything you haven't thought of.
5. Label your boxes.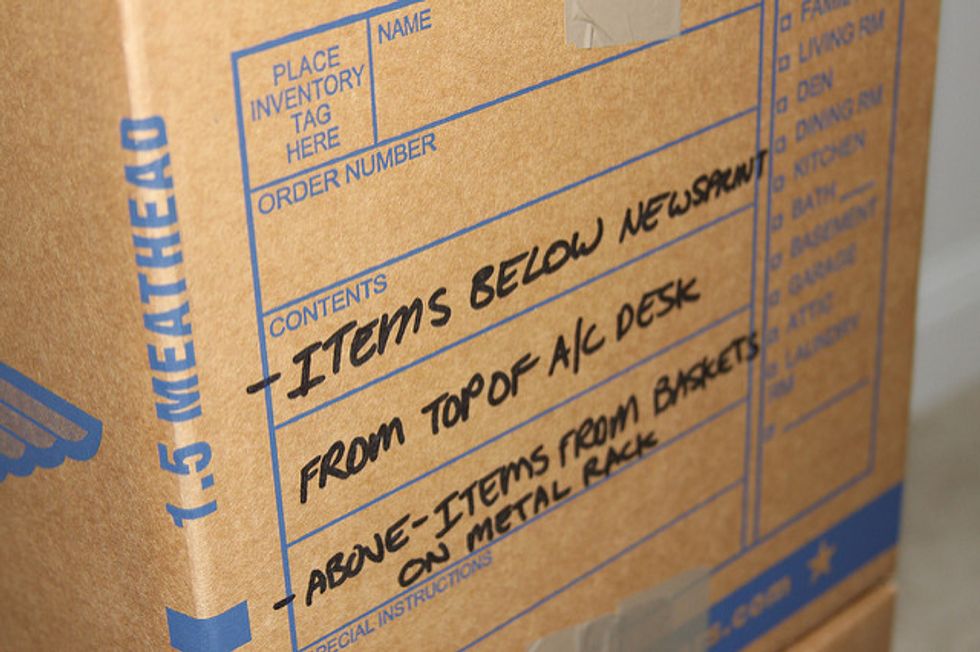 If you are packing things in boxes, which you should, you need to label them. Have what number box they are, how many boxes you have total, and what's in each box ON THE BOX. This will help with unpacking, as well as making sure you have all of the boxes you need.
6. Get everything ready a few nights before.
Getting everything ready early allows you to not stress on the morning of move-in. If you realize you forgot something you really need, you also have time to go get it! Use your time before move in day wisely to make it easier.
During:
7. Bring trash bags.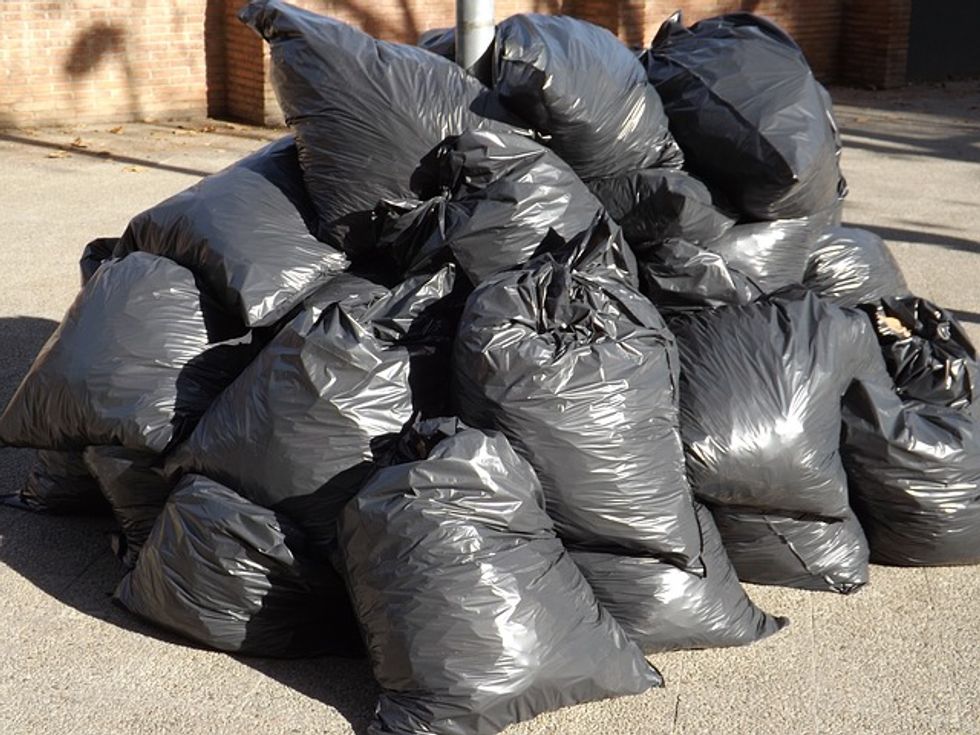 This is your room after move-in.
Even if you don't think that you have anything to throw away, you will. You'll be throwing out boxes, bags, and a lot more. It's easier to just walk one large bag to the trash than 18 small bags.
8. Arrive early.
No one likes arriving early, I get it. My move in time this semester is 8 am to noon, and you can bet I'll be there at 7:55 am. Just get there early so you can snag any bins and make the process go faster. Once you're moved in, you can take your family out to one last meal before they leave. I see a lot of advice to show up late, but I've seen so many people doing that and it doesn't work how they want.
9. Dress appropriately.

Even though this is your introduction to college and you want to make a good impression, you don't need to dress to the nines. It's probably going to be hot, it might rain, and you will be sweaty. Skip heels, suits, and a lot of makeup, and go for more comfortable clothes. You can dress classy casual if you really want to look great. If you don't mind as much about looks, just wear shorts and comfortable clothes.
10. Remember you aren't leaving forever.
This is going to be a weird time, but just remember that you aren't leaving forever unless you decide to. Your parents will miss you and will be happy to see you over the holidays. Just remember that while you aren't leaving forever, you won't come back the same person (hopefully). College is a place to grow into yourself.
11. Bring a dolly of your own.
If you show up late (against my advice), or you're unlucky, you might not have access to a wheeled bin. Make up for this by bringing your own dolly. It will get you finished with moving in faster, and you can relax sooner.
12. Don't leave your items unattended.

This is not the look you're going for.
Just don't. Your items will get either lost or stolen, and you will have to buy new ones. Make sure someone stays with your stuff throughout the entire process, or keep it locked in your room.
13. Let your family help.

Your parents want to remember when you were little and still needed them.
It's the last time they'll see you for a while, so let them help. They might stress you out a bit, but you can always reorganize once they leave. Let them feel like you're still their baby one last time before they have to give you up.
14. Have an emergency bag and a bag for necessities.
You're not unpacking right away and we both know it. Keep what you might need handy. You never know when you'll need medicine or when you need something, so make sure you account for any likely issues.
After:
15. Learn the shuttle routes.

There will come a time when you don't want to walk somewhere. Mine was a class completely across campus that I had 3 times per week. The shuttle system was a godsend. While I don't recommend relying on the shuttles (they will be late when you need them most), if you have extra time, you should use them. You are paying for them with your tuition (probably); you might as well get the most out of it.
16. Walk your classes.

Once you're done moving in, you need to figure out where your classes are. Don't be the freshman who walks into classes late. No one will judge you for trying to find out where your classes are before you actually start. Side note: keep your schedule as your phone screen so you don't look as lost.
17. Open up your door while you're in the room.
You will be living with all of these kids for the next year. Try to meet them once they've finished moving in. You might meet your best friend (although don't force it, you'll find friends).
18. Call your family.

They miss you already and you probably miss them too. You might get homesick, too, especially if this is your first time away from home. They will still be there when you need them.
19. Get out of your dorm.
This place is going to be our home soon, so you might as well make it feel like it. Get out of your dorm and really explore to see what the scene is like in different places. You might meet some people doing the same thing.
Last of all, good luck!