With Meghan Markle's iconic royal wedding to Prince Harry celebrating its one-year anniversary, many are looking back on this special occasion and recalling all the stunning elements of this day. From the elaborately detailed dress to the melodious choir, there is so much to appreciate about an event such as this one. I, myself, clearly remember gluing my eyes to the TV at 4 A.M. (with a cup of coffee in hand,) so I would present for the occasion.
This day was an exciting one for romantics everywhere, but why let the enthusiasm stop there? As a rom-com connoisseur, I know a thing or two about dream weddings. Once the argument between the couple settles down and they realize they are meant for each other (You know how it goes, Hallmark,) an elaborate wedding is quick to follow.
The wedding is sentimental and beautiful and sends all of us running to our Pinterest boards to plan a dream wedding of our own. Lucky for me, movies like this are not sparse. Here are a few of my personal favorite movie weddings perfect for any romantic like me:
1. "The Twilight Saga: Breaking Dawn - Part 1"
This. Wedding.
It is everything any girl could ever want and more! It is classy. The groom is absolutely adorable. The venue looks like a forest Snow White would talk to birds in. It's really just perfect. My friends and I aren't ones to cry during movies, but this scene never fails to fill our eyes with tears and leave us hitting the rewind button so we can live through it just one more time. Whether you are Team Edward or Team Jacob, we can all agree to love this wedding.
2. "The Time Traveler's Wife"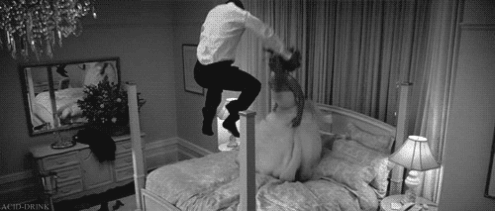 Giphy
In all honesty, this wedding stressed me out more than anything. I just knew Henry would travel on one of the most important days of his life. I knew Claire would be mortified and the whole ceremony would be a disaster. But... that wasn't the case! The moment older Henry swooped in to take present Henry's place, I was a sobbing mess! Sure, he wasn't the Henry Claire expected to see, but he was almost better. This wasn't the Henry who she had recently met. This was the Henry who had already experienced years of his life happily married to Claire. This wedding was not the beginning for him, but a look back at where their life together began. And now I'm crying again...
3. "The Vow"
Another classic wedding scene from Rachel McAdams, the romantic movie queen! This movie is not one of my favorites, but the wedding scene definitely stands out. I mean, weddings vows that mention a preference for red velvet cake? How much better can it get? Also, we all love a sporadic, yet crazy sentimental, wedding. Bonus points for the nontraditional pink dress!
4. "Love Actually"
This scene didn't make me cry, so much as think "awww." Even if the groom didn't plan the surprise, the gesture was still sweet. It may not have gone viral like that awful video of the bridal party dancing down the aisle (After all, the early 2000s were a simpler time,) but it still deserves a spot on this list. Plus, this scene doesn't make me cringe nearly as much as most flash mobs do, or really even at all.
5. "27 Dresses"
"Always a bridesmaid. Never a bride." This entire scene is so sweet. Not only does the main character finally find love at a time when she thought it was never even an option, but everyone she ever stood by on their special day was there for her on her day. She now has a guy there for her, but she also has an entire army of tackily-dressed friends as well. As the only true rom-com on this list, it's worth noting how perfect this wedding was in terms of wrapping up the story. Also, her groom isn't bad to look at...