While January 1 marks the beginning of the actual New Year, the arrival of a new school year always holds more meaning as far as change and new routines are concerned. New schedules and ways of life to adjust to, more to people to see each day, and new classes to attend can be a bit overwhelming for most students who are returning back to school, especially after a rather lengthy four month long furlough during summer break. Like most ladies, I myself become very excited to see the new fall fashions and colors that are revealed in August. While it may seem silly to some, these new arrivals in the fashion world represent hope, self confidence and assurance, and a chance for a better tomorrow.
By mid August, a few weeks before I head back to school, I try to scope out all of the trends and colors that are planning to make their debut for the new season. Working in retail during the summer at a posh boutique, I love having the advantage of being able to see the new arrivals when they first come on the scene. I would come home from work and explain to my mother all of the colors, fabrics, and styles that are going to be big knock-out hits for the upcoming season.
Shopping for new clothes to compliment the change of season has always been a favorite thing of mine to do and I must admit that these past few weeks I have certainly done my fair share of shopping. From warm Autumn colors and plaids to suede and chunky knit fabrics, the latest clothing trends are just simply too darling to pass up! As an avid follower and lover of each seasons most popular clothing colors, I have compiled a list of the ten most popular colors for fall using the Pantone Fashion Color Report, as well as trending styles and fabrics to be on the look out for this season.
1. Grenadine
As a naturally powerful color, grenadine, or a vivid red will be sure to pack a punch this fall season. It is an expressive and dynamic color that will lead women to feel both confident and self-assured when wearing the color. Grenadine would look great paired with a pair of black jeans or combined with navy in the perfect plaid flannel for fall.
2. Tawny Port

Tawny port is giving me all the fall feels. This color is the ideal burgundy shade and will be appearing in plaids this year, as well as many chunky sweaters, dresses, and even pants/jeans. The color is a combination of both elegance and poise.
3. Ballet Slipper

Would you believe that a baby pink/blush hue is popular for the fall season? Well, believe it! This color is the perfect compliment to soft grey, burgundy, navy, and tan shades. It is a flattering color and exudes health and wellness with its rosy sheen.
4. Butterum

Butterum is the ultimate warm and cozy color and gives off vibes of wanting to sit around a bonfire on a cool fall evening. The colors also literally goes with every color imaginable. That's a win, win right?!
5. Navy Peony

I am a navy girl for sure, so you know this color is going to be a staple in my closet this season. It compliments well with light pink and blush colors, as well as burgundy, olive, tan shades, and soft grey. As a four-seasons color, navy is an essential neutral color that should be in every woman's closet. Be on the look-out for this color to be featured a lot in plaid shirts, but also with chunky knit sweaters (like the one I just bought the other day with ruffle sleeves!) and twill and bomber jackets.
6. Neutral Grey

Anchoring the neutral color palette this fall, grey and navy take center stage. As a color that goes with nearly every color imaginable, it will be an ultra-flattering color for fall that will carry through the winter. It also compliments very well with navy, blush, teal, and burgundy.
7. Shaded Spruce

A natural forest green shade, this color instantly makes you feel as though you are under the shade and protection of evergreen or pine trees. Be on the lookout for this color to carry into the holiday season, being a standout at parties and events.
8. Golden Lime

Described as an "earthy tone with a twist," this green-yellow shade adds a pop of color for fall. It is instantly refreshing and will add brightness to any dreary fall day.
9. Marina

As a cool shade, this color is becoming a favorite of mine for fall. I recently purchased a ruffle, wrap around dress in this shade, and I must admit, I am rather obsessed with it. It is the only true "cool" color in the fall palette, immediately delivering freshness.
10. Autumn Maple

The perfect autumn color, this shade will instantly make you think of falling leaves and pumpkin pie. Adding warmth to any day, this is going to be the quintessential color to wear to Thanksgiving dinner.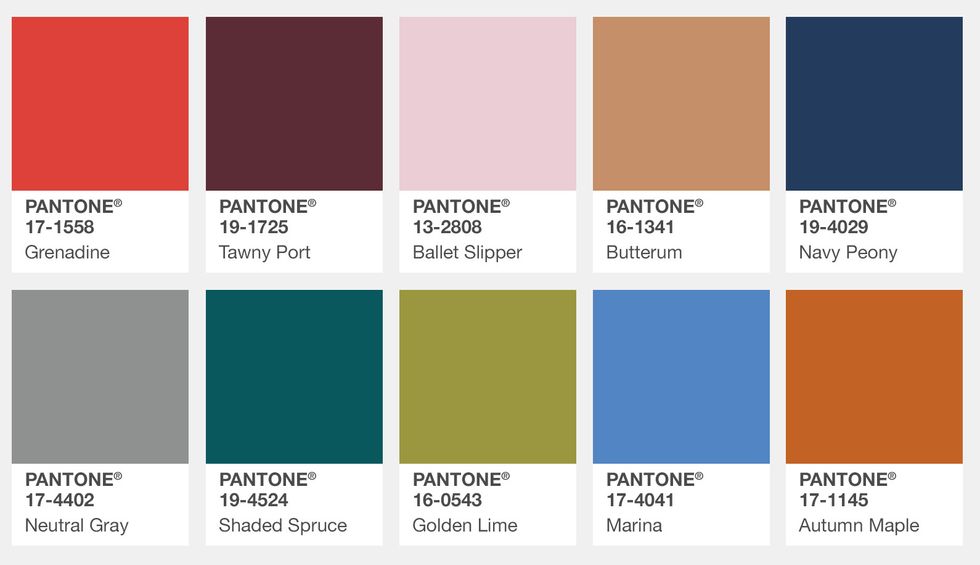 ---
Information from: https://www.pantone.com/fashion-color-report-fall-...