Sick of social media? Feeling the lack of positivity and motivation from those you follow?
These days, it is so hard to feel a connection and gain inspiration from social media platforms. Something that was once simple, easy, and just plain fun, has transpired into a life-consuming habit. It is so easy for people to be catty on social media, only highlight the bad, or to compare yourself to unachievable and unrealistic standards.
If you're looking to refresh your timeline in 2019, here are 16 modern women that are sure to bring, beauty, acceptance, grace, empowerment, and overall joy, to your feed this year.
1. Tanya Rad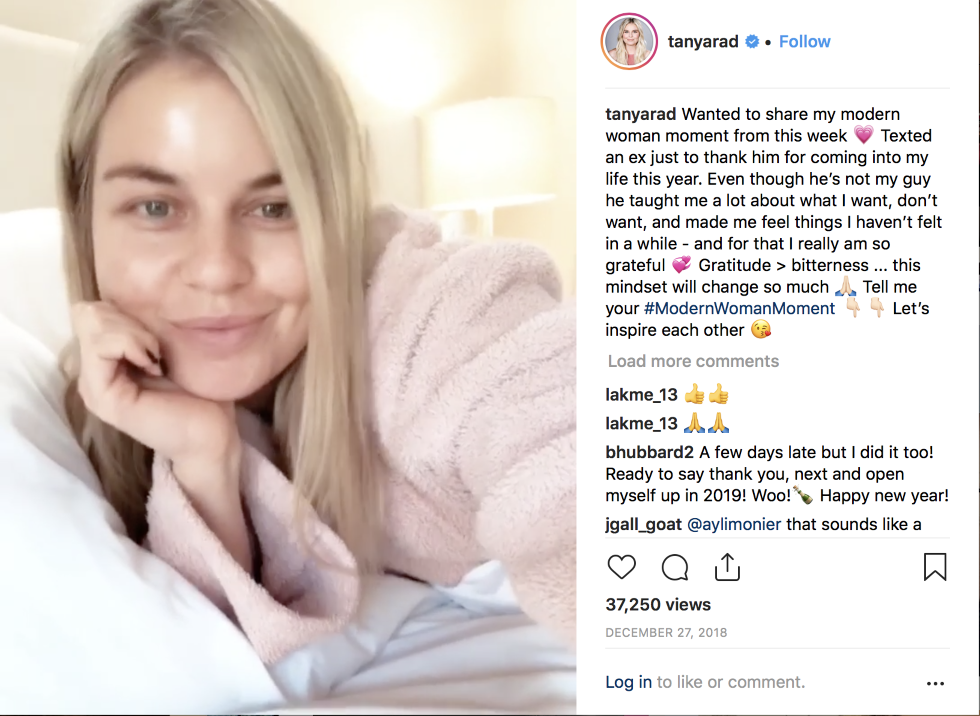 @tanyarad
The Modern Woman herself. Radio personality, Tanya Rad literally created the term "modern woman", at least in my life. The 31-year-old is the co-host of On Air with Ryan Seacrest, and the co-host of the People's Choice Pop Podcast of 2018 winner, Scrubbing in with Becca Tilley and Tanya Rad.
I first discovered Tanya through her BFF Becca, and their podcast together. The podcast is the perfect environment for women looking to talk about life, love, Grey's Anatomy (hence the "Scrubbing In" title), inspiration, today's struggles, and learning to be an independent and self-loving woman.
Essentially, a "modern woman" is someone who finds the moments to put themselves first, spread love, build people up, and live their best life. A modern day woman. As Tanya often says, "You don't define one, you are one." Tanya's profile is full of glamorous shots of her taking her professional life by storm, IG stories of her going to the farmers market solo or walking home from the gym all natural, and snapshots of her and her close girlfriends.
She is the epitome of the modern woman and always encourages the concept that there is "room for everyone" in this world, along with the importance of women building one another up.
2. Becca Tilley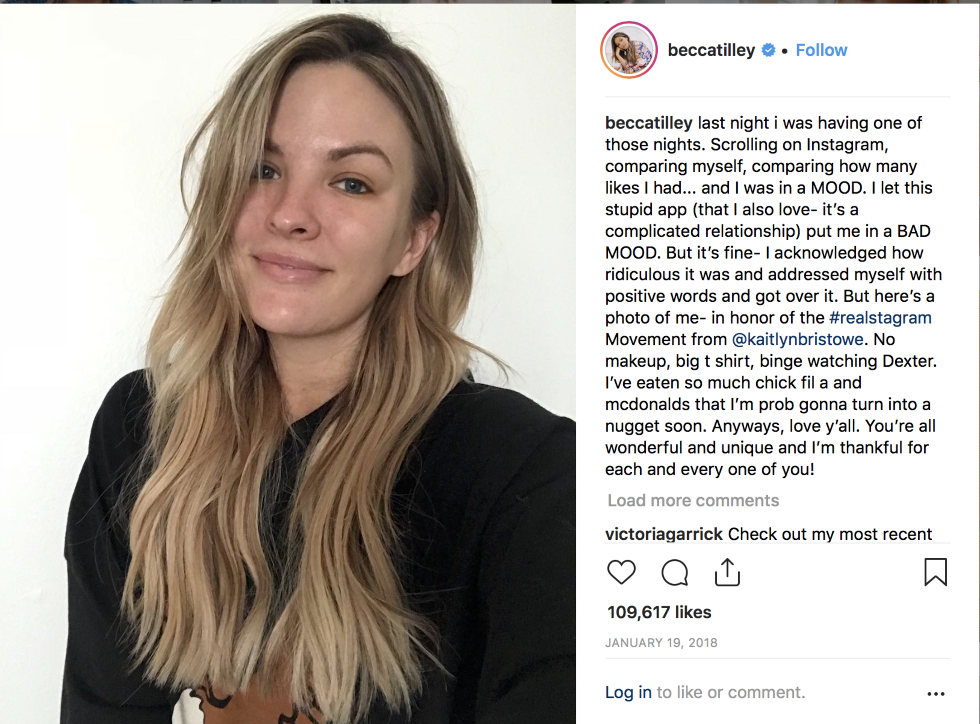 @beccatilley
The social media influencer and People's Choice Award-winning podcast co-host (along with her previously mentioned BFF Tanya Rad), is totally relatable and is constantly striving to keep things real.
She does so by showcasing her real-life obsessions with Dr. Pepper, McDonald's, her dog Phoebe, and Grey's Anatomy. On her podcast she gets real about her past relationships, her struggle with comparisons on social media considering it is literally her job, and her love for staying in at home.
Her Instagram profile is full of stories of her favorite pizza chains, her amazing travels, her brand new swimsuit collection, and of course her best friends, such as Tanya. In the post highlighted above, she has a #realstagram moment and gets real about the struggles of comparison on social media.
She is constantly spreading positivity and kindness on her follower's feed with regular "compliment trains" in the comment sections of her posts. Oh, and she started her platform after being on The Bachelor, but she obviously has much more to be recognized for.
3. Mariska Hargitay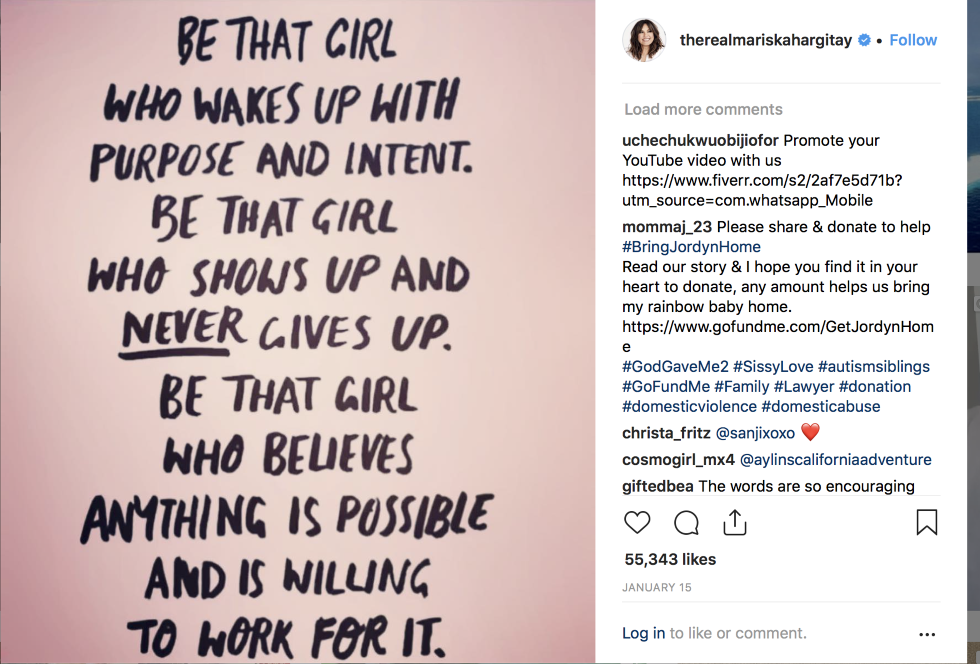 @therealmariskahargitay
The queen of crime TV, in my honest opinion. Mariska Hargitay has given nearly twenty years of her life to the hit show Law and Order SVU.
She is often speaking out on social media on topics such as women's rights, sexual assault, and domestic and children violence, particularly through her foundation Joyful Heart Foundation. From motivating quotes, selfies of her and her SVU buds, to pictures of her and husband, whom she met on the set of SVU (my heart is melting), seeing her real-life boss woman vibe through her camera lens, is sure to make you feel inspired.
4. Elisabeth Moss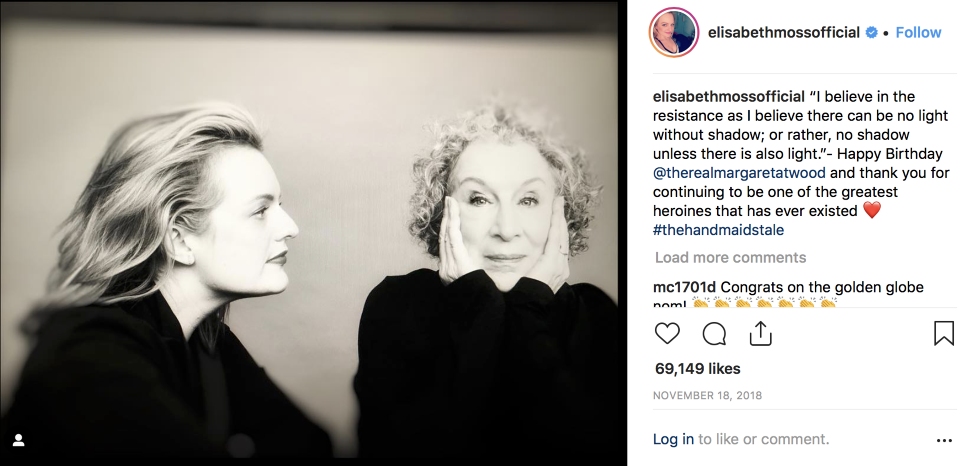 @elisabethmossofficial
The hit star and producer of Hulu's hit show "The Handmaid's Tale", Elisabeth Moss's profile is certainly a reminder of the need for strong and powerful women in our society.
I won't jump in to "The Handmaid's Tale", as I could go on for days (wow), but Moss's photos range from behind the scenes photos, (that are reminders of why women everywhere should continue to fight for rights and progress), to boss looking photos in her #Hallwayseries (her looks for major events in the same spot in the same hallway), you won't be disappointed following this modern woman.
Moss and the show, are certainly taking the world by storm, Under Her Eye.
5. Gabrielle Union Wade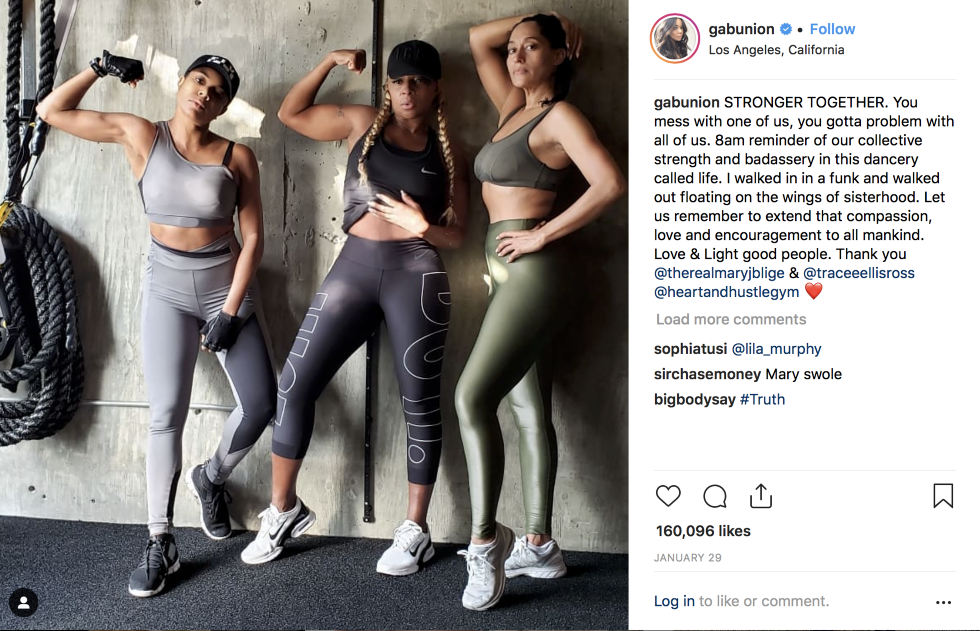 @gabunion
This actress and new mother, is not slowing down anytime soon. Married to basketball star Dwayne Wade, the family just welcomed their daughter Kaavia James, after struggling many years with infertility.
Gabrielle has remained open and honest about her journey with infertility, her fitness journey, her personal experience with sexual assault, and of course her love story with Dwayne Wade. Despite being a mother to a newborn, and a crazy busy work schedule for herself and her husband, her Instagram profile is full of "get it done" attitudes, family snapshots, adorable baby videos, #womencrushwednesday posts of other inspirational women, and previews of her clothing lines with New York and Company.
6. Julianne Hough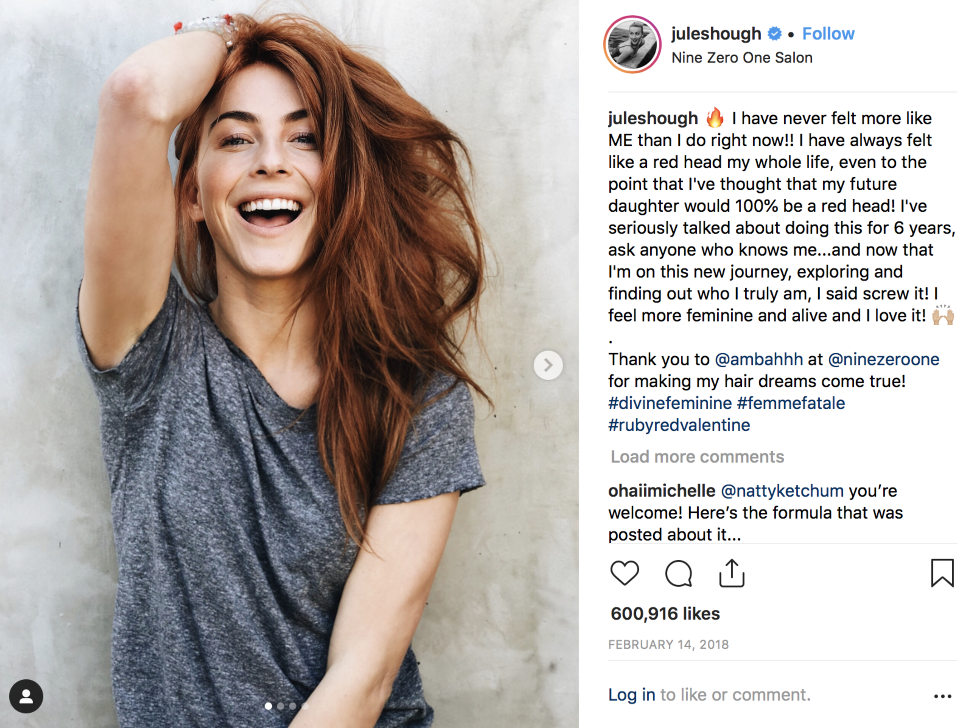 @juleshough
If you're looking for some tips on spiritual practices and divine feminism, you should most definitely follow Julianne Hough.
Whether you know her as a dancer and judge on Dancing with the Stars, an actress from Safe Haven, Footloose, and Burlesque, or from her singing days, you know she is an honest triple threat. Not to mention her inspirational posts about staying grounded, expelling positive vibes and breath into the atmosphere, and staying true to yourself, like the time she died her hair red, because she had felt like a redhead since adolescence.
She is always open about what makes her feel the most alive, and even recently had a daily journaling challenge on her profile for her followers to participate in.
7. Kate Hudson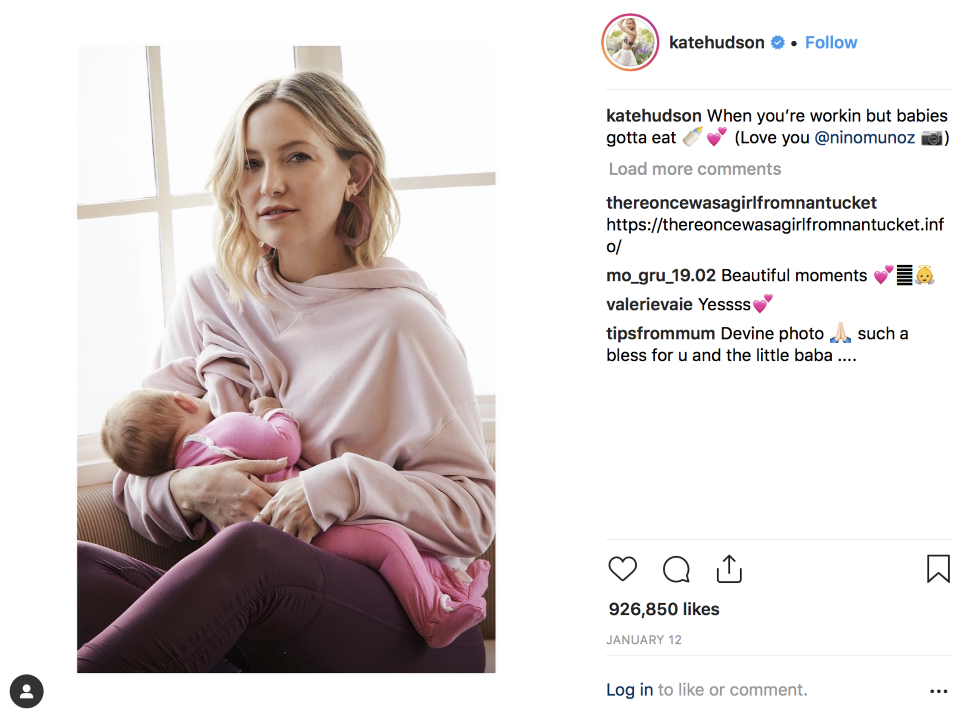 @katehudson
An amazing actress, who has built a wildly successful athleisure brand, and just a had another baby!
A look into her profile includes sneak peeks of new collections and favorites from her brand Fabletics, her family snapshots, recipes, and food pictures, and selfies with her BFFs. Her profile definitely gives off a feel-good vibe while showing women everywhere how they really can do it all.
8. Kerry Washington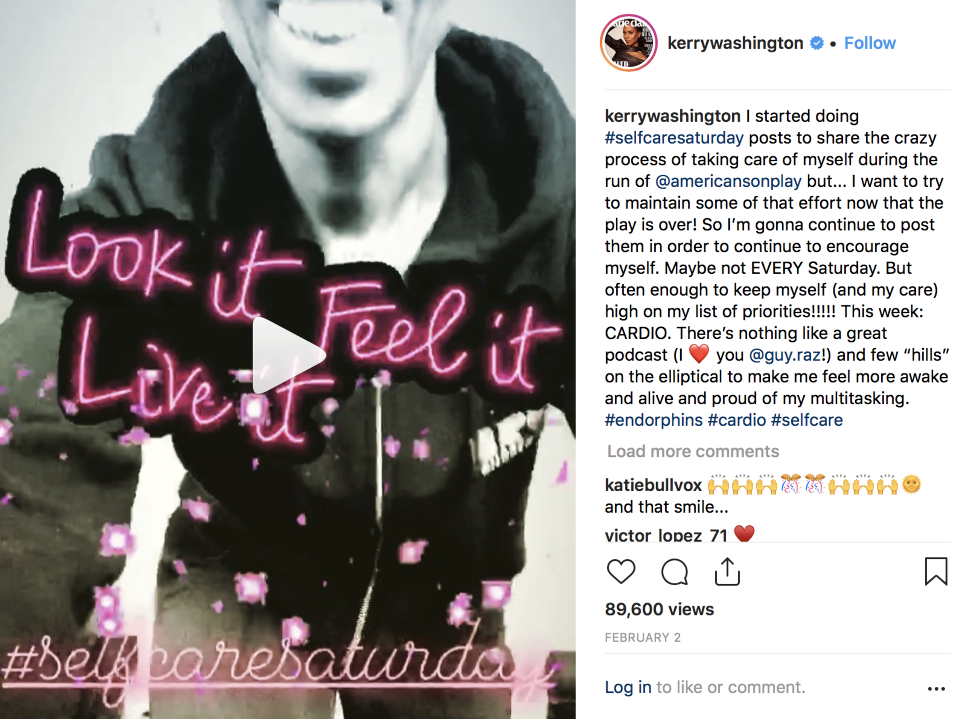 @kerrywashington
You may know her as Olivia Pope, but Kerry Washington seems to be just as much a modern woman in real life too.
Much of her recent posts have been related to her work on the "American Son" play, often snapshotting her amazing friends who visit her and watch the show. This is anyone from her co-stars from Scandal, to Michelle Obama, Washington definitely has tons of amazing people in her corner, so you should be too!
She also posts regular #selfcaresaturday posts, which could be anything from a bubble bath to an elliptical workout, reminding her followers to never forget about "me time".
9. Jess Gee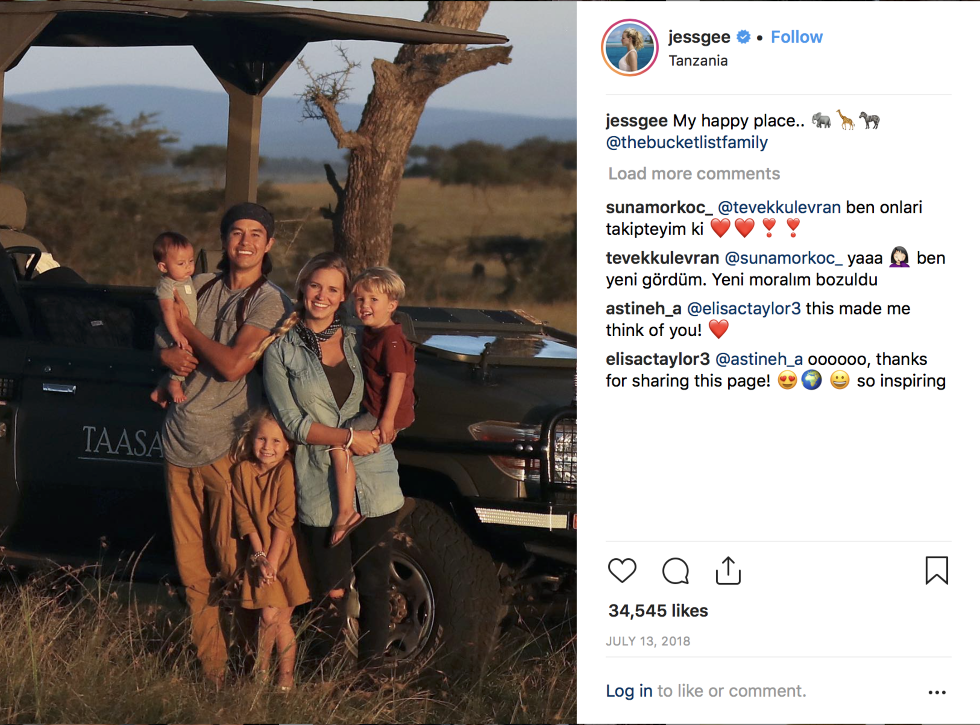 @jessgee
The mother of The Bucket List Family, Jess Gee, will certainly fill your feed with all the wanderlust feelings.
Her one-year-old son, Calihan, has already traveled to 27 countries. Her and her husband Garret, sold all their belongings in 2015 to start a life full of traveling, with their then two children. The whole family documents their travels on each of their personal accounts, and are some of the most adventurous seeking individuals I have ever come across on social media (in the very best way). Jess in particular shares raw moments of her families' favorite parts of different countries, their struggles while traveling, how she raises her kids while moving around the world, and most importantly tells a story about being grateful for opportunity and having bravery in all that you do.
10. Chrissy Tiegen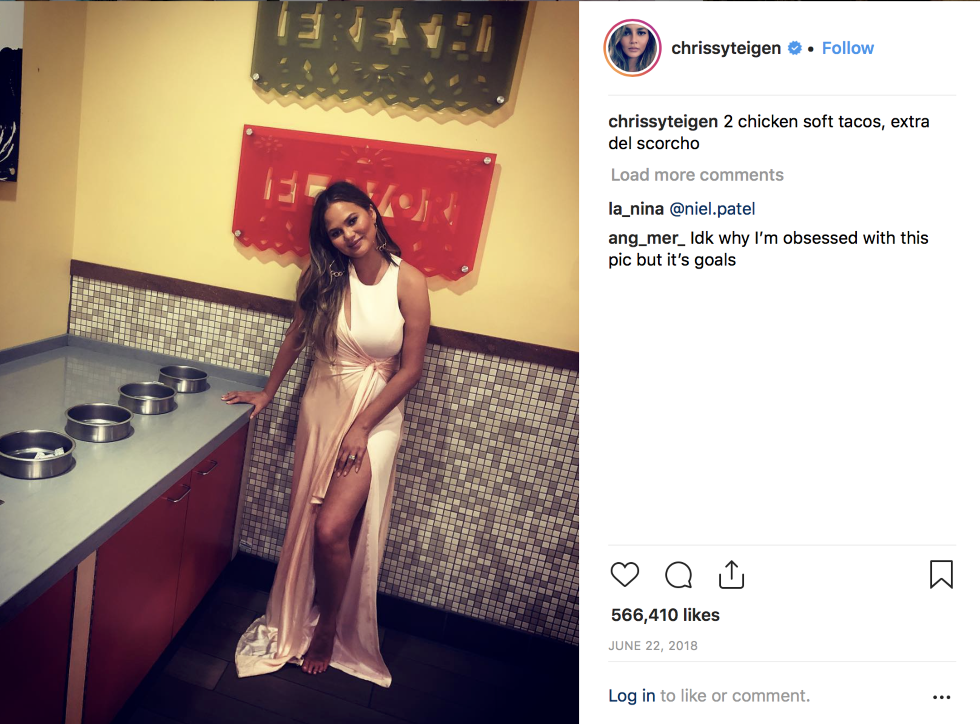 @chrissyteigen
I feel like this one is just downright, obvious. If you don't follow Chrissy Teigen on all social platforms, you need to now!
She will have you dying to laughter while keeping things real in each and every post. The mother of two, wife to John Legend, T.V. host, model, chef, and pretty much anything else you can think of, is known for her hilarious, realatable tweets and IG posts. If you're looking for some yummy recipes, she often posts step by step cooking videos in her IG stories, posts adorable snapshots of her beautiful family, documents her travels, and shows everyone what it's like to be a wildly successfully and hilarious, modern woman.
11. Carrie Underwood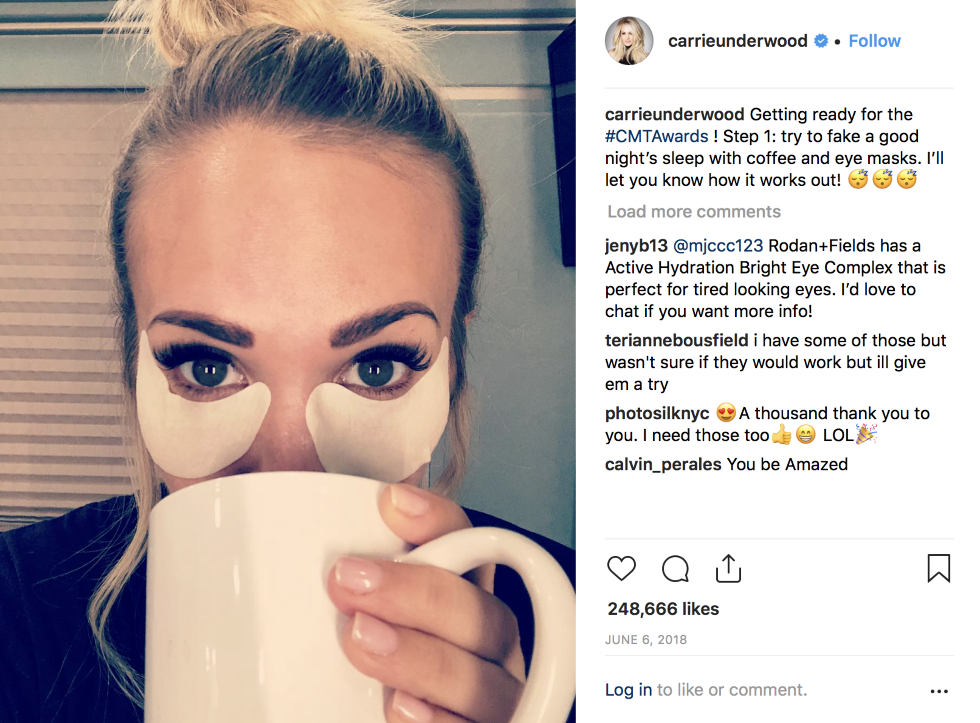 @carrieunderwood
The American Idol contest winner turned Queen of Country music, is always posting the sweetest darn photos on her Instagram profile.
Despite being an insanely talented and established musician, Carrie is now a mother of 2 sons, married to former NHL player Mike Fisher, and also has an athletic wear brand; CALIA by Carrie Underwood. She has so much going on with touring and her brand, that she isn't afraid to be honest on Instagram, on days like the above post, when she was just tired like the rest of us.
If you follow her, you can expect posts about important messages of her music and songs, reposts of fans creations to her music, family weekend adventures, support posts for a Haitian ministry close to her and her husband's hearts, and of course her newest creations in the CALIA by Carrie Underwood Collection.
12. Kristen Bell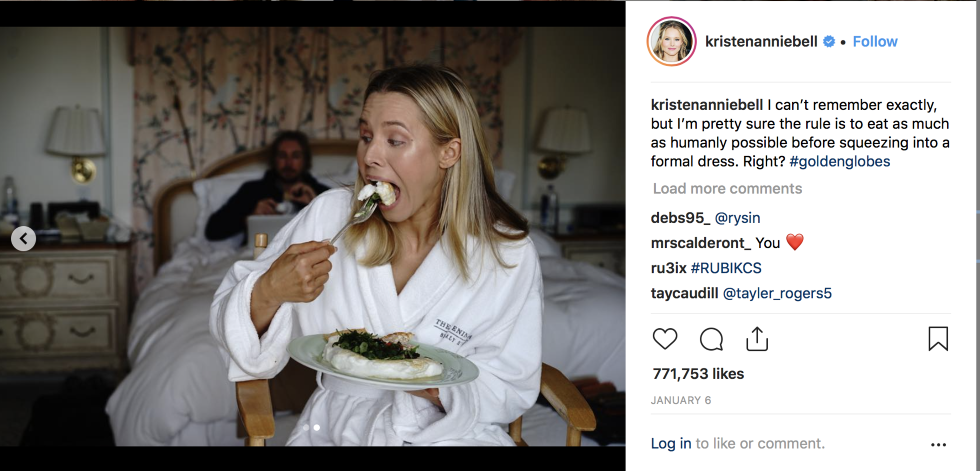 @kristenanniebell
I love KBell. I will start with that. I also love her husband Dax Shepard so unbelievably much, and will honestly say they are probably one of my all time favorite star couples.
Not only does she play one of the best animated characters of all time, (if you don't know please enlighten yourself), amongst many, many other roles she has played so unbelievably well, but she also posts pictures of her eating like the above, before the Golden Globes, opposed to shots of her glam squad getting her ready. She even started a series called #FeaturedTeacherFriday, in which she posts the information of a featured teacher submitted through email from somewhere in the country, on her profile, and shares the teacher's Amazon wishlist with her followers, in hopes of spreading kindness and bettering classrooms across our nation.
Could she be doing literally anything better with her platform? She's definitely going to The Good Place.
13. Kristin Johns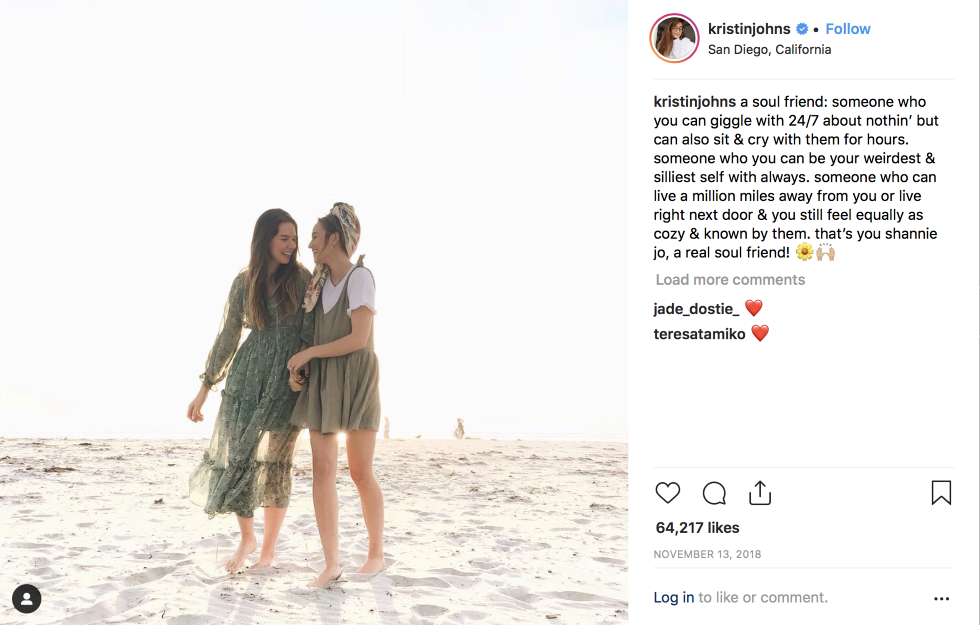 @kristinjohns
Kristin Johns or formerly Kristen Lauria, is a beauty and lifestyle Youtuber and the creator of Kristin Made Inc.
She is married to former Vine Star and now Youtuber Marcus Johns, whom she met in college. Her love for her faith, her two golden retrievers Honey and Camper, plants, thrift shopping, and her fairly new community/brand for homemakers, will certainly bring a ray of sunshine to your timeline.
14. Bindi Irwin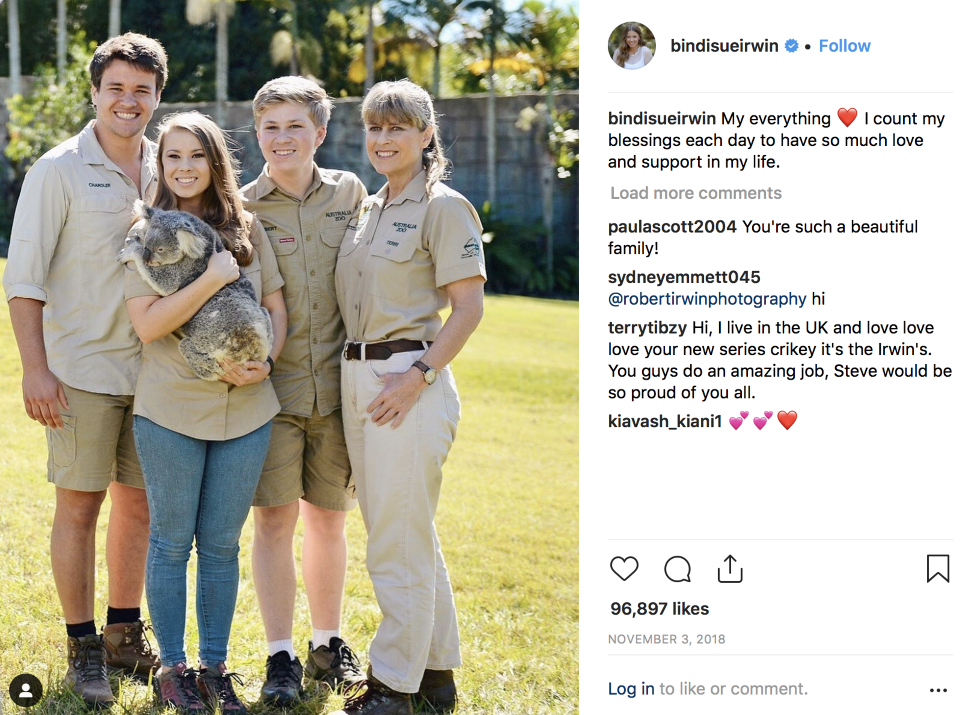 @bindisueirwin
You may be familiar with the Irwin family, from the late "Crocodile Hunter", Steve Irwin.
When he passed away from a tragic accident, his children were still very young, his daughter Bindi, only eight years old. However, Bindi is now a grown woman, of 20 years old, and is carrying on her father's legacy in the most beautiful way. In 2015, Bindi won the hearts of people all over the world when she made her debut on Dancing with the Stars, and continued on the vulnerable journey with her partner Derek Hough. They ended up winning the 21st season of DWTS.
Bindi's profile is full of so much love, for her family, for her boyfriend, for animals, and for her families' work and outreach through the Australia Zoo. She is the perfect example of a young modern woman, looking to be the change in the world.
15. Nina Dobrev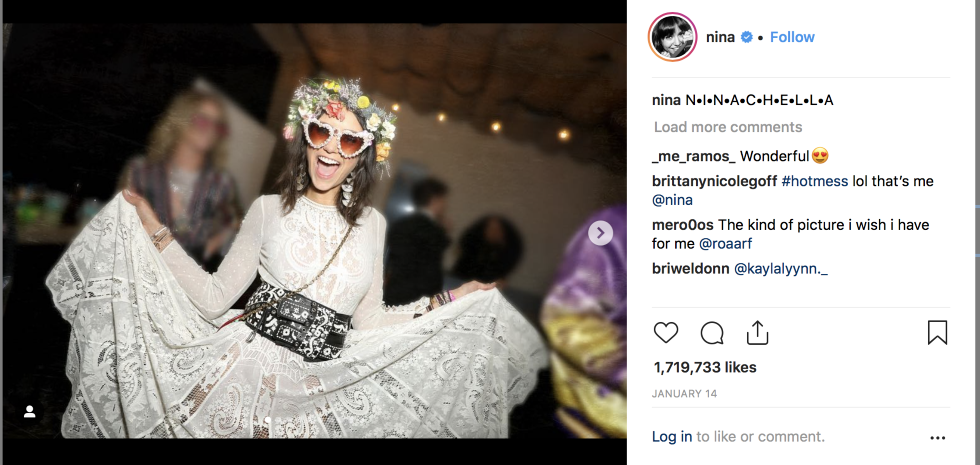 @nina
The picture above perfectly describes Nina Dobrev's Instagram: fun, classy, and full of life.
Yes, she did throw herself a Coachella themed 30th birthday party, and if that doesn't tell you she's a modern woman, I don't know what will. Nina posts anything from traveling pictures to adorable photos of her pup, endless shots with her girlfriends, and clips from her newest show "Fam" on CBS.
16. Ayesha Curry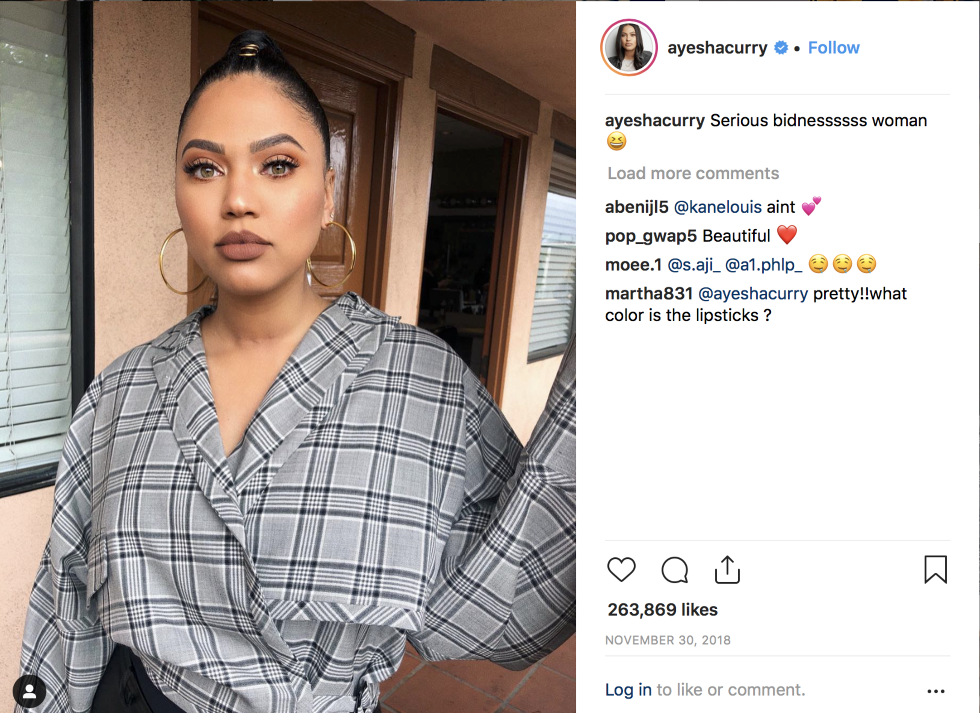 @ayeshacurry
Ayesha Curry is anything, but a trophy wife.
She may be married to NBA star Stephen Curry, whom she met as a teenager, but besides being a supportive wife and mother, Ayesha has certainly made a name for herself. From her International Smoke restaurants in Houston and San Fransisco to her kitchenware line, her cookbook "The Seasoned Life", and being a Covergirl, Ayesha has shown the world time and time again how she is a modern woman.
Her profile is full of yummy food and recipes which is perfect for any foodie, adorable family photos, transformation pictures of her and Steph, and glam looks for her nights out.