Organizing my life is such a hard task when I can't even organize my day. Quite frankly, organization had never been my strong suit growing up. When I was handed a school-issued planner, I'd keep up with it for a good month or so. By Christmas break, however, it'd be impressive if I even packed it in my backpack. This bad habit of not efficiently using planners followed me till the summer before my senior of college. As I steeled myself for what's supposed the "get yourself together" and "oh, screw it" year, I knew I had to find a system that keeps me on top of things.
I'd heard of Passion Planner and was really drawn to the layouts and simplicity, but $25 to $34 for one planner really put it off. Sometimes they have $5 sales you can watch out for, but an alternative would be to download PDFs of entire journals or weekly plans.
That's not what I wanted though. I wanted something completely customizable, and I found that through the bullet journal system, which is self-described as "The analog system for the digital age" and developed by Ryder Carroll.
The bullet journal system has a lot of range of what you can do with it stylistically and intentionally. Whether your aesthetic is minimalistic, colorful, bright, dull, or a mix of everything, you can do whatever you want.
To start, you need a blank notebook. It's your choice to get blank, lined, grid-lined, or dotted paper. I can't write anything in straight lines to save my life, so I opted for a grid notebook. Then you make a key of symbols that identify if an entry is a task, a reminder, deadline, or event. You're free to customize the layout, utility, and style of the page however way you'd like.
Bullet journals have rapidly grown in popularity as people share their creations and inspire others. You can search up various "studyblrs" (Tumblr users who dedicate their blogs to studying tips, bullet journal inspiration, and overall study aesthetic) and Pinterest for ideas on how to transform your bullet journal to reflect your personality.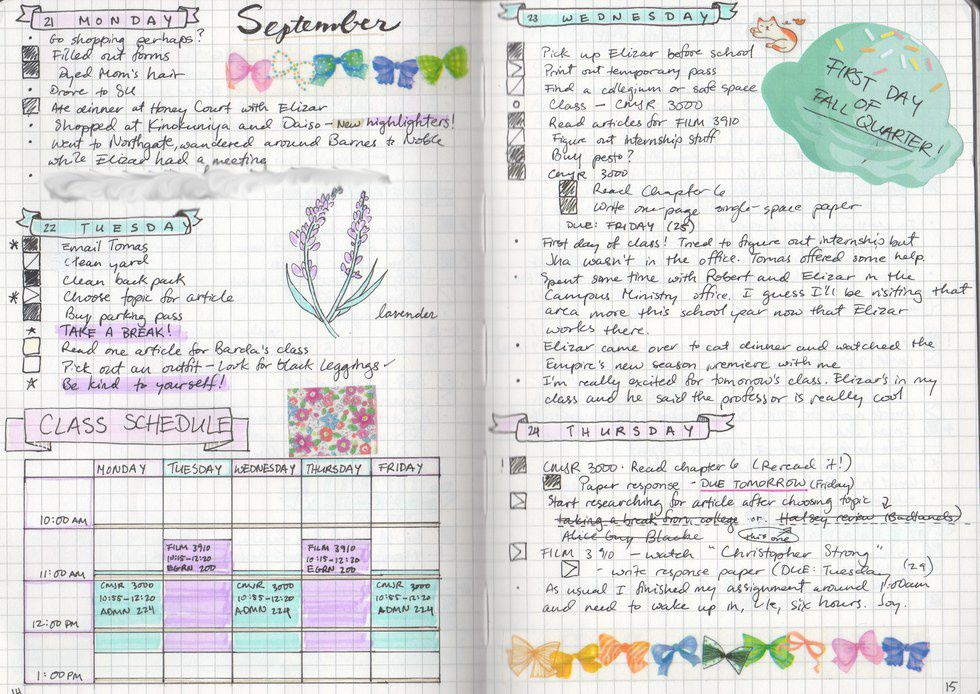 A spread from my own bullet journal.
Some information blurred for privacy.
Some people use bullet journals to store recipes, DIY ideas, and lists of any and every topic. Others use it as half planner, half art journal. It's really up to you. I think that's what I love so much about this system. I don't like scheduling appointments or tasks on my phone because I'm so easily distracted once I unlock it. Writing stuff down helps me remember information better, and this also let's me use it as a creative outlet.