Dearest Commons,
We met exactly one year ago. I was young and naïve, and you were everything I had ever dreamed of. This brilliant anniversary week – because my love for you is too much to contain to a single day – is the very definition of bliss, full of sunshine and happiness and naps on the green. Things were bleak this time last year, to say the least.
It took 36 hours to get here, after countless cancelled flights, a long night alone in Boston's South Station and a few buses. (Planes and trains and automobiles, oh my!) I was exhausted and starving and cold, and you were there, a shining beacon of welcoming warmth. Perhaps you were part of the reason I felt so at home on this campus that is worlds away from where I grew up.
I was a child, but you accepted my meal ticket and gave me a place to collect myself after a long day. As a child, dining halls meant mystery meat and grey sludge. You showed me the food of the privileged: not one, but two separate hot food lines, a deli and salad bar, pizza and pasta and an entire dessert bar, complete with cookie dough ice cream. Love at first sight would be an understatement, as you became the primary landmark on my mental map of Yale.
You're more than a dining hall. You're a buffet of comfort-food, of pizza and pasta; my favorite is Alfredo day, or whenever you've got shredded Parmesan cheese. It's such a simple thing, but it reminds me of home. You're the only place I can have breakfast at 11 a.m. and still be there for lunch at 2 p.m., studying or socializing between the two. I've watched countless movies; I've made new friends and caught up with old; I've even read entire novels within your walls.
Your long tables screamed Hogwarts with college flags hung down both walls, the only space where a Branfordian might sit under the JE flag and still feel welcome (although it still makes me twitch). Sometimes the flags would disappear and twinkling lights would stretch across the ceiling like magic.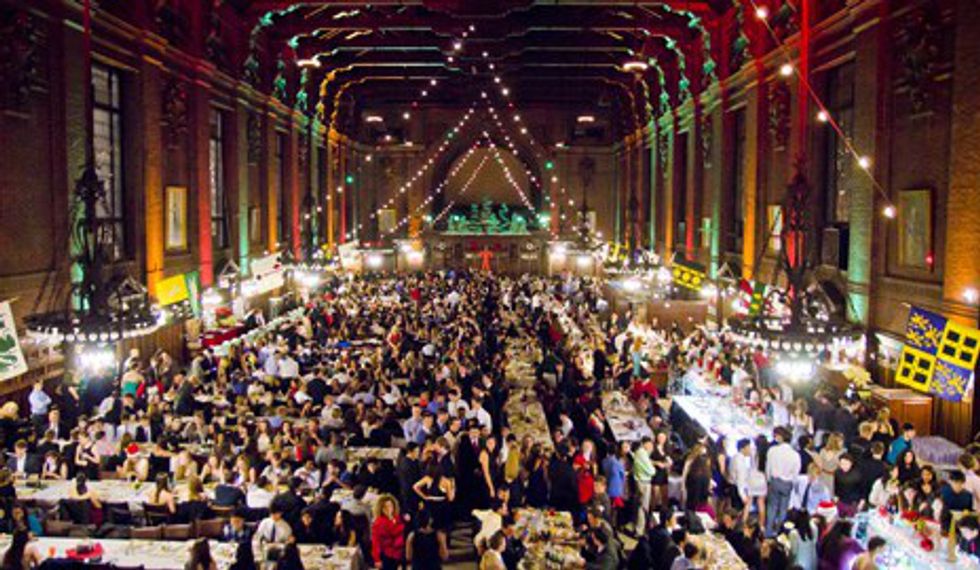 And I know this is a one-way relationship, and that I am but one hungry soul amongst a string of lovers; hundreds flock to your open doors every weekday, spending hours on end within your spacious hall. Over the course of your century-plus tenure, you've had thousands of affairs.
Still, I began to worry when you started withdrawing into yourself. First you closed your doors to breakfast, leaving us hurt and confused. We didn't know where else to go; without the normal schedule, we were forced to find a new home. But we got over our differences; after all, you were still there for some afternoon delight.
But then everyone was talking about you, wondering about your future, about our future. I should've known there were secrets brewing, but I was still innocent and full of love. Somebody dropped some cash, you took his name, and it was a done deal. The Schwarzman Center. *shudders* The name makes me sick.
So here we are: you, boasting your new name and supposedly better future, and me, counting our last few days together. It breaks my heart, but I'm sure it was bound to happen eventually. I hope you enjoy your time as the Schwarzman Center, just know that I'll be waiting for the day somebody agrees you were better as a dining hall and resurrects your full glory. You'll always have a special place in my heart.
With Love,
Sarah