Is it a bird? Is it a plane? No, it's Kanye West!
Nosebleed seats or not, everyone who attended the Saint Pablo opener in Indianapolis last weekend had a clear view of the self proclaimed god, otherwise known as Mr. West.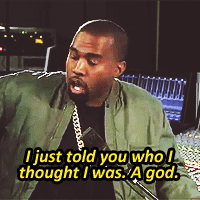 Kanye performed his entire show at the Bankers Life Fieldhouse on an "innovative floating stage" as USA Today calls it, while others (mostly myself) call his performance an "act of narcissism."
Attached to the stage by a rope device to prevent falling to his death and being mauled by crazed fans, Yeezy sang his collection of songs sans flashing lights, ultra light beams, guest appearances, and backup dancers/singers.
So, basically I paid $56 — yes, I had nosebleed seats — skipped class (I didn't actually have to skip class, I just really didn't want to listen to my teacher's monotone voice. Think Ferris Bueller's teacher monotone), and drove from Bloomington to Indianapolis to watch Kanye fuck around on a floating stage for two hours.
I guess $56 to see Yeezy in the flesh isn't that terrible, but as the first concert I ever attended I was expecting something more visually stimulating — especially from Kanye West.
The funny thing is that Kanye actually delayed the concert because something was wrong with the lights. In the middle of the concert he said, "I'm glad y'all got to see the way it was supposed to be," so I can only imagine that he smashed every single light with a hammer, destroying the set up as well as the perfect first concert I had envisioned.
Well, duh — why would a God need a light show if "God is Light and in Him there is no darkness at all" (1 John 1:5)?
It's no secret that Kanye West regards himself as a holy being, so actually his concert was very fitting for his aesthetic.
He shouldn't perform a mind-blowing concert on a real stage like Beyoncé or Justin Beiber, because news flash: he's not a female power mogul or a tween heartthrob — he's Yeezus.
According to the bible, Jesus said, "I am the light of the world. Whoever follows me will not walk in darkness, but will have the light of life" (John 8:12).
Kanye didn't need a light show for his concert, because Kanye was the light show.
By eliminating distracting elements in the concert, Kanye was able to perform his show in its rawest form possible. Yeezy practically granted his fans the opportunity to appreciate him as the godly musician he is.
So yeah, I could've just stayed home and listened to TLOP on Spotify, but then I wouldn't have had experience of watching fans swarm underneath the floating stage in a frenzy, or the opportunity to scream out secrets because no one can hear anything you say at a concert, or the opportunity to see Kanye disappear under a UFO at the end of the concert.
All in all, the concert wasn't what I was expecting – but it was cool to see Kanye in the flesh, and I admire his dedication to expressing himself the way he wants to be seen, instead of performing the way others want to see him.
Kanye's aesthetic is Godly, and since he is a source of light he didn't need anything else shining on him. Turns out he didn't include Ultralight Beam on his set because he was the ultralight beam.
Or maybe he's just a narcissistic asshole who thinks he's better than everyone else and doesn't have the emotional capacity to care about his fans.