Yes, it seems like the Lakers traded a lot to acquire superstar Anthony Davis from the New Orleans Pelicans. It's because they did. They gave up Lonzo Ball, Brandon Ingram, Josh Hart, and three first-round picks (including the 4th overall pick in 2019). All these players put in quality minutes during the regular season, and giving up three first-round picks is always a huge gamble. However, let's dig a little deeper and see why this trade makes sense for both teams.
As much as the LeBron haters refuse to admit it, the King isn't slowing down. The man is 34 years old and about to play in his 17th season, and he just averaged 27 points, 9 rebounds, and 8 assists. AT THIRTY-FOUR YEARS OLD! Had he not destroyed his groin on Christmas against the Warriors and missed seventeen games, he would have won the league's MVP award. He was playing a better all-around game than current favorites Giannis Antetokounmpo and James Harden. Take it as you will, but I am predicting right now that LeBron James will win the 2019-20 MVP award. He will remind everyone that he's the best player on the planet (better than Giannis, Kawhi, KD, etc.) and the Lakers will win one title AT LEAST within the next three years whether they add any superstars or not (regardless of what LaVar Ball thinks)...
THEN bring in Anthony Davis, who's a top-5 player in the league in my opinion, to LA to play alongside LeBron. Riddle me this: what team will be able to stop the frontcourt of LeBron, Kyle Kuzma, and AD?? Yes, they traded away their starting backcourt in Ball and Hart, but does that really matter that much? Especially with players like Kyrie Irving, Kemba Walker, Kawhi Leonard, Jimmy Butler, DeMar DeRozan, JJ Redick, Danny Green, and Ricky Rubio being free agents in the next year or two, the Lakers have a serious chance to fill out the roster with either THREE max contract-worthy players or plenty of role players to fill out the bench alongside and behind LeBron. When that happened in Miami with players like Ray Allen, Mike Miller, and Shane Battier, those teams won championships. When Cleveland had players like Matthew Dellavedova, Richard Jefferson, and Channing Frye in 2016, they won a championship. The importance of role players is underrated, and placing good veterans on the Lakers would be a VERY good move in their pursuit for a championship.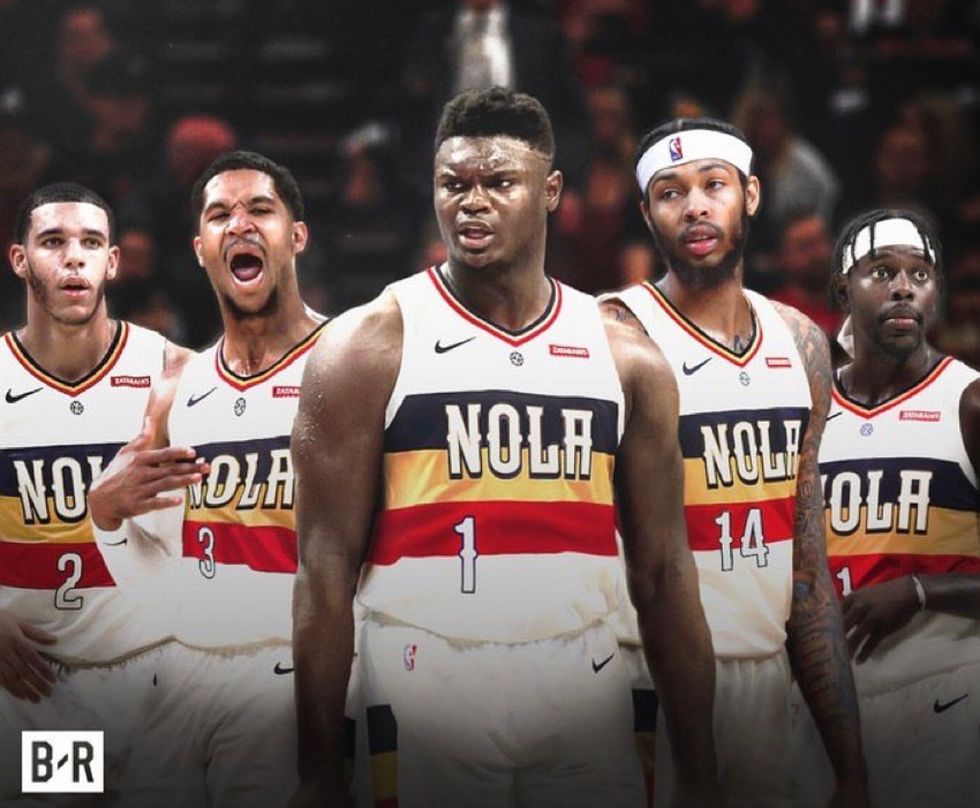 New Orleans's projected rotation for the 2019-20 season: Lonzo Ball, Josh Hart, Zion Williamson, Brandon Ingram, and Jrue Holiday Bleacher Report
Now, let's talk NOLA. Anthony Davis made it clear he did not want to be in New Orleans, so they had incredible trade leverage. Although they gave up Davis, they did get a lot in return. Lonzo Ball has become a starting caliber point guard in the league, Josh Hart can be a quality starting shooting guard with a little more development behind Jrue Holiday, and Brandon Ingram could easily be an All-Star. When these three players are in the best health, this could be a pretty dangerous starting lineup going forward. AND when you add first pick Zion Williamson to a starting lineup that will most likely include Jahlil Okafor at the center, New Orleans seems set for the next ten years. THEN you add in three first-round picks, including the fourth overall pick in the 2019 Draft. They traded the 2019 fourth overall pick and turned into THREE more picks, which shows just how much value draft picks can have. Whether they actually use all those picks or trade them for other players and picks, that's a LOT of leverage to land a/some max contract free agent(s) during the next few offseasons.

In all reality, nobody lost this trade. LeBron James got the superstar he wanted in Anthony Davis to make his pursuit for a fourth ring a little easier. Lakers general manager Rob Pelinka finally made a move to slightly calm the crowd of angry Lakers fans outside his office with torches and pitchforks. Anthony Davis finally got out of New Orleans, where he was miserable for at least the entire second half of the season. The Pelicans acquired a young core that could be a force to be reckoned with for years. However, no matter what happens, one thing is for certain: the NBA is going to look VERY different in 2019-20.