On the night of October 1st 2017, a gunman who I will not glorify by using his name, shot and killed 58 people, and injured 546 more. The gunman used an assortment of firearms to rain terror from the Mandalay Bay hotel. For 10 minutes the assailant shot down at the crowds below from the 31st floor, with little to no resistance from law enforcement. This was because it was extremely hard for officers to pinpoint the shooters location, and respond with adequate resources. The local SWAT team finally made entry to the room and found the gunman dead from a self-inflicted gunshot wound to the head. The following lessons I purpose in this article are my own personal opinions on how to survive a situation like this. These are merely suggestions and if you ever are involved in an active shooter situation, you should use your own judgement for the appropriate response.
The use and type of cover.
In an active shooter situation if you cannot run away from the danger, it can be best to hide. You have to be smart in what you choose to take cover behind, making sure it provides maximum protection for the circumstances. In a concert environment the area is open, with very little cover. The commonly found cover spots will be barriers, staging, vehicles, and tents. Each have their own strengths and weaknesses. If you seek cover behind a barrier, make sure that it is hard metal, and it is not the cattle grid style, as bullets can easily pass between the rods. Choose only to hide behind barriers such as concrete ones for stopping vehicles, or solid plate metal barriers for crowd control. When using a vehicle for coverage be sure to put the entire vehicle between you and the shooter. Do not hide inside the vehicle as you will trap yourself, and there will be less protection. If the active shooter is ground level and moving, be sure to use the glass as protection when popping your head up to look for the shooter. In the Las Vegas shooting it is better to keep your head down and preferably sit behind a wheel for extra protection. Using staging for protection can be useful if it is a hard metal type material, use the same rules as barriers in these cases. Avoid using tents as protection from an elevated shooter, although they might not be able to see you, the cloth roofing provides no protection and you can be shot from a random round.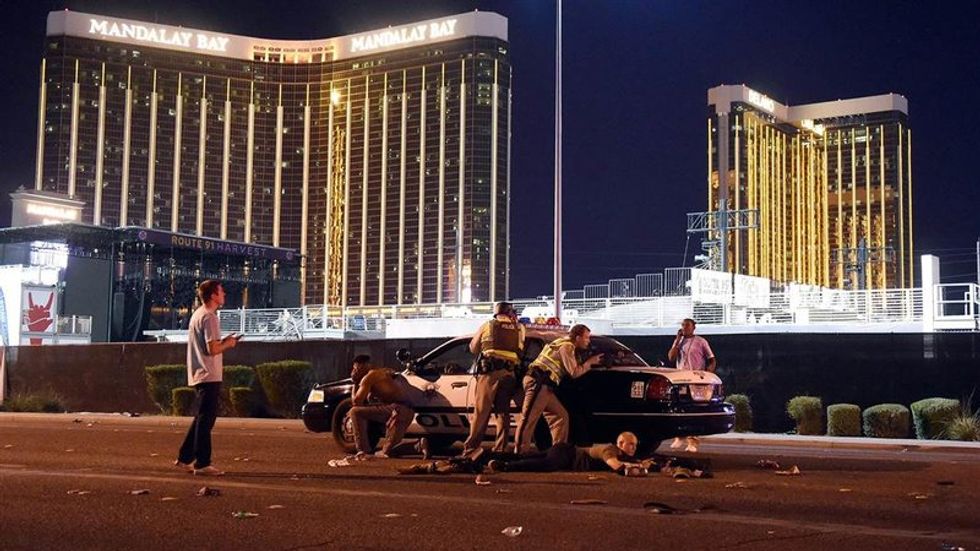 Running for safety.
When possible, and safe, run away from an active shooting threat. Get out of the danger zone as quick as possible, use your senses to make a judgment of the best route to escape. Be aware that there might be multiple shooters, use cation when moving and be sure to stay vigilant for anyone that could be a threat. Although running is quick it can be deadly in active shooter situations, be sure to use a steady pace and to not tire out. Slow it down when entering a new scene or when going around a corner. Take time to look and listen, this will help you be aware of your surroundings, adapt to anything you perceived to be a possible threat. It can be better to go a longer way around something if you believe a threat to be on the quickest route.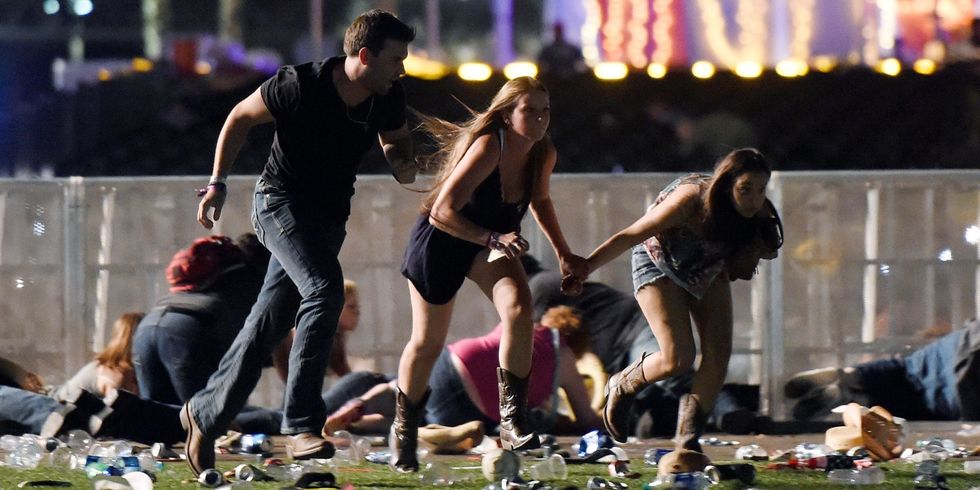 Surviving a gunshot wound.
When possible take a first aid or medic class in which you learn to treat a gunshot wound (GSW). For most people this is not possible, so here is some basic survival knowledge. Pressure is key to stopping bleeding, use a (preferably clean) cloth, such as a t-shirt or even gauze if you have access. Press down hard on the GSW, it will hurt and you will want to let up, but it is critical to maintain pressure. If the wound bleeds through the cloth, do not remove it, simply add more on top. If you have a tourniquet use it, but a belt or string can be used. Be sure to place the makeshift tourniquet about 2-3 inches above the wound on an extremity (arm/leg). Pull the tourniquet tight, this will once again cause pain, but maintain the tightness until EMS arrives. A GSW can also be packed, this is where you push cloth or gauze into the wound to fill it up and apply internal pressure. Keep packing the material in the wound until you cannot pack anymore. Maintain pressure on the wound at all times. Pressure and a tourniquet can save your life, consult a local EMS class for more information.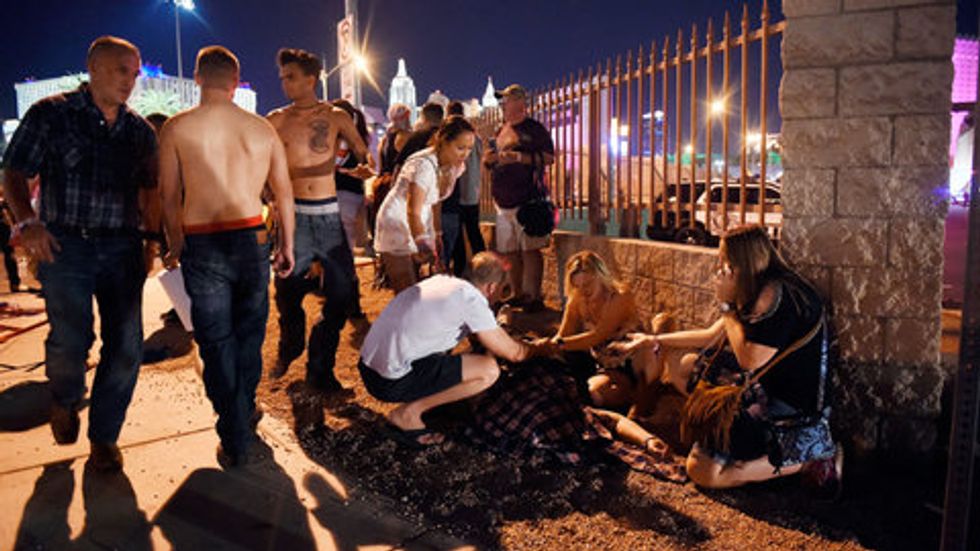 Leaving the crowd.
In most cases it can be important, if possible, to leave the crowd. Active shooters are looking to kill as many people as possible in a short space of time, crowds are prime targets. Separate yourself from large groups and attempt to minimize your presence in an active scene, this will also make you harder to find/spot. Another risk of fleeing in a crowd is being trampled on, if you fall over you could be crushed. This could kill you as well, so be sure to avoid these situations.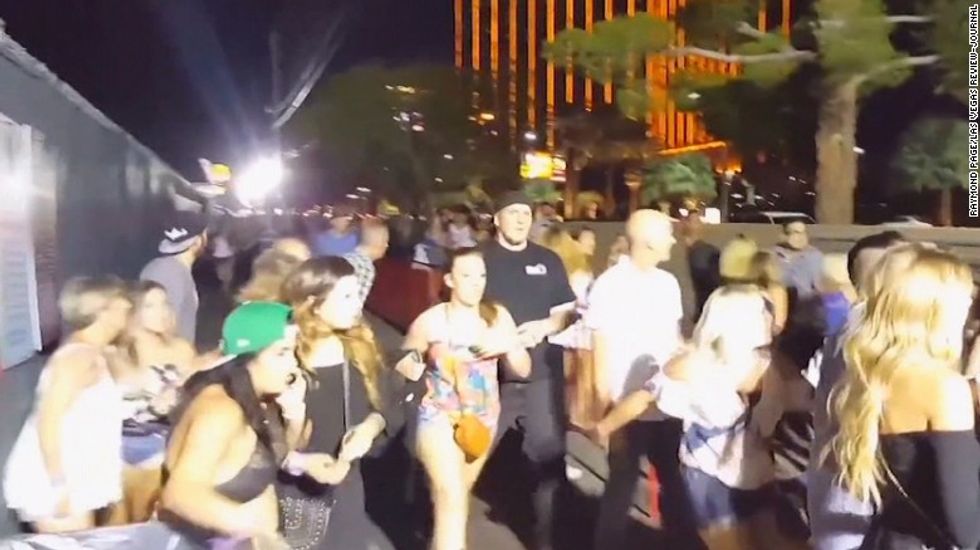 Be safe, not sorry.
In the Las Vegas shooting many people were slow to respond, this is because they believed the shots to be fireworks. If you believe that you hear shots, or screams of terror, it is always safer to leave a scene and be safe, then be sorry. Locate your nearest exit or hiding spot and start heading towards it, if the situation is simply just an innocent noise, you can always return once the scene is deemed safe.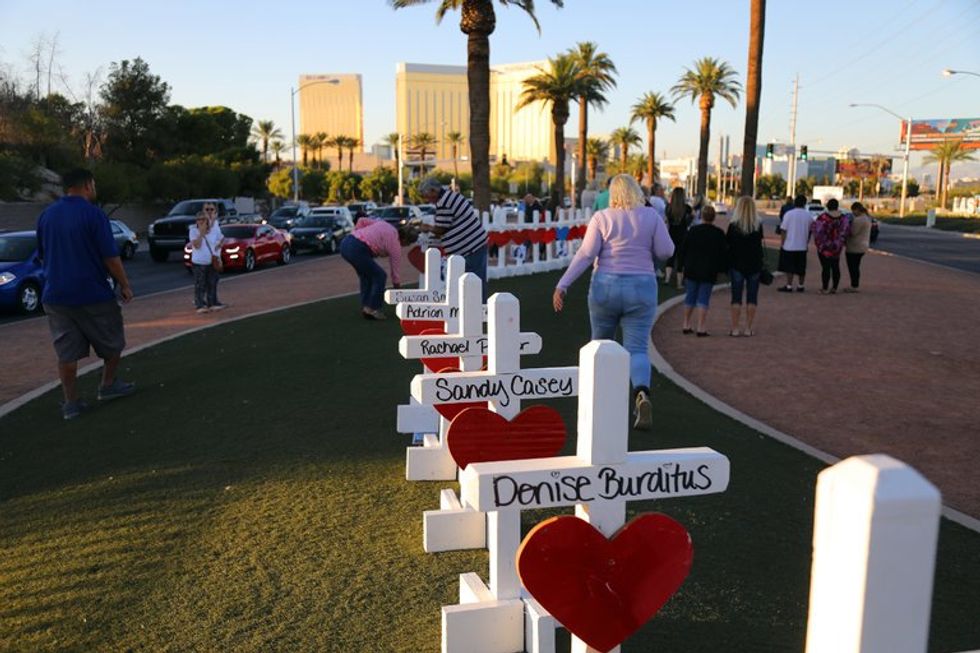 Police response and responsibilities.
In an active shooter situation, the police have set guidelines for how to respond. In most cases, they are taught to pass by any injured victims and find the shooter right away. Their job is to secure the scene and stop the shooter/s from injuring more people. This is why it is so important for you to know how to treat your own gunshot wounds, as EMS will have to wait for the police to secure the scene, before they can come in and help. In the Las Vegas shooting the shooter positioned himself so the police could not return fire, they could not risk shooting any innocent people in the surrounding rooms. This meant he was able to shoot until he killed himself, or in other cases a SWAT team arrives. You cannot rely on the police to help you right away, you are your own survival expert.