In this ever-crazy society where importance is placed on looks, everyone wants picture-perfect skin. No one wants acne. No one loves acne. It's just something that most people have to accept. Acne and imperfect skin are completely normal, no matter how much we wish it wasn't. It's important to recognize that everyone's skin is different. Some have dry skin while others have oily skin, some have more sensitive skin and others don't. Therefore, what works for one person might not work for you. There are hundreds, if not thousands, of different skin care products. I'm sure we've all heard of Neutrogena, Mario Bodescu, Proactiv, etc.
Last year, I went on a journey and attempted to follow the Korean Beauty Skincare Routine that consists of a ridiculous 10 steps, more or less. In all honesty, I say ridiculous just because I'm lazy and my usual routine consists of face wash, moisturizer, and the occasional tea tree oil for pimples. As you can imagine, following this skincare routine is pretty expensive, depending on which products you decide on and where you buy them. While the routine usually consists of 10 steps, I knocked out a couple just because I didn't feel that they were necessary for me (and because I didn't want to spend more money).
For those of you who are unaware of the famous K-Beauty Routine, I'll list them for you in the exact order they should occur. In addition, I will also list the products I used and how I felt about them. As a side note, I bought all of the K-Beauty products off of Amazon because they were much cheaper here than actually K-Beauty websites!
1. Oil Cleanser
I tried the DHC Deep Oil Cleanser and I wasn't too worried because I'm not super oily, I have (slightly) combo skin, I don't get too try or too oily. At first, I loved this product because after I used it, my skin felt so soft and clean, it was not oily whatsoever. However, as I continued, I think this product ended up clogging my skin, as it is oil-based. I started noticing little bumps under my skin all over my face, even in areas I never break out in. However, I think my pores are easily clogged. I'm never able to use cream moisturizers, only gel ones because I break out so bad.
2. Foam Cleanser
I actually skipped this step and would usually just opt for my Neutrogena face wash or use Garnier's micellar water to get the last of the residue/dirt off. Oops.
3. Exfoliator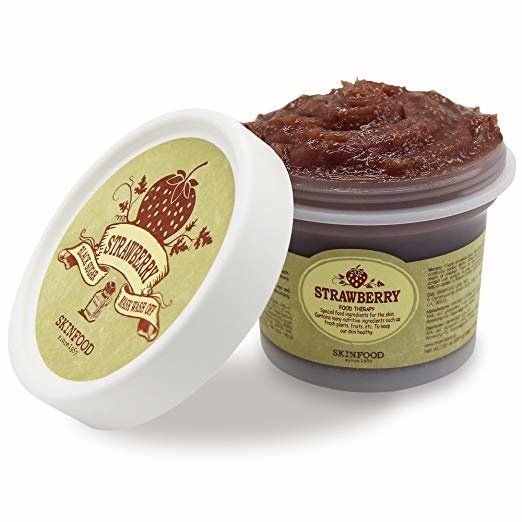 I loved, loved, loved this product! It smells so good, exactly like a strawberry smoothie or candy. Which in its own way is kind of gross because it almost feels like you're rubbing straight sugar on your face. However, it was a great exfoliator and I feel like it came with a lot! It's kind of like a lip scrub but just for you face.
4. Toner
For my toner, I went ahead and used apple cider vinegar. I already had some laying around because it's great for other uses. I just poured some on a cotton pad and rubbed it on my face. I absolutely hate the smell of ACV but as they say, beauty is pain.
5. Essence
I skipped this because I bought an ampoule instead and I didn't want to waste more money. I wanted clear skin but obviously not that much.
6. Serum, Boosters, or Ampoule Treatments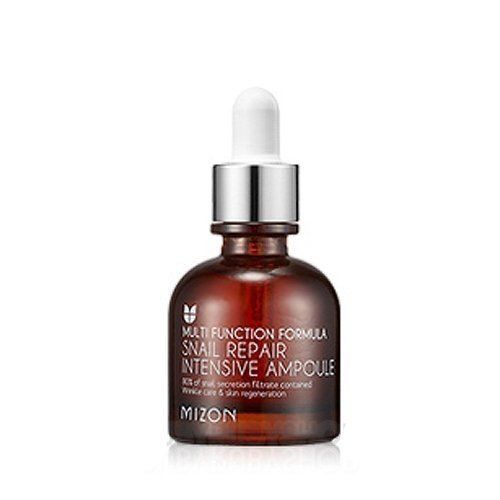 As I stated above, I bought an ampoule and most (probably all) of you will find this one a little gross. It has "snail filtrate extract" (ew) but targets acne scarring, aging, and texture.
7. Face mask
So for face masks, I already had like 10 other face masks so I didn't feel the need to buy a new one (even though I really did want to).
8. Eye Cream
I skipped this one entirely, I didn't bother because most eye cream products are ~creamy~ and cream-based products clog my pores.
9. Face Cream
I also didn't buy a Korean based product for this, I just continued on with my gel moisturizer!
10.  SPF
I skipped SPF because who really puts on sunscreen nowadays? I feel like being tan is all the rage. Also I hate the smell of sunscreen and a lot of sunscreens clog your pores.
So as you can see, I really half-assed this Korean Beauty Skincare Routine but that's fine. It's the effort that matters, right? However, I'm sure that if I had actually done the full 10 step process, I really would've given up after three days because I am as lazy as can be.