News broke at the end of last month that Tristan Thompson and Jordyn Woods had been seen making out during a party at his home, and some reports even insinuated that the pair had sex, as it was believed that Jordyn did not leave Tristan's house until the wee hours of the morning.
Recently, Jordyn appeared on Red Table Talk with Jada Pinkett Smith to explain her side of the story. When it was announced that she would be doing a taping for the Facebook Live show, Khloe Kardashian took to Twitter to slam the 21-year-old for using the platform to save herself and called the young woman the reason for why her family with Tristan had broken up.
Jordyn opened up to Jada, a long time family friend, about what had taken place the night it was reported that she had "hooked up" with her friends baby-daddy. According to Jordyn, she attended this after party with a group of friends, and on her way out, was kissed by Tristan. She claimed that the kiss was a surprise and that nothing else happened between the two of them before or after the kiss. She then admitted to lying to Khloe on the phone when she was subtly asked if anything inappropriate happened between Tristan Thompson and any of the female party-goers.
Well, here's my little two cents.
First of all, there is no reason why anyone should be referring to this 21-year-old girl as a homewrecker. Tristan Thompson is a known cheater. He has cheated on Khloe before. We have seen him be publically inappropriate with women, so I'd bet everything in my bank account that he has stepped out on Khloe more times than we know of. Not only did he cheat, but he did it while Khloe was pregnant with their daughter. Conclusion: brotha is a DOG!
I'm sure there were weeks or months of "I'm sorry, I don't know what I was thinking. You're everything I need." calls and text messages because at some point Khloe took him back. Now, I'm not here to shame her for giving him a second chance, because as a woman, I can't sit here and say I haven't been blinded by love and acted as if I had zero sense. But she did, in fact, take back the man who cheated on her while she was pregnant...
However, after taking someone back who has already publically humiliated you by cheating, I do find it odd that she or anyone would immediately fault another woman for their man continuing to act the ass we already know him to be. You can't wreak a home that is already in shambles. At that point, she needs to realize that maybe "her man" just simply isn't interested in being kept.
Something that I took from Jordyn's interview was her saying (or letting it slip) that Tristan was Khloe's "ex." There is a part where she admits that it was wrong for her to be in the home of her friend's "ex." Now, of course, there is a girl-code, and we know that it's pretty shitty to get involved with a friends left-overs, but if Tristan was in fact no longer with Khloe, Jordyn may be an ass, but she definitely isn't the reason why their family isn't together.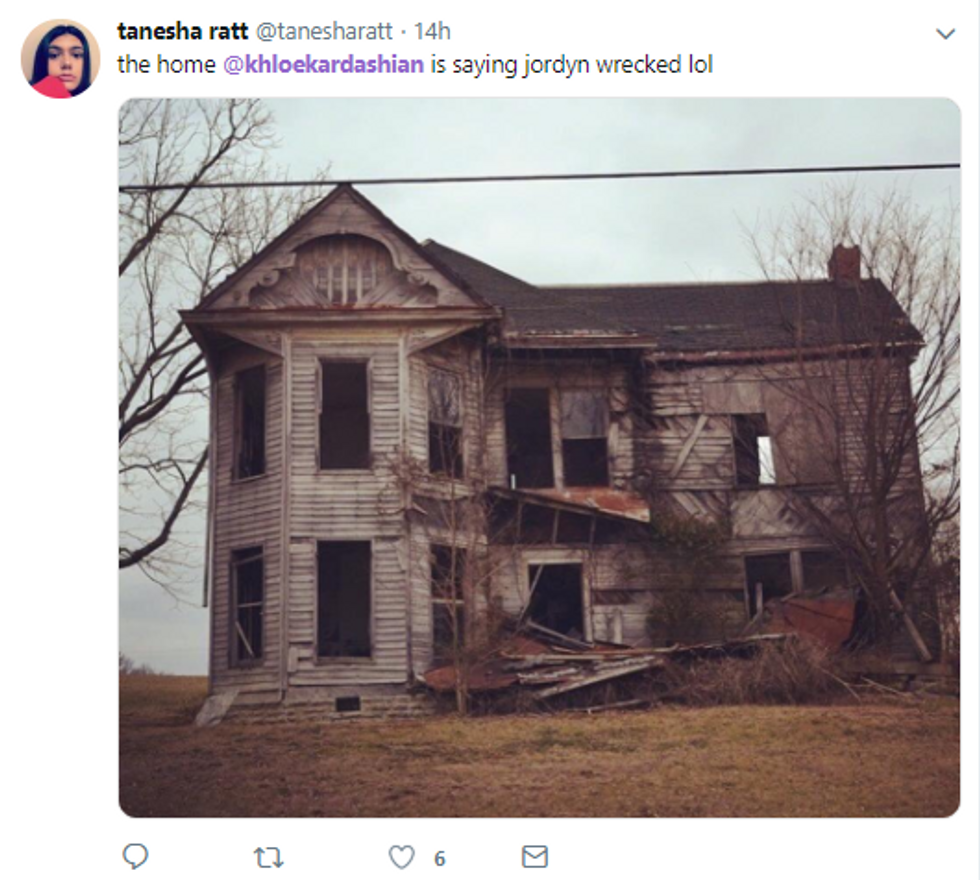 Twitter
I also have a hard time watching this young woman get dragged through the press, receive death threats and be harassed over a boy when I can recall numerous times the Kardashian/Jenner clan have been in the press for stealing someone else's man...
Correct me if I am wrong, but you can't steal someone's man without first being inappropriate with them while they are in a relationship, correct?
Well, When Khloe married her first husband, Lamar Odom back in 2009, it was not long after he had ended things with his girlfriend of 10 years whom he had 3 children with. According to his ex, Liza Morales, he broke the news to her via text message that he was marrying Khloe a month after meeting her.
And then who could forget Kim Kardashian, getting involved with her now husband, Kanye West, while he was still with his longtime girlfriend Amber Rose? Rose later said that while she was with Kanye, Kim would send him pictures, and when she asked Kim to stop, Kim wouldn't respond.
Oh, and what about Kylie Jenner's relationship with Tyga, Blac Chyna's former fiance and father of her son, and that whole mess? Kim Kardashian and Blac Chyna were best friends up until the point where Kim's youngest sister, Kylie swooped up Chyna's ex, and if I recall, every single one of her sisters took her side and ex-communicated Blac Chyna who was now a new mom, and a single one at that.
I have two points here. The first is that sometimes, just realize when your man doesn't want you! It is very clear that a lot of these men hook up with Kardashian's/Jenner's for the publicity, which is why all of their front doors are revolving. In Tristan's case, he had a child, which I personally find despicable to do to when you have no intentions of being with the mother. My second point is that people in glass houses shouldn't throw stones. While the white media might want to condemn Jordyn Woods, the black media will not. She is 21, mentally a child, who was drunk at a party and was kissed by an older man, a known philanderer, who had no business doing that. She should not be paying the price, he should.