On November 30th, 2017, I got to see one of my favorite artists perform live at The Van Buren, here in Phoenix, Arizona. That artist was Khalid and his performance was absolutely the best I have ever seen. I found out about Khalid earlier this year when his album came out in March and since then, I have been hooked on his music. How hooked you ask? Well, I have an entire Spotify album dedicated to his album as well as all of his features. I follow him on every social media platform and I'm constantly trying to engage in conversation with him - one day he will respond, I just know it.
So, when I saw that he was coming to Phoenix, there was no doubt in my mind that I needed to get tickets. So, I did. I bought the tickets in October and had to wait over a month just to see him. You bet I was counting down the days. I have seen other artists in concert before, but I was never as excited for others as I was for Khalid and I feel like that is one of the contributing factors to why I enjoyed his performance so much!
Finally, the day came! I left school early to go wait in line so that I was ensured a great spot to see him. I arrived at the venue at 5:30 pm and waited for the doors to open at 6:30 pm. Once the doors opened, I had to tell myself to stay calm and not run in there like a child even though I really wanted to. I still got a great standing spot and I was able to see Khalid the entire time - which is super unusual for me because I'm a small person. The show started at 8:30 pm but Khalid had an opener. This artist goes by "Lauv" and is also a SUPER amazing artist so the fact that I also got to see him just made my day.
Khalid didn't even go on stage until about 9:30 pm but when he did, the energy of the venue changed. Khalid was such a happy and positive performer and still manages to keep the soulfulness of his music! He played almost every song I wanted him to except "Angels" which is one of my favorite songs because it reminds me of my mom, but he definitely made up for that by bringing his vibrant personality to the stage.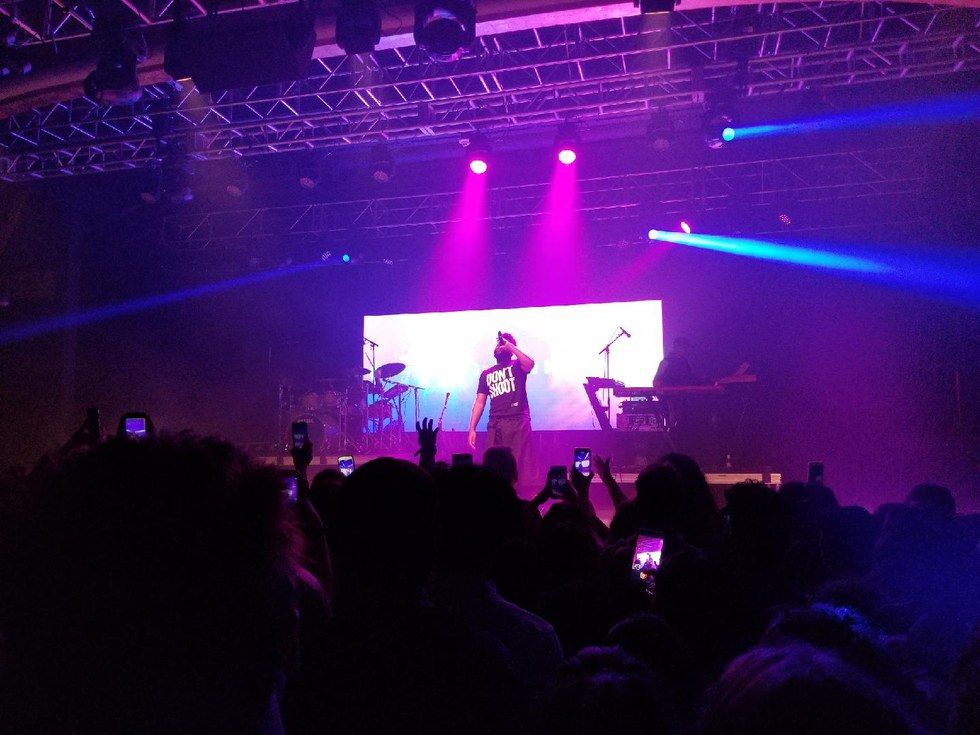 When he performed his songs, you could literally hear the emotions coming out of him, and he had so much adrenaline and energy that he did not stay still once while up on that stage. There was a song that he performed called "Silence" and he did the song with Marshmello, who I just recently got to see at Gold Rush. Being able to see and hear the song performed individually by the two different artists was like me checking a box off of my bucket list because I absolutely love both artists.
Even Khalid's slower songs were even made to sound a bit upbeat and energetic while he was up on that stage. Not many artists will do that; most artists will sit or stand in the middle of the stage and sing their slower songs but Khalid did it and succeeded while moving around the stage, which I absolutely loved!
Another reason why I appreciated Khalid's performance so much was because he interacted with the crowd. He could tell that we were his fans, and those that he was close to, he gave high fives to, or grabbed their hand and sung to them. There was even a point where he tried to give an autograph while he was on stage performing but his managers made him give back the paper and pen before he could sign it (boo for them).
Khalid is just such an amazing person and after seeing his performance that night, I knew that I needed to see him again. On Saturday, December 2nd, 2017, Khalid's "Roxy Tour" tickets went on sale and of course, I bought tickets so I will be seeing him next year in May! Continuing on with how much of an amazing person he is: The "Roxy Tour" is named after the puppy he just recently adopted and to top it off, $1 from every ticket sold for the tour will be donated to the local animal shelters from every destination he stops at to perform. SUCH A GREAT GUY!!
I HIGHLY recommend everyone to go and see Khalid perform live. Khalid, if by some amazing miracle, that you happen to read this, just know that you performed amazingly, you are an inspiration, and I will see you again in May!