Jussie Smollett, an actor known for his role on "Empire", was hospitalized early Tuesday morning following an attack in Chicago. The Chicago Police Department reports that Smollett, a black and openly gay man, was attacked by two offenders who shouted racist and homophobic slurs at him. The two offenders then continued to batter him, pouring an unknown chemical substance on him and tying a rope around his neck.
After the two assailants fled the scene, Smollett was able to check himself in at Northwestern Memorial Hospital. The police report describes his condition as "good." The Chicago Police Department are "taking this investigation very seriously and are treating it as a possible hate crime."
The FBI has reported that hate crimes have risen gradually over the past few years. We are seeing a dangerous trend where more people are attacked for their race, religion, disability, sexual orientation, ethnicity, gender, and gender identity. In 2014, there were 6,681 victims of hate crimes while the number increased to 8,493 victims in 2017.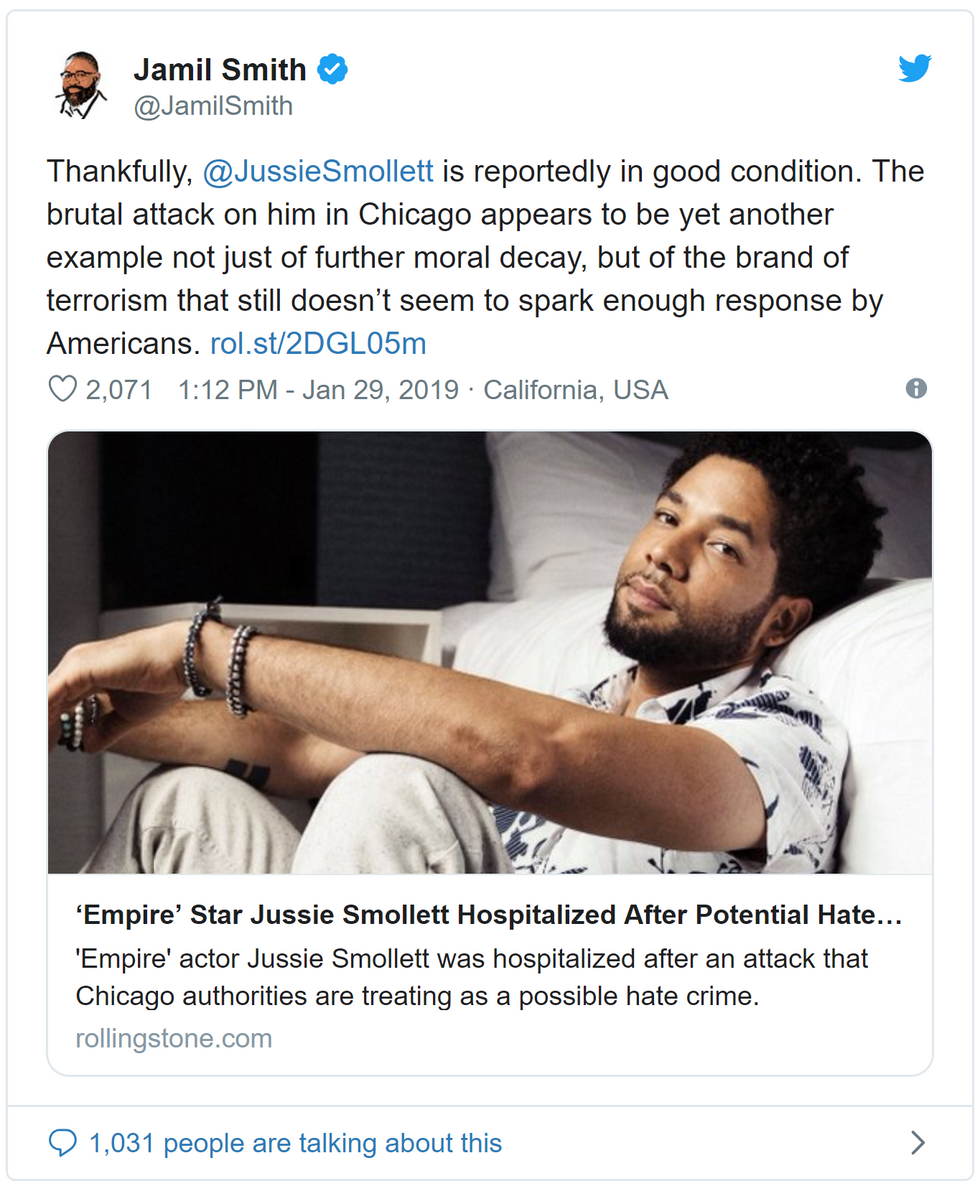 Senior writer at Rolling Stone comments on incident.https://twitter.com/JamilSmith/status/109031165683...
Jussie Smollett was not the victim of a racially-charged attack, but the victim of a hate crime. Police have a video of Smollet entering a hotel with a noose around his neck. For someone to say this attack was racially-charged is a bit of an understatement.
In 2019, we are still seeing minority groups being attacked for their identity or for their skin color. When I hear someone say that our generation is "sensitive and weak" for taking up such pressing social issues; I can't help but laugh because just 60 years ago, they were the ones who got upset if a person of color used the same water fountain as them. They, clearly, were the ones who needed "safe spaces."
While racism isn't blatantly displayed anymore, as it was with the implementation and long continuation of Jim Crow laws, we still see the remnants of such hateful rhetoric in the form of political commentary and of course, hate crimes themselves.
As we watch this investigation unfold, we are most likely going to see this attack downplayed. But don't be mistaken, this was most definitely a hate crime.