After his song "All Time Low" peaked to number 16 on the Billboard charts in January of 2017, Jon Bellion's distinctive, catchy and unparalleled style became known to the world. Bellion released five mixtapes prior to his first studio album "The Human Condition" and although it's evident all his songs are disparate in form, it's clear that one thing about his music has not changed: his use of synth and his vocals as a unique instrument.
Bellion has posted videos to his YouTube channel explaining how he creates certain songs. In his video "Jon Bellion – The Making of 'Simple and Sweet' (Behind The Scenes)," he uses an Akai MPC 3000 to generate a drum pattern and the alluring synth loop that continues throughout most of the song, a keyboard controller for a groovy synth sound and several DAWS (digital audio workstations) including the Apple Logic Pro X and Ableton Live 9 to mix and master his music. He constantly records samples of noises he makes and places them into the background for an extra effect. In his 'Simple and Sweet' production video, he records himself softly beatboxing which eventually becomes what sounds like the trickling of drum cymbals in the outro of the song. "People won't even pick it up probably in the record," Bellion said in the video of his beatboxing effect, but that didn't stop him from adding it and perfecting this soothing tune.
Nearly four years later on June 23, 2018, Bellion posted a highly anticipated video on how he created "Hand of God" which was the ending piece for "The Human Condition" released in 2016; "Simple and Sweet" was listed as track eight on his final mixtape "The Definition" in 2014.
These works, created two years apart, were implemented with discrete-sounding melodies and lyricism yet are still similar in their production.
In "Hand of God," Bellion still creates his drums through an Akai, uses a keyboard controller for synth and vocal effects, and employs multiple DAWS applications to put everything together smoothly but includes a few different tools to allow for this song to be unique: a choir is applied for the outro and his lyrics are especially heartfelt to make for a comforting ending to the album. Bellion and the choir plead throughout the song, "when you're lost in the universe, lost in the universe, don't lose faith. My mother says, 'your whole life's in the hand of God." His songs all include similar elements, but there is always something so special about each individual track.
In "Superman, The Gift and The Curse," the song fades out with what seems like an electrifying guitar solo. Bellion reveals in his video on how he created this song that the "guitar" was actually created through the manipulation of his voice. Listen to the song and the astonishment will ensue. It's hard to believe how authentic it sounds. Not to mention, Bellion said in tweets in 2014 and 2016 that he can't read music. He is still capable of producing such captivating music without even being able to fully understand it. What a guy.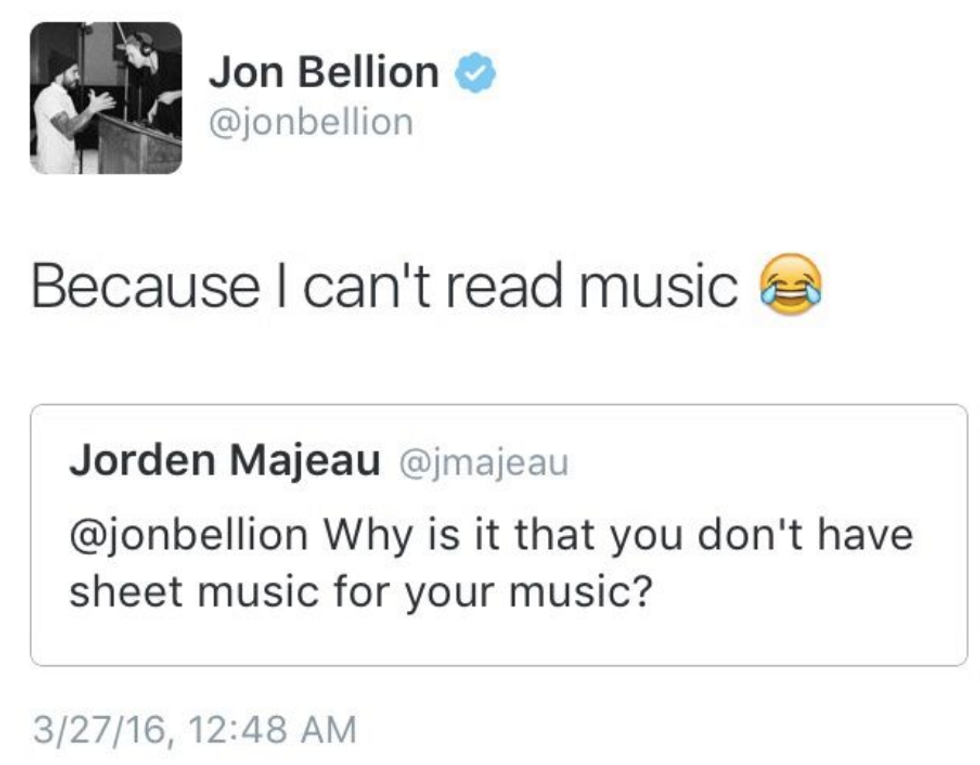 In "The Making of Hand of God," Bellion's guitarist Mark Williams said throughout the recording process that, "he writes amazing songs that appeal to people on an emotional level but also does things that will have every musician kind of jealous and wishing they had thought of it first." His exceptional style is a sigh of relief that genuine talent and originality are still alive and well.
If you are interested in listening to Jon Bellion's work now, here are some of my favorites of his I recommend you start with. Even if you don't like these particular songs, keep listening to him. Like I've previously stated, each of his songs is remarkable in their own way and I'm positive you'll find at least a couple you'll love thoroughly.
1. Simple and Sweet
2. Ooh (feat. Christianne Jensen)
3. Ungrateful Eyes
4. The Wonder Years
5. Maybe IDK
6. iRobot
7. Guillotine
8. Human
9. Life
10. Hand of God