Our heritage, American and for me, Irish, is the blueprint of what makes us who we are; Let's do a quick tour of Irish Immigrants to Cleveland.
There is much I want to share with you, in a short period of time; I'll go quickly.
Have you been to The Greater Cleveland Famine Stone? It is a good place to start. The Famine Stone, and a stone's throw away, Settler's Landing, soothed by the flowing Cuyahoga – the river, both physically and symbolically, is the gateway to Cleveland, for anyone, but especially, for the Irish. It was the reason, and the gateway to Irish Town Bend.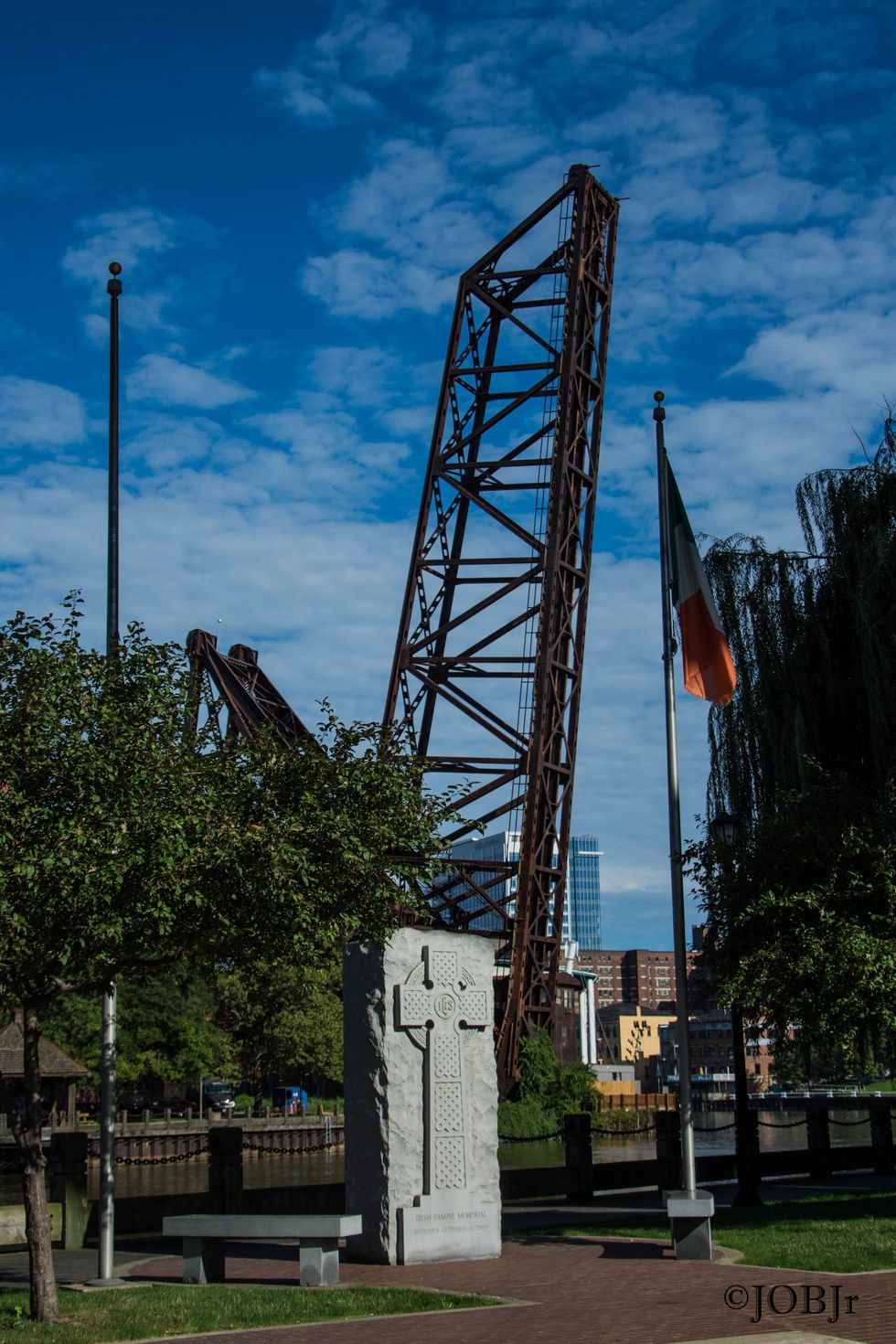 Irishtown Bend runs along this River, along the Flats. It is roughly the area from West 25th Street east to the river / north of Detroit Road. It was swampy. It was developed during the 1830s by the Irish who came to the area as laborers for the construction of the city's railways and canal. Many soon found work on the bustling city docks, or in the growing industries. Steel wouldn't come until later of course, but other industries did.

The area was characterized by the extreme poverty of the outcast Irish. We all know of the "No Irish Need Apply" signs, right? The majority of the Irish who came here lived in nothing more than flimsy shacks, built from discarded wood, anything they could find on the sometimes shifting hillside above the polluted and disease propagating river.
Due to their outcast status in Cleveland society, the Irish formed a very close knit, closed neighborhood, much like the Italians & other ethnic groups did. I kid you not when I say 3 and 4 FAMILIES, lived in a room, in double and triple decker houses. The weight alone sometimes caused the collapse of the houses. They would stop, bury the dead, and salvage whatever material could be used to build a new shelter, on the same spot.
The constant threat of disease and the backbreaking work most engaged in made life in Irishtown tough, at times violent, and often very short. Life was centered on 10-12 hour workdays, 6, or 7, days a week; their community; the pub; and their faith. We all know of the Irish reputation for drinking. I hate stereotypes; don't spread them.
Increased immigration during the 1840s as Ireland headed toward Black 47 brought more of their countrymen, causing Irish Town Bend to expand. The neighborhood became known as the Angle, including old Irishtown and Whiskey Island.
In the 1860s, St. Malachi Church was built in Irishtown, with St. Patrick's on Bridge near Fulton built earlier a little further west. With continued growth, the Irish expanded as far west as West 65th Street, adding a third parish, St. Colman's on W 65th & Madison, in the 1880s.
West 65th Street was the first location of the West Side Irish American Club, before moving to W 93rd, and then to Olmsted Twp, where they have been since 1990. It is the largest of the Irish clubs, with 4,000 members. My dad has been President since 1991.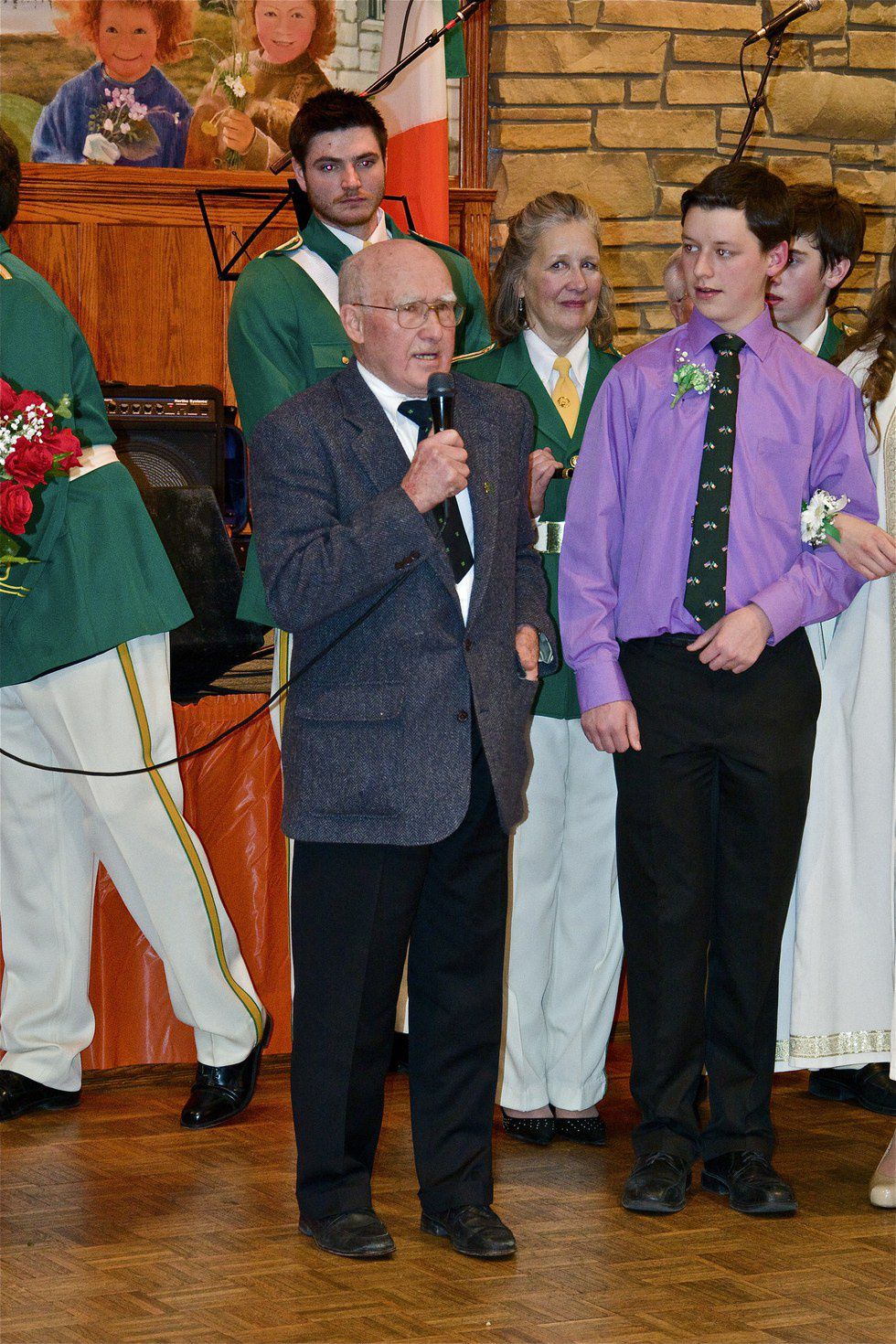 As the Irish immigrants entered the 1900s, they had started to gain some upward mobility in society. Cops led to lawyers led to judges and through it all, politics. Increased industry and job opportunities, as well as business of their own where they paid it forward by providing jobs to newly arriving Irish, allowed for economic growth in the community.
Irish to Irish called those that did well Lace Irish – both a hidden source of pride at making it, and a derogatory term, at taking on airs of success. Who knew being able to afford curtains would carry so much meaning?
However the Angle, especially Irishtown, remained the poorest area. This remained the case until early into the 20th century. As the Irish of Cleveland began to join the ranks of the middle class, they left Irishtown and headed for the western suburbs of Lakewood, Fairview Park and West Park, where I was born and raised, and returned to. I was working at a coalmine in Alabama when I got a job offer to return to Cleveland. Whoosh, I was gone.
On Irishtown Bend, the homes that were left behind would become inhabited by Hungarian immigrants for a brief time, and then abandoned.
The Famine Stone was designed, funded and placed by the Greater Cleveland Famine Memorial Committee, founded by my dad, and made up with "get things done" people from throughout our community. It is a 10 ten, 10 foot stone, hand carved by stone cutter, craftsman and committee member Eamon D'Arcy, who passed away in 2014. What a legacy.It was placed to coincide with the 150th Anniversary of Black 47.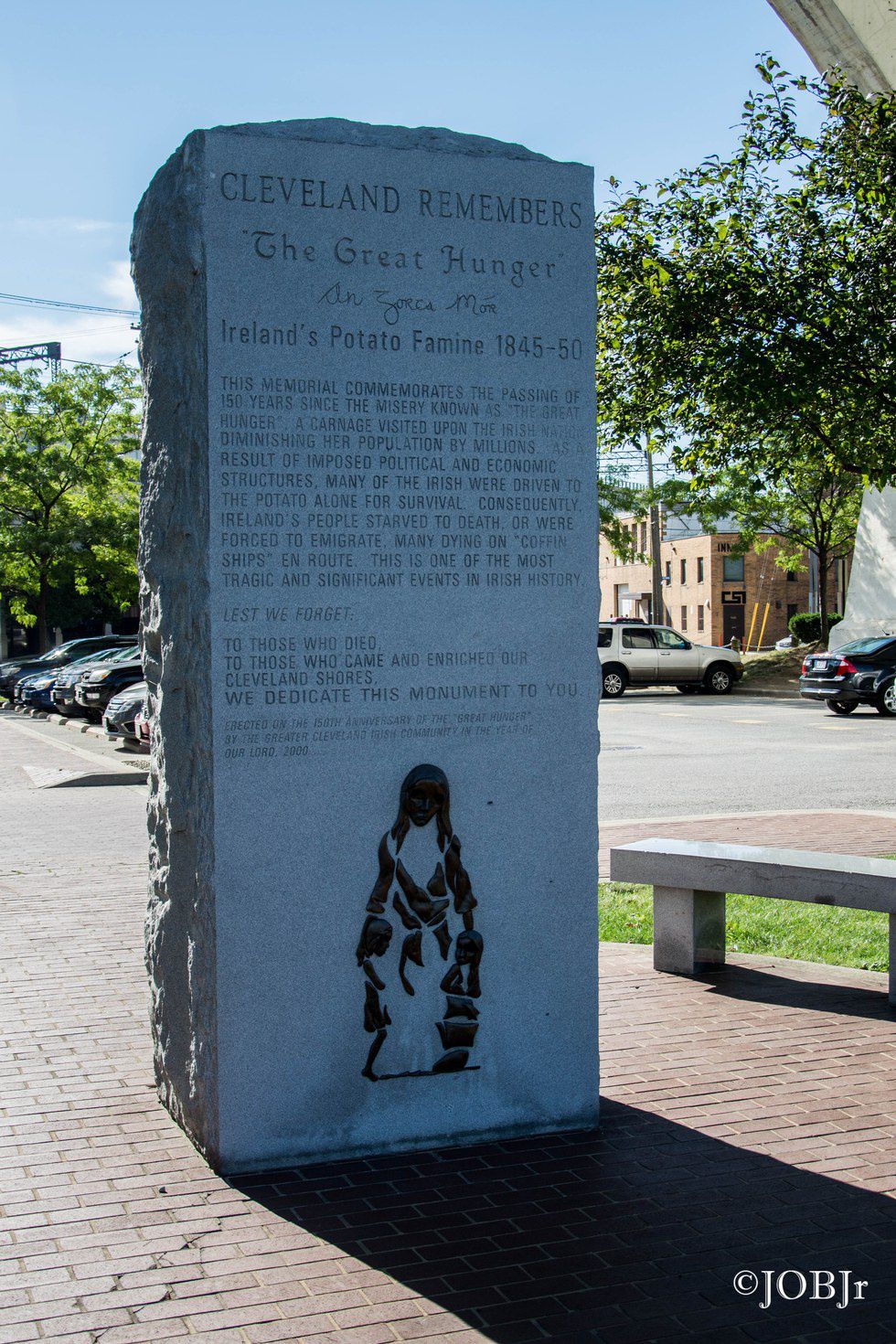 Forgive me if you know some of this, but here's a quick blurb:
There were over 4 million people in Ireland leading up to 1845. That number is debated; the number quoted depending on who is doing the counting. The governing authority, the British, said 2 million, and based their number on the Hearth Tax – in which the tax man, called the Excise Man, that you hear about in songs, walked around Ireland, and counted the hearths. "Run like the devil from the Excise man, to the hills of Connemara"… The Excise man attributed 1 man, 1 woman and two children to each hearth.
Now I don't know many farming families in Ireland that had only two children. The average was closer to 10. Often, a grandparent, or two, an unmarried aunt or uncle, or both lodged there as well. Some say 1 million died on the coffin ships, so called because people were packed in so tightly, and buried at sea when they died within, or left to shores world wide, including Cleveland. I say it is more than 2 million, significantly more.
Either way, a massive number of boats filled with grain were leaving Ireland while people were dying on the road, evicted for not being able to pay their rents, when the crops failed, for 5 consecutive years. The main crop was potato, and a man would eat 10 lbs in a day – a rich source of nutrients, and perfectly suited to the climate in Ireland.
The crops have failed before, they have failed since, but the perfect storm of 1845 – 1850 sent the Irish across the world. Most prefer it be called An Gorta Mor (The Great Hunger), rather than The Famine, since they view it as a deliberate act of the British, rather than an act of God. The governing authorities wanted to convert farmland to grazing land – there was much more money in beef than in potatoes.
100 yards east of the Famine Stone is Settler's Landing – it represents the spot that 42-year-old Moses Cleaveland brought a survey team of about 50 people to, in 1796, from Connecticut. Cuyahoga is an Iroquois name given to the river, it literally means, crooked river.
The Superior Viaduct began in 1875 and completed in 1878. The Detroit Superior Bridge was built in 1918 – 100 years old, in 2 years. 100 yards from the Famine Stone is Lorenzo Carter's resident replica, built in 1976.

Across the street is the Flat Iron. It is the oldest Irish pub in Cleveland. It was started in 1910. To the left of the building was a stair there, gone now, but I remember it. It led up to tiny rooms, just wider than a bunk, which held a bed and a little table.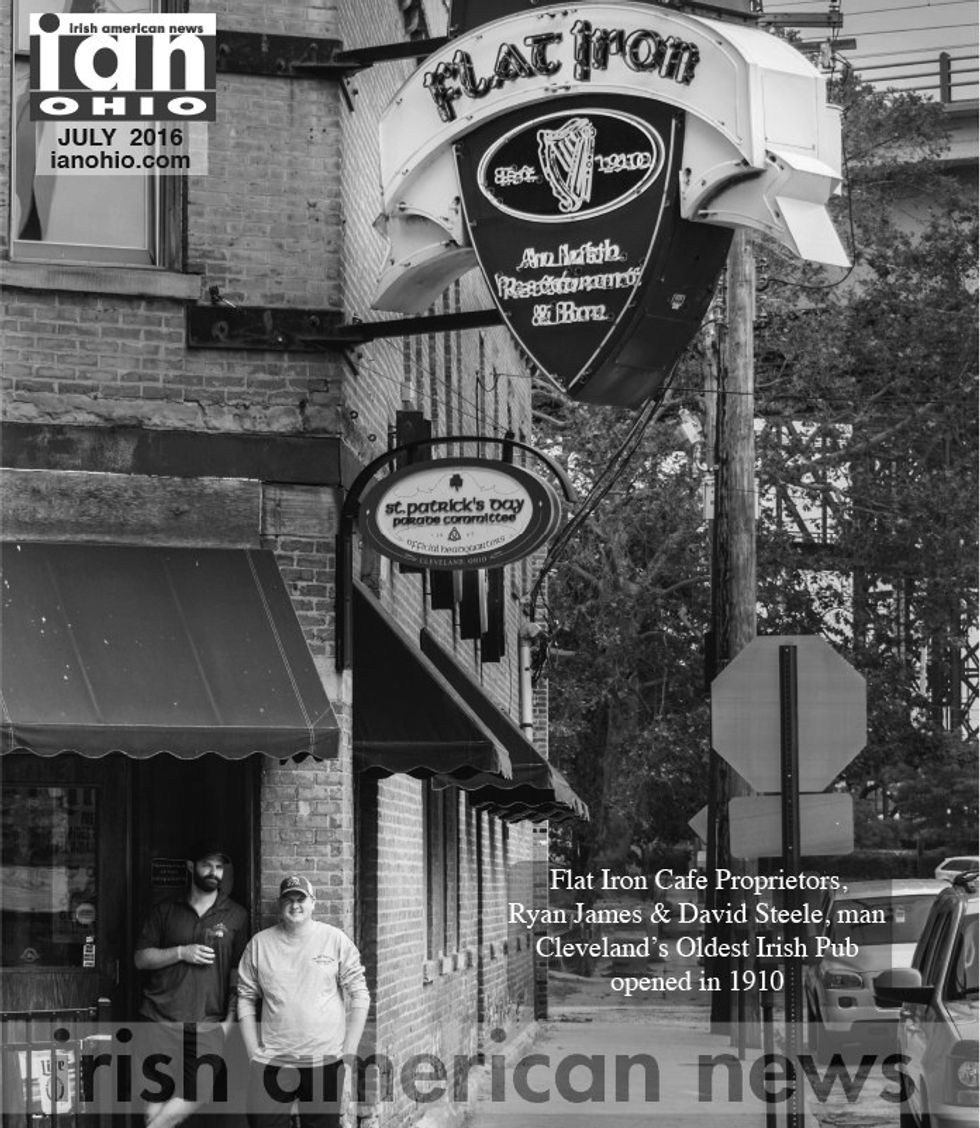 Outside the rooms was a wall full of cubbyholes. Men in town, Longshoremen who unloaded boats and sailors, got their mail there, after 3, 6 or maybe 12 months at sea. It gave them an address for family back home to write to.
Too often, they came home to find a letter telling them a loved one had died. Yet still, they continued the practice of working, saving, bringing another from home.
One who came was Tom Byrne, a flute teaching local legend, who emigrated to Cleveland in 1948 to join family already come over. He came into Terminal Tower on the train, to catch a bus out to his family. He was nervous, excited, hopeful and scared.
He walked onto the square and the world had gone mad. Streamers, confetti, a parade, tens of thousands were on the street singing, hugging, cheering, and he thought, "Wow! What a country, to welcome a poor farm boy to their world." He thought the celebration was given for everyone. He didn't know that the Indians had won the World Series the day before.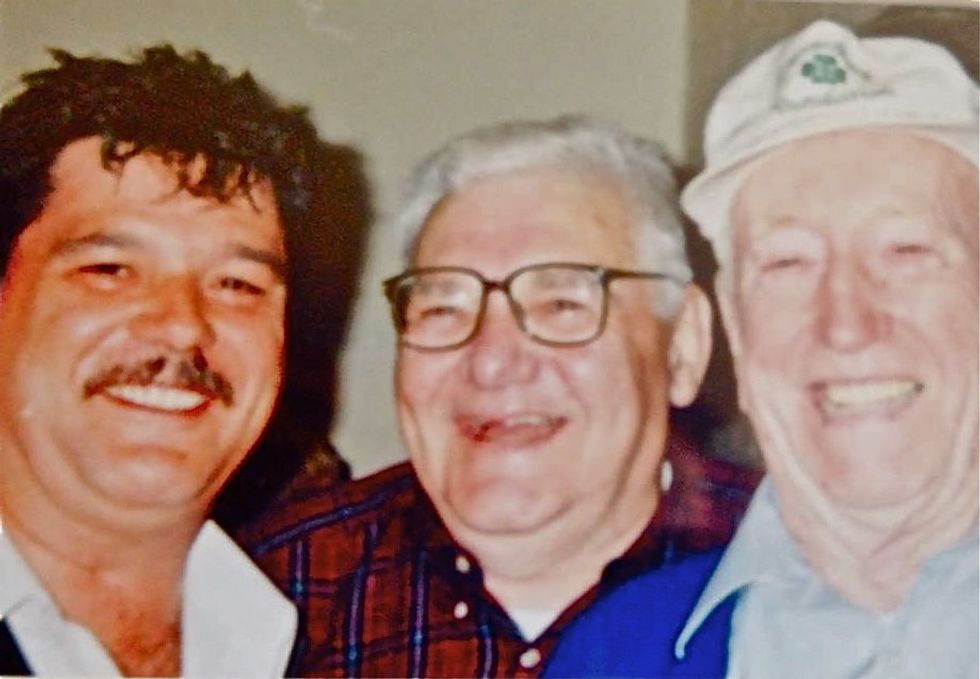 Let it be again, please God.
These stories of cheering and sorrow are highly unusual to us here in America. But they are the stories of America. They are not unusual to those who left Ireland, Italy, all over Europe, for a better life.
Many war veterans won't talk about the war. Many immigrants are the same. But if you ask, respectfully and with curiosity, you might get them to tell. They have such amazing journeys; our challenge is to get them to tell those stories, before they are lost forever. It is what the Ohio Irish American News is about; the stories of our past, that shape our present, and future, they shape us. Ask them, I promise you will be amazed.
Thank you for allowing me to share my story with you;
Please share yours, with me.
"Follow me where I go, what I do and who I know;
http://songsandstories.net/myblog/feed/ www.songsandstories.net www.facebook.com/OhioIrishAmericanNews www.twitter.com/jobjr Instagram: LiveMoreLifeBeMoreIrish