Imagine, sleeping soundly under warm sheets in beautiful, ancient homes that oversee the Italian mountain ranges; only to be woken up with what was described as "Dante's Inferno." I, myself, recall waking up to the news--phones calls from my friends worrying if my family was alright, which they were. Luckily, my loved ones lived a little south outside of Rome.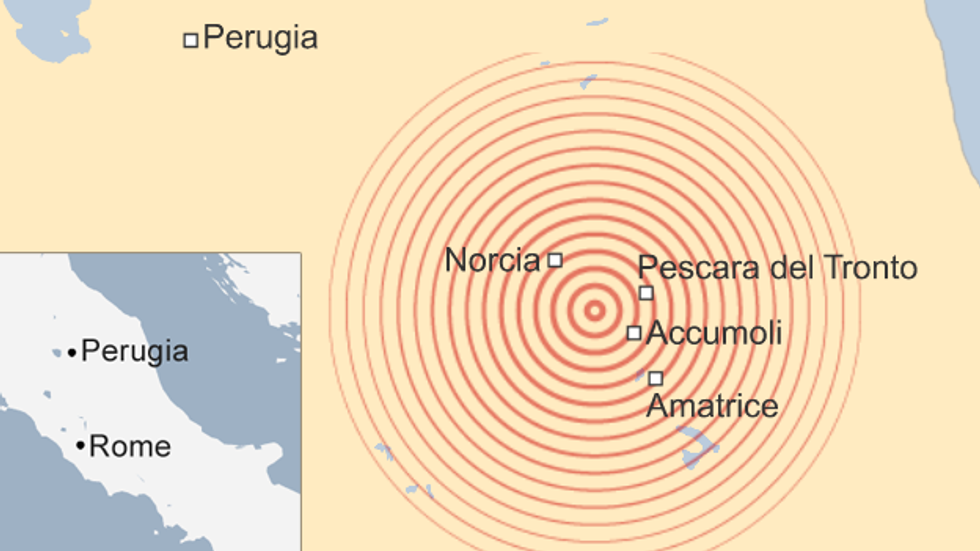 Ascoli Piceno, which is in central Italy, is not too far from the capital of the shellshocked country that began mourning the dead the day after the massive earthquake, which had a death toll reaching 290. Most of the deceased were of young children with various affected towns adorning flowers, and framed photos with the name of each child cheated out of life. One town in particular was Arquata del Tronto. Amidst the hundreds of suffering families attending the many Catholic masses saying prayers, Bible readings and singing hymns; numerous folk were survivors bearing their battle scars from the tragedy.
An image of Jesus hanging on the crucifix overlooking the mourning community, presented a bittersweet backdrop in the crowed gymnasium acting as the makeshift church to say final goodbyes the the martyred dead. In retrospect, Bishop Giovanni d'Ercole led theservice telling of a heartwarming story composed of the survival of a little girl. She was shielded from her older sister and pulled out from under the rubble and her dead sister. This was perceived as the rebirth rising from the hellish earthquake.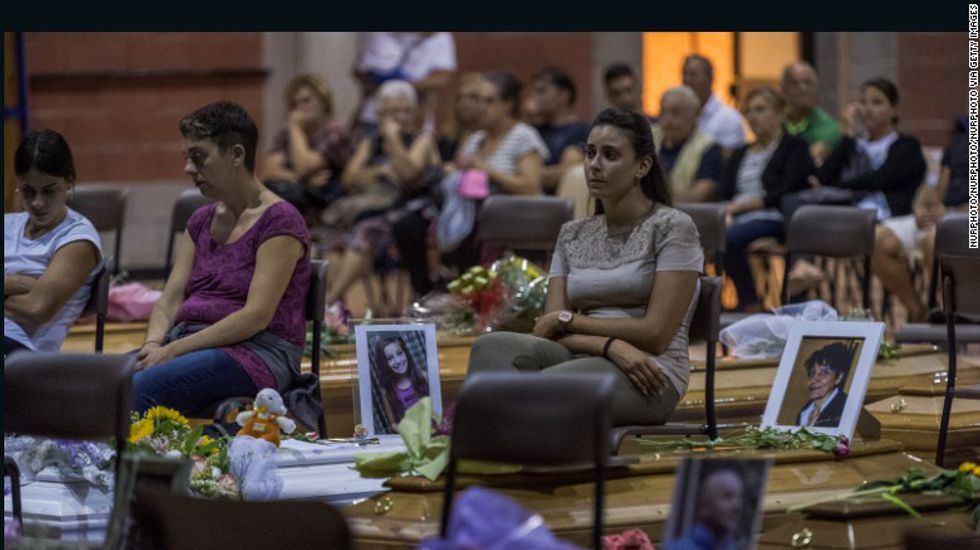 "A lot of the dead were children. So a thought to you young people -- we are now living in a time of war ... The earthquake is like a war because nature does not forgive. We have to defend ourselves because it is wise. We must have a dialogue with nature and never provoke nature," he said.
Moreover, as more and more aftershocks spreaded throughout the vicinity, President Sergio Mattarella went from visiting the town of Amatrice--an ancient town regressed to rubble and claimed more lives than any town, paid a visit to emergency camps stationed in Accumoli and Pescara del Tronto as the day of mourning continued. Additionally, Roman native Paul Manaut and his family vacationed in the affected region, and experienced the tremors themselves as they returned to Rome. "They need help. They're not strong enough yet. They haven't even realized what happened. With our help and everybody's help, we're going to build them up, because it's not the houses that fell -- a house is a house... It's the people, they're dead inside," Manaut said.
Manaut told CNN he yearns to create a Facebook campaign to raise money for necessities, as well as games and televisions so everybody can pause their grief for a while and not think of the misfortunes Italy has faced. All-in-all, Italy has always been a resilient country and our people are rooted in strength.
Pregate per l'Italia.