I've never been much of a clothes shopper. Growing up in Colorado, I always found different ways to spend my time. But I do know a good brand when I see one, and hats off to Spiritual Gangster.

A company founded on the idea that all beings deserve freedom and happiness. The brand is committed to inspiring gratitude and always advocates giving back. It's nice to see a business model that aligns with my own morals and my style. Whether I'm going to the gym, hitting the beach or going out with some friends, Spiritual Gangster has me covered.
Workout gear
When shopping for workout clothes, it's hard to find a happy medium between what might be too basic and something that my 3-year-old cousin should wear. Spiritual Gangster has a variety of classy, versatile styles ranging from basic black to flashier looks so you're guaranteed to find something you love.
Finding clothes that fit your style and budget is important, but you should also take the time to search for something made with quality materials. Cheaper costs usually mean cheaper materials, and I don't have the time to constantly be buying new clothes. If you'll get twice the use out of a more expensive option, it's worth the cost. Spiritual Gangster uses fabric made to last, wash after wash, which is surprising after you feel how soft their clothes are.


Beachwear
I think most of us noticed the one-piece come back into style. Well Spiritual Gangster is getting creative with it. The site has more one-piece options than bikinis. Plus, everything swim is on sale as they prep to bring in new winter items.
Another thing I love is how universal the audience is. Sure they have a cute bathing suit line for beach bums and pool babes, but there are a few active swimwear options too. Perfect for surfer girls, kayakers or any cold water activity lovers.
Street clothes
Don't get me wrong, I spend a good amount of time working out or by the pool, but my lazy day clothes from Spiritual Gangster are my favorite. The clothing line was influenced by yogis, athletes, artists and musicians from all over the world. The inspiration clearly shows throughout the brand.
The shirts, sweats, yoga pants and hoodies are decorated with inspiring yoga sayings. Most clothes I own with blown-up lettering across the chest hardly leave my closet, but I like the message I'm sending when I rock a Spiritual Gangster tee. This Namaste scoop neck for example, there are so many beautiful traditions that are often overlooked as practicing yoga becomes more popular. The physical value of yoga is clear as your balance and strength grow, but the emotional benefits aren't discussed as often. I'm happy Spiritual Gangster remembers the message behind the practice.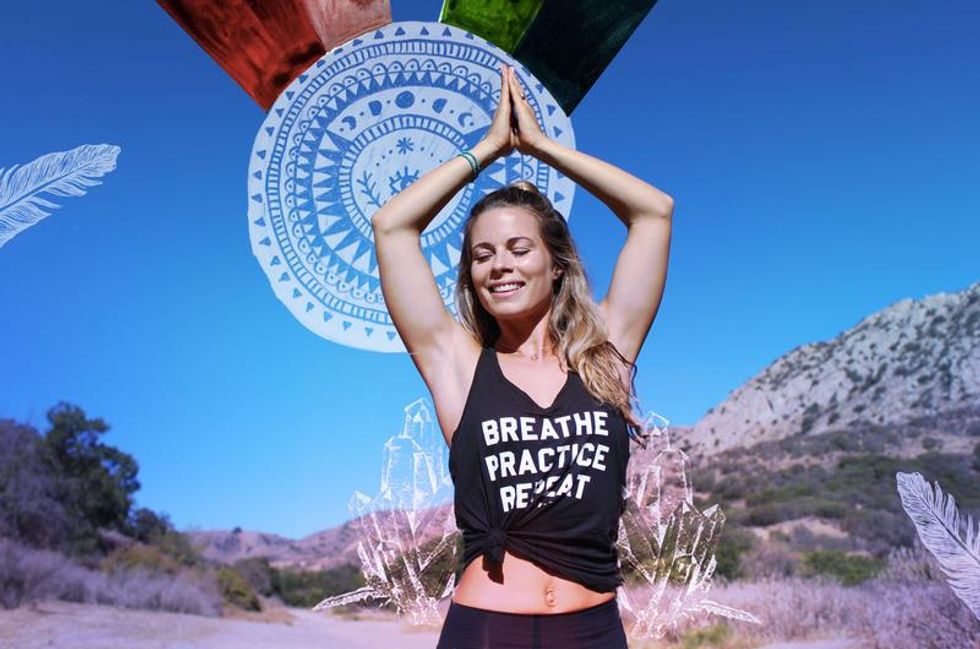 Other fun accessories…
The accessory section is slim but on point. From makeup bags to beanies, what other accessories could a yoga gal need? If you're feeling grateful, check out my favorite hat (You may want to order before the holiday season hits!)
Representing a brand that
stands for causes
I believe in helps me justify buying new clothes. Plus, it's fun to think of myself as a
spiritual gangster
.