Unless you've been living under a rock, you've heard about stripper-turned-rapper Cardi B.
Belcalis Almanzar, known professionally as Cardi B, hails from The Bronx in New York City. A former cast member of the VH1 hit show "Love & Hip Hop," she first gained popularity after several of her videos went viral on social media platforms such as Vine and Instagram. She enjoyed mild success after the release of her first and second mixtapes, but it was the release of 2017 mega-hit "Bodak Yellow" that rocketed her to fame. She released her first full-length album, "Invasion of Privacy," in April 2018, and the rest is history!
Although she is now a superstar, Cardi B still largely acts and speaks like an "ordinary person." Here are 15 tweets from her official twitter (@iamcardib) that prove it:
1.

We've all been there, Cardi. Nothing is worse than waking up craving Chick-fil-A and realizing you can't get any because it's Sunday!
2.

Girls just wanna have Mickey D's, didn't you hear?
3.

Cardi stays BLOCKIN' OUT THE HATERS.
4.

Chicken minis are a girl's best friend.
5.

There's nothing sweeter than a daughter complimenting her mother!
6.
So I'm guessing she didn't challenge you to a rap battle?
7.

You should've put it in a napkin and thrown it away like the rest of us did!
8.

Hmm, I haven't reached that stage yet, but I'm glad someone's eating them!
9.

Dessert for breakfast is ALWAYS a good idea!
10.

She can take a joke, that's for sure!
11.

*Me waking up for the 7:30 a.m. I thought was a good idea*
12.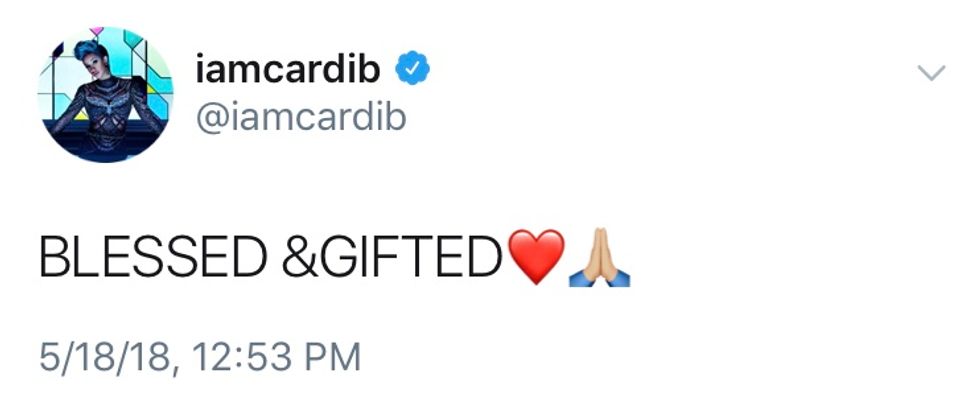 Translation: Eeeeeowwww!
13.

Sometimes you just have to hype yourself up!
14.

Are we sure Cardi isn't a college student in disguise?
15.


Nobody can stop you if you don't let them!
And there you have it! Cardi B is nothing if not relatable. She's just like us! (A version of us that makes interesting sounds and is worth millions.)
Keep doing you, Cardi, okuuuuuurr?