We have all heard the saying, "what doesn't kill you makes you stronger."
It is viewed as an old cliché that everyone and their mother tells you when things aren't going great for you. But there is a reason why any statement such as this one is a cliché, because it can be true. Just like everyone else on Earth, your dreams and aspirations are bound to be shattered.
As difficult as that is to hear, one of the things you have always dreamed of might not work out the way you wished it would. But, when the dreams you have shatter, do they make you weaker as a person or stronger? Does being broken leave cracks that can be filled with something stronger and more meaningful to you in the future? Is there a higher power at work when your dreams are shattered?
We have all been at places or points in our lives that something doesn't turn out the way we wanted or someone or something we always thought would be there left us. This can often feel like the waves are crashing down on us as we are stuck in the undertow of the water. We feel as though we are slowly drowning in the circumstances life throws at us. So, when we feel this way, how are we supposed to respond? Do we give up hope and give up on creating future dreams because of the expectation that they will fail to pan out the way we wished they would?
If you view shattered dreams like breaking a bone, then what we see can happen is rather remarkable. When you fracture or break a bone, the healing process begins by strengthening the part of the bone where the fracture took place. Usually this creates a thicker layer of calcium build up that will prevent your bone from being broken in the same spot.
We can view our hearts the same way. If life throws you a curveball and you feel as though your heart is broken, maybe that is right where you need to be. The idea of self-improvement now becomes a forethought of your mind and energy. The cracks that are left in your heart can now be calcified to make it stronger and build character to establish who you are as a person.
When you fill the cracks in your heart you learn from the past which makes it more difficult for it to break in the same way as before. Just like the fractured bone, every heart break and shattered expectation you face can lead to a better understanding of what and how you can deal with it the next time it arrives. But what do we have to help fill the breaches of our hearts?
The intention of being broken is that the Holy Spirit can use it to make our desire and need for God more evident in our lives. Shattered dreams will always be necessary in our walk with the Lord. But in every situation, that we face, we often fight with God and ask huge and important questions that either liquify or solidify our faith in Him.
"But God, if you could have fulfilled this dream for me, why didn't you?"
"I prayed and was faithful to you and you let my hopes and aspirations become shattered."
"If you truly are a loving and mighty God why did you allow this to happen?"
And the truth is that deep pain is meant to draw us back to Him and for us to see that we can't do life on our own.
Often, we are left feeling cold and have lost our desire to create new dreams. If we have expectations for our life than how can we achieve them if God does not allow it to happen? But ask yourself this question, if the hopes that you have for your life always don't turn out the way you wanted them to, are your ambitions in line with His will for my life? If you are living apart from God, this may be an important question to ask from time to time.
God never does anything or lets anything happen to us for no reason. And when you think you are clinging to God by just a thin rope, He will always have you in the palm of His hand. You are a child of the living God and He promises to never leave you or forsake you.
6 Be strong and courageous. Do not be afraid or terrified because of them, for the Lord your God goes with you; he will never leave you nor forsake you." – Deuteronomy 31:6
In the end, all our shattered dreams will always leave us with something beautiful if we seek and desire Him. The Holy Spirit will begin to fill the cracks of our hearts and there will be a creation of a new heart and one that desires to be in a closer relationship with God. Visualize your heart as pieces of a stained-glass mosaic and realize that all the pieces from every dream that was shattered left something magnificent behind.
All the pieces of your heart give birth to a new creation and work of art. Every piece in the right place, filled in with the strength you gained in your faith in Him. A gorgeous canvas of all different colors and designs, that when the light shines through, it illuminates and fills the room around you. This will always be God's intention for heartbreak and suffering, a work of art that only He could meld and mold to fit His purpose and calling for you.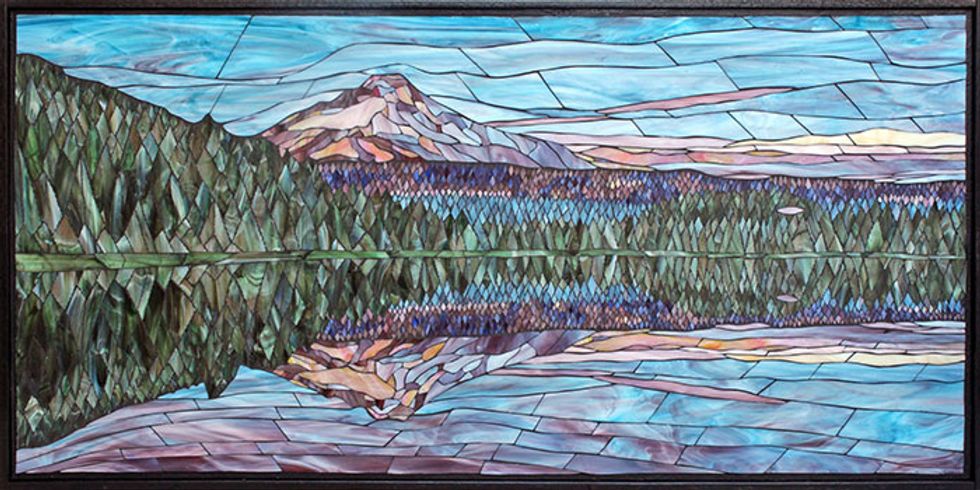 Sunset at Trillium Lake - Mt Hood, Oregon by Kasia Polkowska
"No matter what happens in life, a wonderful dream is available always, that if pursued will generate an unfamiliar, radically new internal experience. That experience, strange at first, will eventually be recognized as joy." -Larry Crabb, Shattered Dreams (2001)