Just this past Sunday the greatest thing happened: KIM KARDASHIAN MADE TAYLOR SWIFT LOOK LIKE A FOOL. Normally, I wouldn't care too much about Taylor Swift because she's all over my news feed anyway, but I had to give my two cents about this! Kim finally did what we were all waiting for and called Taylor out on her crap about the recent claim that she was never aware nor did she approve the controversial verse "I feel like me and Taylor might still have sex / I made that b**** famous" on Kanye's album Life of Pablo.
Whether it's with her arch nemesis Katy Perry, or questionable "friend" Kanye West, Taylor has continued to somehow successfully play the innocent victim until now. Kim Kardashian West posted a series of Snapchats of a video recording of Kanye speaking on the phone to what clearly sounds like Taylor. In the Snapchats, you can see that Kanye is definitely asking Taylor for permission to go ahead with the verse for his song "Famous" and you can hear Taylor giving the "okay" for it to happen.
This is what genuinely irks me about Taylor; she pretends to be super cool with people she obviously has bad blood with (pun intended) and then turns around and makes them look like the bully while she plays the innocent daft country gone pop singer.
Kim is the hero here for finally exposing Taylor for the fake that she truly is and allowing viewers to see that her husband was never at fault for including the verse in his track. To be fair, as a rapper, Kanye doesn't need anyone's permission to use a name in his tracks and so for him to ask Taylor shows how important his relationship with her was. I'm sure that Kim had respect for the pop princess and might've been good friends with her, but I understand why Kim did what she did. Swift was knowingly trying to make Kanye the villain again and sneak her way out of admitting that she was okay with the verse on the track and Kim had enough of her lies.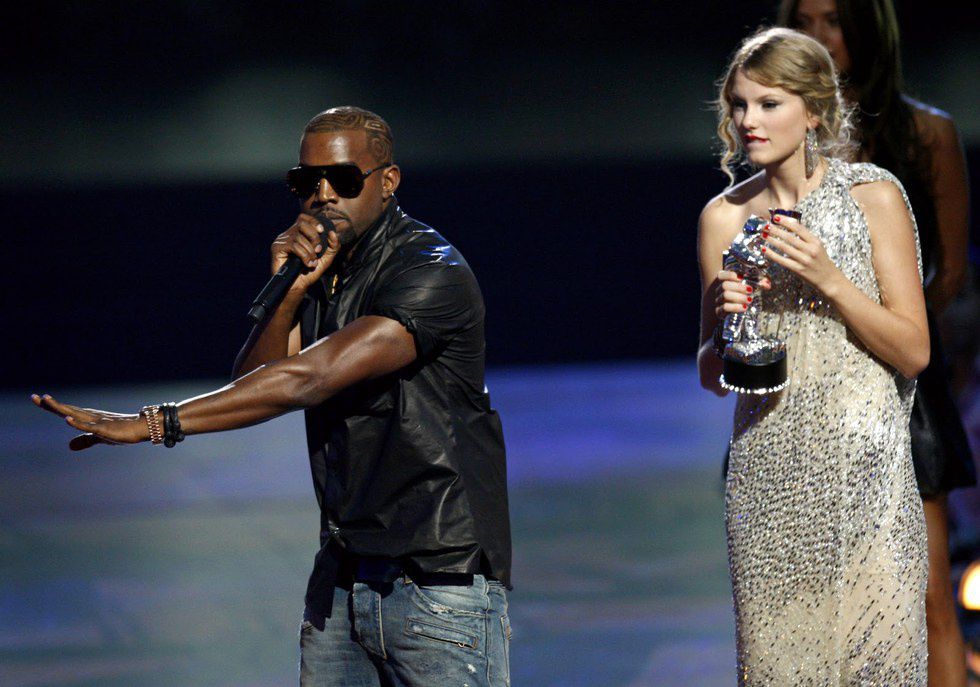 Pictured Above: Kanye interrupting Taylor Swift's acceptance speech at the 2009 VMAs. The famous line by a drunken Kanye: "I'mma let you finish, but Beyoncé had one of the best videos of all time" was the controversial highlight of the night.
Before you go bashing me for defending Kanye, yes I know what he did in 2009 to Taylor was a messed up situation and she truly was a victim in that moment - but, this was not the same case. Kanye went out of his way to make sure Swift felt comfortable about the "Famous" verse and it was not fair to him when the tables got turned after the track release and Taylor blatantly denied that the verse was ever approved by her.

Kim did what any celebrity wife would do: Protect her husband. Kanye's reputation has never been close to that of a saint but even when he wasn't in the wrong, everyone attacked him for his lyrics and being the worst bully to Taylor. Kim protected her husband and attempted to clear his name in this whole feud by posting those snaps and she did it flawlessly!
Whether you like Kim Kardashian or not, what she did was worth an applause because I know I'm not only one who has been fed up with Taylor's facade to play on this image that does not exist. Thank you Kim! Keep Slaying!