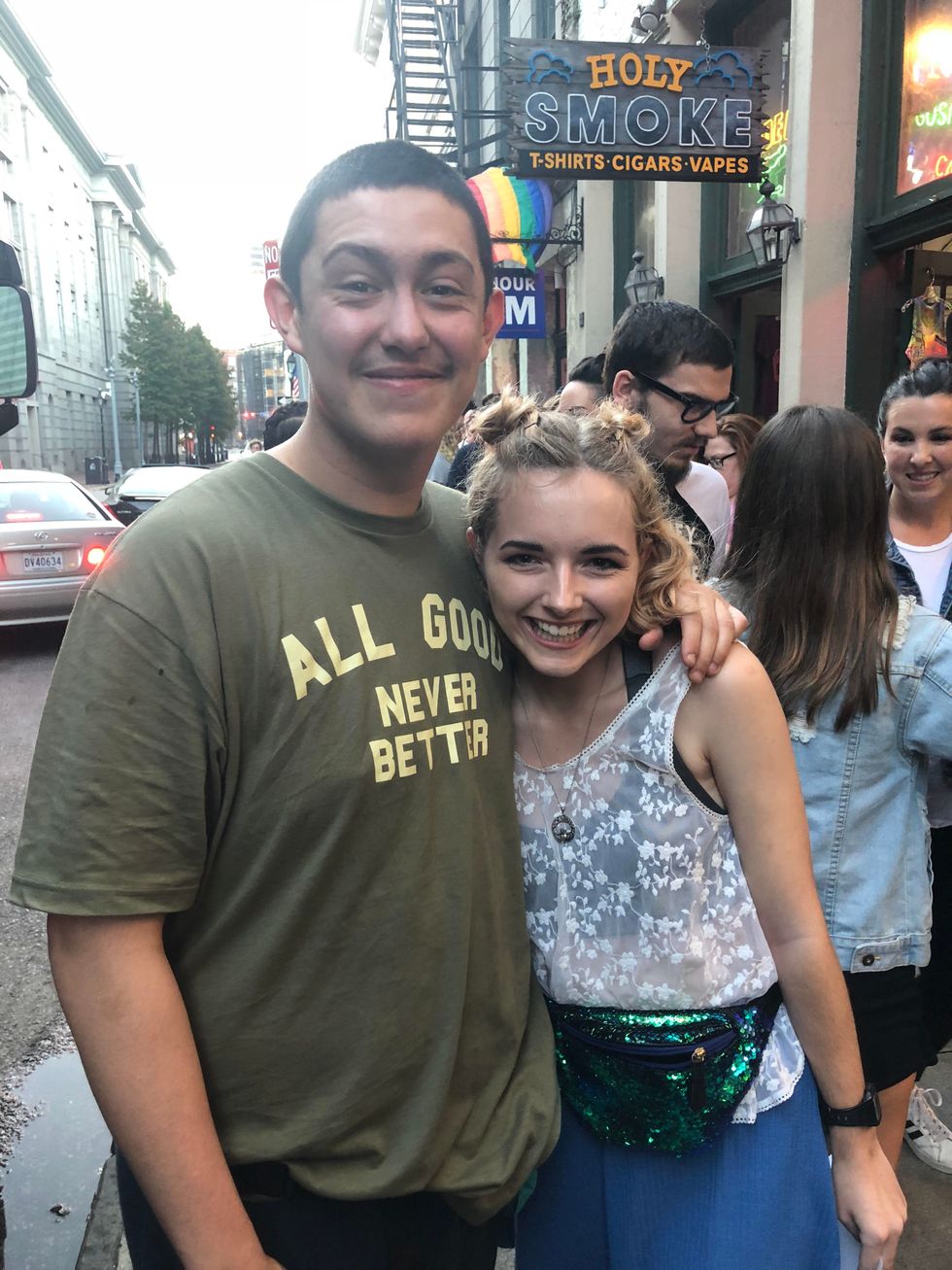 Frank "Hobo Johnson"
If you have yet to listen to the amazing group that is Hobo Johnson and the Lovemakers, I highly recommend looking up their live performance on Tiny Desk. Frank, who takes on the stage name of Hobo Johnson, has created a weird mix of a genre that is hard to describe. In their hit song "Peach Scone" Frank delivers the lyrics "People like to say I'm a rapper, I'm actually not a rapper/ sometimes I like to say I'm a musician.". As I waited in line at the venue, House of Blues, one of the workers went around giving out free posters to people who either took a picture with their poster for HoB or answered a question in a video. The typical question was "How would you describe Hobo Johnson's music genre?" to which the response was "Slam Poetry with music". This is most definitely the most accurate way to depict their fast, flowing words.
The line wasn't long, the wait could have been shorter, however. While I stood in line alone, I turned around to find Frank, Hobo Johnson, himself. Immediately, the young high school girls next to me flocked to him, requesting pictures and autographs. Thinking I wouldn't pull up the courage to ask him for a picture, I snuck one to send to my sister who had introduced me to Hobo Johnson (before they were cool). Then he started walking away and my awkward and shy self turned around and asked for a picture. I commented about his fashion choice of an 80's style fanny pack, the biggest of compliments to come from me.

The actual concert itself was a complete and utter dream. I stood close to the barricades in the general admission section and made a few friends as we all waited. From the moment his opener Love-Sadkid took to the stage, I was enthralled. Before the concert, I had never heard of the sixteen-year-old that is Sadkid. Ben was absolutely precious. They were as awkward and shy as you can expect a sixteen-year-old kid to be. During their set, they introduced their live guitarist, Christian who was equally as exciting. Both captured the audience with their genuine smiles and adorable dance moves. Immediately after, I went to their Spotify and Instagrams to follow their journey in the music industry. Being the fangirl I am, I took to Christian's direct message to give out the compliments both him and Ben truly deserve. Then, full of adrenaline, I asked to take a picture with them before Hobo + the Bois got on stage. They said yes. I died a little bit that day.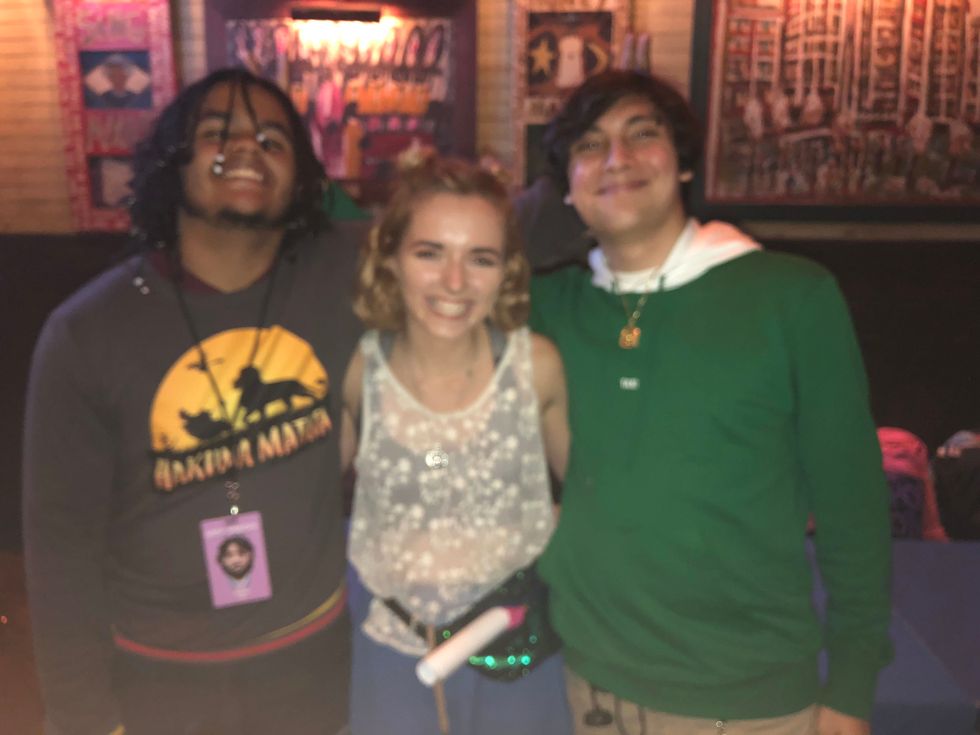 Love-Sadkid, me, and Christian
After the excitement of meeting Sadkid, I went back down to the general admission pit and joined my new friends while Hobo Johnson started the set off with "Demarcus, Cousins, and Ashley" a fun song that sent waves of energy to the audience. It was amazing. Since we were the first crowd on this "Bring Your Mom Tour", we were introduced to a number of new songs such as "I Want a Dog" and many others that, truthfully, I didn't catch the names of. All of the boys were fun on stage, laughing and dancing and just overall hyping everyone up. Throughout each song, Frank would look at crowd members in the eye, which is really intense considering just how wide his eye can get. He would joke around and tell little stories between songs. During some parts of his more popular singles, he would change the words a bit to play with the audience.
Before the last song, Frank got into the middle of the audience to talk to someone's mom since it was the Bring Your Mom Tour. He then jumped back on stage to perform the song that jump-started their career, "Peach Scone", while The Lovemakers threw roses out into the crowd. When the set finally ended, half of the crowd left. Thankfully, I was still waiting for my ride because the crowd managed to score an encore in which Frank jumped back in with the crowd and danced with us until the song ended.
It's been weeks since I had seen Hobo Johnson and the Lovemakers and I am still in a post-concert high.