In my article, "Perfection Doesn't Exist But We Should Always Work On Bettering Ourselves," I mentioned that my main goal for self-improvement is my fitness level. Well, to be truly fit and healthy you must eat right. With Thanksgiving now behind us and Christmas around the corner eating healthy can be a challenge. Take on the added cravings from looking for the perfect holiday meal and desserts, plus all the parties you will undoubtedly be attending, you're more than likely going to gain a couple pounds. It's inevitable and the rest of society will be right there with you.
Now because of this, you, myself, and everyone else included will be making New Year's Resolutions to lose the holiday weight through exercise and healthy eating. Since I have started this new year resolution early and have so far been pretty successful, I'd like to share with you some of my new found favorite healthy recipes to help shed the pounds and keep them off.
Below is a list of ten of my favorite healthy recipes! Those which I have taken from another source and adapted in some way you can find at the links provided.
1. Chicken Soup
The cold weather is here which, for my family, means we will be having a lot of soup as a result of my constant freezing. I typically make my chicken soup in a pressure cooker because it is so fast and simple. The first thing I do is take a couple chicken breasts and cook them in the pressure cooker on the chicken setting in some chicken broth with an array of seasonings. My go-to chicken soup seasonings are Nature's Seasoning, Garlic Salt, Accent, and Tony's. The chicken takes about 20 minutes to cook and then you simply take a fork and shred away. The next step is to add the chicken, more broth, cream of chicken soup, your desired veggies (frozen or fresh), cauliflower rice, lemon juice, and seasonings into the pressure cooker on the soup/stew setting and you're ready to go!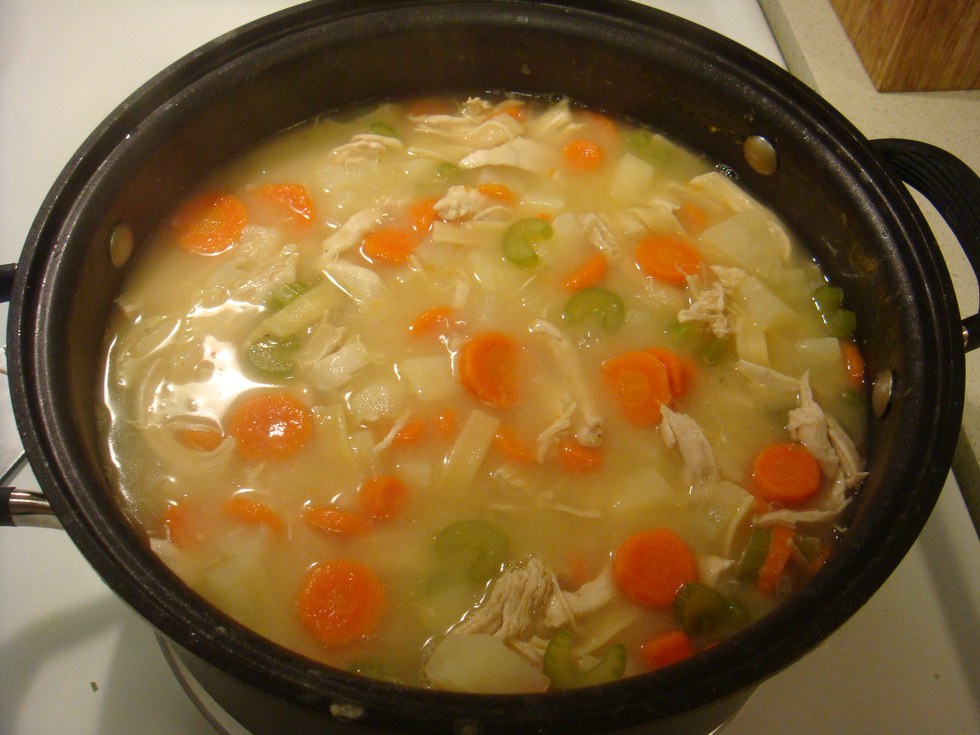 2. Pancakes
I know what you're thinking: "There's no way pancakes can be healthy!" Well, I recently shattered that illusion that I held for the longest time. There are so many variations to make pancakes healthy. Some use almond or coconut flour and cream cheese as the main ingredients and others use banana and egg. Both are absolutely delicious, but I've found that when I'm in a pinch in the morning and need to make a quick breakfast I go for the banana nut pancakes. The original recipe I found on the SkinnyTaste site contains banana, egg, oats, and pecans. To add my variations include either vanilla extract, cinnamon, or protein powder. If you want to be a little more festive you can add a combo of two or three of my added ingredients. https://www.skinnytaste.com/4-ingredient-flourless...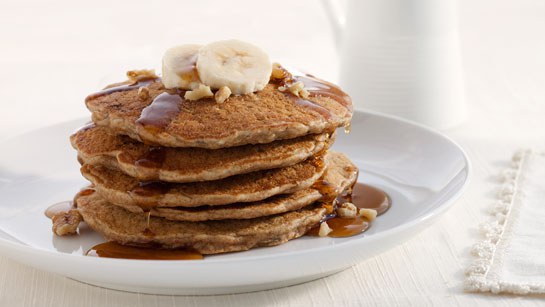 3. Sheet Pan Fajitas
So darn easy to make and has the added bonus of an easy cleanup! When making fajitas I typically use chicken but you can, of course, use steak if you so desire. Step one is to cut the meat into strips and then cut your onion and peppers into strips as well. For the seasoning you can go either use a fajita seasoning packet that you can pick up at any grocery store or you can simply toss some oil on the meat and veggies and then your specific desired seasonings such as chili powder, paprika, chipotle pepper, red pepper, cumin, nature's seasoning, and garlic salt. Coat meat and veggies thoroughly. Once cooked you can add a little fresh lime juice on top. To make the tortillas warm and crispy wrap in foil and place in the oven for about five minutes. Place the meat, veggies, and fajita toppings such as cheese, sour cream and salsa on top, wrap in your tortilla and you're good to go! https://www.cookingclassy.com/sheet-pan-chicken-fa...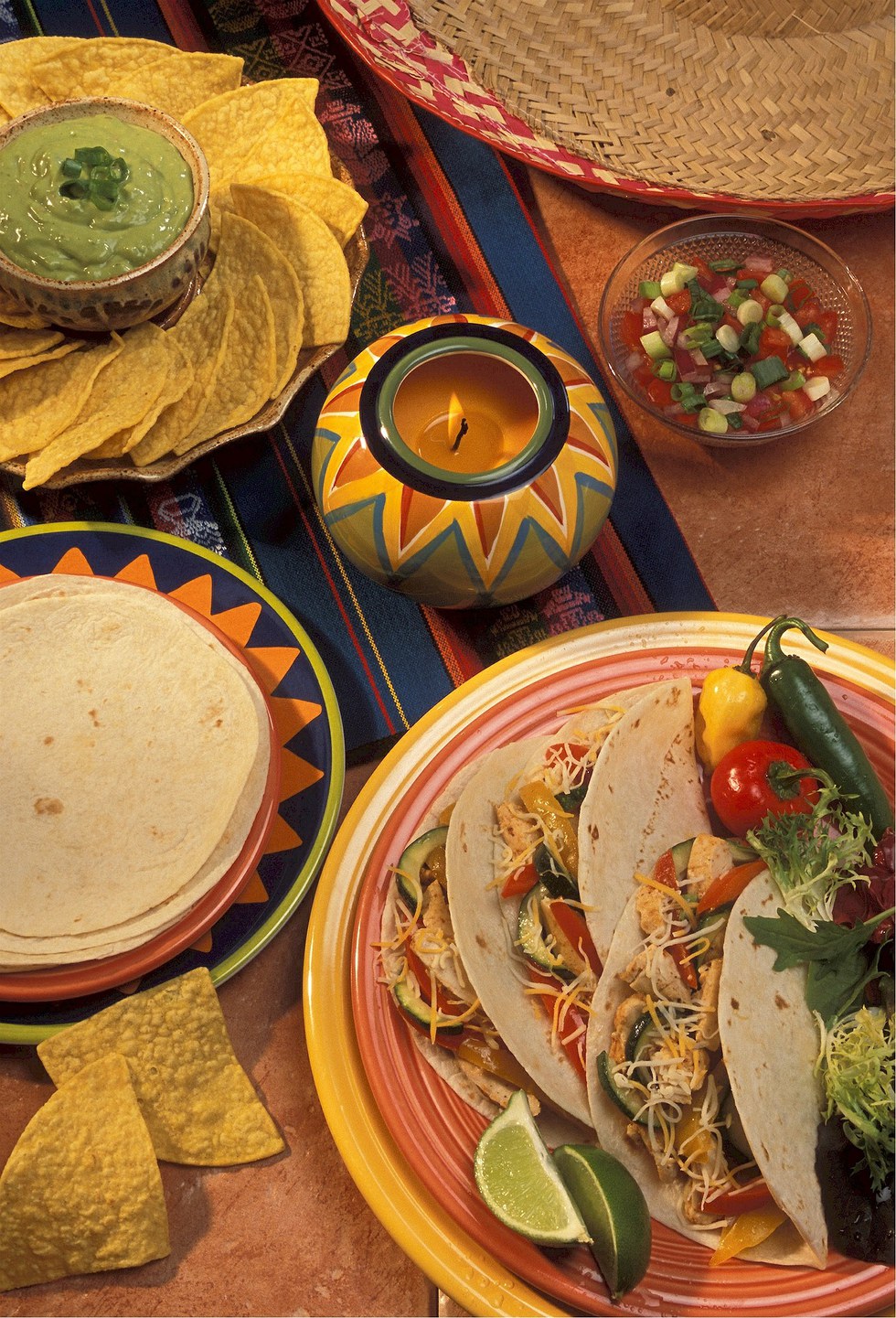 4. Honey Salmon With Citrus Salsa
This one is another super easy recipe! To cook the fillets sprinkle with a bit of salt and pepper, rub some honey and flour on each side and then sear each side for 2 minutes. Once seared place the fillets in the oven for 7-10 minutes. To make the salsa simply dice an avocado, a bit of onion, and an orange. Then add some zest, lime juice, minced garlic and cilantro to your diced fruit and mix with a spoon. If you don't have cilantro it's no problem! You can substitute in some parsley and coriander instead. I also opted to have my salmon and citrus salsa over a bed of cauliflower rice which I also added some lime juice, parsley, and coriander to. https://www.cookingclassy.com/honey-glazed-salmon-...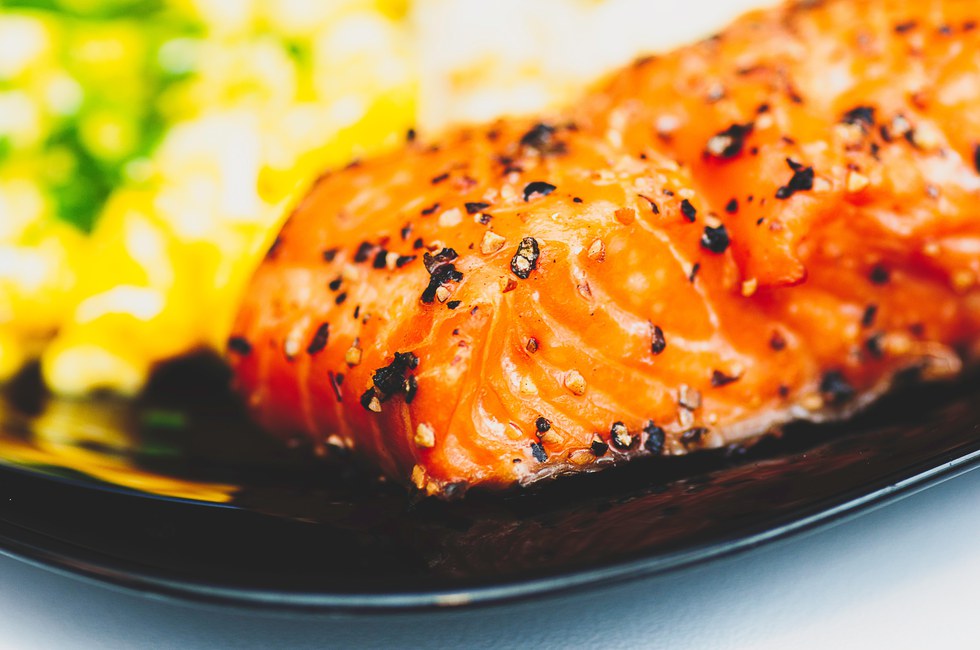 5. Grilled Cheese
A recipe that comes in so many forms! To make my grilled cheese a bit healthier I add some avocado, tomato, and chicken. To give it a bit more flavor or zest I add a bit of ranch, and I nix the oil. http://www.navywifecook.com/2013/08/avocado-mozzar...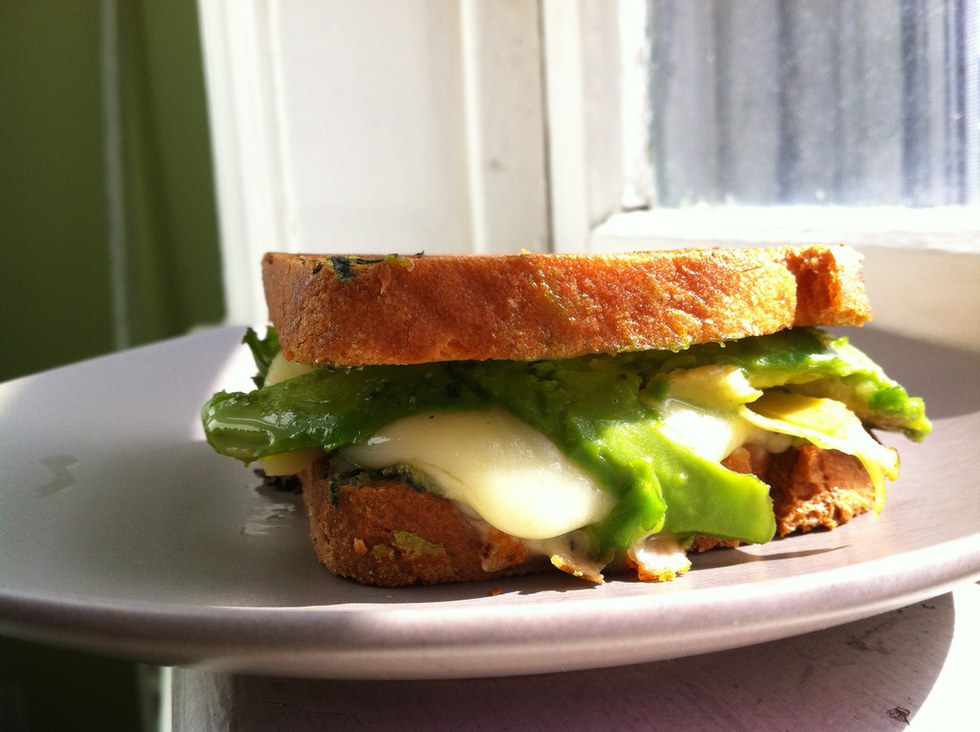 6. Salad
We all think salad is typically pretty healthy as long as it's not drenched in dressing. Well, this is true if you use a veggie other than lettuce because sadly lettuce actually contains little nutritional value. For this reason, I typically have spinach or cucumber salads. My cucumber salad consists of half a cucumber, celery, bell pepper, carrots, cheese, chicken, cherry tomatoes, almond slices, dried cranberries and occasionally a bit of onion.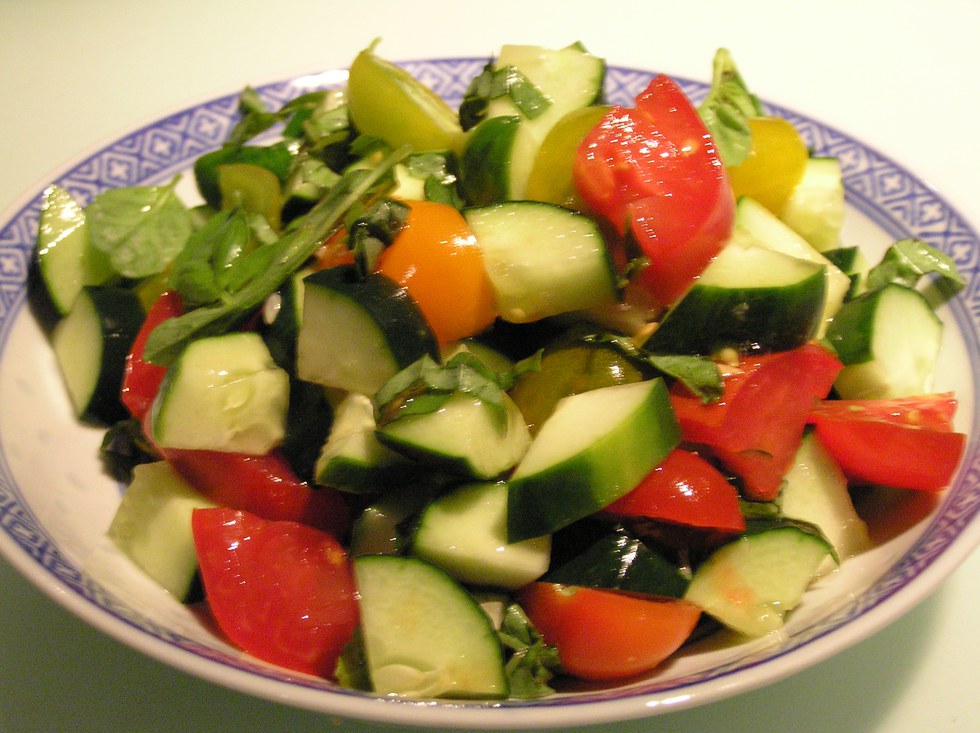 7. Spinach Ricotta Stuffed Peppers
This is literally so yummy! Start by washing all the veggies. Then cut your peppers in half and dice the onion. Saute the onion and spinach until caramelized with a bit of seasoning. The recipe calls for salt and pepper but I put nature's seasoning and garlic salt on everything so that's obviously what I used instead. While the spinach and onion are cooking you can mix the ricotta and parmesan cheeses. Once the spinach and onion are caramelized add to the cheese mixture and stuff your peppers. Sprinkle some more cheese and seasonings on top. Place in a casserole dish and add some cherry tomatoes. Serve over cauliflower rice! https://lilluna.com/spinach-ricotta-stuffed-pepper...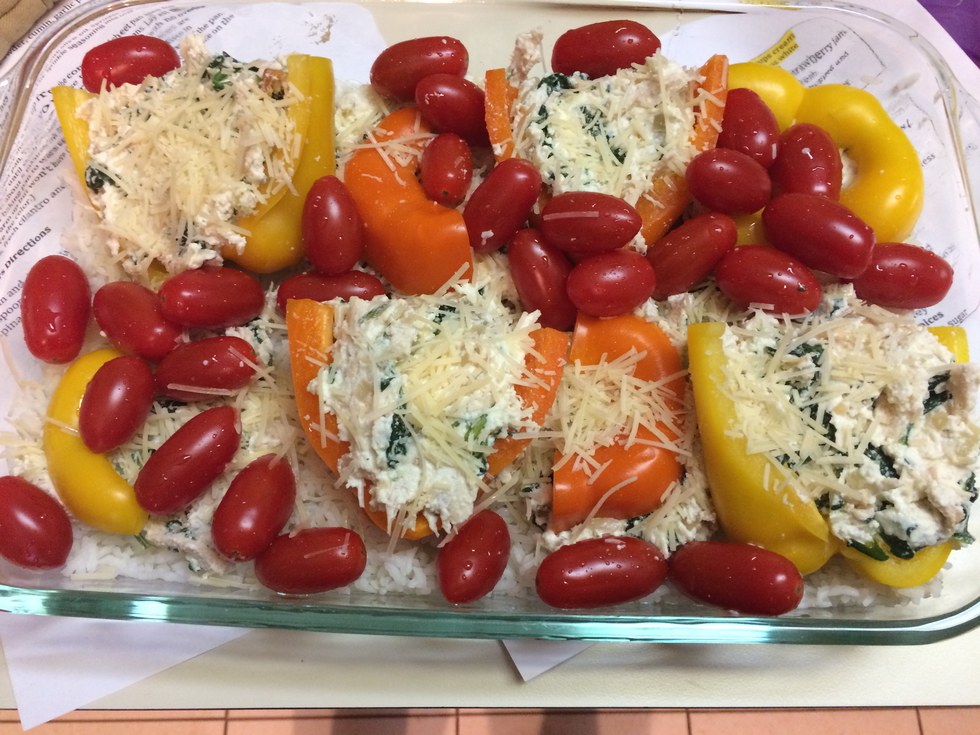 8. Balsamic Chicken

Another quick picker-upper! First, cook your chicken in a skillet with a little olive oil. While the chicken is cooking you can prep your veggies (washing, drying, cutting or snapping). Once the chicken is cooked add half of the balsamic mixture and then transfer to a platter. Next, cook the veggies in the same pan you cooked the chicken in using the rest of the balsamic mixture. Enjoy! The only variation I made to this dish is that I did not use any honey in the sauce. However, my friend Blair has made this dish with beef instead. http://www.bhg.com/recipe/chicken/balsamic-chicken...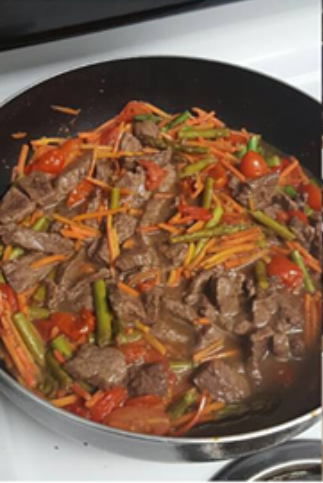 9. Fajita Alfredo Spaghetti Squash
I love pasta! And if taking a pasta dish and making it healthy by using veggie noodles instead of regular noodles that are full of carbs is what I have to do so I can enjoy my comfort food, then by golly, I'm gonna do it. The first thing you need to know about spaghetti squash is that it can be a pain in the butt to cut open. In order to make this less of an ordeal, I recommend poking some holes in your squash lengthwise (along the cut line) and microwaving it for about five minutes before cutting. Once you cut it open, scrape out the seeds (I find it's easiest if you use an ice cream scooper), sprinkle with a bit of olive oil and massage it into the flesh, add a dash of salt and pepper and cook flesh side down for about a half hour. While that is cooking, you can saute your chicken breast and veggies in a skillet with olive oil and your fajita seasonings. I used cumin, paprika, chili powder, chipotle pepper, nature's seasoning, and garlic salt. Once cooked thoroughly, you can make your alfredo sauce using heavy cream and parmesan cheese. When the squash is done cooking shred it with a fork and add it to the skillet to mix with the chicken, veggies, and sauce. Enjoy! http://www.plainchicken.com/2016/09/chicken-fajita...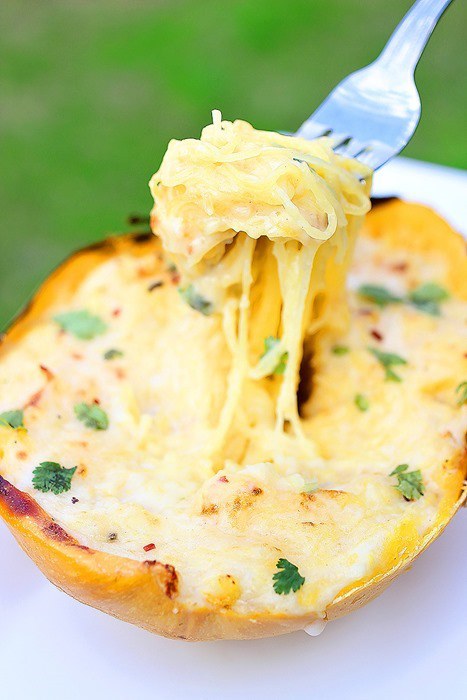 10. Stir-fry
Anyone who knows me knows I love Chinese food, but I don't have the money or the metabolism to constantly eat takeout. By making a homemade stir fry dish that is full of veggies and a lot of protein I can stay home in my PJs, turn on one of my favorite movies, and enjoy a glass of wine all by my lonesome. This dish is full of options. You can use chicken or beef, shrimp, whatever your heart desires. Same goes for the veggies. I typically use chicken, bell pepper, onion, and broccoli. Occasionally I'll also add some spinach. To add some flavor to my stir fry I'll season my chicken with adobo and then when I add the veggies to the pan I add nature's seasoning and garlic salt. For the sauce, you can use a store-bought sauce like sweet n' sour, orange, or soy sauce. If you want to go a different route you can make a homemade sauce that consists of soy sauce, honey, brown sugar, apple cider vinegar, and red pepper flakes. To knock carbs out of the way I use cauliflower rice instead of white, brown, or jasmine rice.