Today we live in a world that judges you on first glance. We basically judge a book by its cover without even seeing what is inside. This becomes an issue when we are also a society that likes to express ourselves in creative ways like tattoos. Tattoos are a means to freely express yourself in an art form that just so happens to be on your body. Our society has decided to label a person with many tattoos as a bad and/or trashy person.
Growing up my parents were always against tattoos and told me that I should never get any. They explained that as I grew older that it would be harder for me to find a decent job as people would judge me on the tattoos I had on my body rather than my work ethic. Unfortunately, this is all too true.
When we see a person covered in tattoos we tend to associate them with the rough crowd and this is a problem.
Just because a person is covered in tattoos doesn't mean they can't work as hard as me or you. Just because they are covered doesn't mean they are a bad person. These pieces of art in no way define the type of person who stands in front of you. I know there are tattoos out there that have bad meanings and are gang related but that doesn't mean they all are.
For my 18th birthday, I got my first tattoo with my sister and we got them on our foot and the first thought I had was "this is easy to cover up". This is not what we should be thinking. This is not what we should have to think when we get some ink.
We should be proud and allowed to show off these amazing pieces of art. I love my tattoo and sometimes wish I could show it off a little more.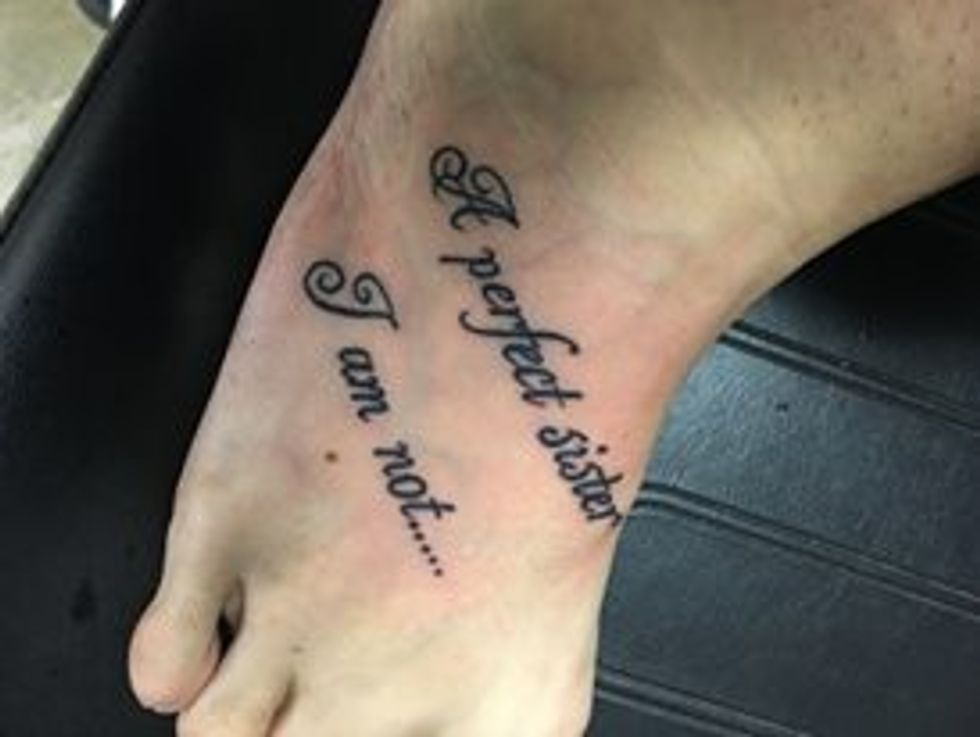 Above is my sister's tattoo. She got part one of the saying.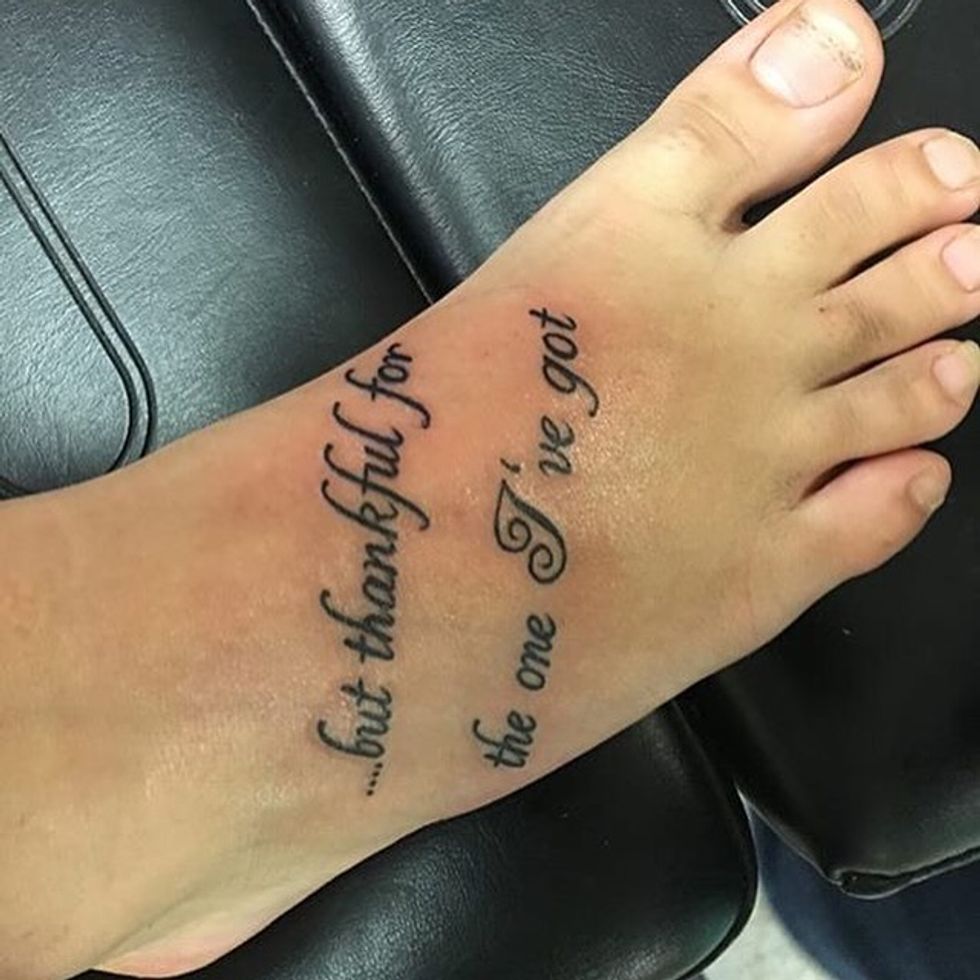 Above is my tattoo. I got the second part of the saying.
In my experience, those who have tattoos turn out to be more good than bad like everyone likes to think. In fact, one of my coworkers, whom I have come to love and often refer to her as my work mom, has a ton of tattoos.
And while, yes, she does have a rough background, she works harder than most of the other people I work with. She still shows up to work on time and does her job even when she is sick as a dog.
Also, my loving boyfriend has quite a few tattoos up and down both arms and he is one of the nicest and most responsible people I know. He too gets up every day and goes to work like he is supposed to and pays his bills and makes an honest living.
He is a damn good worker and thankfully his current employer didn't have a problem with his choice of art. Despite having this body art, he is still a good person, hard worker, and just like any other person his age without ink.
We all do it. It's human nature to look and judge other people on their looks and such, but the key here is to notice when you do it and stop. I know I have done it in the past and felt horrible about after meeting the person.
But the reality here is that we shouldn't judge others on their choice of expression because we don't know their story and we don't know them.
So, next time you go out to get some ink don't worry about hiding it, express yourself freely. Don't let society win, let's change it. We have the power to stop the judgment that spreads, and we have the power to change it into something better.
I know that the next time I get a tattoo, which is hopefully soon, that I will not be too concerned with the placement, but rather the meaning behind it. And when I'm walking down the street and see someone, instead of judging them, I will admire their art.