As young adults, we watch more gruesome movies for Scaretober but let's take a moment to appreciate some movies we may have forgotten about. Movies from our childhood we grew out of but were always the go-to films when the fall season began.

1. Twitches

Growing up there were a handful of great DCOM's that came out but more famously their Halloween related ones. In this throwback, we watch twin sisters reunited at 21 discovering they are actually witches from an enchanted land named Coventry. While they learn more about their past and powers, they must battle an evil force of darkness that is taking over their land.

2. Halloweentown series
Marnie's adventures in becoming a better witch along with her siblings were always fresh popcorn worthy in October. Featuring a cast with the late Debbie Reynolds, this DCOM is filled with monsters and witches living peacefully in Halloweentown. We watch the kid's defeat Kalabar again and again and also follow them to high school.
3. Hocus Pocus
If Max Dennison wasn't a crush of yours growing up then you probably haven't seen this go-to Halloween classic. He, his little sister Dani, and Salem raised Allison to bring back the evil witches. With the help of Thackery Binx, they must all find a way to stop the witches from surviving past Halloween night. Watching the sisters explore the 20th century is always funny to watch.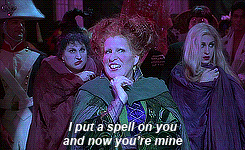 4. Monster House

Though it may not be your first choice on Halloween night, this movie has it's moments and has stayed in our unconscious mind since it's release. A home taken over by a vengeful human that passed seems like an actual horror film. Adding that and three kids venturing in to bring peace to the neighborhood is a great storyline.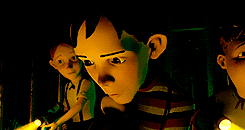 5. Scooby-Doo and the Ghoul School
Although this one is from 1988, like me I'm sure many of you have watched this beloved movie. Scooby-Doo and Shaggy teaching an all-girls school how great they all our individually was just a start to my feminist beginnings. It's funny, lighthearted and just adorable.
6. My Scary Godmother
Who can forget about Hannah Marie and her Scary Godmother? It shows us the joyful parts of Halloween that, like Hannah, most kids are scared of at first. Halloween is a festive and amazing holiday and no one quite teaches that like Scary Godmother and all her guest.