Air fryers are getting popular, especially if you are the type of person that is looking for something simple and easy.
If you are like me and you are living in a state where it is cold, windy, and do not want to go outside for grilling or cooking in general, an air fryer is worth thinking about. I love using an air fryer solely because it is easy to use and it works surprisingly well.
I saw a video of Gordon Ramsay air frying a steak and was in awe of how it looked. So I decided, why not air fry a steak?
I learned how an air fryer works.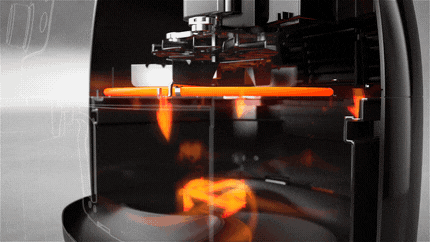 Frying with air? It sounds insane on paper, but the concept is interesting. An air fryer utilizes heat, which then a fan circulates the air at a very high pace.
The circulation is to ensure that the food is cooked all around evenly.
The most unique feature with cooking a steak, salmon, or chicken in an air fryer is that it allows the juices within the meat to be completely locked in.
Not to mention, if you were to air fry French fries, you have yourself nice non-soggy crispy fries. To top that off, it requires little to no oil, making it a healthier option to cook.
I marinated the steak for the best flavor.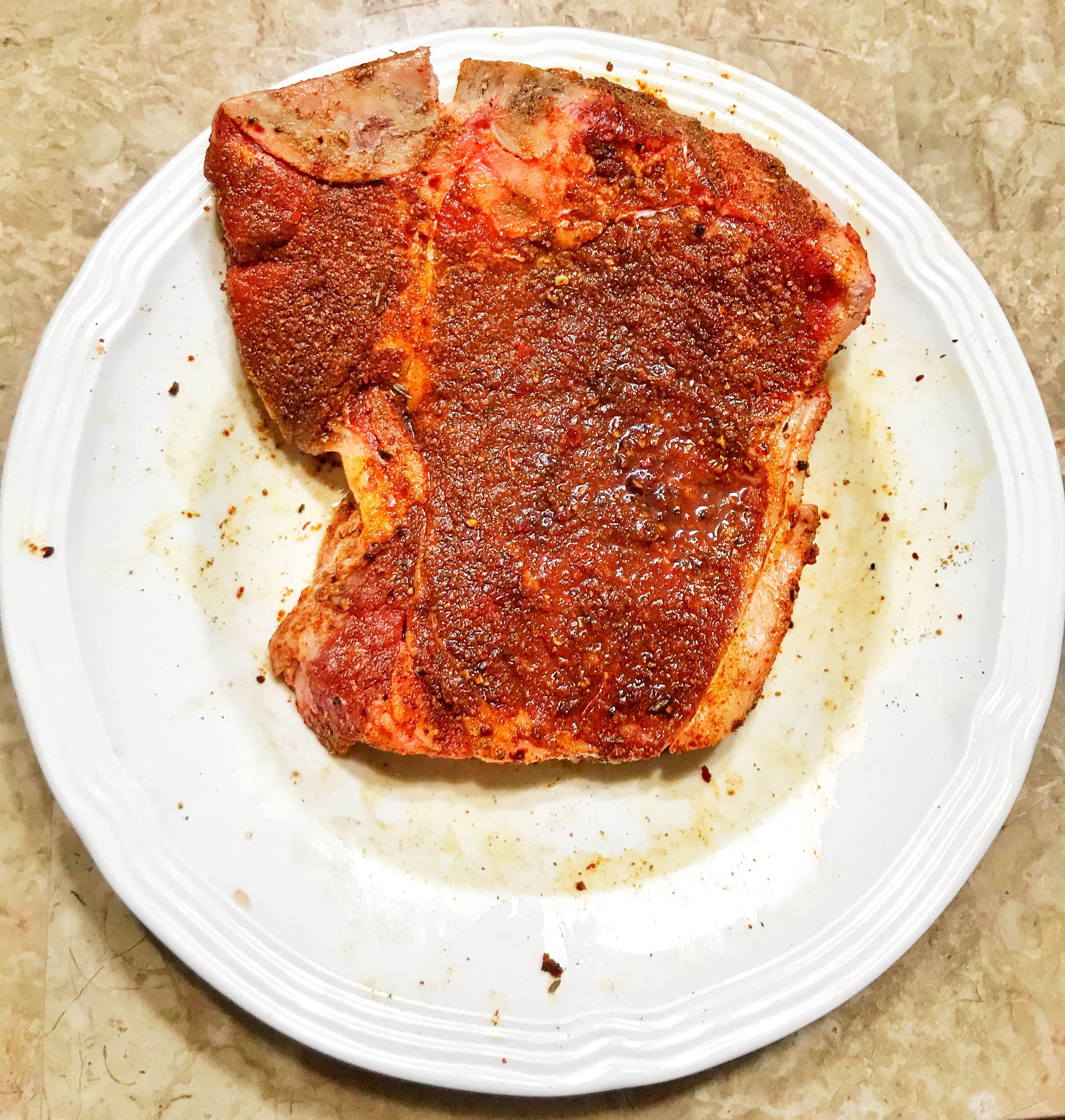 Marinated T-Bone Steak
Peter Truong
The steak that I air fried was a pound of T-bone steak. You can choose any cut of steak, I chose T-bone. I decided to marinate the steak to enhance the flavor more instead of adding only salt and pepper because to me it seemed generic to use only salt and pepper.
The main component with this marinade was the ancho chili powder. It has a rich aromatic floral-like flavor with a little heat.
In addition, I also used Aleppo pepper to give it a little more spice. I found that it had a nice earthy flavor with a kick. It is also salty and has a tangy powerful unique flavor.
Furthermore, I utilized garlic powder, onion powder, a little bit of brown sugar to add some sweetness to the heat, salt, and pepper.
To top it all off, I used oregano, coriander, and some thyme leaves to give the steak some wonderful fragrance. I spread it out evenly as well as massaged the steak to allow the spices to stick.
I allowed the steak to marinate for an hour in the refrigerator so the spices and the meat get to know each other. You can do it for more than an hour, it adds more flavor, but beware that it can get saltier.
I air fried it.
Take the steak out of the refrigerator and make sure you leave it out for 20 to 25 minutes to ensure that the steak cooks evenly.
The more it is close to room temperature, the more efficient it cooks.
I put the steak into the air fryer basket for 400 degrees Fahrenheit and cooked it for eight minutes. I decided to cook it on the rarer to medium-rare side.
You can leave it in for longer depending on how you like your steak cooked. If you prefer well-done, for me it takes twelve minutes. Make sure you flip the steak halfway through to ensure that it has an even color from top to bottom.
Once you finish cooking the steak, let it rest for nearly eight minutes or how long you cooked it because when you let a steak rest, the juice circulates around the steak.
Cut it right away and you will lose all the juice immediately. Not to mention, it is still cooking at a slow pace with all that heat that is contained with it.
Do not touch it at all. Do not even use a temperature probe. Let it fully rest.
The results on the outside weren't what I expected.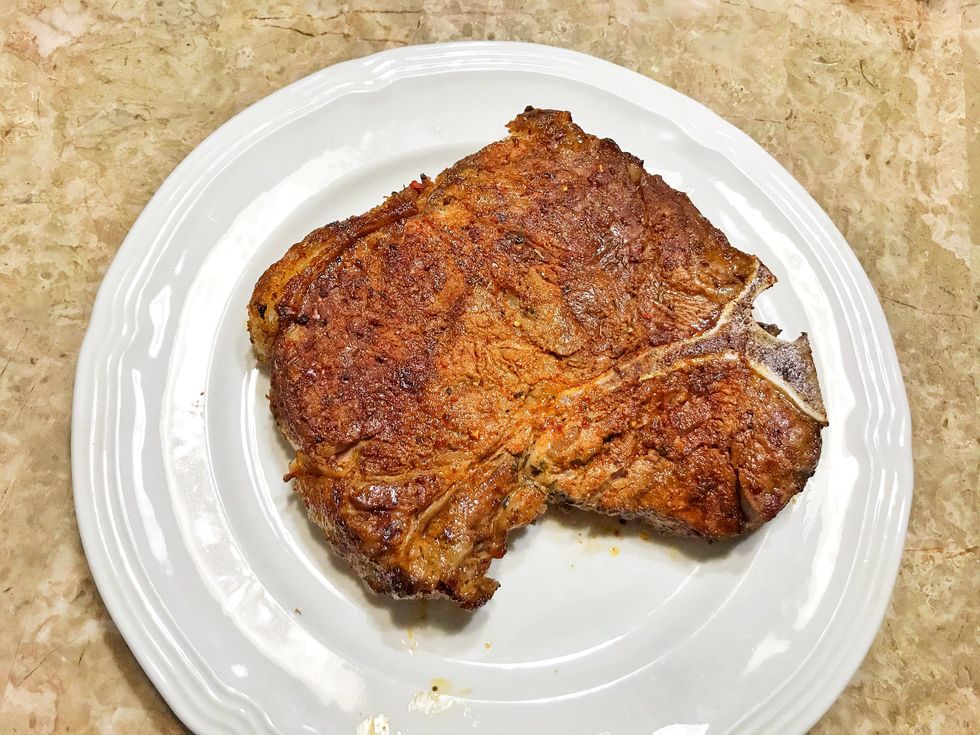 Air Fried T-Bone Steak
Peter Truong
To be honest, it was a not bad steak. The color is not bad, however I prefer my steak to have a nice charred crust like you would when you sear it on a grill or pan.
For some reason, the edges got overcooked and slowly got more red as I worked my way to the top of the "T."
The smell of the steak is quite incredible. There is the aromatic scent of the peppers, the herbs, and the smell of the meat itself is remarkable.
I pretty much got exactly what I wanted on the inside.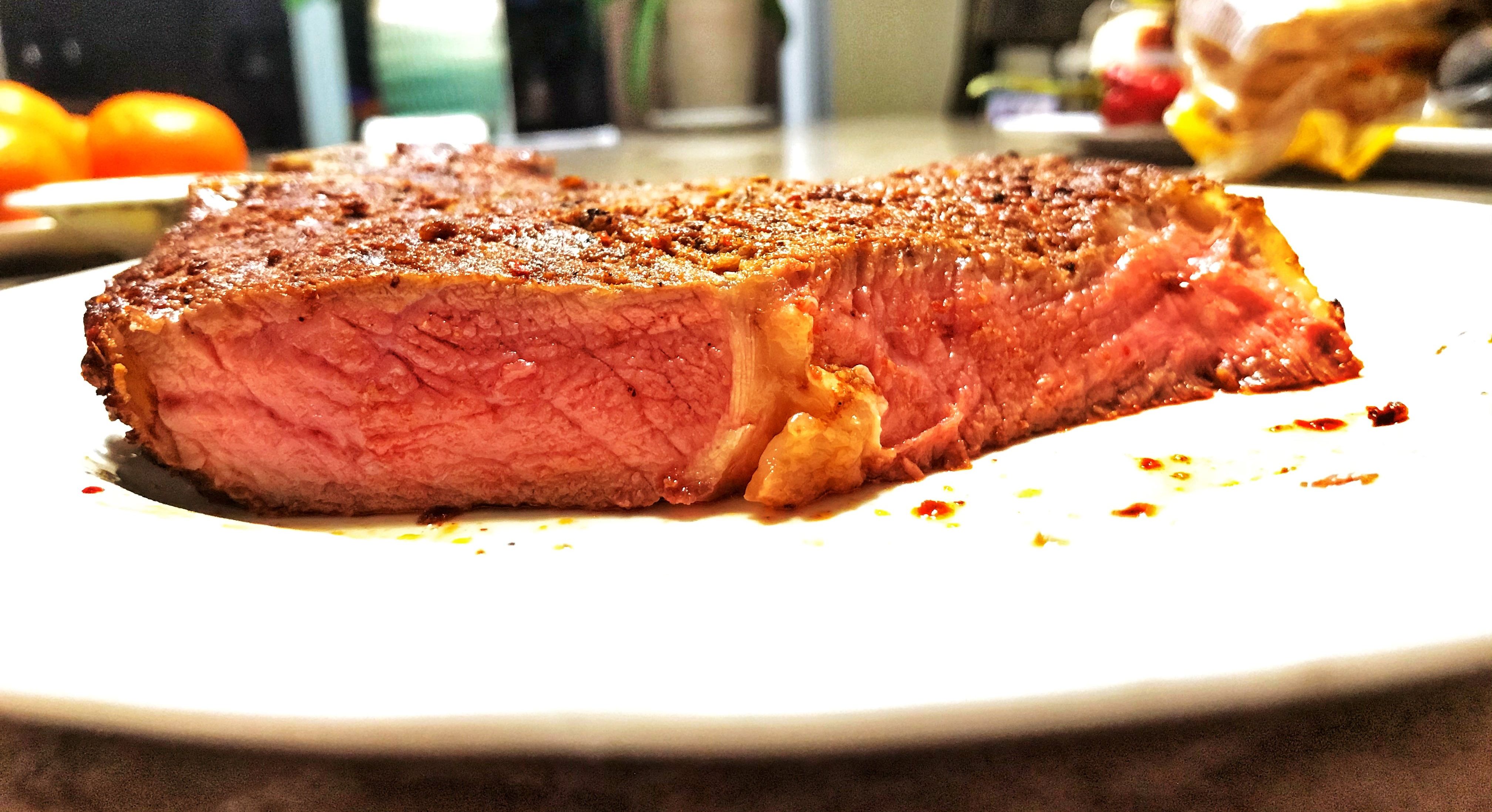 Inside of An Air Fried T-Bone Steak
Peter Truong
In terms of dissecting the steak, the inside was what I wanted, a rare to medium-rare steak. There is so much juice absorbed within the steak and it enticing to look at, as well as eating it.
Unfortunately, there was this gray band which usually indicates that it was overcooked. However, it did not taste overcooked.
The taste was impressive, to say the least.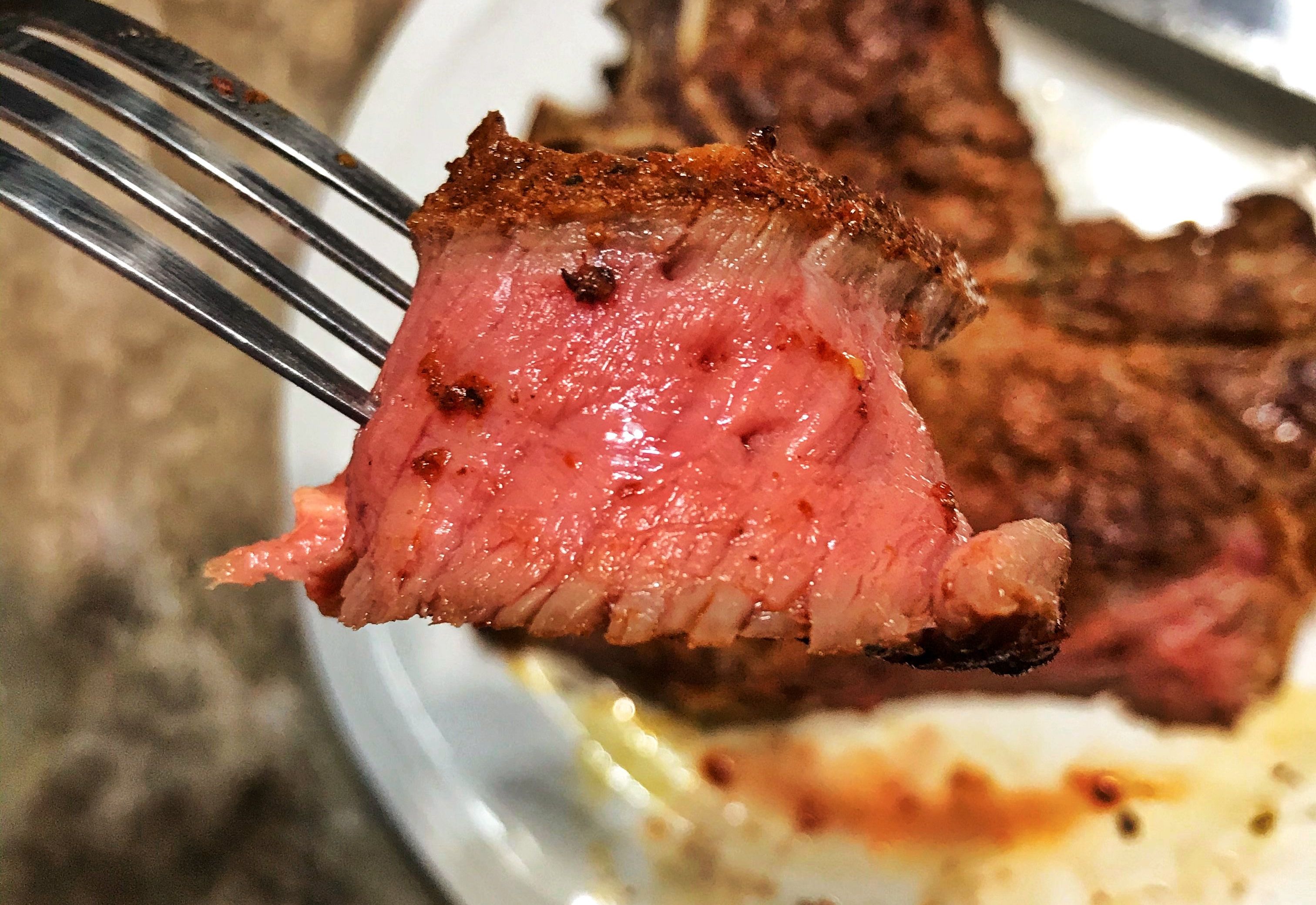 Dissected Air Fried T-Bone Steak
Peter Truong
The flavor of the air fried steak was impressive, to say the least. It is juicy, the light sweetness from the brown sugar, has that nice kick from the Aleppo pepper, and that fragrant taste from the ancho chili.
Unfortunately, I did not get that euphoric "Oh my goodness" feeling, but it was still pretty good.
The gray band, as mentioned before, made it look unappetizing. But, the taste was surprisingly incredible. The feeling from the outside crust was barely present, which made me a little upset.
Overall, it is not a bad way to cook a steak. There are advantages and disadvantages with air frying a steak, but it all depends on you. If you care about that smoke taste that you get from a grill as well as a crust, go ahead and use a grill.
If you want to use a pan and baste a steak then finishing it off in the oven, go ahead and use a pan. If you want a fast and easy way to cook a steak, then this is an option to think about.
Again, if you are like me where the state is cold and windy, you do not feel like you want to grill outside or cook with anything outdoors, an air fryer can be useful.
From Your Site Articles
Related Articles Around the Web