This year I attended my first Camp Flog Gnaw, a music festival done in Los Angeles and one that I have always been dying to go to since it began in 2012. I treated myself this time around to go since it would be on the same weekend as my 21st birthday.
I bought passes months before the lineup came out so I took my chances to wait and when the lineup came out, I was happy with my choice of purchasing them that early.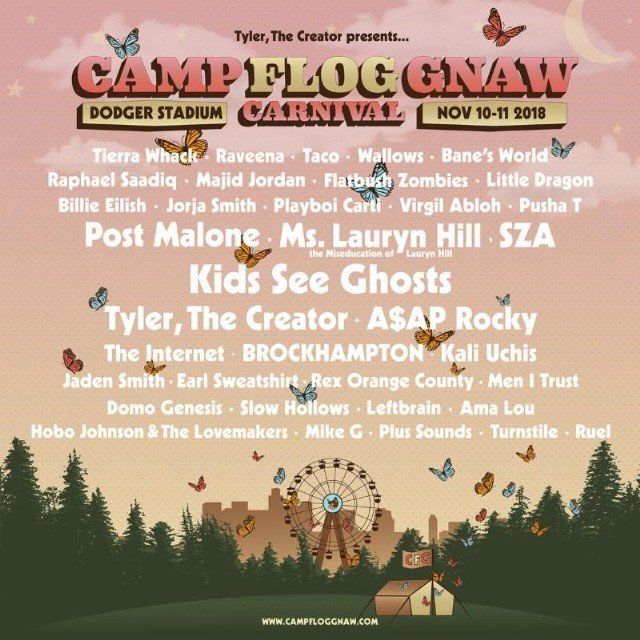 www.campflognaw.com
The moment when I saw the lineup, I was in utter awe because it was so many of my favorite artists that I have been dying to see such as BROCKHAMPTON, Kali Uchis, A$AP Rocky, Flatbush Zombies, and Kids See Ghosts.
I counted down the days until the festival and I was experiencing a whirlwind of emotions since I was gonna see a lot of my favorite artists but it was gonna be the first music festival that I would attend by myself.
Last year, I attended Lollapalooza, which is a music festival done in Chicago's famous Grant Park and I went with my sister. It was a lot of fun but dealing with her, got annoying since she didn't like some of the artists I was dying to see. Despite being my annoying sister, I'm glad to have experienced my first music festival with her.
I was feeling a plethora of emotions coming into Camp Flog Gnaw since I would be going by myself and had to completely rely on public transportation and ride-sharing getting to Dodger Stadium and back to Westwood.
It was not cheap whatsoever but I tried to find the cheapest options to save myself a few dollars and by the end of each night, I was beyond exhausted as I didn't get very much sleep, enduring an obnoxious amount of mosh pits, and just standing most of the festival.
Although there were a few unfavorable experiences, the festival was beyond fun since I love live music so much as it is one of my passions. I got to see a lot of my favorite artists and got to spend my 21st birthday weekend singing, dancing, and even crying along to their performances.
I made a few friends that I am still speaking to since they also came to the festival all by themselves which was nice that the people I met were so nice and welcoming.
I don't know if I would go to another festival by myself again since I did wish I could spend it with friends since it got kind of lonely. I've been to a concert by myself before and it did not feel as lonely as the festival did. I think since I saw people around me with their friends, it made me feel like that is what I was missing that weekend. It was definitely still fun and I did not have to rely on myself rather than on other people to choose certain sets over others. I would definitely not give up going to a festival if it meant going by myself though so it is a there is a possibility I would do it again.