Last week, I went to Disneyland for the day with one of my close friends. It was a trip that I'd been looking forward to for months; I live in San Jose, so I hadn't been to Disneyland in a while. I was especially excited to go with my friend, as I usually went with family. However, disaster struck a few days before I was scheduled to fly to Orange County, and it came in the form of a spider bite.

To make a long story short, I'm really allergic to spider bites. It's extremely annoying, and a few times that I've been bitten before, I've swelled up and had to go to the doctor. This time, it was the worst reaction yet. I was bitten on my ankle, and my foot swelled up so badly, and so fast, that I could hardly walk without limping. The doctor said that the only way I could attend Disneyland (which I was supposed to attend in three days) was if I used a wheelchair. Annoying, yes, but I didn't think it was going to be that bad.
I thought wrong. I'd never been injured in Disneyland before, so I had no idea what I was in for. How bad could it be? I assumed that the only annoying part would be that I couldn't run through the parks, and the pro of shorter lines would cancel that out.
Boy, was I wrong. Turns out, Disneyland is not made for the injured, motorized wheelchair or not. I was luckier than most people that have to be in a wheelchair, because I could walk if need be.
When I wanted to see a parade, I had to move my wheelchair, because it could block those behind me. If I wasn't able to get out and move it to a separate area and then walk back to my seat, I would have had to see the parade from the back. Watching the fireworks, which some consider to be the highlight of a Disney visit, is also next to impossible for the wheelchair-bound, unless they're fine with seeing bits and pieces from a store or restaurant window, or are willing to fight their way to the handicap area.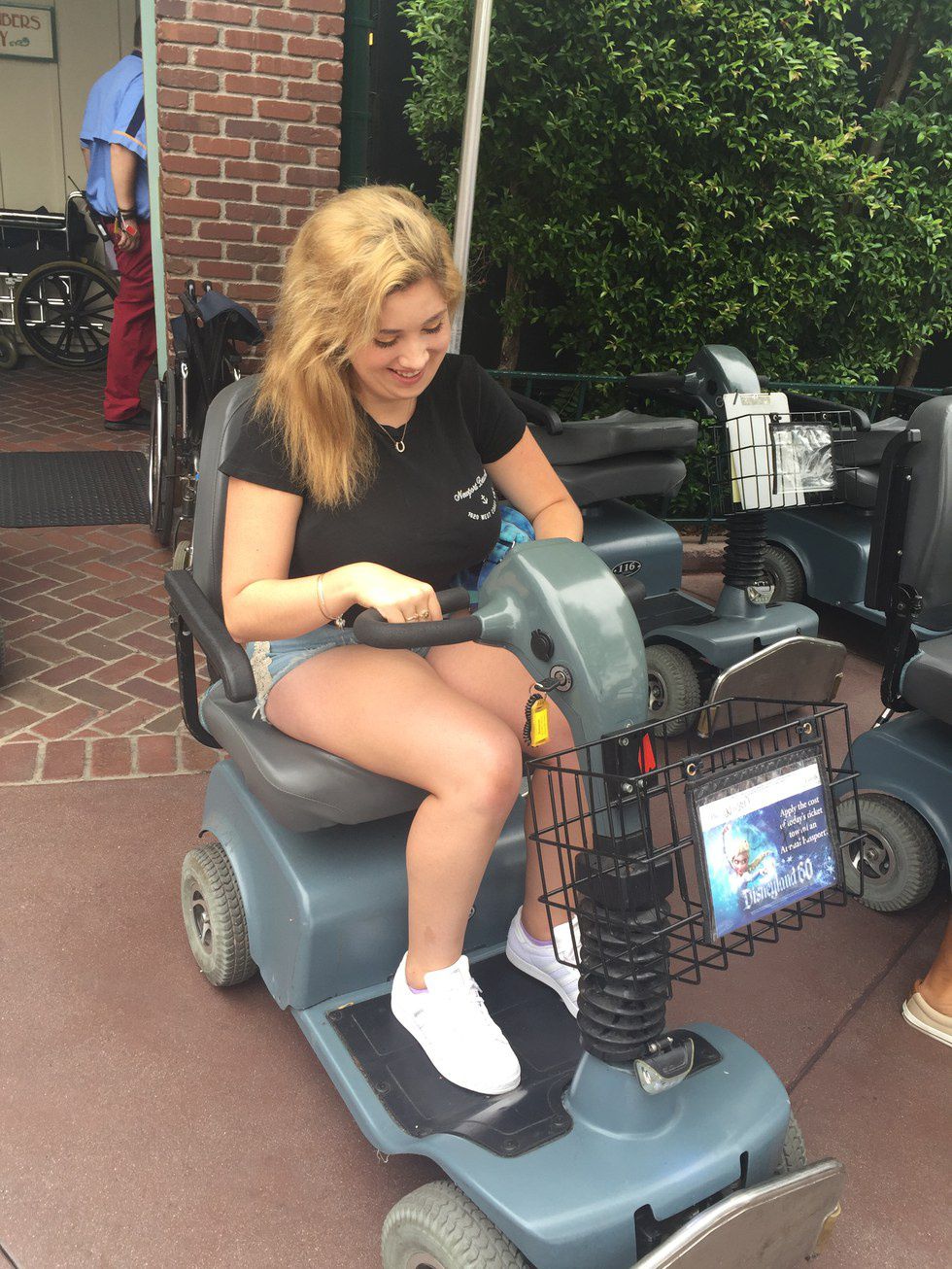 I'm no size zero, but I'm not the typical person in a wheelchair, either. And because the only "injured" part of me was my ankle, and that was hard to see, I became the recipient of many a "What is wrong with her?" and "Are you really that lazy?" looks. No, I wouldn't pay 50 bucks to rent a wheelchair because I was lazy. Also, driving those things is really, really hard. You wouldn't believe the number of times I banged into things (but thankfully, no people). If you wanted to back up, this horrible beeping sound would blare. There was a horn, but God forbid I use it to prevent oblivious people from walking into me. Even politely saying "excuse me," was no good -- no matter what I said or did, people were irritated with me.
I'd never really pitied the people in the electronic wheelchairs before, unless they were really injured. Like most of the general population, I had assumed that the only reason the majority of the people were in the chairs were because they were too lazy to walk. But like all things in life, injuries and disabilities aren't always able to be seen. Just because someone looks fine, doesn't mean that they are. Like in my case, there are more ways to be injured than a simple break, fracture, or sprain. I'm hoping that those that read this article will take my experience to heart and not judge so quickly. Overall, my day in a wheelchair was embarrassing and extremely frustrating, and it shouldn't have been that way. No one should feel ashamed to be in a wheelchair, because injured or not, we have no right to judge other people's choices.