For many girls on college campuses, there are co-ed organizations that they choose to be a part of. These include, but are not limited to Greek fraternities, such as the business fraternity, law fraternity, or music fraternity. Unfortunately for them, the word 'fraternity' gets a masculine stereotype and connotation attached, which, needless to say, is really unfair to the girls who are in it. Under the Merriam-Webster online dictionary, a fraternity is defined as follows: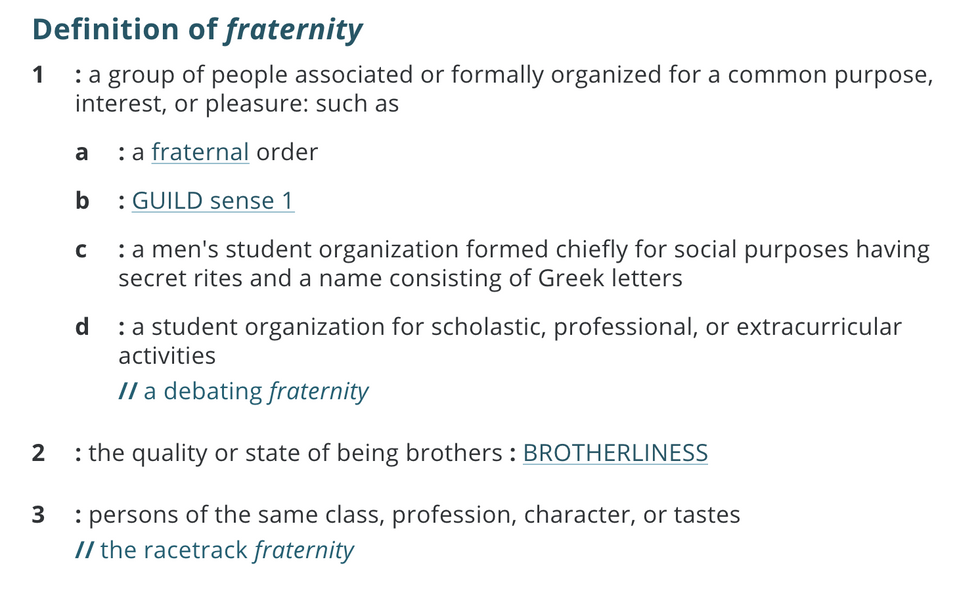 Definition of 'fraternity' from Merriam-Webster online dictionary.Merriam-Webster
Note the third component of the definition: 'persons of the same class, profession, character, or tastes' and emphasize the words "tastes" and "profession." Yes, both guys and girls can be in the SAME PROFESSION. They can also have the SAME TASTES.
Listen up, y'all. there are guys and girls who both like to do community service. Guys and girls who like to be salesmen and saleswomen. Guys and girls who like to be spirited on campus.
They all exist. Stop acting like girls in fraternities isn't a thing. Because it's a thing!
For example, there are more girls in the Alpha Phi Omega service fraternity at Bowling Green State University than guys, but it's still a fraternity by definition.
Here's a plug from personal experience. I've been in Alpha Phi Omega for three full years. After graduating from Michigan and coming to Bowling Green State University, I've been in two separate university chapters of the fraternity. Both of my bigs are girls.
SEE ALSO: Yes, I'm A Girl, Yes, I'm In A Fraternity. I'll Answer Your Questions Now
Sorority girls, let me tell you this: yes, you're in a sorority, but a sorority is a special kind of fraternity whose girls bond and grow together. You and all your sorority sisters have the same character and tastes, just like all the members of any fraternity. Alpha Phi Omega is also a special kind of fraternity since it's co-ed and open to everyone.
The bottom line is this regarding a girl in a fraternity: She's not much different compared to you.
As a group of girls in a sorority, I hope you realize that the girls in a fraternity do the same things you do. They joined a group where everyone in it has the same tastes. A sorority meets the definition of a fraternity. So for you girls in sororities, these girls in fraternities joined their fraternities for the same reason you joined your respective sororities. It makes them feel at home. That's how girls in fraternities feel about the respective fraternities they joined. Also, they do the same things as members of the chapter. They do community service, fellowship, and leadership activities, and also pay dues to prevent being an inactive member.
She's not much different compared to you.