I am still learning my name as I have only been Ian for five months. I am still processing this vision of myself that I am starting to see and I am still feminine in many ways. Finding out my own identity is very uneasy. The changes, the uncertainty, once I was lifeless and now I am learning about all these possibilities. Thus, I don't know how to smile as Ian, but I do know what I see is progress and I am too far to accept anything less than this shear image looking back at me as Ian.
My smile has always been one of my best attributes. For a long time all I did was smile because I was told I had such a pretty smile by many and honestly I loved my smile. I didn't always have that smile. I started smiling a lot more after I got my braces off which were on from the third grade till my seventh grade year of school. Yes, my teeth along with my smile were far from "perfect". My teeth were far from doing their job too as my two front teeth were facing inwards basically on top of each other. So what I typically have said is big teeth, small mouth, lots to talk about. (Yes its okay to laugh about)
Once my teeth had been resized for my mouth, my confidence spiked. Truly I never really knew how to reply to having a nice smile because my parents paid for me to have it. Not everyone is fortunate enough to afford braces, but I thank my parents for paying for my brother and I to have straight teeth. Thus, as most I showed off my smile.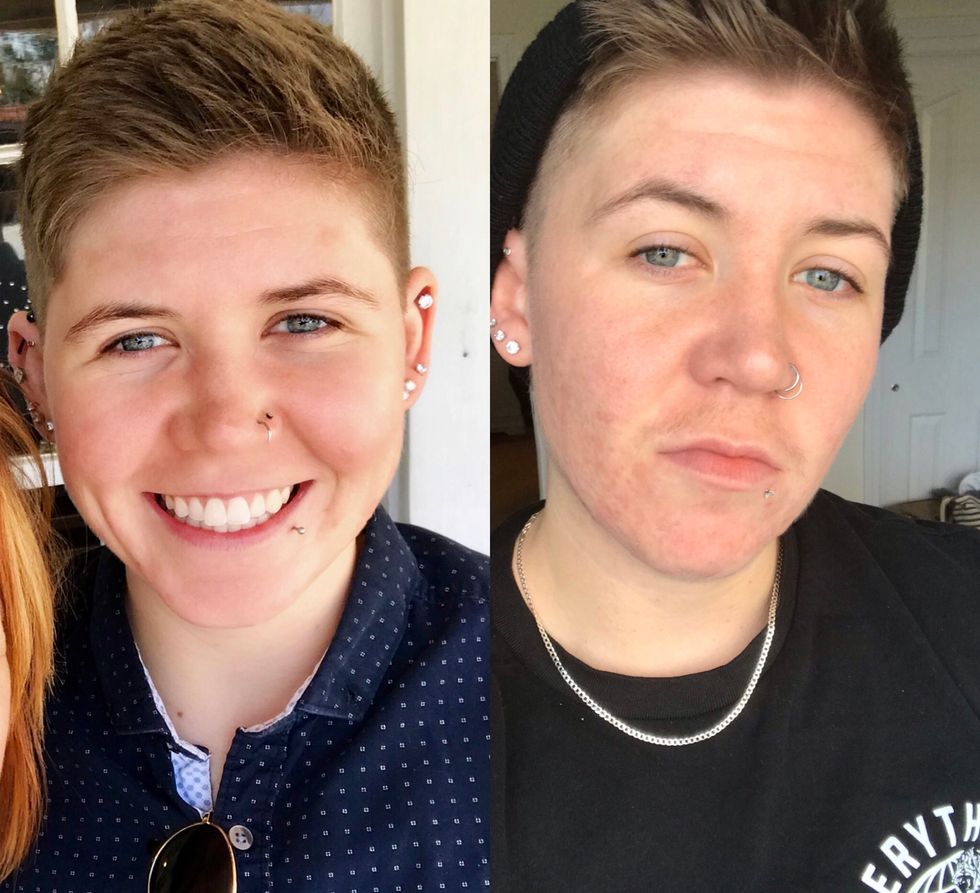 June 2018 v December 2018@ian_mackenzie24
But once I started to figure out who I was, I unintentionally stopped smiling in my selfies. I started noticing all of comparison pictures were of me not smiling in the present. Rather, I started angling my face one way or another to try to show jaw comparisons which I liked. Because when I did the angle comparisons, I saw slight differences opposed to straight on.

Too, I saw my eyes clearer. I see life in my eyes. Something that had been lost in previous pictures. The way I look into the camera now is someone I am seeing form and that excites me. So, although my smile has yet to make an appearance, my eyes are becoming full from the image I once never imagined.
I have brown hair, soft eyes and lost myself along the way. But, I am very happy to see the person I am becoming. Not every day is easy and anyone that is transitioning can tell you that dysphoria can get the best of you. But, if you're reading this, know that we are doing the best that we can.