Your favorite summer delight unwrapped!
Ice Cream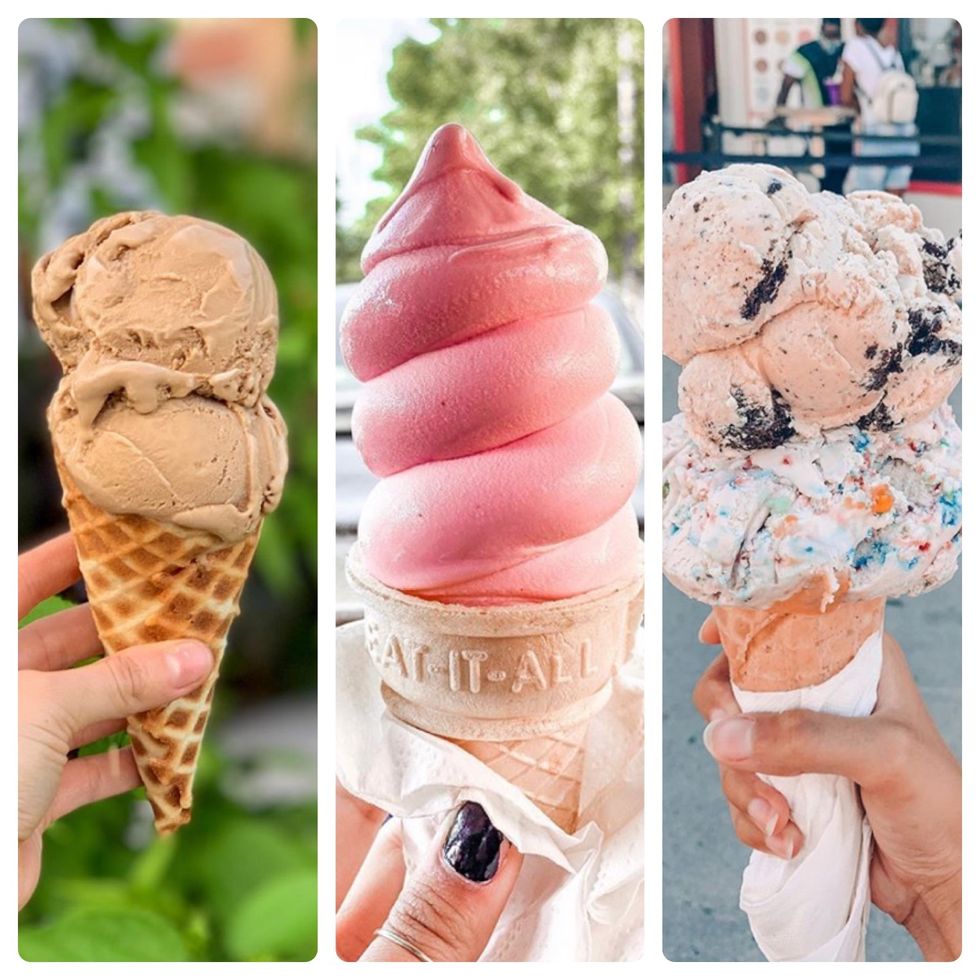 Screenshots from @offtrackicecream @yumyumyunz @charlottexbentley on Instagram
Ice cream is made via colloidal emulsion (a mixture of two or more liquids and one is immersed in the other) with water, ice, milk, sugar, air, and flavoring. You put the mixture in a device that churns and is surrounded by ice. The milk and water create the emulsion phase and are turned into foam from air being added from mixing and become frozen ice cells. The foam collides with itself and creates the customary light texture.
Frozen Custard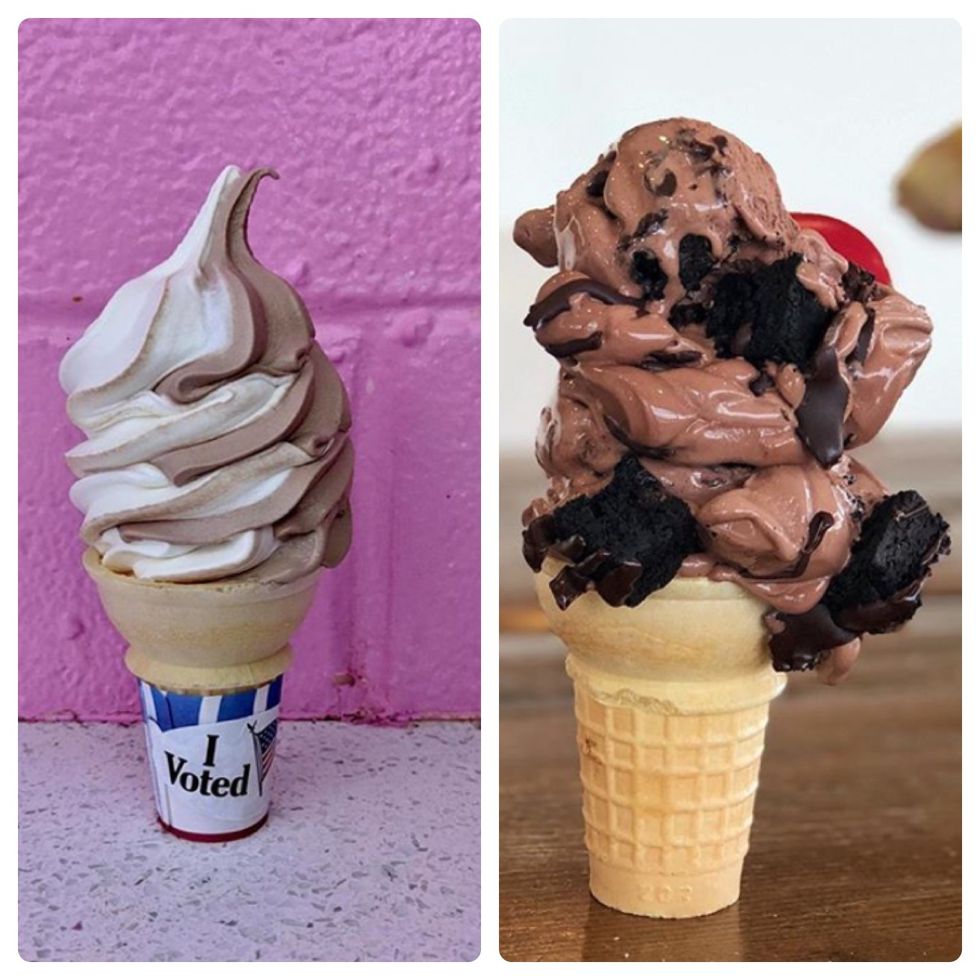 Screenshots from @the_custardhut @julieannsfrozencustard on Instagram
An American dessert made popular in the early 1920s on Coney Island. It is made from eggs, sugar, cream, and flavoring. It has a very rich and dense consistency. As the mix enters the refrigerated tube and freezes blades scrape the cream off the walls and is dispensed out of the machine ready to serve or save.
Sorbet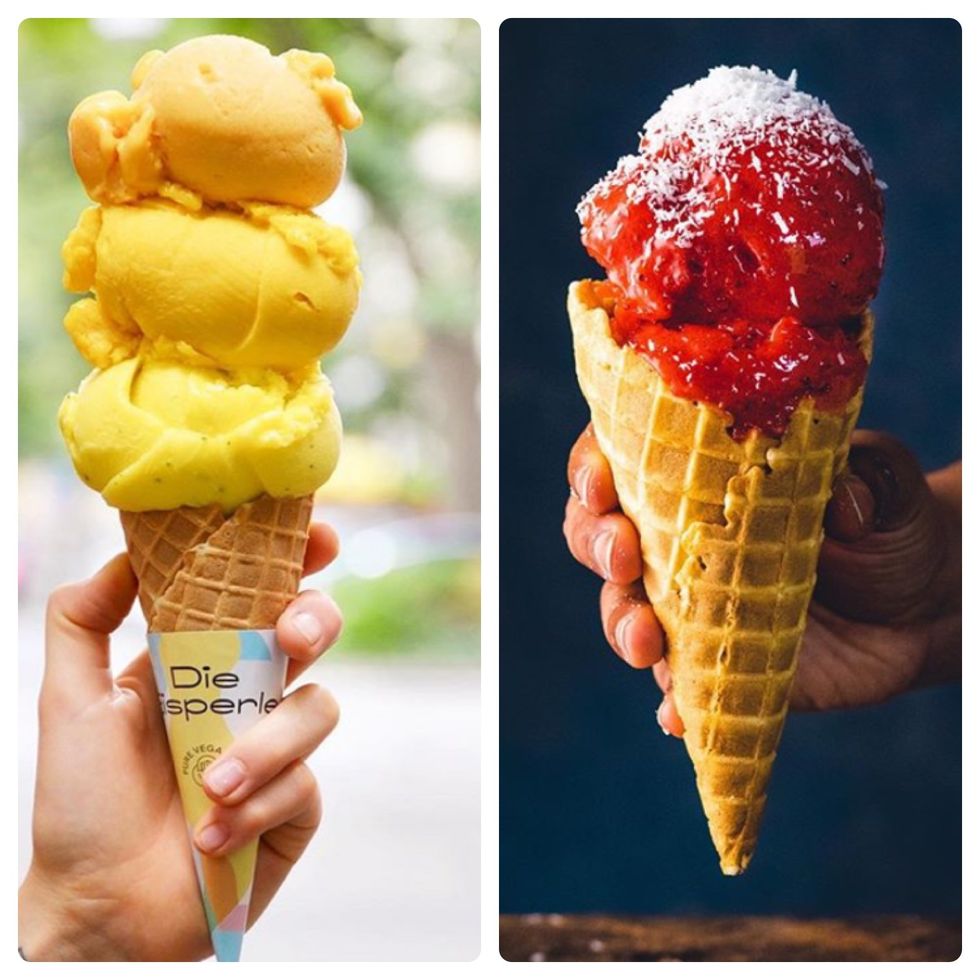 Screenshots from @dieeisperle @swarnika_ on Instagram
Is made from fruit and sweeteners like sugar or honey and sometimes water or other natural flavors. The mixture is churned like ice cream but has a rougher & drier consistency. But contains no dairy.
Gelato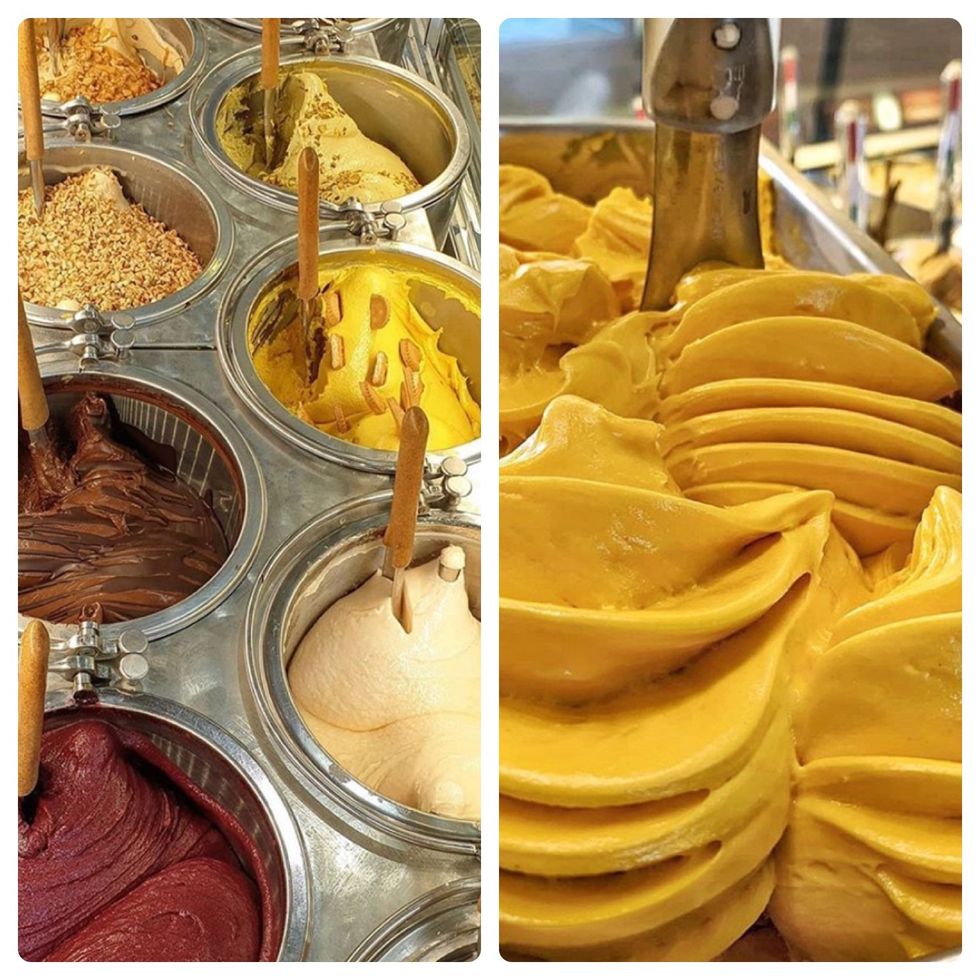 Screenshot from @gelatogram.italia on Instagram
An Italian dessert made from milk, sugar, and flavoring, but no eggs. You heat all the ingredients to 185° F and then lowered to 41° F while being mixed to get the desired silky texture.
Sherbert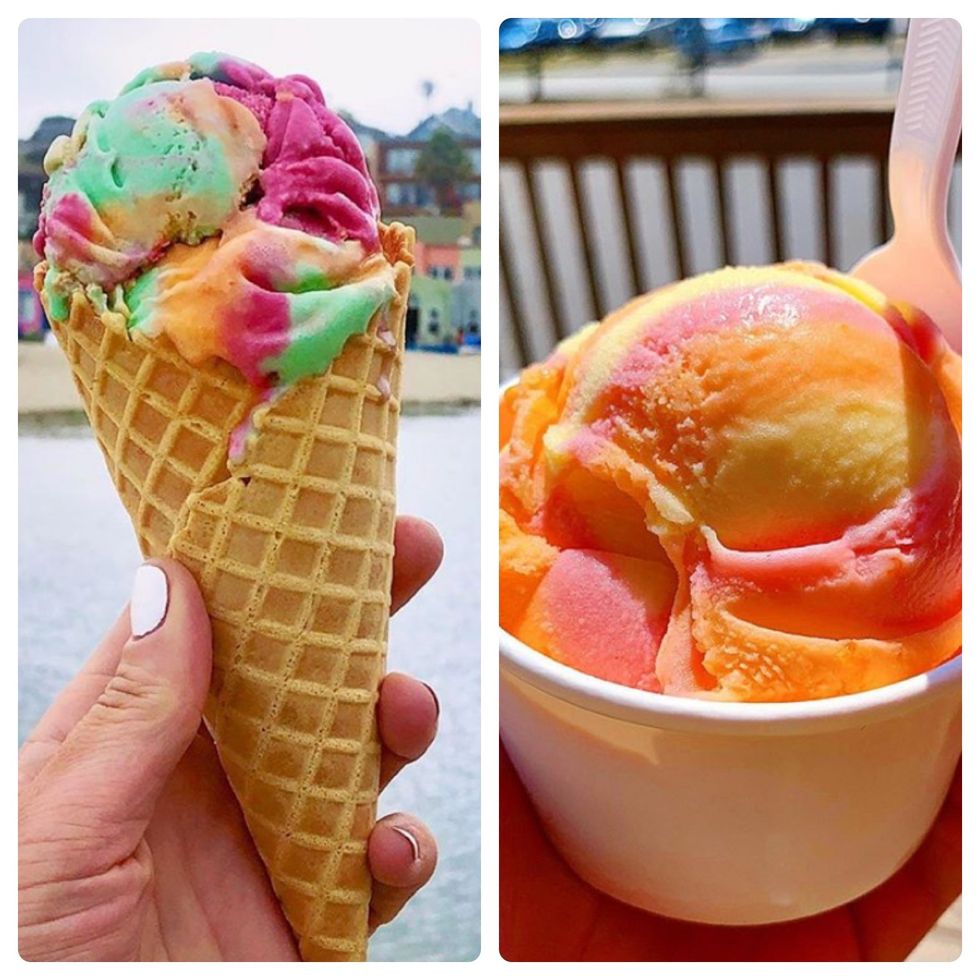 Screenshots from @capitolavillage @jordansplate_ on Instagram
Is made from fruit, sugar, milk or cream, and sometimes egg whites. It typically contains about 1 to 2 percent butterfat. Combine juice, sugar, and milk and place mixer in an ice cream maker, churning until done. You can also use fruit purée instead of juice. You can also make it in a blender. Using frozen fruit, milk, honey, and vanilla. It must be served immediately after mixing or stored in the freezer.
Frozen Yogurt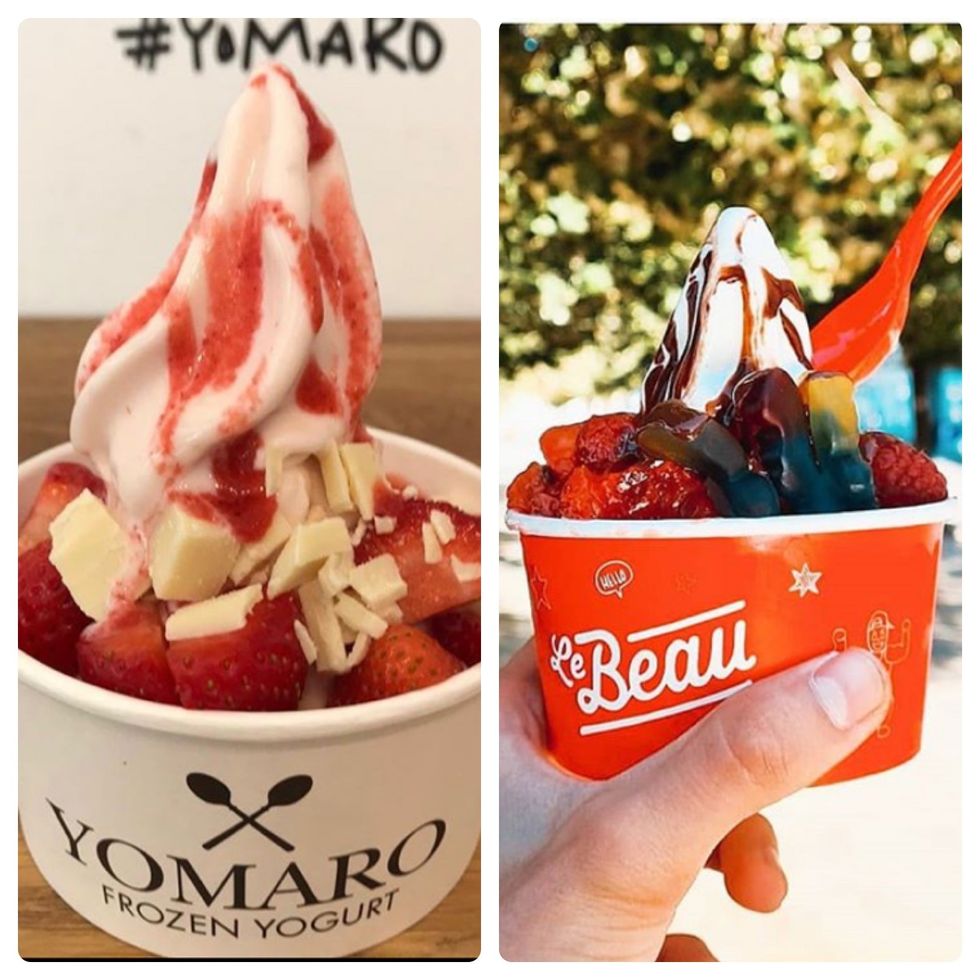 Screenshots from @yomaro_krefeld @yogurtfactory on Instagram
An American dessert made popular in the 1980s, made with the same ingredients as ice cream (water, ice, milk, sugar, flavoring) but with yogurt that contains live bacterial cultures and gelatin. The gelatin stabilizes the yogurt, reduces crystallization, and increases the temperature at which it will melt. Is generally more tart than ice cream and lower in fat. It is normally served with toppings such as fruit, nuts, cookies, candy, and much more.
Granita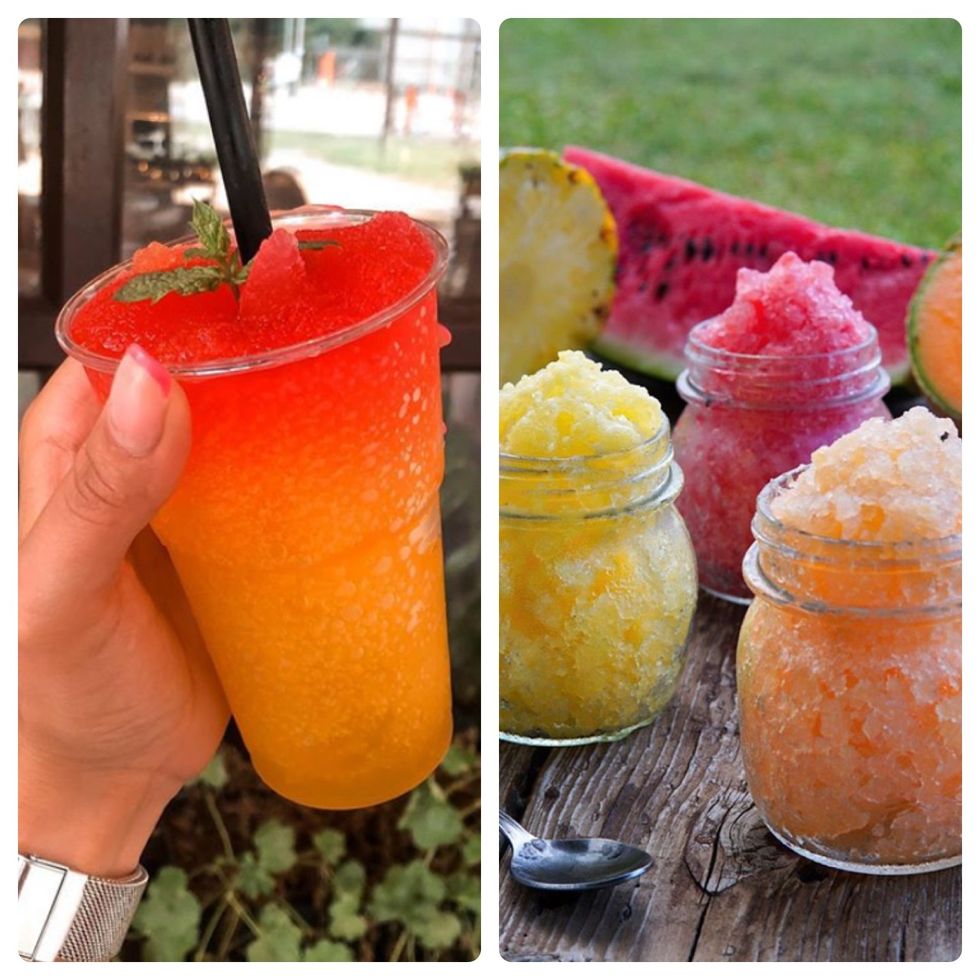 Screenshots from @dziendobry.kawiarnia @davide_zamby on Instagram
An Italian dessert made from sugar, water, and flavoring that is known for its crystalline texture. Start by dissolving sugar in water over low heat until it starts to thicken, then add in the flavoring that is puréed fruit or juice, coffee, or nuts. Once combined transfer the mixture into a shallow container and put in the freezer for 3 to 4 hours, stirring every so often so the sugar and flavorings don't settle to the bottom. Scrape the container with a spatula to get the granular texture, put into glasses and serve.
Mousse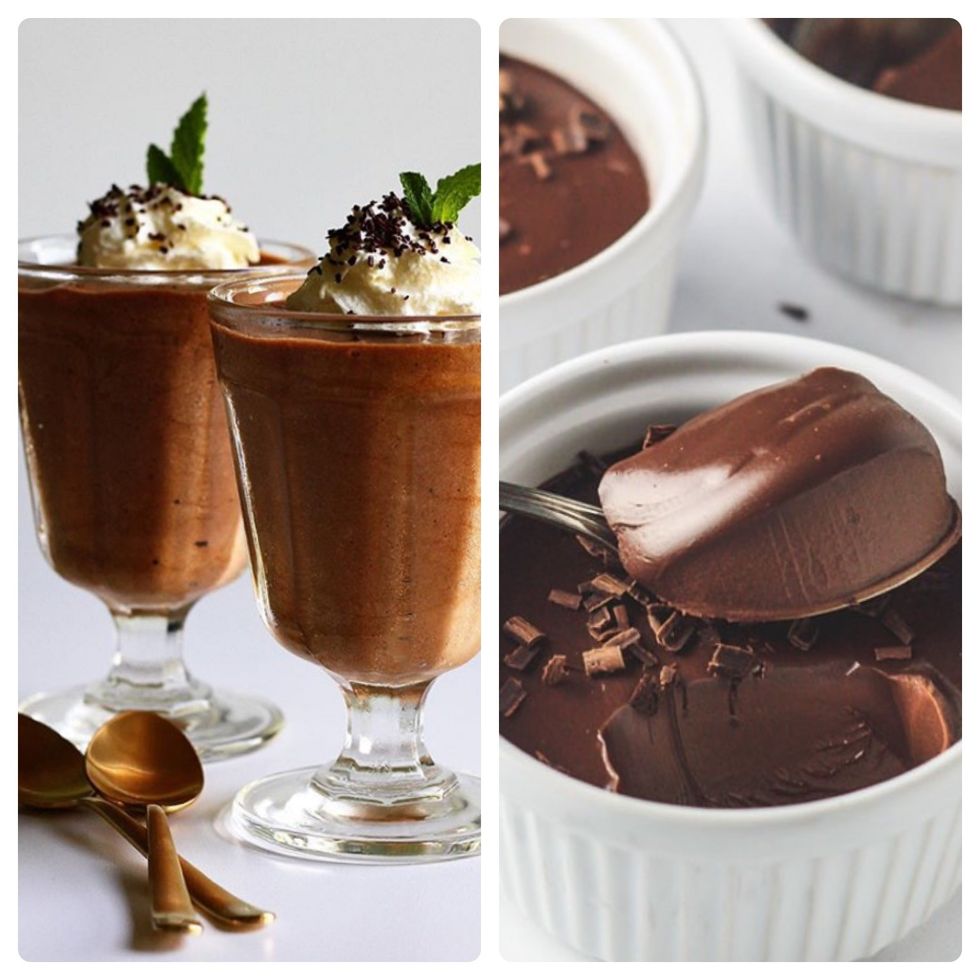 Screenshots from @casalmisterio @awhiskandaspoon on Instagram
A French dessert that incorporates air bubbles for a light an airy consistency. Traditionally made with whipped egg whites or whipped cream or both, and flavored with chocolate, coffee, caramel, puréed fruits, herbs, and spices. Normally chilled before serving to make a dense texture. Can be served all by itself or used as a cake filling.