From the music to the storyline, "Frozen 2" was astronomically better than "Frozen." While I still appreciate the original "Frozen" in all of its glory, everything about "Frozen 2" was just so much better.
If you haven't gotten the chance to go see "Frozen 2," I highly suggest you at least listen to the soundtrack. Evan Rachel Wood plays the part of Elsa and Anna's mother in the new film, and her vocal features are heaven-sent.
We all already know how talented of a singer she is from her role in Across The Universe, but this movie just made me appreciate her even more.
Also, did you know that Johnathon Groff plays Kristoff? I never gave it a second thought in the first movie since Kristoff hardly was featured in the songs, but the minute I heard "Some Things Never Change", I recognized his amazing voice.
If you don't already know, Johnathon Groff is known for his roles in multiple broadway shows such as "Hamilton," "Spring Awakening," and "In My Life."
If broadway isn't your thing, you probably know him as Jesse St. James from "Glee," and if neither of those is your thing then there is something wrong with you.
We all know that Idina Menzel is an absolute legend, so I'm not at all surprised by the amazing Elsa songs, but I was shocked by Kristen Bells' vocals in this movie.
From the first movie, we know that Bell has an incredibly happy and light tone from "For the First Time in Forever" and "Love is an Open Door", but she shows a much deeper side in "Frozen 2."
While I adored her duet with Olaf in "Some Things Never Change", I was more surprised by "The Next Right Thing" because it gave me major Les Miserables vibes. Honestly, I did not know that she had those pipes. I'm honestly a little burnt that she has been keeping this amazing talent from us because she belongs on broadway.
And before I stop rambling about the soundtrack, I couldn't leave out "Lost in the Woods" because it's so bad that it's good, if that makes sense. It's a lot funnier to listen to the song with the animation because it makes you feel like you're listening to a cringy heartbreak song from the 80s.
The soundtrack isn't the only thing that makes this movie amazing, it also has a much better plot than Frozen, as well as a more appropriate message. "Frozen" caused quite a bit of controversy due 'conceal don't feel' along with accepting Elsa's horrible behavior back in 2013, but Disney did a pretty good job of avoiding a mess like that in "Frozen 2."
In this new movie, we see Elsa being selfless, which is something she didn't even attempt in the first one. In "Frozen 2," Elsa literally risks her own life for the good of other people, and it shows that she has definitely grown as a character.
While she did put the whole kingdom at risk by awakening the spirits, at least she actually fixed her mistakes unlike in the original.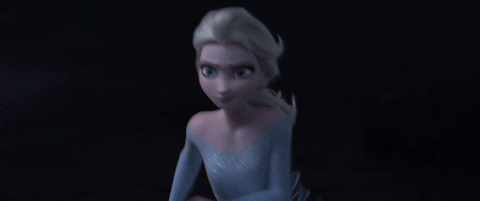 Giphy
On a less serious note, Olaf's curiosity about maturity was absolutely hilarious, and this movie featured a whole lot of happy reindeer, and a cute little fire lizard thing.
Also, Gail, which is what Olaf named the wind spirit, is also pretty adorable. I was really happy to see the history of Arendelle, and Elsa and Anna's parents, while it was sad to be reminded of their passing, it was definitely essential to the film.

Overall, this movie just seemed to have a lot more effort put into it than the original, and I'm really glad that Disney did so good on this one. Sequels to the princess movies are usually terrible, but this is now one of my favorite Disney movies ever.
Also, I almost forgot to mention, Anna gets her rightful place on the throne as Queen of Arendelle and I've never been so happy about a Disney character in my whole life, and Kristoff finally proposed to her, and it was magical.