Just like most college freshman during the first week of classes, I was riddled with anxieties. Part of me was ready for the new adventures college would bring; I was ready to start my classes, explore campus more, and take full advantage of all of the amazing things West Chester had to offer, yet I was still filled with worries. Would the adjustment be easy? Would I like all of my classes? Could I get used to living in a dorm room and could I handle the vast amount of independence that was coming my way?
Granted, my twin sister and I were living in the dorms together, so it made the homesickness easier to manage. I had someone I could easily talk to about how I was feeling and more often than not, she felt the same way. However, the adjustment still wasn't easy. I found myself questioning whether or not I would be able to last the entire semester without driving back home every weekend. I was even fully prepared to head home the first weekend after classes started.
Except I couldn't go home for the weekend as I had already registered for sorority recruitment.
Before participating in fall recruitment at West Chester University, potential new members were asked to register online over the summer. My twin sister and I quickly registered at the end of July, immediately falling in love with the idea of being in a sorority. After the first week of classes started, however, I wasn't exactly so sure how I felt about rushing anymore. I was so close to just simply putting recruitment aside, giving myself another year to get used to the college lifestyle before I decided to go through recruitment.
Yet after a lot of thought and consideration, my twin sister and I decided to go through it and I am so thankful that we did.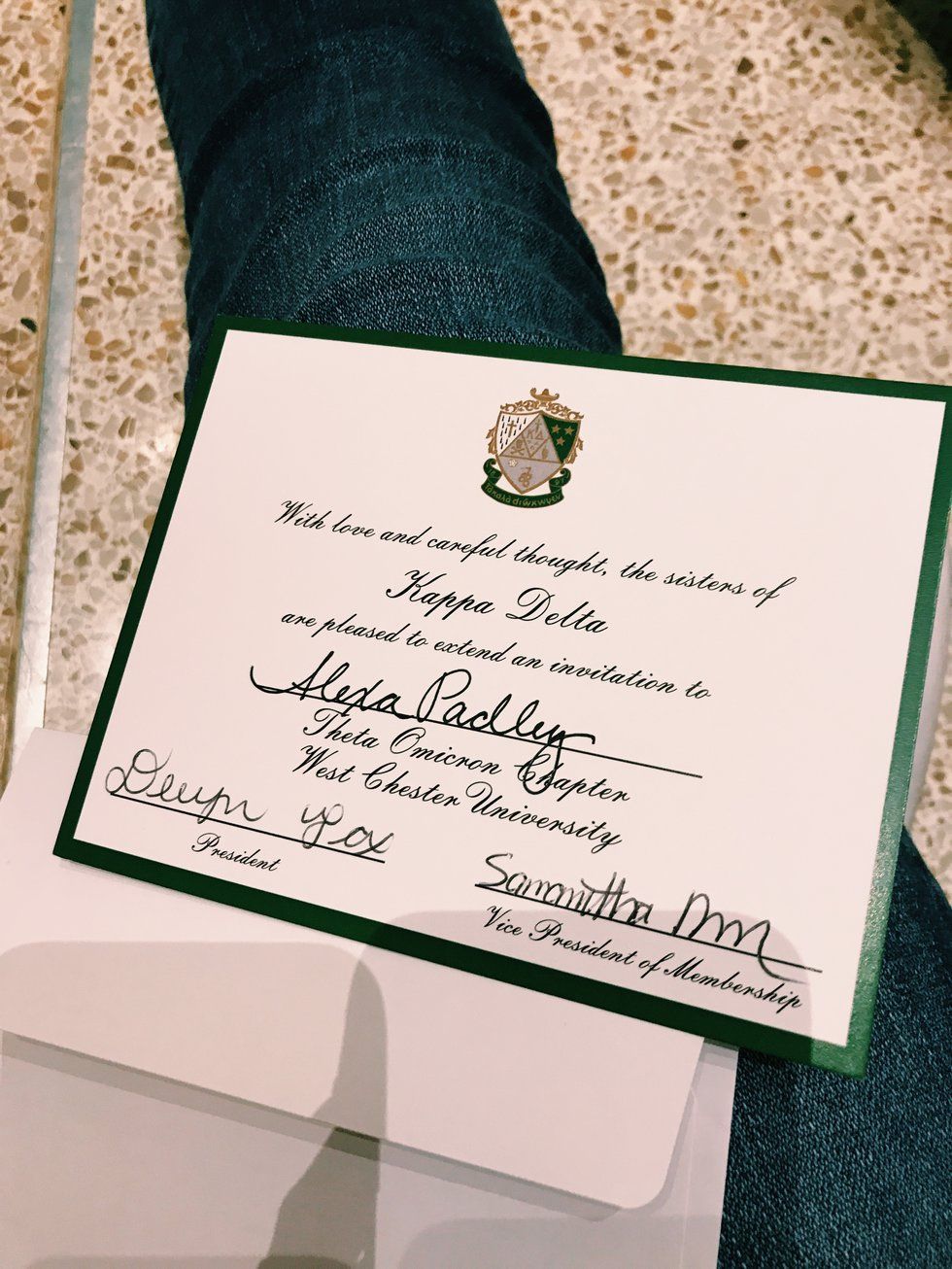 Going through the recruitment process at West Chester truly opened my eyes to the amazing aspects the Greek life community has to offer. Not only did I meet incredible women from room to room, but I bonded with other potential new members that were in the lines with me that I still continue to keep in contact with today. I learned about the various opportunities sororities had to offer—their dedication to their philanthropies, the incredible strength of a sisterhood, and the leadership positions you could pursue through the organization.
Most importantly, I found my home away from home in my sorority. I met the incredible women who made me fall even more in love with my sorority than I already was, the women who encouraged me to put myself out there and pursue leadership positions my first year as a new member. I even met my amazing Big during the last round of recruitment, and if I hadn't gone through recruitment as a freshman, would I have even met her at all?
Overall, I feel at home at West Chester—all because I made the decision to go through sorority recruitment.
I know going through recruitment seems scary at first, especially as a freshman. It takes so much to put yourself out there when you just started your college career. In fact, so many women were surprised when I said I was a freshman and going through recruitment. You're facing new responsibilities with new classes and a large workload, so adding a sorority on top of that seems like quite a daunting choice. But it isn't.
All of the women in your sorority will want you to succeed. You'll have a huge support system to turn to and a vast amount of sisters that will help you adjust to college. You'll have a new group of sisters to vent to, sisters in your major that can help you get through the struggles of certain classes, and sisters to have study dates in the library with.
If I never went through sorority recruitment as a freshman, I couldn't possibly imagine where I would be now. And I don't even
want
to imagine where I would be without it.