On June 21, 2016, Frank Ocean took to his Tumblr to pen a personal letter regarding the recent Orlando tragedy where gunman, Omar Mateen, opened fire in the Pulse gay nightclub killing 49 people and wounding 53 others. Ocean's post read:
I read in the paper that my brothers are being thrown from rooftops blindfolded with their hands tied behind their backs for violating sharia law. I heard the crowds stone these fallen men if they move after they hit the ground. I heard it's in the name of God. I heard my pastor speak for God too, quoting scripture from his book. Words like abomination popped off my skin like hot grease as he went on to describe a lake of fire that God wanted me in. I heard on the news that the aftermath of a hate crime left piles of bodies on a dance floor this month. I heard the gunman feigned dead among all the people he killed. I heard the news say he was one of us. I was six years old when I heard my dad call our transgender waitress a faggot as he dragged me out a neighborhood diner saying we wouldn't be served because she was dirty. That was the last afternoon I saw my father and the first time I heard that word, I think, although it wouldn't shock me if it wasn't. Many hate us and wish we didn't exist. Many are annoyed by our wanting to be married like everyone else or use the correct restroom like everyone else. Many don't see anything wrong with passing down the same old values that send thousands of kids into suicidal depression each year. So we say pride and we express love for who and what we are. Because who else will in earnest? I daydream on the idea that maybe all this barbarism and all these transgressions against ourselves is an equal and opposite reaction to something better happening in this world, some great swelling wave of openness and wakefulness out here. Reality by comparison looks grey, as in neither black nor white but also bleak. We are all God's children, I heard. I left my siblings out of it and spoke with my maker directly and I think he sounds a lot like myself. If I being myself were more awesome at being detached from my own story in a way I being myself never could be. I wanna know what others hear, I'm scared to know but I wanna know what everyone hears when they talk to God. Do the insane hear the voice distorted? Do the indoctrinated hear another voice entirely?

As I sat overwhelmed by the depth of his words (as usual), and how I too could relate to his musings and how I inevitably began to further reflect upon the tragedy, my initial state of sentimentalism quickly wore off when I saw the feedback and comments his letter was receiving. Before I proceed, allow me to provide you with some insight.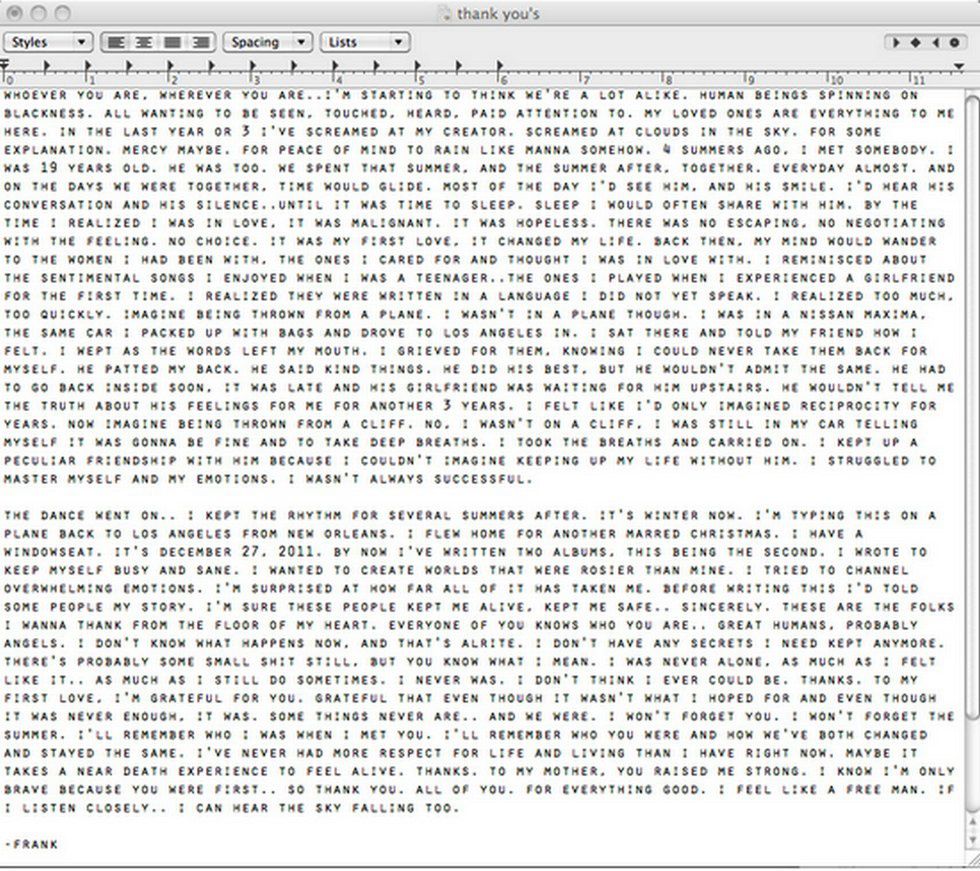 Back in 2012, Ocean broke out of the perceived heterosexual mold society placed upon him with a post revealing his summer romance with another male. The post caused waves of hysteria as well as a discussion on how Ocean's career would fare after such a brave and taboo reveal in the Hip-Hop industry as a homosexual Black male. Ocean's career survived; Channel Orange was still in heavy rotation and memes asking where the new album was were the equivalent of a nervous laughter that finally allowed me to breathe because Frank was still being heralded for his musical talents. Even in a society as bigoted as ours, not even his sexuality would shun him from the praise he deserved.

While the question of where the album was may have been alright for the first year or so, I thought it was unanimous that it was just played out at this point and corny. Yes, you may want an album but you know you don't want it that damn bad. And on Frank's recent letter, that being a response was just disrespectful. Now the internet is pretty disgusting- there is no denying that- but that night in bed, I truly felt drowned in a cesspool void of humanity or basic human decency.
If the caption to his post wasn't telling Ocean to "Shut up and put out the album" or noting how "He can write all this, but can't write that album," it was someone proclaiming how they were "tired of this faggot" and my favorite one had to be a woman stating how she does not listen to Frank and wishes he would just go away because she "only listens to music put out by real men." Hashtag #BLM in her bio though. But lets not talk about the irony of how the BlackLivesMatter movement was coined by three queer black women yet many queer black people seem to feel unwelcome in a space that is theirs as well, if not more than others.
Now, I am sure the backlash I saw was not the be all end all to Frank's post- I am sure for every inconsiderate response, there were many who related to Ocean's words or reposted it in quiet solidarity.
I just wish I saw those way more than the mess that I was exposed to.
I am not telling anyone to stop asking Frank where the album is (Well, not that anyone would listen to me...), but perhaps it's not in your best interest to ask a homosexual man for anything if you can't allow him to speak upon an issue central to a community in which he belongs to.