20 Small Tattoos With Big Meanings
Tattoos with meaning you can't deny.
It's tough to find perfect tattoos with meaning.
You probably want something permanent on your body to mean something deeply, but how do you choose a tattoo that will still be significant in 5, 10, 15, or 50 years? Over time, tattoos have lost much of their stigma and many people consider them a form of art, but it's still possible to get a tattoo you regret.
So here are 20 tattoos you can't go wrong with. Each tattoo has its own unique meaning, but don't blame me if you still have to deal with questions that everyone with a tattoo is tired of hearing!
SEE RELATED: "Please Stop Asking What My Tattoos Mean"
1. A semicolon indicates a pause in a sentence but does not end. Sometimes it seems like you may have stopped, but you choose to continue on.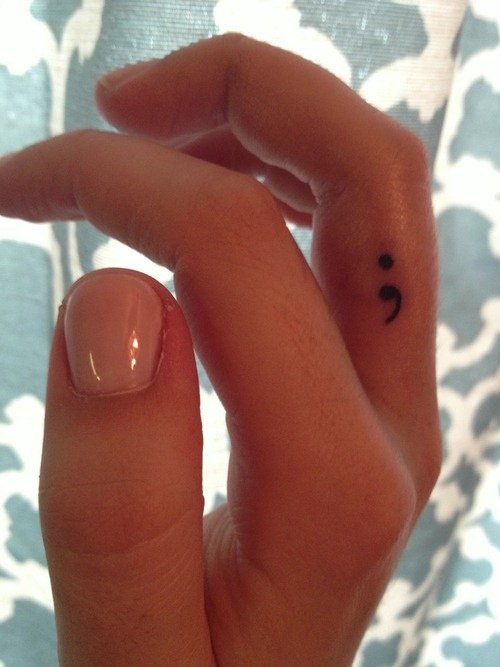 2. "A smooth sea never made a skilled sailor."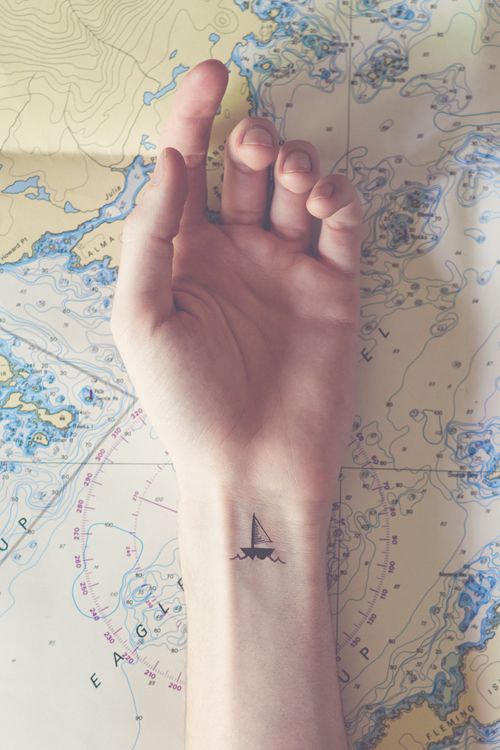 3. Top symbol: unclosed delta symbol which represents open to change. Bottom symbol: strategy.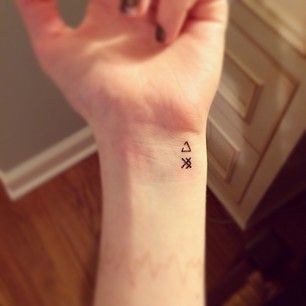 4. "There are nights when the wolves are silent and only the moon howls."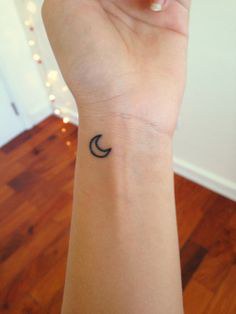 5. Viking symbol meaning "create your own reality."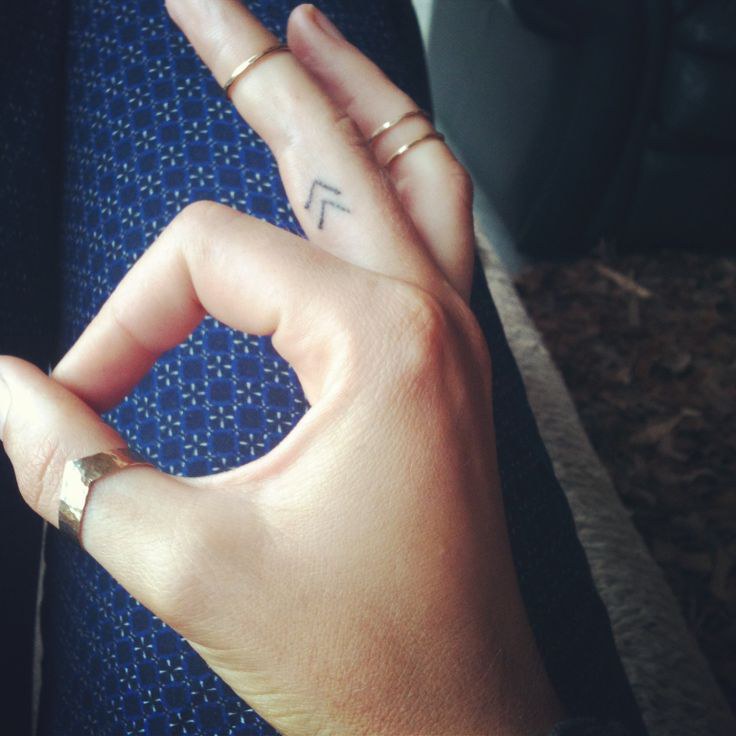 6. Greek symbol of Inguz: Where there's a will, there's a way.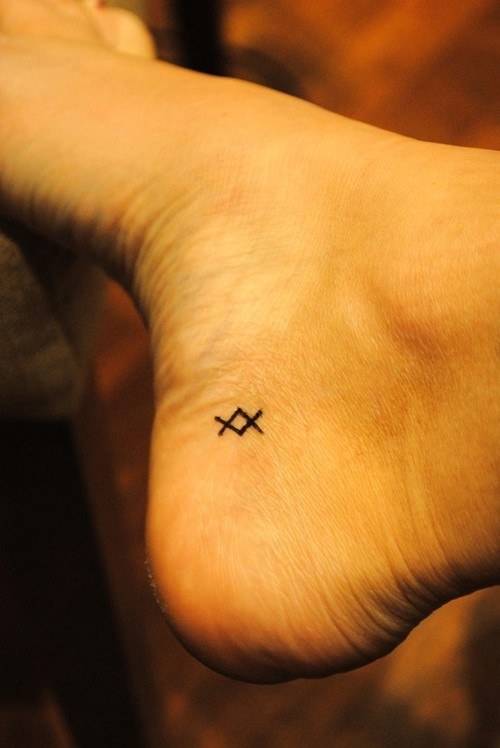 7. Psalm 18:33 "He makes my feet like the feet of a deer; he causes me to stand on the heights."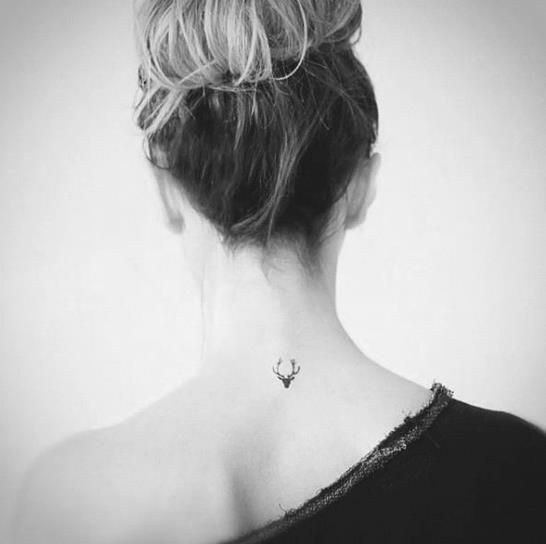 8. 'Ohm' tattoo that represents 4 different states of consciousness and a world of illusion: waking (jagrat), dreaming (swapna), deep sleep (sushupti), transcendental state (turiya) and world of illusion (maya).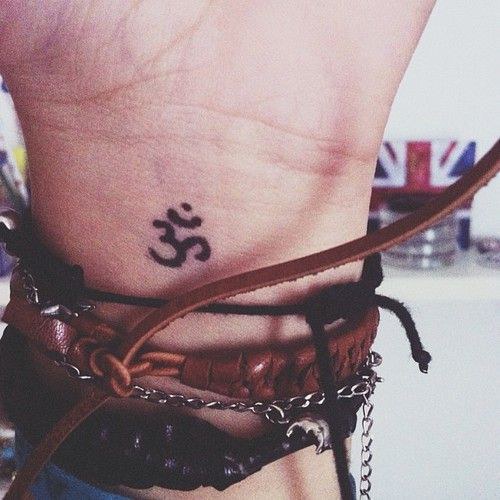 9. Alchemy: symbolizes copper, means love, balance, feminine beauty, and artistic creativity.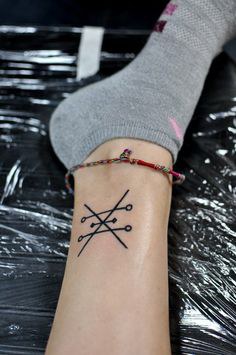 10. The Greek word "Meraki" means to do something with soul, passion, love, and creativity or to put yourself into whatever you do.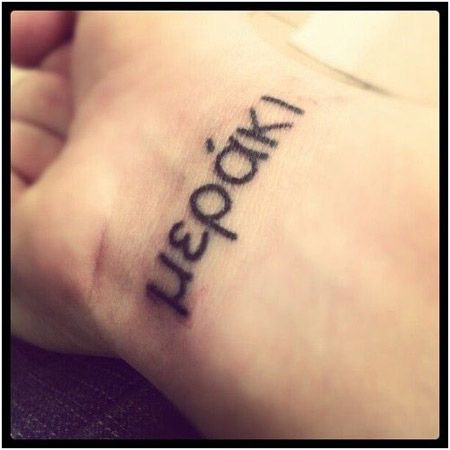 11. Malin (Skövde, Sweden) – you have to face setbacks to be able to go forward.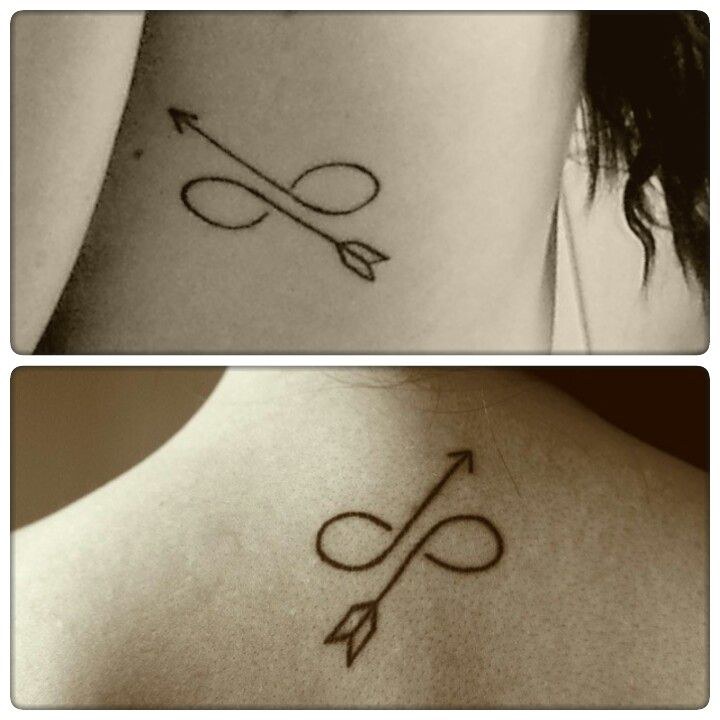 12. Symbol meaning "thief" from "The Hobbit." It was the rune Gandalf etched into Bilbo's door so the dwarves could find his house.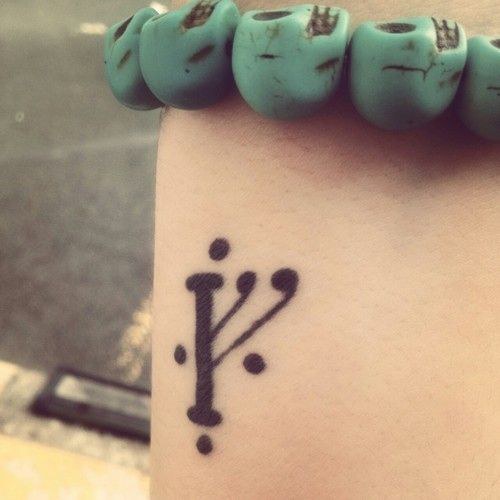 13. "Lux in tenebris" means "light in darkness."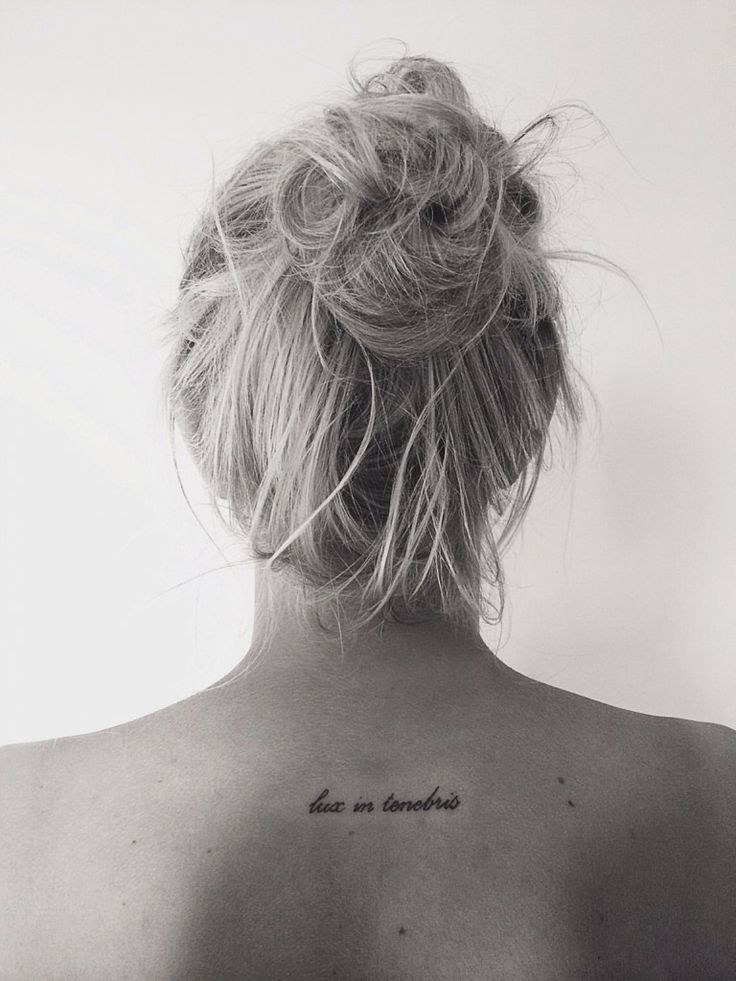 14. Anchor Tattoo: symbolizing strength and stability, something (or someone) who holds you in place, and provides you the strength to hold on no matter how rough things get.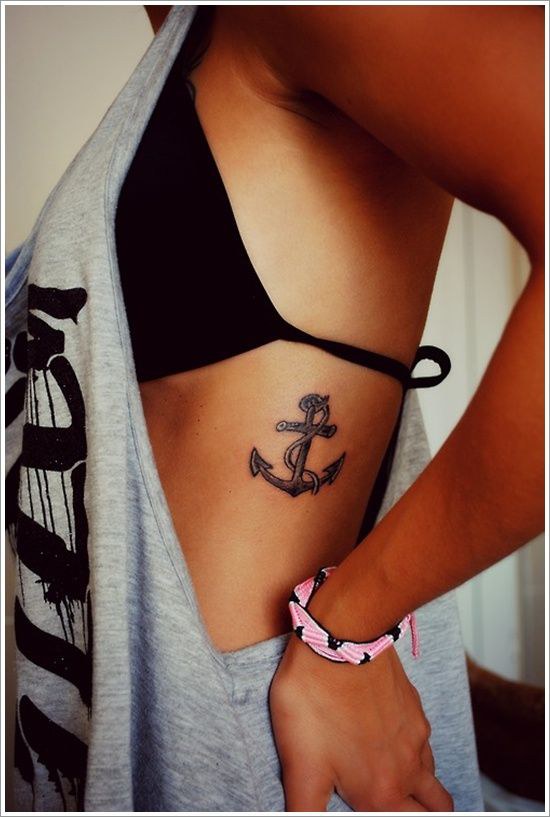 15."Ad Maiora" is translated literally as "Towards greater things." It is a formula of greeting used to wish more success in life, career or love.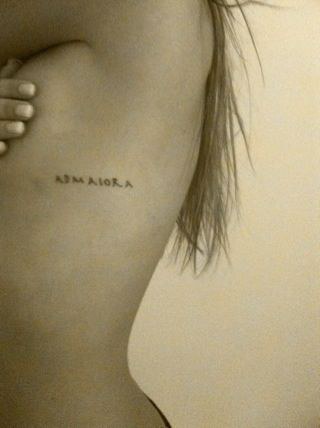 16. A glyph means "explore." It was meant as a reminder for me to never stop exploring.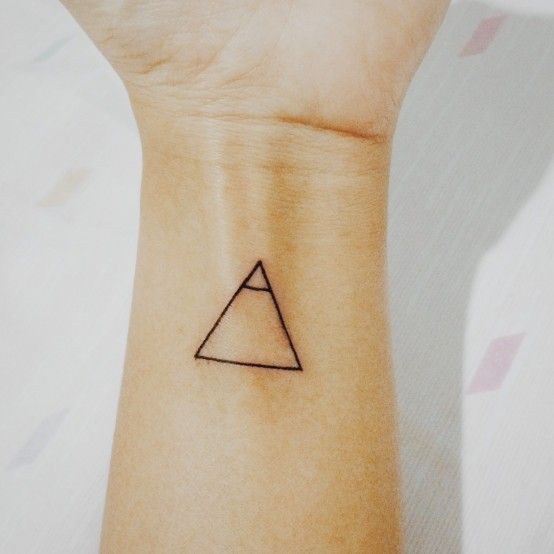 17. "Aut inveniam viam aut faciam," meaning roughly, "Either I shall find a way, or I will make one."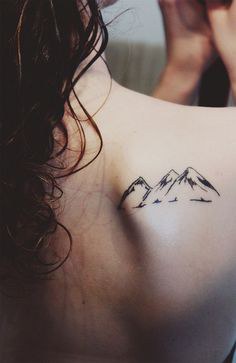 18. Lotus Flower. It grows in muddy water, and it is this environment that gives forth the flower's first and most literal meaning: rising and blooming above the murk to achieve enlightenment.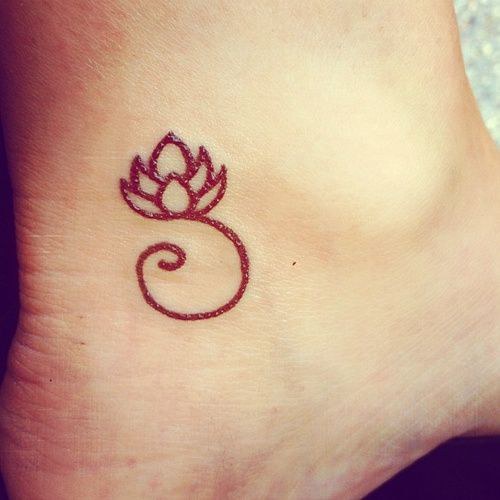 19. The zen (or ensō) circle to me represents enlightenment, the universe and the strength we all have inside of us.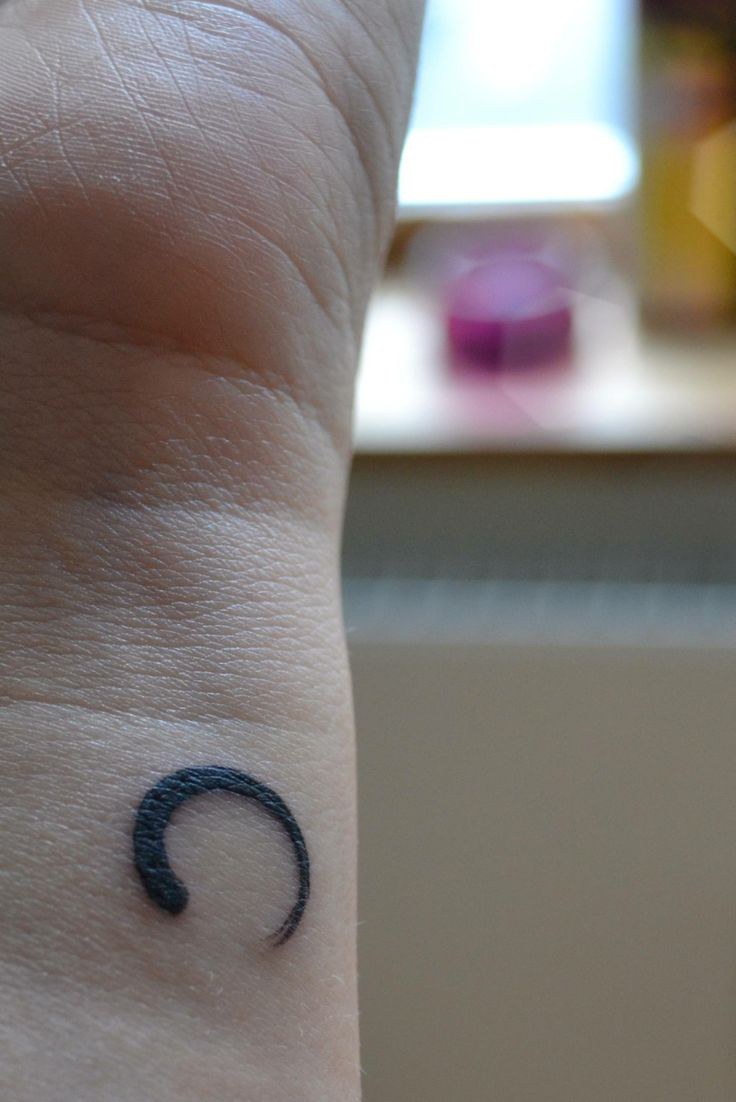 20. Two meanings. The moon affirms life. It looks as if it is constantly changing. Can remind us of the inconsistency of life. It also symbolizes the continuous circular nature of time and even karma.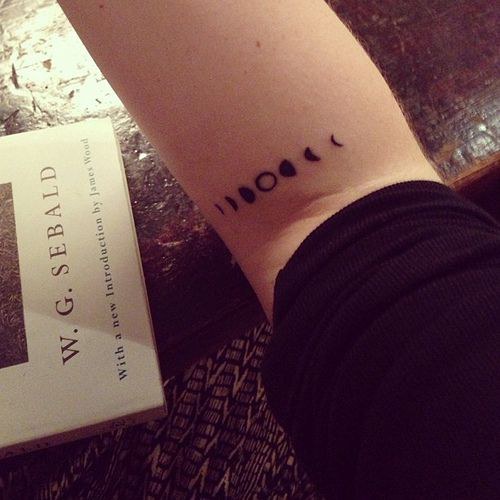 SEE ALSO: Sorry That You're Offended, But I Won't Apologize For My Tattoos
---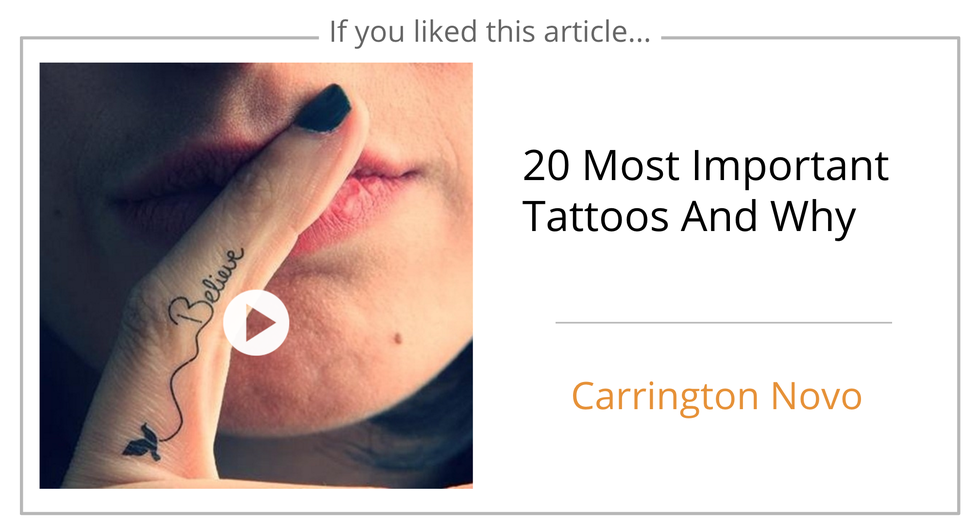 Connect with a generation
of new voices.
We are students, thinkers, influencers, and communities sharing our ideas with the world. Join our platform to create and discover content that actually matters to you.
Learn more
Start Creating
Women Shouldn't Have To Ruin Their Hair Just To Have A Career
It's high time for this corporate tradition to go.
"What will you be doing after graduation?"
"I actually accepted a full-time job."
"Wow, congrats! Bet you'll miss your hair though!"
I wish I could say I was surprised that someone would assume I'll be getting a short haircut just because I have accepted a full-time job in corporate America. But ever since I was in high school, older women have been warning me I need to cut my hair to shoulder length or shorter when I get hired. I am not sure where this idea comes from, but I suspect it may partially take its roots from the idea that men are more competent and to be considered competent, women have to look like men. Obviously, the base assumption there is wrong.
Our parents' generation is more the source of the idea that professional women need to have short hair, which means that mercifully, that idea is retiring. Millennials are, in general, more okay with long hair, but they always include the stipulation "as long as it's well-groomed." However, I don't always agree with their definitions of long, which are stuff like "four inches below the shoulder" and "approaching the back bra strap." My hair is usually around 12 inches below the shoulder and that's how I like it.
It is moreover my concern that "well-groomed" entails more than clean and combed and is code for "meticulously polished, uniform, and perfect at all times." But that's not how all human hair behaves, especially hair that is not naturally straight and blonde.
Too many women of color, African American women, in particular, are pressured or feel pressured to soak their hair in chemicals to obtain a more "white" texture. This is sick and wrong. As with all creation, God made African American women's hair and declared it very good. The underlying assumption here may be that white people are more competent and to be considered competent, African Americans must stylistically emulate white people. That assumption is wrong too. Chemical relaxers can be very damaging, and while of course, it is any woman's prerogative to do what she likes with her hair, no woman should ever experience any pressure, implicit or explicit, to use them.
In a similar way, I have felt pressured in the past to highlight my hair. Coloring one's hair and maintaining it is seen as a sign of caring about one's appearance, and to not do so is considered "granola" or "plain", especially if you don't wear makeup, which I don't. I happen to like my natural hair color (a nice, neutral dark brown) and I don't want to create extra work for myself by fixing something that ain't broken and then having to maintain the roots every two weeks just to show I have time, money, and care enough to do so. Not only that, but hair dye is extremely drying and dulling and I find that it makes my hair much more brittle and less shiny. The reality is that almost no women are really blonde, but it seems that blonde hair has become a status symbol, a way of displaying wealth. I would want no part of that even if I could pull off blonde hair, which I can't.
Do I want to schlepp around the workplace with my hair a frizzy, unkempt mess? Of course not. I always get regular trims, cannot stand having dead or split or stringy ends, and use either frizz-taming or curl sculpting cream. However, I am aware that most workplaces would expect me to heat-style my hair daily if I want to keep it this length. Heat-styling my hair is extremely time-consuming, and if that wasn't enough, it is just as damaging as hair dye.

And even if I did, I would still run the risk of appearing high maintenance. It is likely I will just end up wearing my hair in different buns or my go-to high ponytail every day once I start working, not because I agree, but because I want to be successful.
This needs to change. The fact that employers are not okay with all women wearing their hair long, as women have for thousands of years, and refraining from damaging relaxers, dyes, and heat styling is discriminatory, misogynist, and racist (insofar as women of color are concerned.) It is unfair to expect women to spend hundreds of dollars to damage their hair just to look "professional." The assumption that men and white people are competent and women and people of color aren't is flat out wrong.

Yes, women should always keep their hair clean and combed (if applicable) and should maintain their ends, but asking any more than that is asking too much. I hope that we millennials become the generation that finally started evaluating women's competence based on their job performance, intelligence, and skills, not based on how willing they were to ruin their hair.