Watching the Food Network, I would very often feel such jealousy that Adam Richman from "Man vs. Food" or Guy Fieri from "Diners, Drive-ins, and Dives" got to travel across the country and taste all kinds of food.
I could almost smell the aroma of the restaurants. I could taste the melty cheeses in the macaroni & cheese. I could smell the beef as it is being smoked in a smoker over fresh wood.
It would make me extremely hungry and want to hop in my car and just drive to every single location.
Well, if you are anything like me, then you know the struggle. Where should you start? Where exactly are these places? How are we supposed to remember every location off the tops of our heads?
Well, have no fear. With these awesome websites on your side, every Food Network fanatic will be able to take their very own foodie road trip.
1. "Man V. Food" Unofficial site with Roadtrippers.

This is perfect for people who love a challenge. You can now take on the most outrageous of meals at any of these restaurants with this map.
From burgers bigger than your head to "everything but the kitchen sink" sundaes, you can try it all. This site, put together by Roadtrippers, is the unofficial site of Man V. Food. It lists every restaurant Adam Richman visits. From seasons one through four, you get a list of every restaurant the show has visited and a map that shows you exactly where they are.
The site will also allow you to click on the restaurants, and it'll show you the information about the restaurant and reviews from people that have been there.
2. Flavortown USA for "Diners, Drive-ins, and Dives."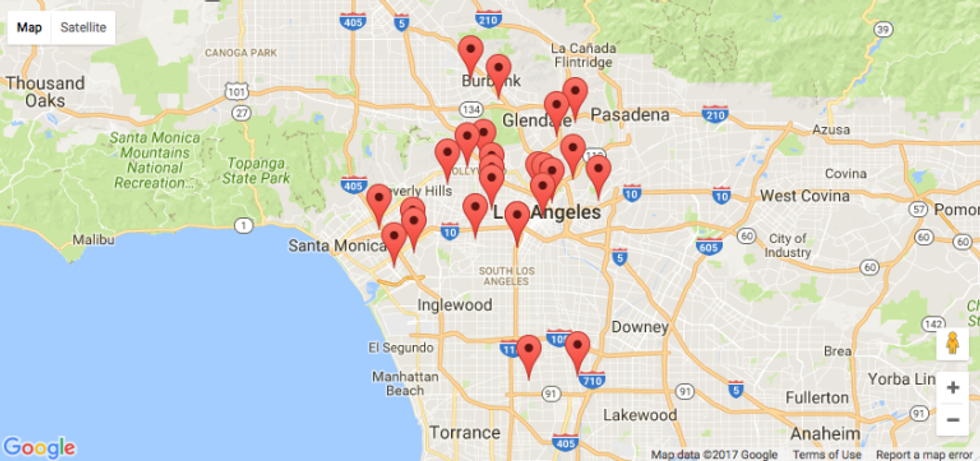 You know when you are watching "Diners, Drive-Ins, and Dives" and Guy Fieri mentions being taken to "Flavortown" when trying to come up with new ways to say a dish is delicious? Well, thanks to fans of the show, Flavortown USA is now an actual site.
A couple created the site based on their favorite television show on the Food Network. You can go on over to Flavortown USA and see every restaurant, dive bar, food truck or cafe Guy Fieri and his iconic red Camaro have ever visited. Much like Roadtrippers, this website gives you a map to view the exact location of every place he has visited.
The website is organized by restaurants. So, if you see a specific restaurant that really caught your eye, you can search its location by searching for it by name.
It is also separated by state and city. So if you plan on traveling to Colorado — and then expect to spend the majority of your time in a city like Boulder — you can click on Colorado and scroll down to Boulder and find the restaurants there. You can also recommend restaurants that the show has not visited yet.
3. TV Food Maps.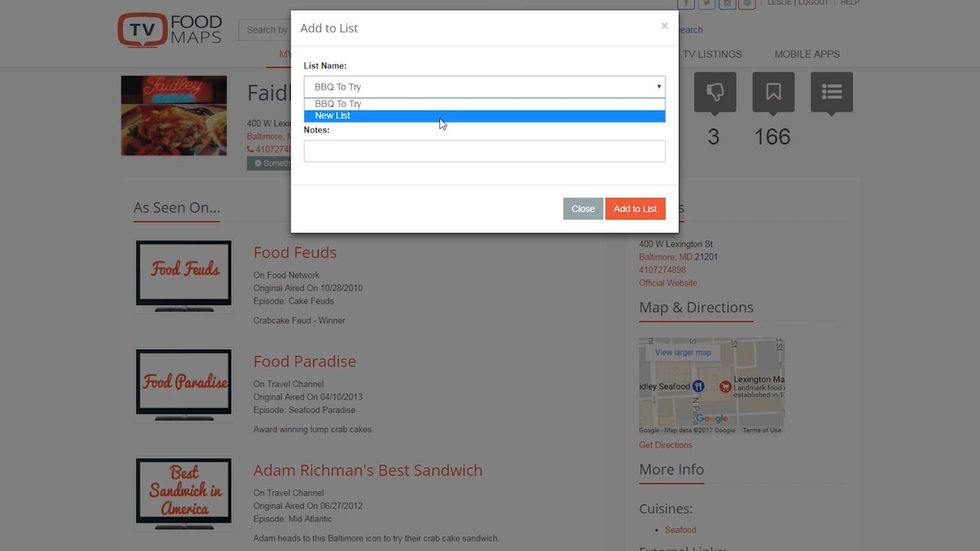 This website is a one-stop site for every foodie wanting to go on a road trip. TV Food Maps lists all of your favorite Food Network shows and the restaurants featured on them.
You can search the site by the television show, restaurant name or by just using your location. It'll include a small description of every restaurant followed by ratings and reviews. It'll tell you when your favorite show will air and give you guides with tips and tricks on finding the best places where you live.
The best thing about this site is its road trip feature. Their instructions are simple: just enter your starting location and then your ending location. You can also include how many miles off your route you are willing to travel to a restaurant and how many miles you want to be excluded from your search.
So let's say you live in Tampa, Florida, and you plan on traveling to New York. You will enter Tampa, Florida in the starting location and New York in the ending location. Then, let's say you only want to travel five miles away from your route but you don't want to see restaurants five miles near your starting or ending location, just put in five miles in the "miles off route" column and then put in five miles in the "exclude from start/end" column.
The site will then take your information and list all the restaurants and give you a map of your route based on what you gave them.
With these three sites at hand, your next road trip will be the best one for years to come. Just remember to pack PLENTY of comfortable and stretchy clothing to be able to sample as much food as you can.