In May of this year, I moved out to a remote area of North Carolina to work, for the second summer in a row, as a whitewater raft guide.
It's a classic seasonal job: workers come as early as March, arrive throughout the summer, and stay as late as October. Some of us are college students, or teachers, and we go back to school in August. Others are there because they've made a career in outdoor recreation, or they're drifters, or recently retired, or just turned fifty and are looking for a change in their life, or anything else you could possibly imagine.
People come to this industry from all walks of life -- so it's inevitable that after spending months with them, you learn a thing or two. These are a few of the things I've learned from sharing a workplace, a river, and a home with a multitude of unique, wonderful people.
1. Your work attitude is important.
More important than you think. Sometimes you get stuck with a late afternoon trip and don't even get off of the river until 6:30 or 7. Sometimes it rains on that trip, and you have to throw rafts and deflate them for what feels like an eternity. But your attitude matters, and word of how well you treat your coworkers in a situation like this gets around. It's unavoidable when your coworkers are the same people you live with. Having a great group of other guides working with you makes even the worst trip a thousand times easier -- and being a dependable teammate creates a palpable feeling of goodwill when you're in a bad situation.
2. Be open to anything.
With this wide array of people come a wide array of hobbies and conversation topics. Be willing to listen to what other people have to say. Listen to their music. Try kayaking, rock climbing, La Croix, or go to open mic night with them. You never know what kind of friendships can blossom from trying something new; and let's be real, being dismissive is a terrible way to make friends.
3. How to take care of yourself in challenging circumstances.

If you don't bring an extra pair of dry shoes to work for after your trips, you will get foot rot and it will suck. You got bugs in your cabin? You'll (strategically) allow the spiders who build webs in little crevices of your wooden walls (pictured above) to live so that they take care of mosquitos or whatever other hellish species make their way indoors. No air conditioner for two months? No problem (the solution is a fan purchased from the nearest dollar store). Went to the lake today? Don't even worry about showering! Need first aid, or a snack? Your neighbor will almost definitely have either band aids to fix you with or canned corn (true story) to feed you with.
4. Community, community, community.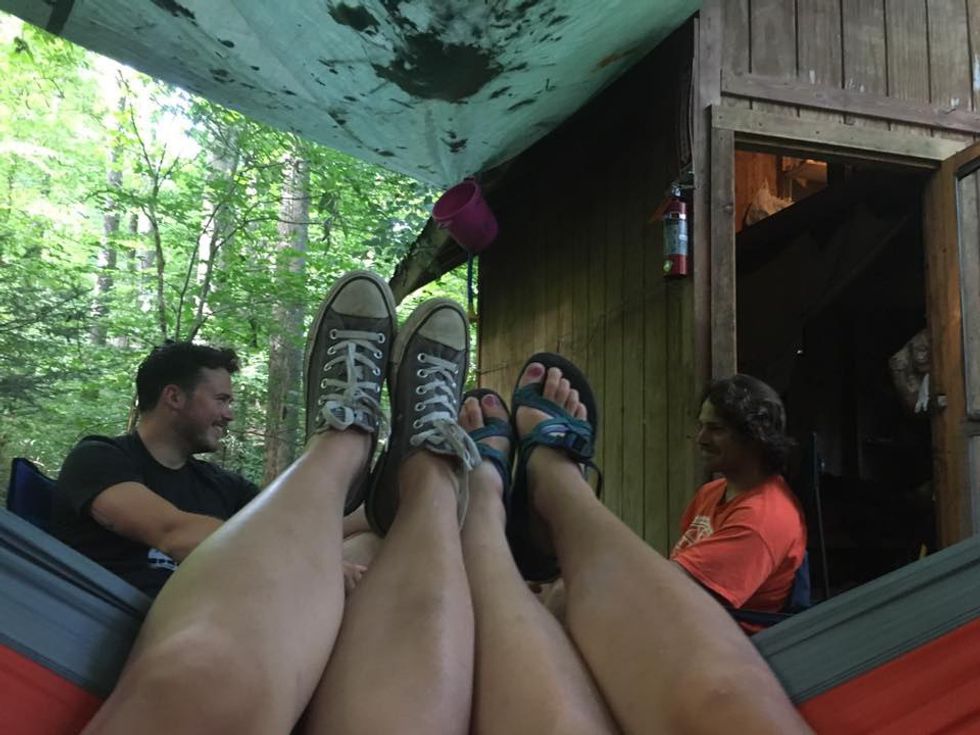 I've touched on this in an article about getting out of your comfort zone (not to mention earlier in this article) but the whitewater community is like no other. We are very few in number, and that makes for a close-knit group. I've never met anyone who didn't care for their co-workers. We live together, we work together, we eat together and we party together. We collectively experience each other's highs and lows, and we are quick to group together whenever anyone is in need. Everybody knows everybody. It's beautiful.
5. How rewarding it is to work in the outdoor industry.

As a guide, my job was to make sure that my guests went on a river trip that was fun, met their expectations and made them feel comfortable or secure. A lot of the time, at least one person in the boat would be a first-time rafter. Being able to provide someone with their first whitewater experience is such a special experience. Whitewater is one of my passions, so when I have the chance to make an impression and even inspire the love of whitewater in someone who has never encountered it before, my heart is happy. When it comes down to it, even at the end of the worst days, I got to spend my time working in an astoundingly beautiful place that I love dearly, helping people to experience something incredible. Something about that invariably changes who you are, or brings something out in you in a way that only an outdoor experience can. Neat stuff, right?