Christmas is literally the BEST time of the year, from holiday movies to Christmas decorations there is not one bad quality about this special holiday. You give gifts to your loved ones, get to have hilariously awkward big family dinners, and for college students, the best of all is — WINTER BREAK.
If you have been questioning whether or not you are the Grinch or Buddy the Elf Himself, here are five sure signs that you are a literal Christmas Angel.
1.You count down to the Hallmark Channel Holiday Movies and FreeForm's 25 Days of Christmas.
Maybe you have a timer on your television, or maybe you literally added the premiere dates into your phones Countdown app - either way these movies are a wonderful way to get into the Christmas spirit! Who cares if they start at the beginning of November?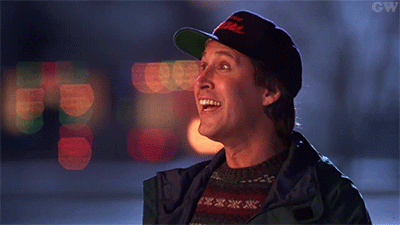 2. Decorating your tree is a job, everything has to be perfect.
You have special ornaments that need to be seen in the front, and ornaments that have to be towards to top. The star vs. angel debate is an inner crisis for you every year, causing a few sleepless nights and minor anxiety attacks.
3. Your house looks like a beautiful Christmas Wonderland, with what should be a prize-winning light show out front.
You have a beautiful tiny Christmas village along with small train either surrounding the village or your beautiful tree. Your light show should be on "The Great Christmas Light Fight" on ABC - because you would definitely win that $50,000 prize.
4. There is literally NEVER a bad time to start holiday shopping or talking about the holidays.
Christmas Music starts playing on the radio just before Thanksgiving, but you have been listening to your hand-made Spotify playlist for weeks. In fact, you probably have your shopping done before December. You treat Christmas time like the Olympics -- and you are certainly going for the gold.
5. Christmas Day is the best day of the entire year.
Sure, you spend time with family and you might have to be in 90 different places - or you are hosting a full house of people, but that doesn't matter to you. You have been baking cookies, preparing your holiday dinner, and delicately setting up packages to give out since last night, and you haven't slept but you have been watching the Christmas Story. Nothing can ruin this day. (Even when your younger relatives tell you they don't believe in Santa anymore and you can feel a piece of your heart break off.)
Don't be ashamed of your Christmas Spirit. Embrace being Buddy and know that you are certainly not alone, we have to make this holiday special for the people who are Grinchy. Keep up the good work Santa's little helper!