Warning: article written by a Washington Capitals fan. Could cause side effects of anger for a Penguins, Philly, or the New Yorkers (who aren't even invited).

OK. Here we go. I'm not going to say this is our year because EVERY TIME someone says that, we choke. Playoffs for the Stanley Cup are beginning, with the last regular season game played this past Sunday. For the next week or so, several teams will be fighting for their chance to move onto the second round. My favorite team, The Washington Capitals, will be facing off against the Columbus Blue Jackets. I don't know about the rest of you, but I literally cannot wait for playoff season. So catch me in Buffalo Wild Wings for the next month pretending to do homework while cheering on my favorite teams.
A few things to keep in mind:
Out of 42 seasons, the Washington Capitals have qualified 27 times. In all 27 runs...
THEY HAVE NEVER WON A CUP…
...UGH.
This is the first time in the playoffs that the Washington Capitals have gone against the Columbus Blue Jackets. The Blue Jackets had a pretty good season under their belt as well and with head coach John Tortorella leading the stampede for Columbus, this is sure to be a very interesting match. Back in February, Columbus forward Matt Calvert was thrown out of the game after he butt-ended the captain of the Capitals, Alex Ovechkin. Tortorella was not too pleased and decided to yell some things at OVI. But Torts has had some interesting history with other teams (If you ever have time to look up John Tortorella vs Calgary Flames — you will not be disappointed.) Hopefully, the Capitals come riled up to win.
So, some good news is that the New York Rangers won't be participating in the playoffs this year. (HAHA, SUCKS TO BE YOU, RANGERS!!! Just kidding, but not really.) The Pittsburgh Penguins, *sigh*, will be playing their first round of the playoffs versus the Philadelphia Flyers. (fantastic — two great, kind teams.) The brand new expansion team, the Las Vegas Knights, are unbelievable and I would not be surprised if they make it far this year. I mean they do have the great young ex-Caps defenseman, Nate Schmidt, on their team and what better advantage is there?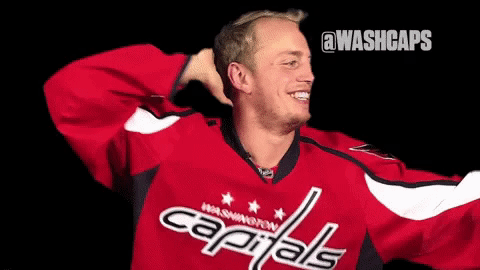 After winning the President's Trophy the last two years and not making it past the Penguins, the Washington Capitals let Nashville have the trophy this year. And to make sure they did not retain the curse of the Trophy, the Capitals refused to touch it last year thinking it was bad juju or something. The Nashville Predators ignored the curse, touching the trophy and taking pictures with it. I guess we shall we see what happens over the next month. Let the Stanley Cup Playoffs Begin!
Washington Capitals First Round Playoff Schedule:
Columbus at Washington Thursday, April 12th at 7:30 p.m.
Columbus at Washington Sunday, April 15th at 7:30 p.m.
Washington at Columbus Tuesday, April 17th at 7:30 p.m.
Washington at Columbus Thursday, April 19th at 7:30 p.m.
Columbus at Washington Saturday, April 21st at TBD*
Washington at Columbus Monday, April 23rd at TBD*
Columbus at Washington Wednesday, April 25th at TBD*
*If one team wins all four of first four games they move onto the second round*
*Times are subjected to change*
Update 4/15/18: Capitals have lost Game 1 & 2 to Blue Jackets. Not looking good headed to Columbus for the next two games.