So, I have been vegetarian for over three years now and I have loved it immensely, but I am now excited to tell you that I am transitioning into a vegan lifestyle! Here is a little background and why I am doing this:
When my sister went vegetarian years ago, her passion and the truths she spoke helped me realize it was something I wanted to do. She helped me see what abundant and healthful foods looked like in a vegetarian diet. Flash back a few years before this, in seventh grade, I "test-ran" vegetarianism on my own, but I had no idea what to make myself, meal-wise. I wasn't feeding myself the healthy, raw foods I now enjoy.
I am still learning so much, but lately I have been researching veganism and falling in love with this lifestyle. (All smiles here!)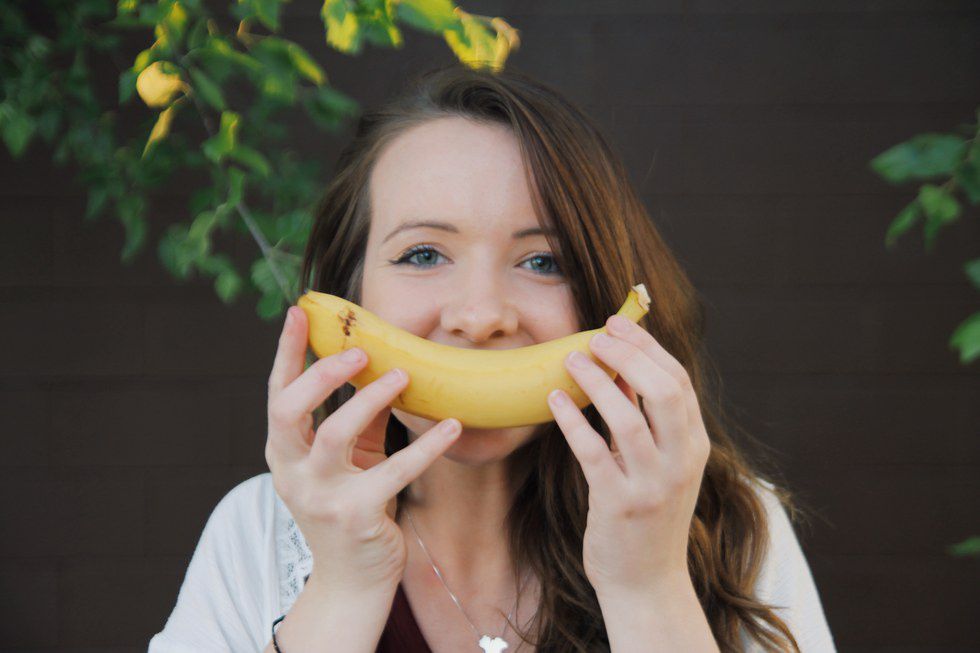 I have been wanting to do this for a while now, but I realized I would slip up whenever I tried to make the transition. I wasn't reading labels often enough or really paying attention to what products were on my plate. I wasn't making decisions as mindfully as I intended to. I realized, the problem wasn't that I didn't want to make this change enough. The problem was that I wasn't being intentional or keeping the information I had encountered about veganism in mind as I made daily choices.
As I thought about it, though, I found a million reasons why I wanted to do this. Here are some of the ones I came up with:
I don't want to mindlessly partake in something I see is wrong.
I don't want to not know where my food comes from-and I don't want to not care once I do find out.
I don't want to not care that 56 billion animals are killed yearly, not including sea creatures (these numbers are so high and so difficult to calculate that they are measured in tonnes).
I don't want to not care that cows are routinely forcibly impregnated to produce milk, that chickens beaks' are mutilated so that they cannot peck (a defense mechanism that they were created to have for a purpose).
I don't want to not care that the meat industry has been listed as the second-biggest environmental hazard facing the Earth.
I don't want to not care that around 51 percent of global greenhouse-gas emissions are caused by animal agriculture.

I don't want to just shrug my shoulders and let it happen.
This is not the way it's supposed to be.
It isn't just the fact that animals are killed for food. These animals are not just killed; they are abused, caged, ripped away from their mothers at birth (watch this video if you think they "don't care"), killed at infancy if deemed not valuable to the industry and their days are numbered. Their futures are determined by an industry that does not care that they are aware, intelligent creatures able to enjoy life and to feel pain.
And how does this affect the humans behind this? Aside from extreme health-related effects, workers in factory farms suffer intense emotional and mental trauma, as they are forced to perform tasks that no one should have to perform. Nothing stops their work, not even a bathroom break or an injury. These workers cannot find healthy ways to cope with the way they inflict pain on so many lives, because, I believe, this is an unhealthy system; and so, they usually turn to drinking and other addictions to take their mind off what they have done. Some even carry this abuse in the workplace over to their home life. Eventually, they often become completely numb. This is such a sad place to be; a place where we don't care or force ourselves not to.
This doesn't just affect the animals that are treated brutally throughout their shortened lifetime, it affects you. There are many diseases that can be prevented or reversed from eating a vegan diet.
For a while, I thought I would just always be a vegetarian. I thought I was doing all I could. But I wasn't. Sure, I bought almond milk for myself and didn't eat meat, but I still ate dairy and eggs and sometimes seafood because I wasn't deliberate in my choices.
But recently, as I was sucked into the YouTube vortex, I heard something that should be so obvious, yet something I hadn't taken to heart. It went something like this: The industry that mass-produces milk, cheese and other dairy products is the same industry that abuses and kills the animals that provide it.
I want to make a difference and take a stand. I truly believe that this is what I need to do and it is definitely what I want to do.
I have already seen a huge difference in the week that I have been transitioning; I have more energy, I am smiling more, I am excited about the day and about working out and eating well.
I have a long way to go, but I am stoked for what's ahead.
So, I guess it's going in my bio. This is getting serious, guys!