Robyn Rihanna Fenty, who us peasants know as Rihanna, has been successful in basically everything she has done. She has released bop after bop since the beginning of her singing career (making her the third solo artist with most number-one songs on the Billboard's Hot 100, right behind Mariah Carey and Elvis Presley), she has appeared in different movies (such as Battleship, Home, Valerian and the City of a Thousand Planets and the upcoming Ocean's Eight) and she has taken the fashion industry by storm with Fenty by Rihanna, her collaboration with Puma. So, it has come to no surprise that she found success in her most recent venture in the beauty industry, which for years has been focused on every shade of white people.
Rihanna came in and hit the beauty industry like a truck when she released Fenty Beauty. The cosmetics line, which is exclusively sold at Sephora, has forty different foundation shades, an amazing amount that is incredibly uncommon in the beauty industry. Fenty beauty now joins other brands such as Maybelline, which also has forty different foundation shades from its Fit Me Foundation line, Becca with twenty different shades from its Ultimate Cover Foundation and SheaMoisture and Iman Cosmetics both of which have focused on women of color since the 1990s, to name a few (from the few existing inclusive makeup brands).
According to the official Fenty Beauty website, Rihanna created Fenty Beauty after realizing the lack of skin tones in makeup, from the lightest to the darkest of shades. She noticed that the beauty industry catered only to the women it considered more valuable or more common. Rihanna "launched a makeup line 'so that women everywhere would be included.'" She wanted her cosmetics line to cater to every shade of woman.
Not only is Fenty Beauty receiving amazing reviews, with renown beauty gurus such as Nyma Tang, Alissa Ashley and Laura Lee praising the brands' different products and celebrities such as Gabby Sidibe and Mindy Kaling showing their support, but the brand has definitely ended the popular myth that stated that "darker tones don't sell" since the majority of Fenty Beauty's darker shades have been selling out in stores and online. Additionally, makeup brands such as Estee Lauder, L'oreal and KKW Beauty have been allegedly reacting to Fenty Beauty's glorious reveal by making posts that include darker tones, which they hadn't done that often before (coincidence? I think not). Rihanna definitely shook the beauty industry.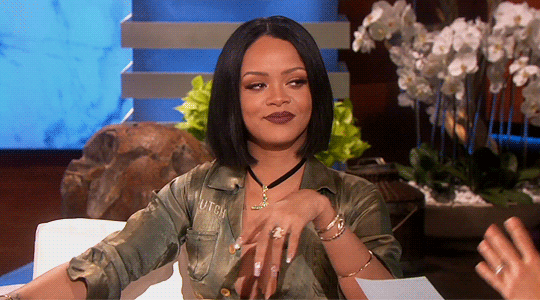 Thanks to social media, skin tones and diversity have become beautiful and, with this,
people of color
are finally being seen and
blackness
is being highly celebrated. With brands like Fenty Beauty celebrating and catering to diversity, one can only hope that more companies and brands will follow Rihanna's example, not to outdo one another, but to embrace diversity and different types of beauty that for a long time have been unfairly ignored and excluded by ridiculous white beauty standards.