The fall funk is real, friends, and if you add in the cold weather and a pandemic keeping you bundled up indoors, you're going to want to feng shui your home so things between you and your live-in partner and/or spouse don't succumb to the monotony.
To make the most of the cooler months inside, I tapped HomeGoods Style Experts Amanda Amato (CEO and Principal Designer of AMA Designs & Interiors) and Beth Diana Smith (Owner and Principal Designer of Beth Diana Smith Interior Design) to share their insights on how to keep date nights in interesting.
Here are their six suggestions for ways to feng shui your fall or winter date night at home.
1. Create a cozy and colorful bedroom retreat.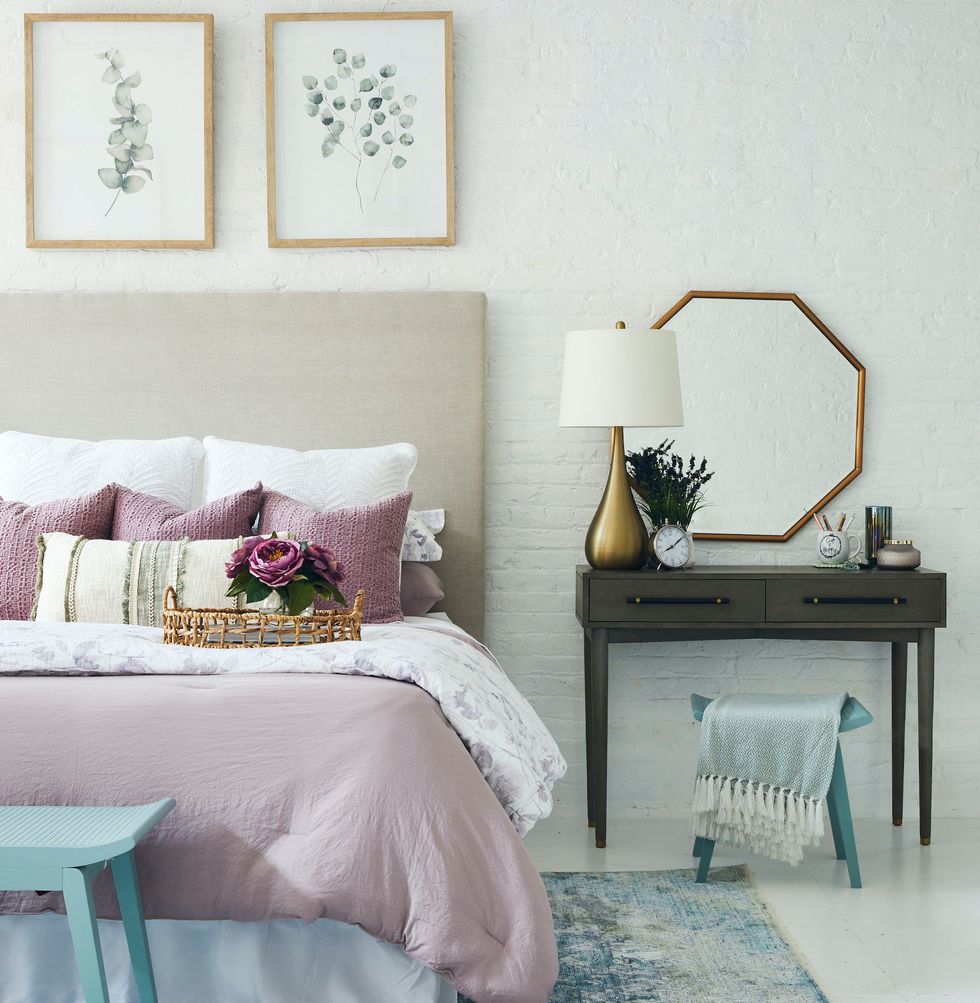 Courtesy of HomeGoods
Amanda Amato: "Infuse soothing colors like purple, which represents success, and sage, which expresses wisdom, into your bedroom to feel at peace and to positively affect your relationship. The way you decorate can even help improve your overall wellbeing and sleeping patterns. You don't have to completely redecorate your room in these colors to achieve this. Easy ways included grabbing a textured comforter set and framed wall art."
2. Incorporate decorative elements to enhance your love life.
Amanda: "If you are looking to improve your relationship or enhance your love life, incorporate the elements of Feng Shui via your bedroom decor. The Wood element represents fortune, family and enhances trust, new growth, and are perfect for fall. To ignite a 'spark' in your relationship infuse the fire element which is presented by red, objects of a triangular shape, and animal prints. Eclectic handcrafted wooden bedside tables or a tufted bench with wooden legs are subtle ways to incorporate the elements into your bedroom."
3. Design with pairs.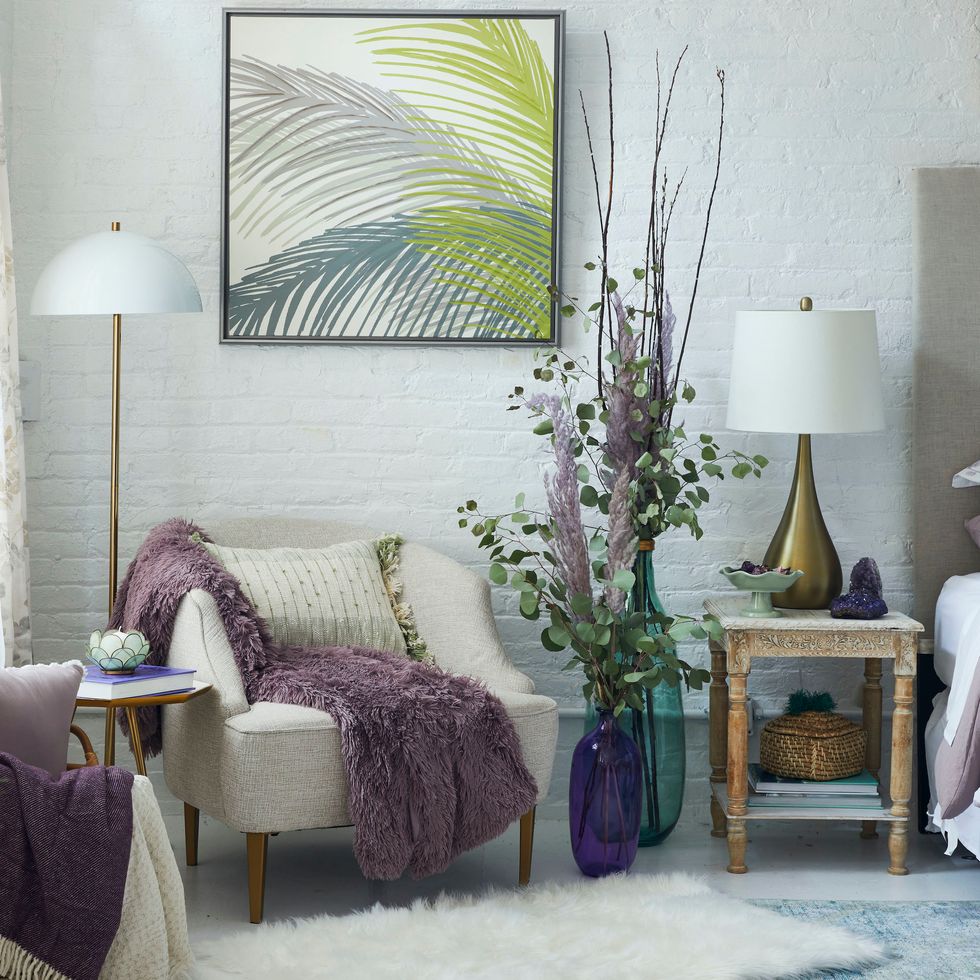 Courtesy of HomeGoods
Amanda: "Focus on using pairs of items in your bedroom to draw connections and promote positivity in your current relationship or to attract new love. For example, matching lamps on a bedside table can bring this to life. Alternatively, incorporating pairs of items that are not identical will help promote overall peace and tranquility. Consider using a square-shaped and round bedside table, both made of hand-carved wood (for a wood element!), but different shapes."
4. Always keep cozy throws close.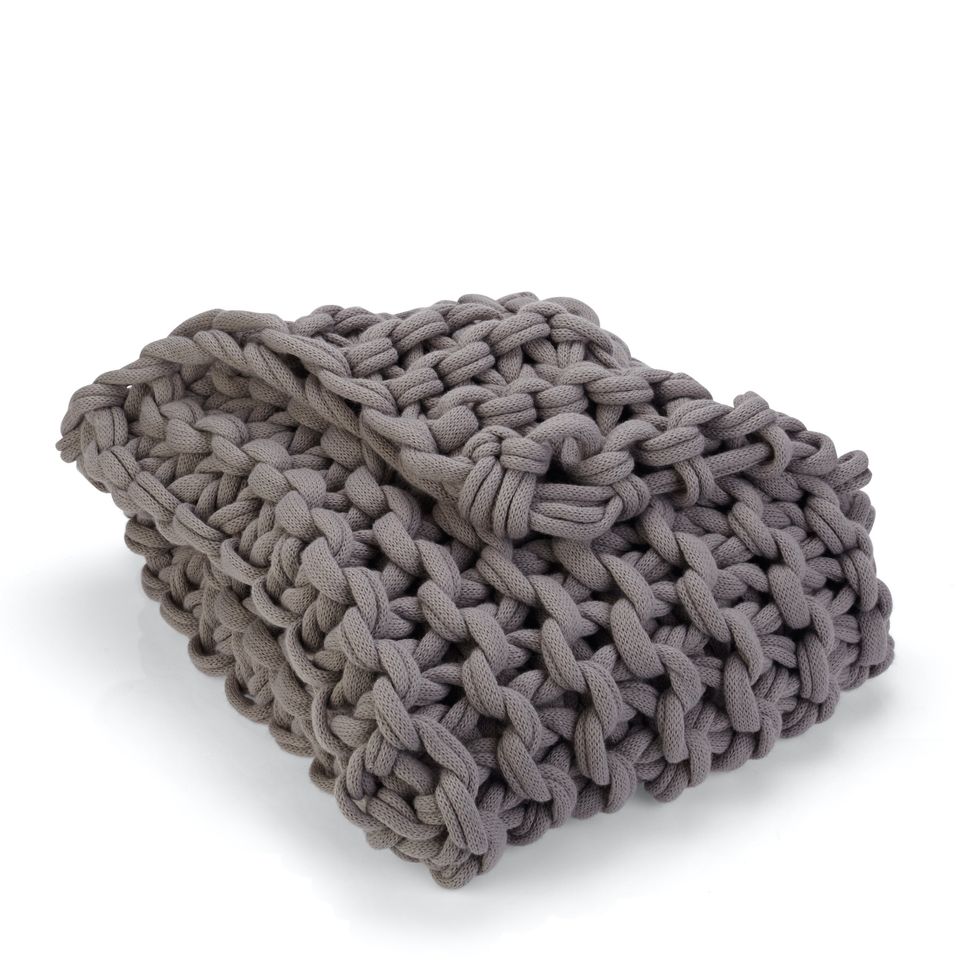 Chunky knit, faux fur, cashmere, and other blankets available at HomeGoods.
Beth Diana Smith: "Don't store your throws away this fall season, layer them to add texture, color, and pattern to your home. And it's an easy way to transform a room simply by layering 3–5 on a wood ladder in a corner of the room, it will bring height and color, so you won't need traditional art."
5. Serve up an experience.
Beth: "Create an at-home date night for two from the comfort of your living room. Clear the coffee table and set up a multi-course spread with candles to create a cozy fall vibe. You can pick up several autumnal treasures including eclectic gold trimmed plates, galvanized trays, gold etched glasses for fall drink creations, and cocktail napkins with festive patterns."
6. Host a game night for two.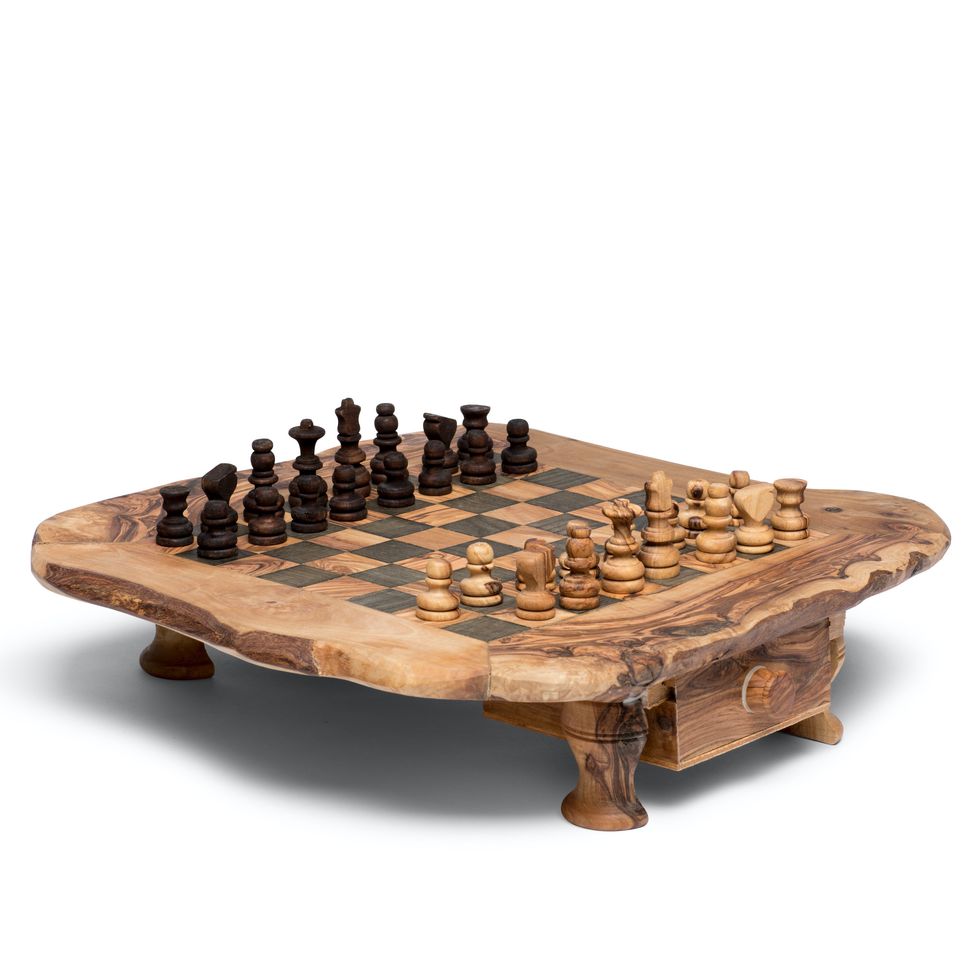 Wooden tic tac toe board available at HomeGoods.
Beth: "Not only are games a fun activity for couples, but they can also make for great home decor in a living room... You could also grab a uniquely designed set of playing cards to add as a coffee table staple and each week learn anew card game with your spouse or partner."
As an Amazon affiliate partner, Odyssey may earn a portion of qualifying sales.
Follow Swoon on Instagram.